Today, new watch brands on Kickstarter could be anything. They could be the next hype brand, created by a passionate watch expert, or they could be a thoughtlessly thrown together combination of hands and a dial, just to make a few quick bucks. While we can't yet confirm that Mancheront will be the next hottest brand on the planet, we can confirm that their debut timepiece in the Pacer, is a compelling take on a very cool complication
Despite its thick black bezel, robust steel case and oyster-style bracelet, the Mancheront Pacer isn't specifically a diving watch. In fact, its source of inspiration was born long before the dive watch we know and love today, inspired by the doctor's watches of the first half of the 20th century, which were used to measure patients pulses.
However, rather than using the typical blueprint of a pulsometer which uses a chronograph to time the heartbeats, the team at Mancheront have cleverly designed one without. Instead, you simply need to use the bi-directional rotating bezel, by lining it up quickly with the seconds hand and after 30 beats you'll be able to get a reading. Certainly not something you see every day.
---
---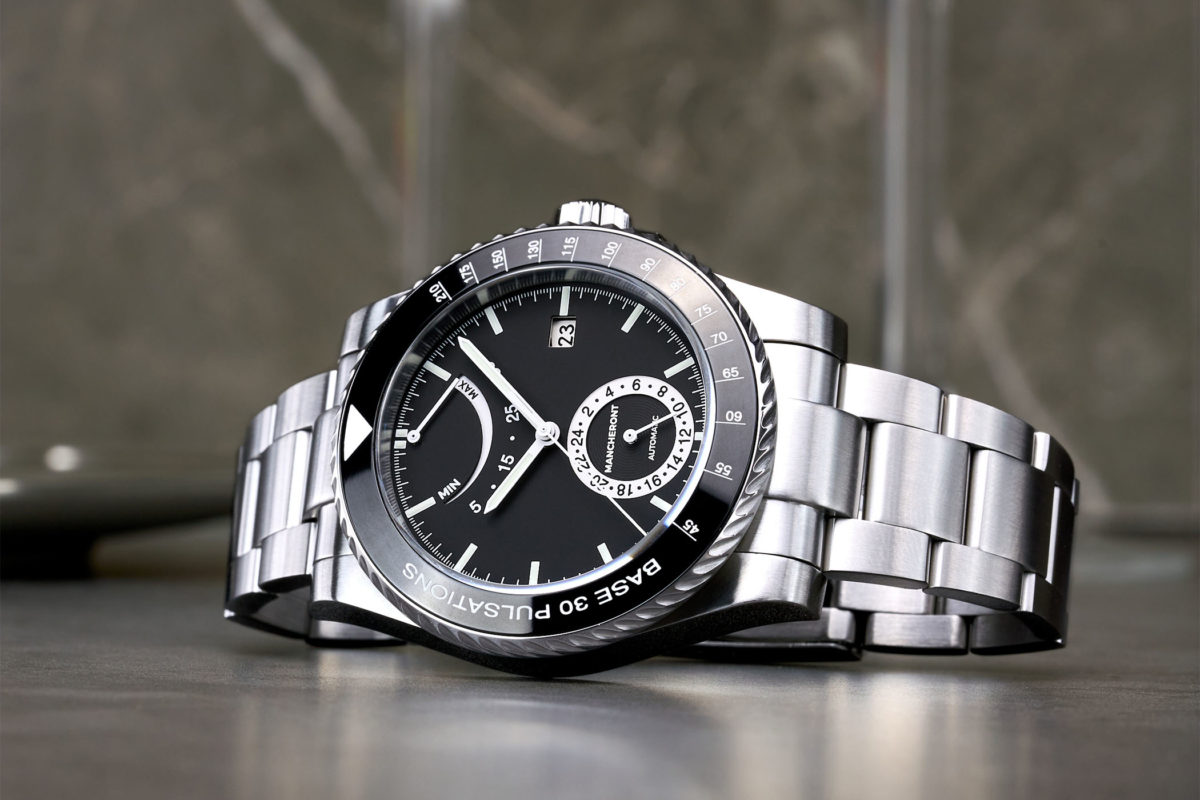 RELATED: How One Kickstarter Watch Brand Built A Better Hype Machine Than Rolex
The Mancheront Pacer is the brainchild of Sydney-based architect Dilon, and features a 39.5mm case made from 316L stainless steel. No, these French-assembled watches aren't built as professional dive watches, but with 100m of water resistance and featuring many of the instantly recognisable dive watch design codes, it's as versatile as a classic diver.
At the 12 o'clock position, you'll find an indicator to let you know how far into the Pacer's 40 hours of power reserve you are, while at the 6 o'clock position there's a 24-hour time indicator. They're both relatively unusual complications to find on the debut watch of a new brand, but the way the team at Mancheront have designed them, their symmetry is a pleasure to look at.
Arriving on a steel bracelet with a folding clasp, the Mancheront Pacer feels every bit the hard-wearing tool watch it looks like. WIth a closed steel caseback, featuring petal-shaped grooves for wrist comfort, there's a lot to like about what this wristwatch has to offer. The Mancheront Pacer has an RRP of $1280, however, are currently listed on Kickstarter for $770, until the Kickstarter expires on December the 13th.