As Patek Philippe's own advertising says, "You never actually own a Patek Philippe. You merely look after it for the next generation." Or in the equally apropos words of Goldman Sachs Elevator, you merely look after it for your dickhead son. So why has a Patek Philippe 5711, one of the brand's hottest watches, come up for auction only three months after it was first released?
The watch in question is the Patek Philippe Nautilus Ref. 5711-1A-010, a newly added model to the Nautilus collection with a beautiful olive green dial. This week, the auction house Antiquorum listed the first example of the watch for sale since its initial release back in early April – a sale that will effectively set the market price for this model in the future.
Featured in Antiquorum's upcoming Monaco sale, estimates have placed the watch's value between US$60,000 and US$120,000, which seems almost laughably low. For reference, the same model has been listed by a grey-market dealer with an asking price of US$363,600 (more than ten times the RRP). That's nearly half a million Australian dollars for a watch that retails for less than $50,000.
---
---
RELATED: The Patek Philippe Nautilus Of Japan's Most Notorious Yakuza Boss
What's even more special about the watch offered by Antiquorum is that it's still in the original factory sealed bag. This guarantees that the watch has never been worn, despite the fact Patek Philippe banned the sale of its watches with factory seals intact four years ago. This means whichever Patek Philippe Authorised Dealer sold the watch is likely to be blacklisted by the Genevan watchmaker from ever selling their wares again.
Yet another possibility is a now-blacklisted customer has made the sale through Antiquorum. Patek Philippe is renowned for selling their most desirable watches exclusively to clients who actually admire both the craftsmanship and history of the timepieces – not those simply looking to flip it for a massive profit. There are rumours of brands such as Patek Philippe and Rolex buying back their own watches at auction, in order to trace the owner through the serial number, and prevent them from buying watches from the brand ever again.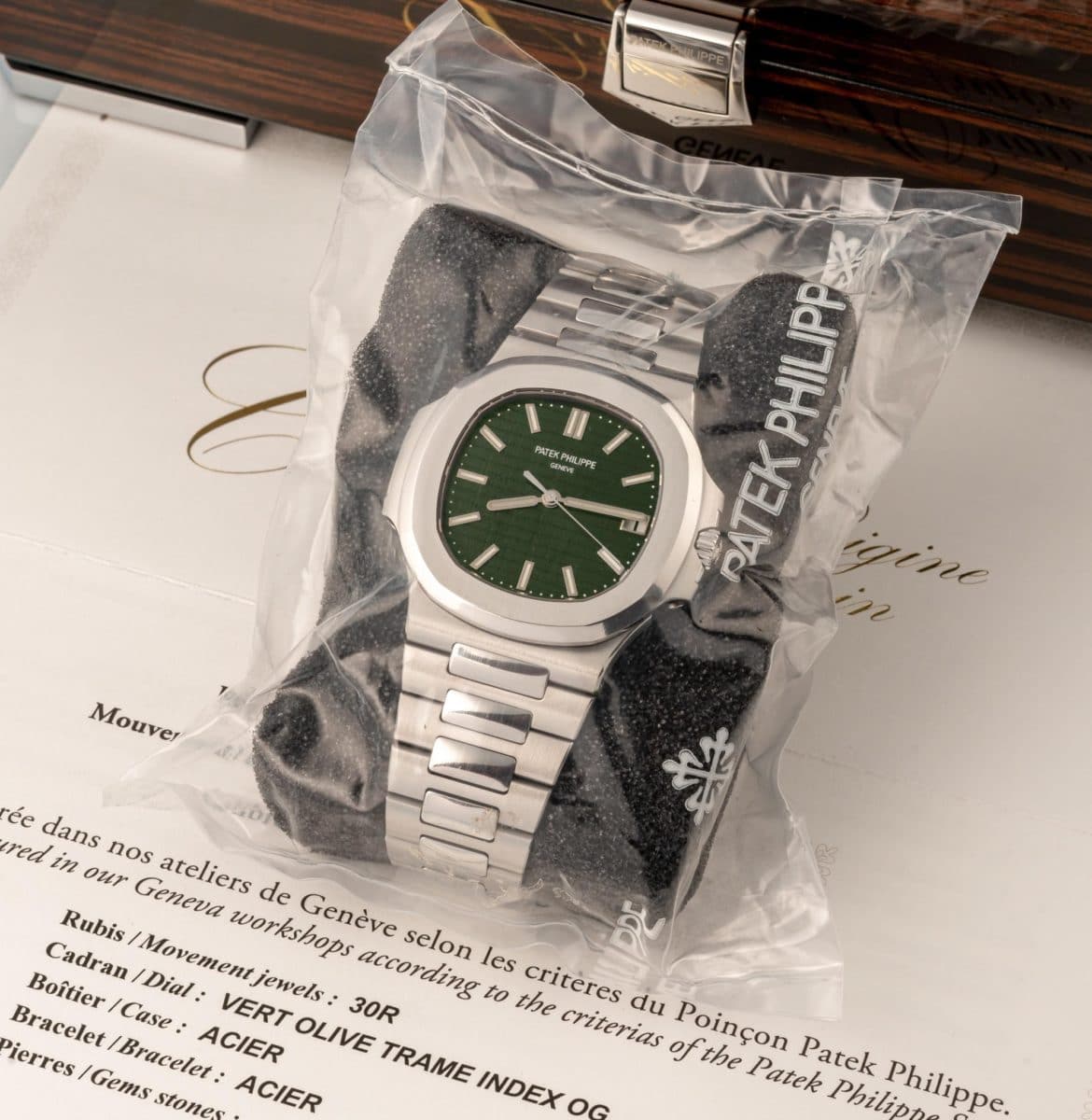 Antiquorum is understandably thrilled to be able to offer the watch, with CEO of Antiquorum Romain Réa stating:
"The Patek Philippe Nautilus continues to be one of the biggest bestsellers in watchmaking. An incredibly coveted and sought-after model, we are honoured and proud to offer for the first time at auction a Ref. 5711/1A in fantastic condition, which since its introduction in 2021 by the brand is already sold out everywhere."
The green dial Nautilus was released on the back of the announcement that Patek Philippe would discontinue the same reference with a blue dial, news which caused prices to skyrocket on a watch that was already selling for multiple times its RRP on the second-hand market.
---
---
But how much will the olive green dial Patek Philippe Nautilus Reference 5711-1A-010 sell for at auction in Monaco later this month? It's impossible to know until the hammer finally comes down, though you could confidently speculate that it'll sell for more than its unsealed sibling, which has a price tag of US$363,600. Is US$400,000 out of the question? When it comes to the Patek Philippe Nautilus, absolutely not.
Check out the Antiquorum catalogue listing below and if you've just received a raise, maybe even register to bid.