Last week, the horological heavyweights of the world gathered in Geneva for what was set to be one of the most exciting auction weekends of all time. Not only was Christie's hosting Only Watch 2021 (which raised $44.5 million for Duchenne muscular dystrophy), but Phillips in Association with Bacs & Russo was hosting what would be a record-breaking Geneva Watch Auction: XIV.
The team of Phillips specialists had assembled 249 of the rarest and most interesting watches ever made, including pieces from the usual suspects of Patek Philippe, Rolex, and Omega. The lots were also littered with a number of rare and important timepieces from the best living independent watchmakers including Philippe Dufour, F.P. Journe, and Richard Mille.
All 249 lots were sold for a combined total of CHF 68.2 million (AU$101.1 million), the highest result ever achieved for a watch auction and maintaining Phillips reputation as a superpower in the industry. The auction had more than 2,300 online bidders registered and 400 bidders in the saleroom, from 83 different countries all counted.
---
---
RELATED: Ultra-Rare Philippe Dufour Sells For A Record-Breaking $10.4 Million
The best performing lot was just the 14th watch sold, with the Philippe Dufour Grande & Petite Sonnerie #1 in yellow gold achieving CHF 4,749,000 (AU$7.04 million). Despite this headlining result, the watch was still less than the £5,505,000 (AU$10,425,000) paid for a pink gold example sold for in August via A Collected Man.
Rounding out the top three lots was an F.P. Journe Chronomètre à resonance "Souscription" N1 in platinum and pink gold that sold for CHF 3,902,000 (AU$5.8 million) and a Philippe Dufour Duality N8 in pink gold that achieved CHF 3,660,000 (AU$5.4 million).
Another noteworthy lot was an Omega Speedmaster "Broad Arrow" Ref. 2915-1, which broke the record for the highest price ever paid for an Omega watch. With a chocolate brown "tropical" dial, it sold for CHF 3,115,500 (AU$4.6 million) against an estimate of CHF80,000 – 120,000 (AU$118,000 – $178,000).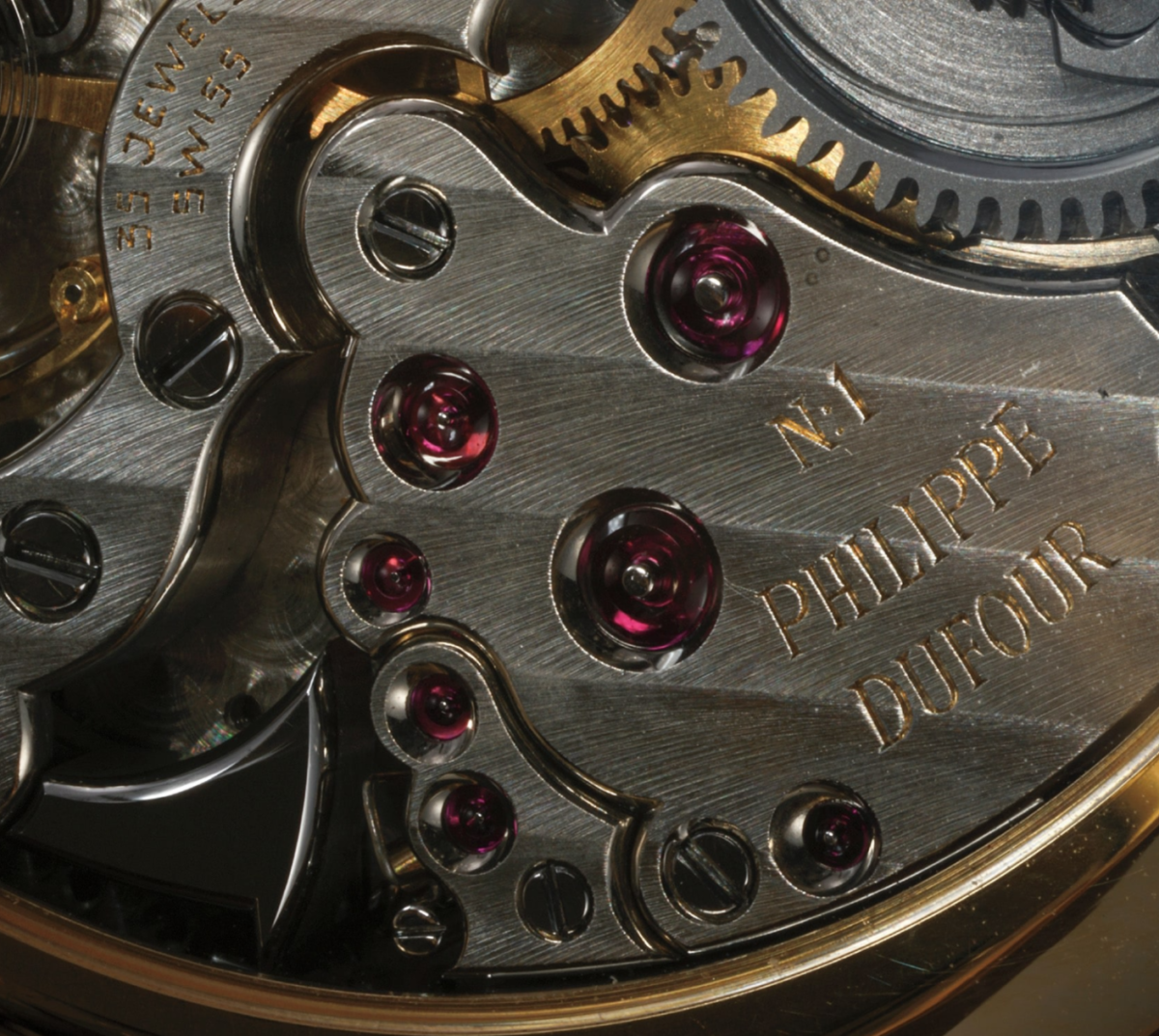 See the top ten results from Phillips record-breaking auction below:
Lot 14: Philippe Dufour Grande & Petite Sonnerie #1 in yellow gold. Achieved a price of CHF 4'749'000
Lot 140: F.P. Journe Chronomètre à resonance "Souscription" N1 in platinum & pink gold. Achieved a price of CHF 3'902'000
Lot 190: Philippe Dufour Duality N8 in pink gold. Achieved a price of CHF 3'660'000
Lot 63: Patek Philippe Ref. 2499 Series 1 in yellow gold. Achieved a price of CHF 3'539'000
Lot 138: F.P. Journe Tourbillon Souverain à remontoir d'égalité "Souscription" N1 in platinum. Achieved a price of CHF 3'539'000
Lot 53: Omega Speedmaster "Broad Arrow" Ref. 2915-1 Achieved a price of CHF 3'115'500
Lot 122: Patek Philippe Ref. 2497 in white gold. Achieved a price of CHF 2'813'000
Lot 145: Philippe Dufour Grande & Petite Sonnerie #1 in yellow gold. Achieved a price of CHF 2'329'000
Lot 12: Richard Mille Ref. RM27-04. Achieved a price of CHF 1'724'000
Lot 247: Patek Philippe Ref. 2499 Second series in yellow gold. Achieved a price of CHF 1'482'000