When it comes to collaborations, Seiko is incapable of taking a wrong step. From the sexy Daytona-inspired chronograph created with nano universe to the Street Fighter wrist candy released just a few months prior, the Japanese watchmakers have accrued more than enough good will. Perhaps that's why the announcement they were teaming up with a relatively young brand in Rowing Blazers for fresh iterations of the Seiko 5 automatic didn't raise even an iota of doubt, rather fostering excitement amongst those in the know and casuals alike.
"Collaborating with Seiko is a dream come true – I have a small collection of both new and vintage Seikos, and I'm obsessed with the brand," says Jack Carlson, Rowing Blazers Founder & Creative Director.
"This is our first real foray into the world of watches – though we often sell vintage Seikos on our site – and I couldn't imagine a better partnership. I'm very grateful to my good friend and watch rabbi Eric Wind for making the connection and assisting with the design process."
---
---
RELATED: Seiko's New Green Prospex Looks An Awful Lot Like A Hulk…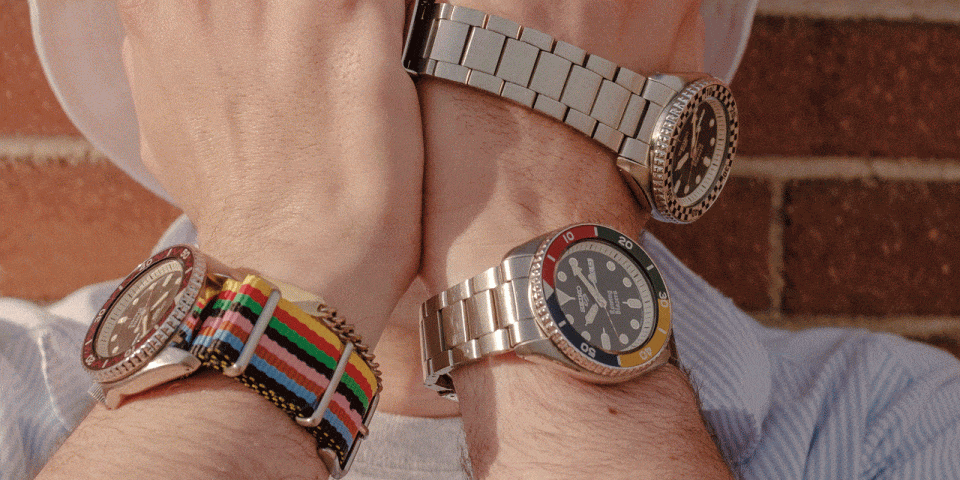 Each limited edition Seiko 5 features one of Rowing Blazers' house codes, which is apparently a contemplative skeleton that "serves as a reminder that time flies." Here's what you can expect:
Rally – black & silver checkerboard pattern bezel
Zigzag – blue with red zig-zags bezel
Colorblock / Colourblock – four colour bezel (red, green, yellow, blue)
The Rowing Blazers logo has been slapped on every black dial above the 6 o'clock position; watches will also arrive with additional accessories such as nylon NATO straps – mint green for the Rally, rainbow for the Zigzag, black for the Colorblock / Colourblock – in a very special steel case dressed in the brand's signature zig-zag pattern. Bonus: there's even a black Seiko logo cap to complete the look.
"The bezels are the really distinctive thing about the three watches. I wanted this capsule to be understated, subtle – but also fun. I wanted the watches to be very wearable – but to have a sense of colour and irreverence."
The Seiko x Rowing Blazers automatic watches will officially go on sale June 17th at 11 AM ET over in the US (meaning sometime during the early, early, early hours of Friday the 18th for Aussies). You'll be able to cop one – or several – for $735 via the Rowing Blazers and Seiko US site, as well as Hodinkee.
NOTE: Preview some of the goods early here with the password TIME (all-caps).