For more than a century, watchmakers have been creatively solving the problem of legibility in timepieces, because if you can't read the time when you need to, it's not a very good watch. Methods of showing the time in the dark were wide and varied and today, pretty much all watches have luminous material on their hands as a minimum, however, the Shinola UFO Detrola watch takes the same idea to its logical conclusion.
If you've not come across Shinola before, fear not. Established in 2011, Shinola is a Detroit-based manufacturer that creates American-assembled timepieces, as well as a number of other categories such as leather goods, stationery and more. It took its name from the now defunct American brand of shoe polish, which operated from 1877 till 1960 and stuck in the collective consciousness thanks to the popular insult, "You don't know shit from Shinola."
Today, Shinola is working to promote the idea of American industry, of which Detroit was once an international manufacturing hub, building many of its products in the Michigan city and earning Kanye West as a fan in the process. While made in the same factory, the Shinola UFO Detrola watch you see before you is one of the brand's most exciting designs, thanks to a resin case and rubber strap both infused with luminous paint.
---
---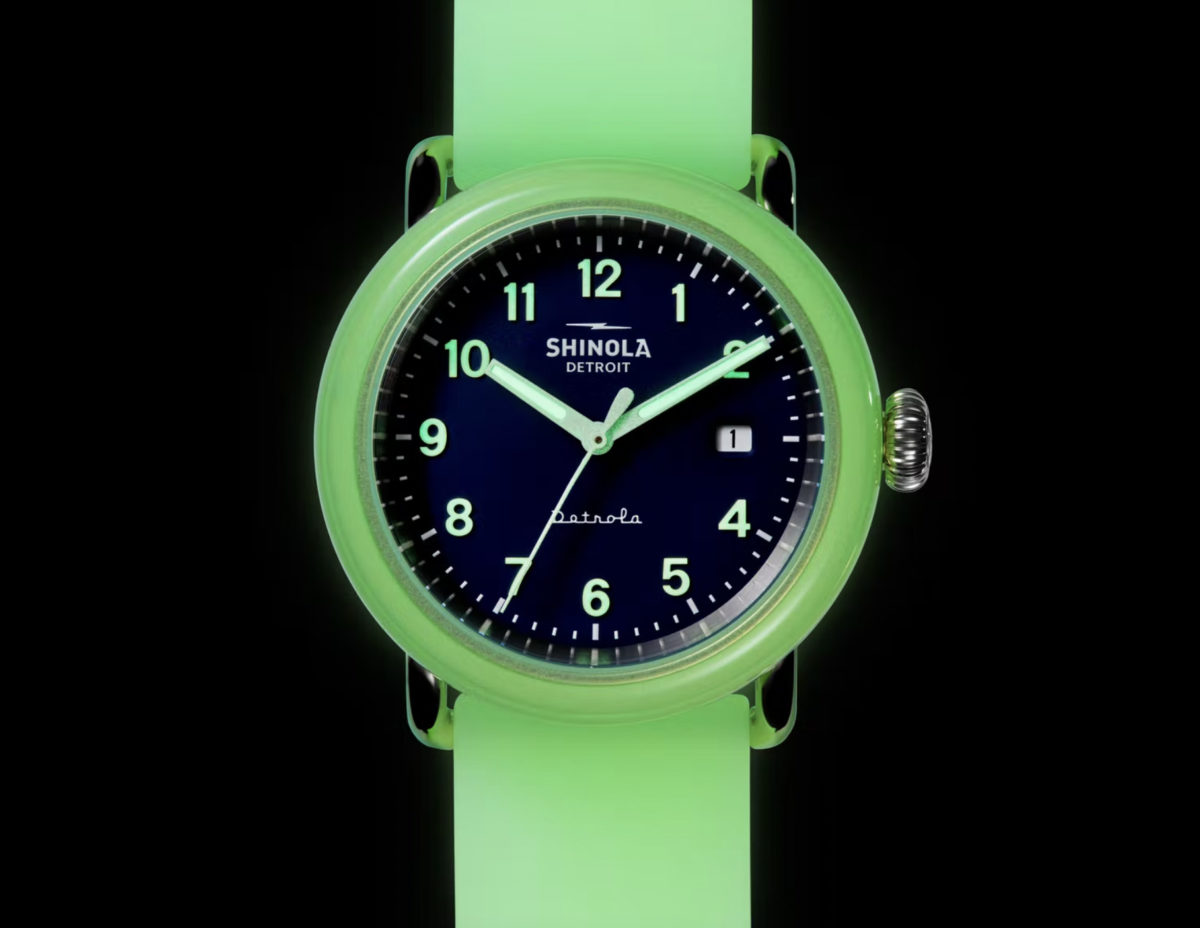 RELATED: Omega Speedmaster Sales Skyrocket By 50% Thanks To MoonSwatch Hype
Measuring a very wearable 38mm in diameter at 12.15mm thick, the glow-in-the-dark TR90 Resin case is very simply shaped, in line with most of the rest of the watches Shinola produces. It features two resin sections joined together by a steel case middle that also forms the lugs of the watch, while the dial does the job of telling the time and date.
The Shinola UFO Detrola watch is powered by the Argonite 705 movement, which is made from parts manufactured in Switzerland by Ronda, before being shipped to Detroit for assembly. With 50m of water resistance and a comfortable 20mm rubber strap, there's a lot to like about this watch, especially if you regularly need to check the time in the middle of the night.
The Shinola UFO Detrola watch has an RRP of $640 and is currently available.