While good old-fashioned mechanical watchmaking is as popular as it's ever been, there's a newer breed of watch on the block: the smartwatch. There's no denying that the smartwatch has been a remarkable success, offering notifications, calls, and music to wearers on the go, however, to some it's just another notification device. Finding the right balance of screens in your life is a tough thing to do, and the Tissot T-Touch Connect Solar is helping find that parity.
It might have the feeling of a digital device, but the Tissot T-Touch Connect Solar is not a smartwatch. In saying that, it definitely isn't the traditional analogue watch that Tissot is so well regarded for. Rather a hybrid of fine and connected watchmaking, walking the tightrope between a watch that keeps you connected to the things that matter most, without going overboard as just another device that feeds you notifications.
In essence, it's a smartwatch made with a minimalist philosophy. As an extension of that ethos, it only has two main modes. When your phone is nearby, the T-Touch Connect Solar is in connected mode, and if (God forbid) your phone isn't in Bluetooth range, it will revert to watch mode.
---
---
When you're off the grid and your T-Touch Connect Solar is in watch mode, you'll still be able to see the time, a perpetual calendar, multiple timezones, a countdown timer, stopwatch, and even an altimeter and compass. It might not be connected, but it still packs a lot into the package.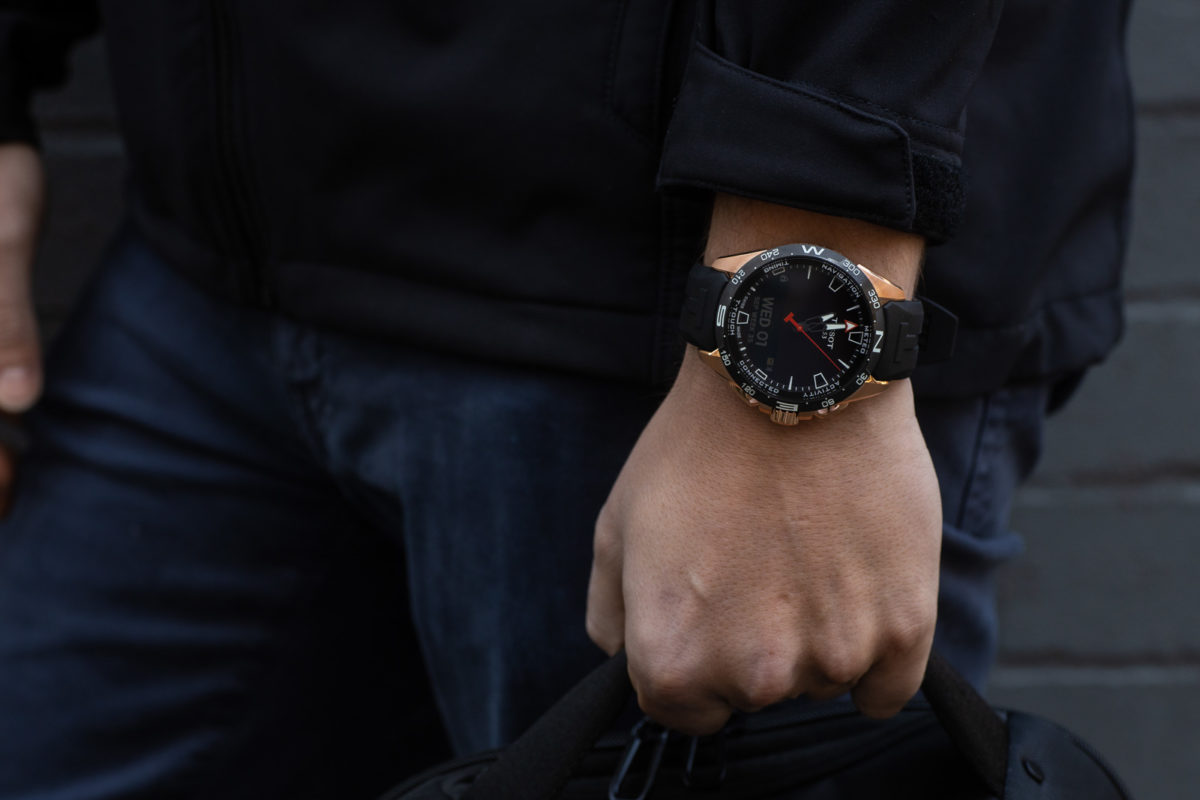 Upon being reunited with your phone, T-Touch Connect Solar switches to its connected mode. You'll then start to receive notifications on the watch, for everything you'd expect including calls, messages, emails, social media, and more. In keeping with its minimal approach, you won't be able to distract yourself mid-conversation by reading an entire email, instead simply getting an alert that there's something waiting for you when you next unlock your phone.
Despite not having GPS functionality or a heart-rate monitor, the watch still offers enough exercise tracking to give you the broad brushstrokes of how busy your day was. Thanks to the accelerometer – and physical information you input into the watch when setting it up – the T-Touch Connect Solar will tell you your steps for the day, distance traveled and calories burned.
The other huge advantage that the T-Touch Connect Solar has against smartwatches is its battery life. You'll have to charge your Apple Watch pretty much every evening, and the same goes for your Garmin if you wear it all day. In contrast, the T-Touch Connect Solar has a battery that will run for roughly six months before needing to be plugged in, making it a lot easier to wear as an everyday watch.
RELATED: The Tissot PRX Is A Retro Reissue With A Modern Twist
How is this possible? As the name suggests, the T-Touch Connect Solar uses the sun to keep the battery topped up, thanks to the latest-generation photovoltaic cells found in the dial. They have been cleverly integrated into the top of the dial so they are almost invisible, while still leaving room at the bottom of the dial for the digital full-colour LCD screen. If the watch does run low on battery, and you aren't able to expose it to enough natural or ambient light to keep it running, just put it on the wireless charging cradle and it'll be back on your wrist in a matter of hours.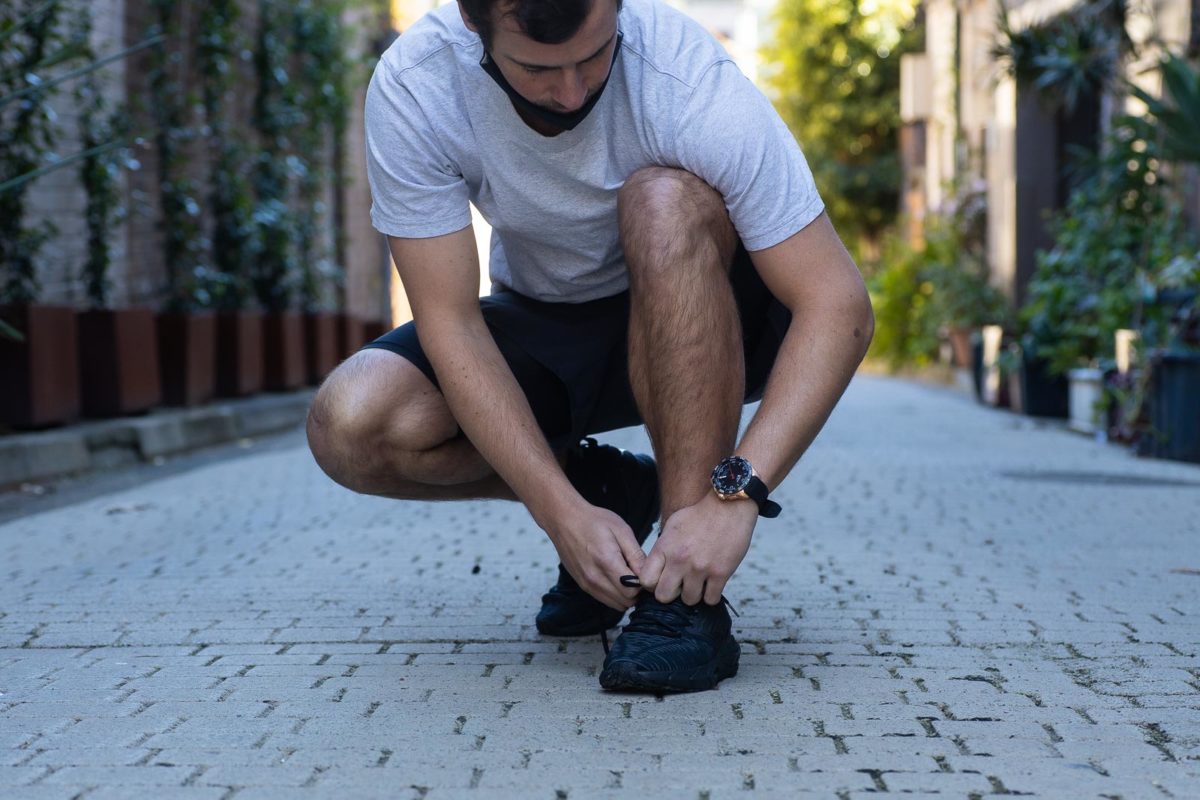 While there's a lot to love about the features of the T-Touch Connect Solar, its size is definitely something you'll need to consider. The titanium case measures a whopping 47.5mm in diameter and will stand 15.3mm tall off your wrist. This might be a deal-breaker if you're used to wearing more petite watches, but the benefit of the size is that it makes the dial screen easier to read and interact with.
---
---
As you'd expect from a brand like Tissot, the materials used are top-notch. A brushed ceramic bezel blends seamlessly with equally detailed Titanium lugs, while special mention must be made of the orange accents on Ref.T121.420.47.051.04 providing a punch of contrast and character. While the T-Touch Connect Solar is sizeable, the previously mentioned titanium case makes for a weight of just 92g meaning it's light on the wrist, and a pleasure to wear with the rubber strap. For those looking for a more formal iteration, the T-Touch also arrives on a bracelet, featuring brushed and satin polished links with deployment clasp. It's also water-resistant to 100m, meaning it'll handle pretty much anything you can throw at it.
A connected watch from a brand like Tissot might seem like a weird move by the brand, but Tissot is actually a pioneer when it comes to Swiss watch brands. It was in 1999 that Tissot first launched their T-Touch technology, which is present today in the tactile scratch-resistant sapphire crystal over the dial.
All things considered, there's a lot to like about the T-Touch Connect Solar and not much to dislike – aside from connecting to the app – which we assume will be fixed with updates. If you've held off from buying a smartwatch in the past, because you don't like the idea of another screen that needs daily charging, you won't need to worry about that here.
It's a spartan interpretation of a smartwatch, that tells you what you need to know, lasts indefinitely between charges, and boasts a bunch of practical functions you'll actually use. If you're happy to wear a big watch, then the Tissot T-Touch Connect Solar is definitely worth considering.
The Tissot T-Touch Connect Solar is priced from $1,625. Hit the link below to pre-order yours.