After a tremendous year which included multi-million dollar collaborations with McDonald's, Nike, Fortnite, the launch of his own hard seltzer, and even landing a title track in Christopher Nolan's Tenet, hip-hop's Travis Scott (real name: Jacques Berman Webster II) has decided to reward himself with an x-rated Richard Mille timepiece officially known as RM 69 Manual Winding Tourbillon Erotic – no, really – and unofficially referred to as the RM 'sex watch'.
Subtlety isn't exactly in the Richard Mille vocabulary; perhaps why it's a brand favoured by rappers, given a large portion of their occupation entails flaunting the goods. And you certainly won't find a single ounce of subtlety on this NSFW bit of craftsmanship. The pusher featured at the 10 o'clock position activates the RM 'Oracle' complication, causing three grade-5 titanium engraved rollers on the dial to randomly generate an unapologetically horny phrase:

Top (declarative)
"I want to"
"I need to"
"I long to"
"I lust to"
"I'd love to"
"Let me"
RELATED: Rafael Nadal Plays At French Open With US$1 Million On His Wrist
---
---
Middle (verbs)
"explore"
"taste"
"kiss"
"arouse"
"devour"
"caress"
Bottom (the moneyshot)
"you tonight"
"your lips"
"your body"
"your nipples"
"your pussy"
"you madly"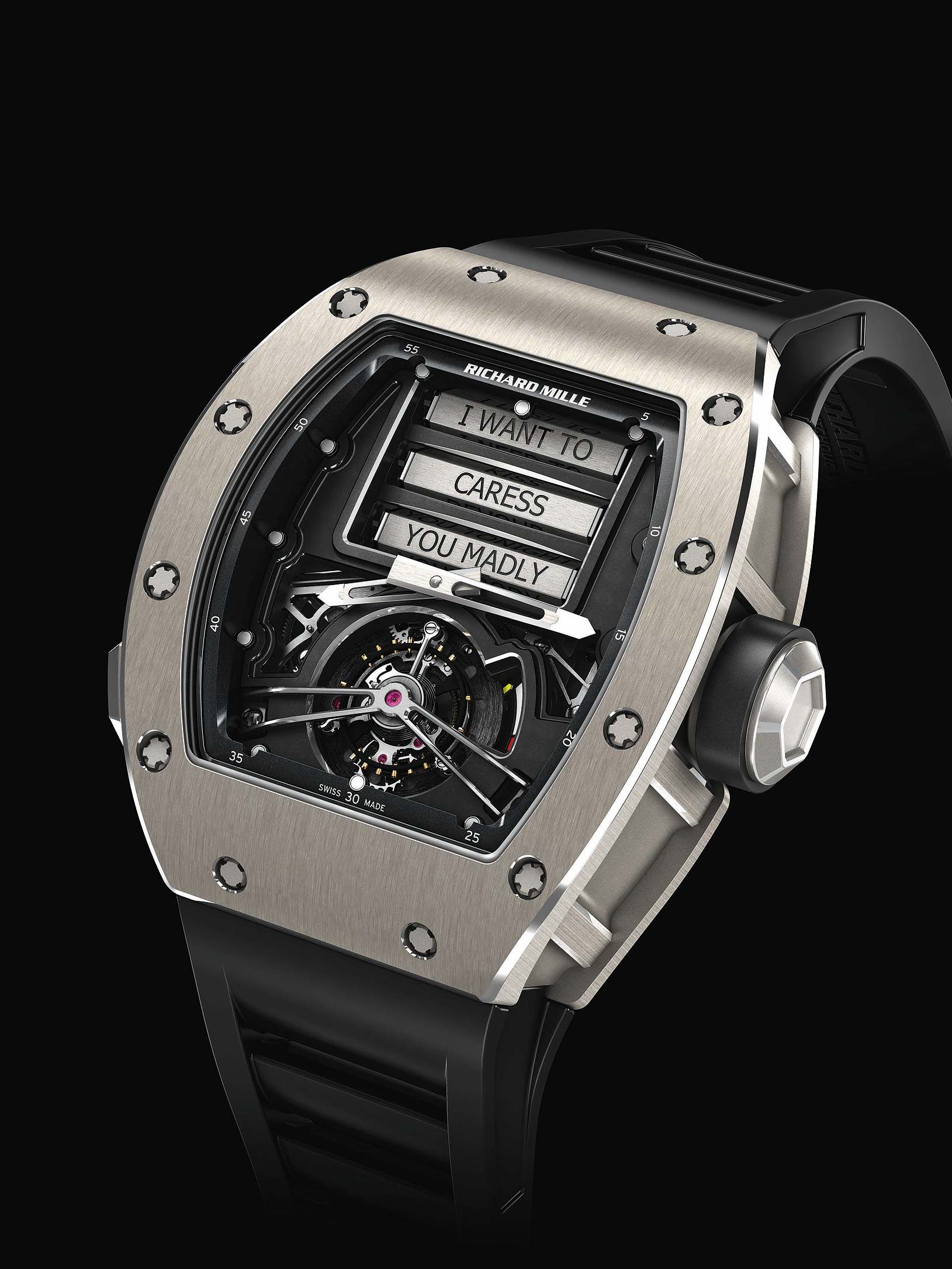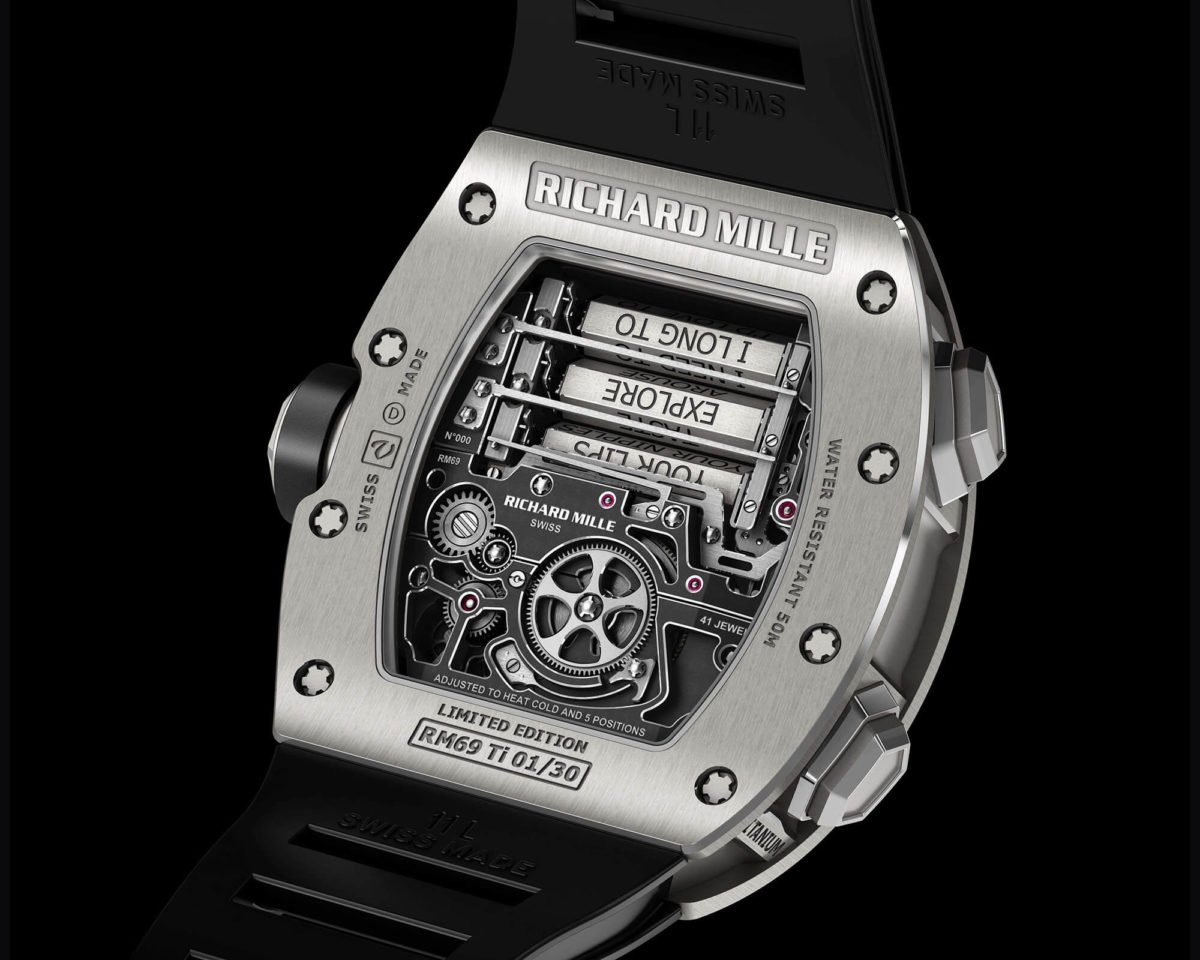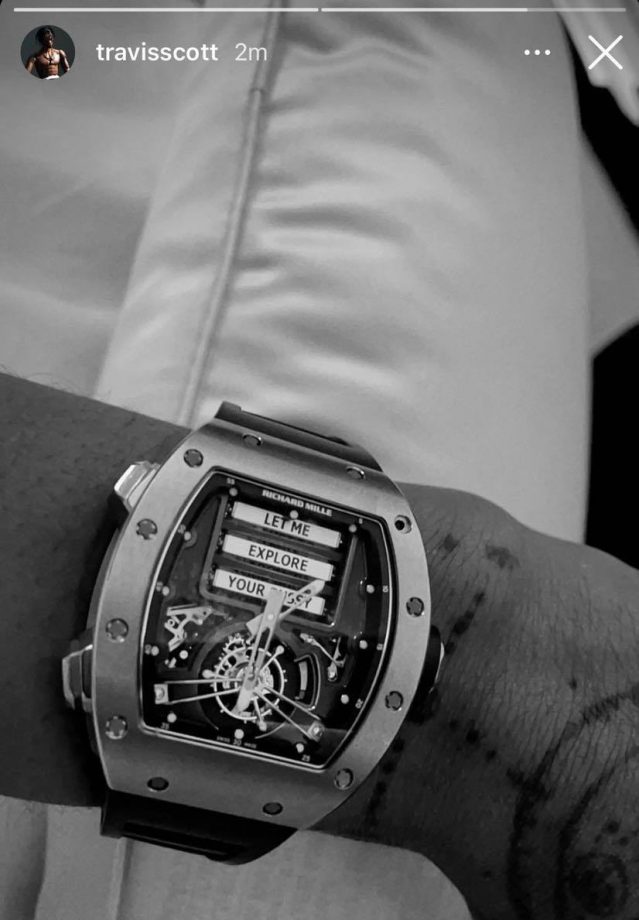 "Erotic timepieces are part of watchmaking history," reads the official site description.

"Designers of yore played with the theme of libertinism by mechanically recreating suggestive scenes. Because they broke with conservative moral, religious, and political customs – these objects were often banned and confiscated."

"On the RM 69, however, love and eroticism proclaim themselves proudly and clearly in words. Far from scenes brought to life by automatons, this creation plays on the desire to openly express passion, sensuality, and even sexuality."
But Cactus Jack isn't exactly a trailblazer on this front. As some of you may recall, Drake was spotted wearing a similar piece during a trip to Las Vegas back in 2018 (because who else?). Sicko Mode minds think alike, I suppose.
The Richard Mille RM 69 Manual Winding Tourbillon Erotic – otherwise known as the RM 'sex watch' – worn by both Drake and Travis Scott appropriately has a 69-hour power reserve. The current retail price? Approximately US$783,000 (AU$1.02 million).