What sits behind the best hotel bathrooms in the world? High-end amenities, pillow-soft bathrobes, sculptural bathtubs, rainfall showers, the materials, personality-led design. There's a lot.
Getting the bathroom right is easily the most important part of any luxury property – one which hoteliers around the world fuss over constantly, from procuring a high-quality brand for the toiletries, to making sure the grout colour complements the overall ambiance. You'll even find that almost all luxury resorts and hotels work endlessly towards capturing a signature scent, typically designed in collaboration with a premium brand like Karl Lagerfield or Appelles Apothecary and Lab.
No matter how plush the king sized bed, or generously stocked the inclusive mini-bar, a poorly designed and cheap looking bathroom could be the downfall of the entire guest experience. After all, the hotel bathroom is that inner-sanctum of solitude where each day begins and ends, from getting ready for an important meeting, to prepping for a night out.
---
---
What Makes A Hotel Bathroom Stand Out?
Before we get into the best hotel bathrooms in the world, let's talk about context. Why do these bathrooms stand apart from the hundreds of thousands of others that await guests when free-flowing international travel is a thing again?
"A beautiful hotel bathroom marries functionality with thoughtful design," says Paul Tsalikis, CEO and Founder of Vanity Group, which provides high-end skincare and haircare amenities to many of the world's leading luxury hotels. If anyone knows what makes a hotel bathroom truly great, it's him.
"It needs to feel like a space of escapism. A hotel bathroom is one of the very few places you get to experience total solitude, even if it is only for 10 minutes. It has its own ambience that stems from the tiles, fixtures and finishes through to the tapware and wall brackets to hold the amenities."
Below you'll find the most lavish dens of mental decompression available in some of world's best luxury hotels, whether the properties are wild and remote, or standing tall in a big city.
These Are The Sexiest Hotel Bathrooms You'll Ever See
---
Six Senses Zil Pasyon, Seychelles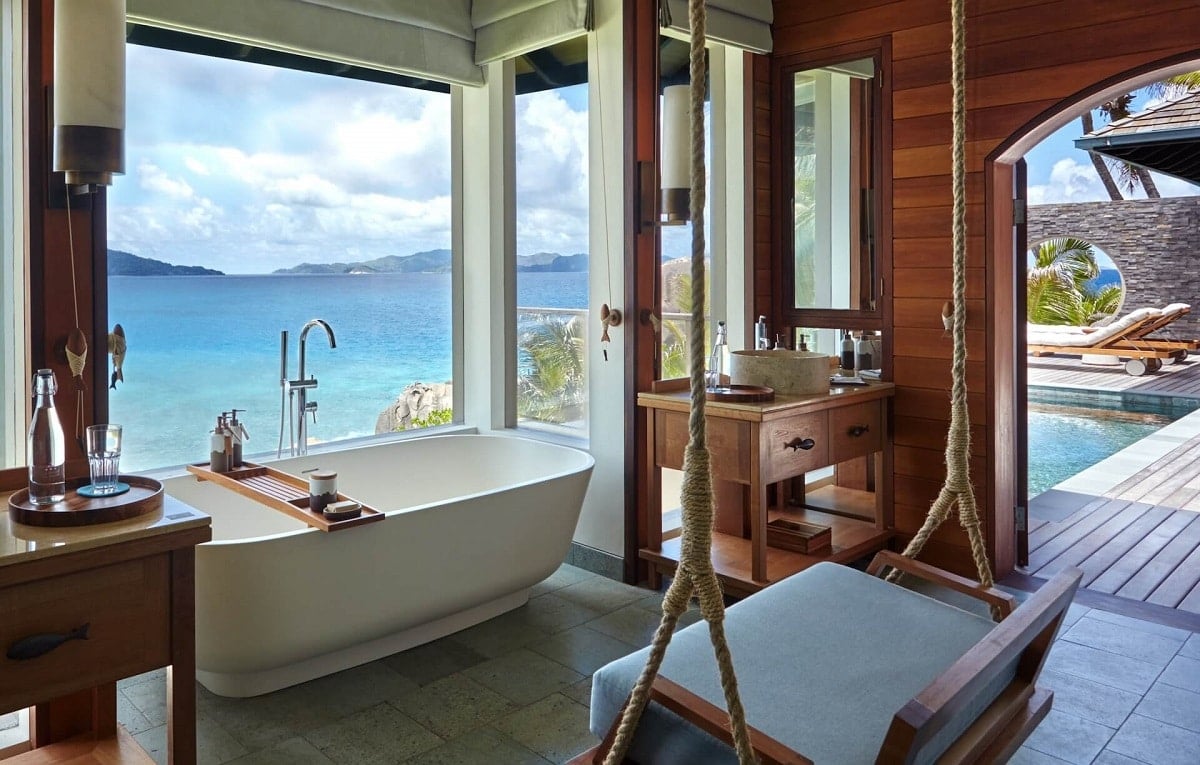 Covering a third of the heavily forested Félicité Island, the famed Six Senses Zil Pasyon is a pure expression of luxury living meets legendary paradise.
The bathroom of a Payson Pool Villa perfectly illustrates how important it is to maximise this kind of view. The surrounding islands are welcomed in through large glass windows, best experienced via the perfectly positioned bathtub. The bathroom also features a separate rain shower, electronic toilet, and Organic Pharmacy bathroom amenities. And just to add a bit of theatre, a swing seat.
---
Coqui Coqui Mérida, Mexico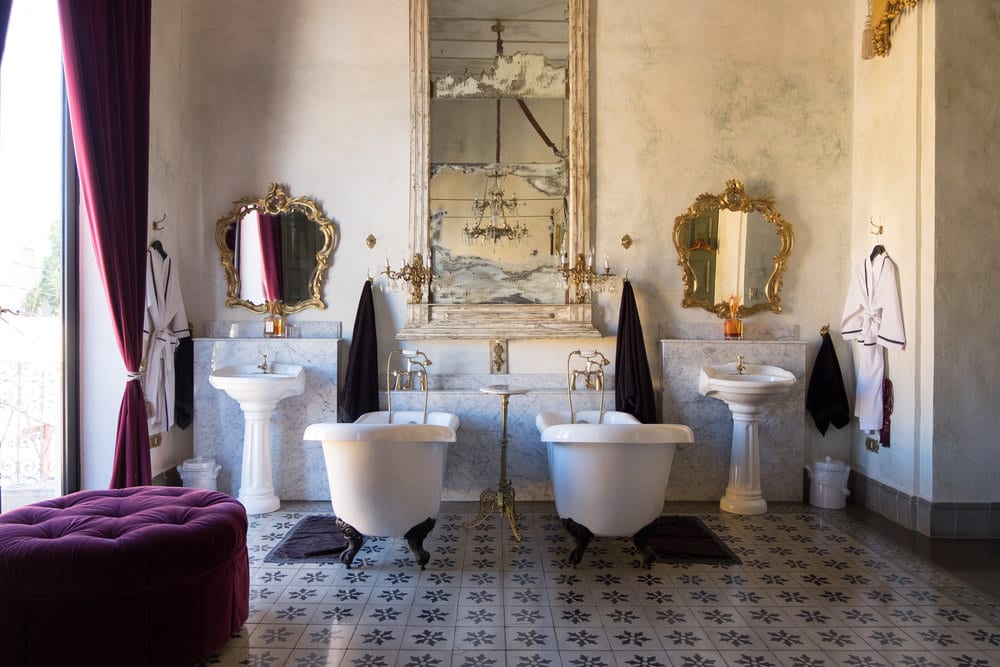 Mexican Perfumeria Coqui Coqui operate this beautifully restored one-suite residence in the heart of Merida. Much like some of their other properties, it's a large, almost monastic ode to vintage luxury.
---
---
The hotel's greatest achievement is its grand bathroom, with twin tubs, marble tiled flooring, gold details, and lush red velvet curtains. Even just looking at it feels like you've been dislodged from time and gently cradled back into the Belle Époque era of the late 1880s.
---
Vakkaru, Maldives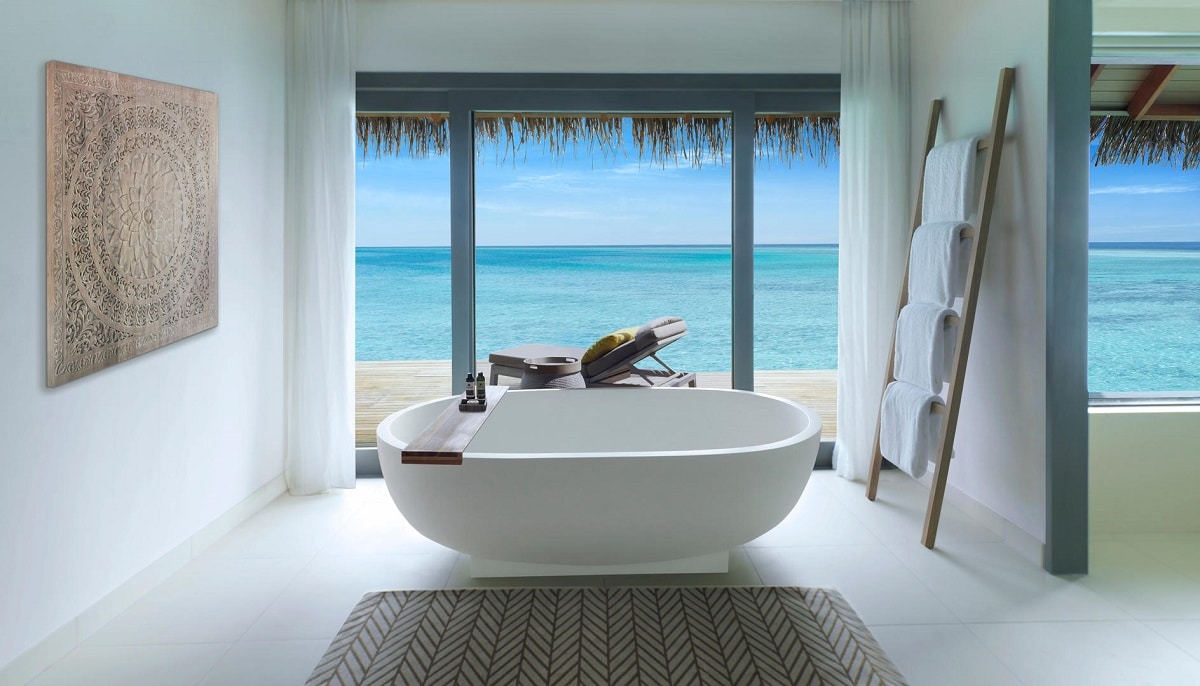 Surrounded by the historic bioreserve of Baa Atoll, the Vakkaru resort is a pristine picture of peace and solitude in the Maldives. The strong wellness angle is best expressed in the softly designed bathrooms of the over-water villas, seamlessly reflecting the archipelagic state's fabled natural beauty.
The designers clearly value minimalism, opting for a high-polish, neutral bathroom with a few well-placed features. The crystal blue waters facing the tub do more than enough to add to the space's visual spectacle, which is complemented with amenities from high-end Australian brand Appelles and premium gear like Bang & Olufsen speakers.
---
One&Only Palmilla Los Cabos, Mexico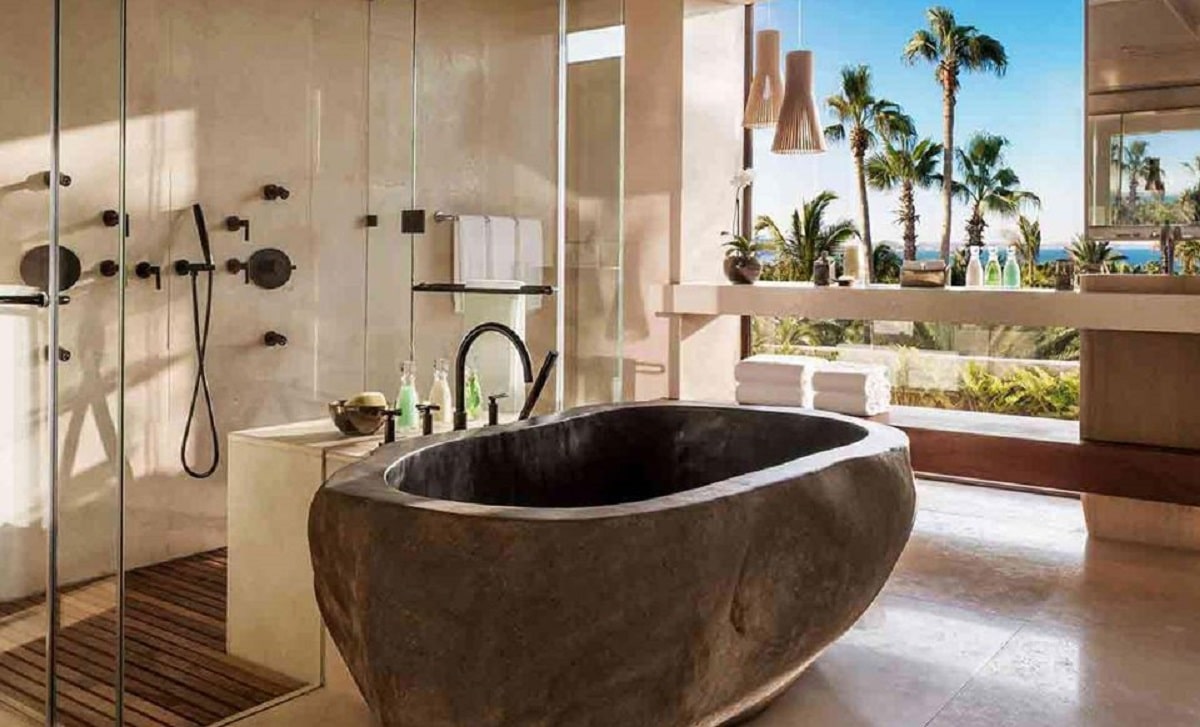 One&Only is often seen as the benchmark for luxury resorts in storied destinations, and this sprawling Los Cabos gem is no exception. Stealing a massive slice of the Mexican paradise, the property is spectacularly set on a secluded bluff overlooking the Sea of Cortez.
This lays the groundwork for the dramatic 4-bedroom Villa One, where the biggest of 4 bathrooms leans heavily on those tropical views, perceived through massive glass windows with plenty of natural light scratching the surface of a head-turning stone bathtub.
Aman Tokyo, Japan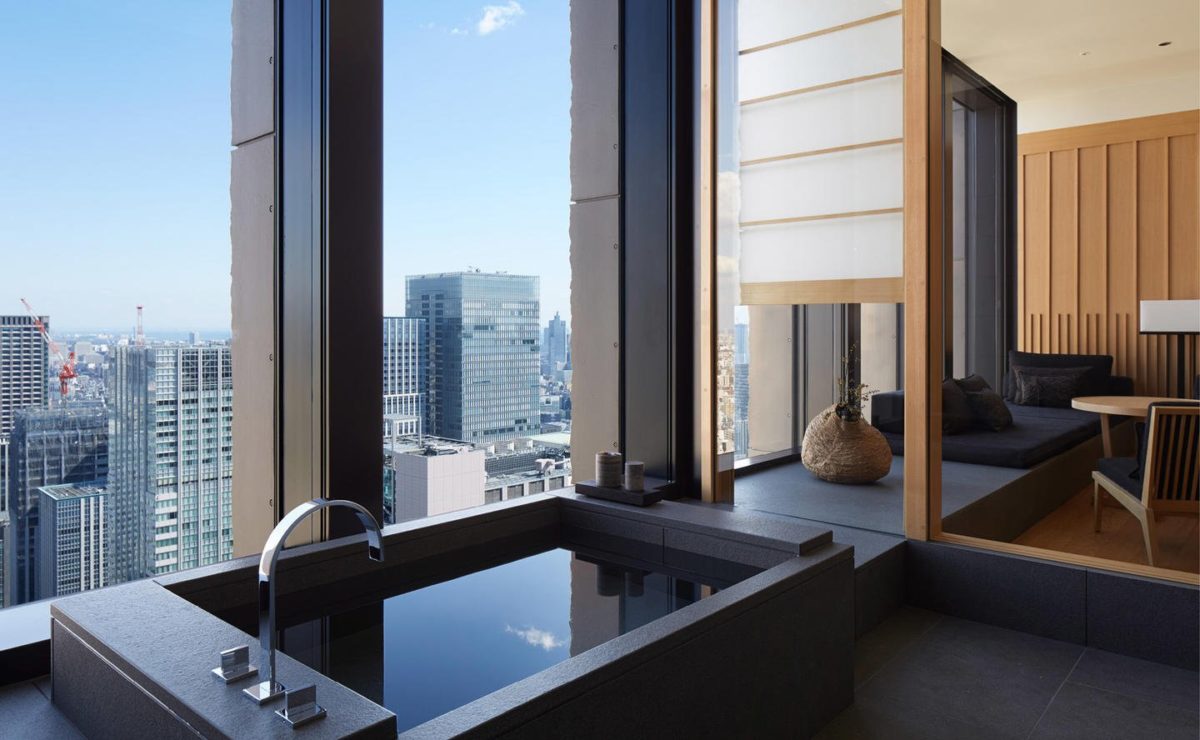 Aman Tokyo embodies the minimalist forward-thinking appeal of modern architecture.
Here you see a bathroom from one of the higher category suites, anchored by a traditional Japanese style oforo deep-soak tub built with anthracite slate. Singaporean architectural firm Kerry Hill purposed the tub in front of high bay windows to give the sensation of weightlessness while soaking in cedar-infused salts and looking over the city.
---
Atlantis The Palm, Dubai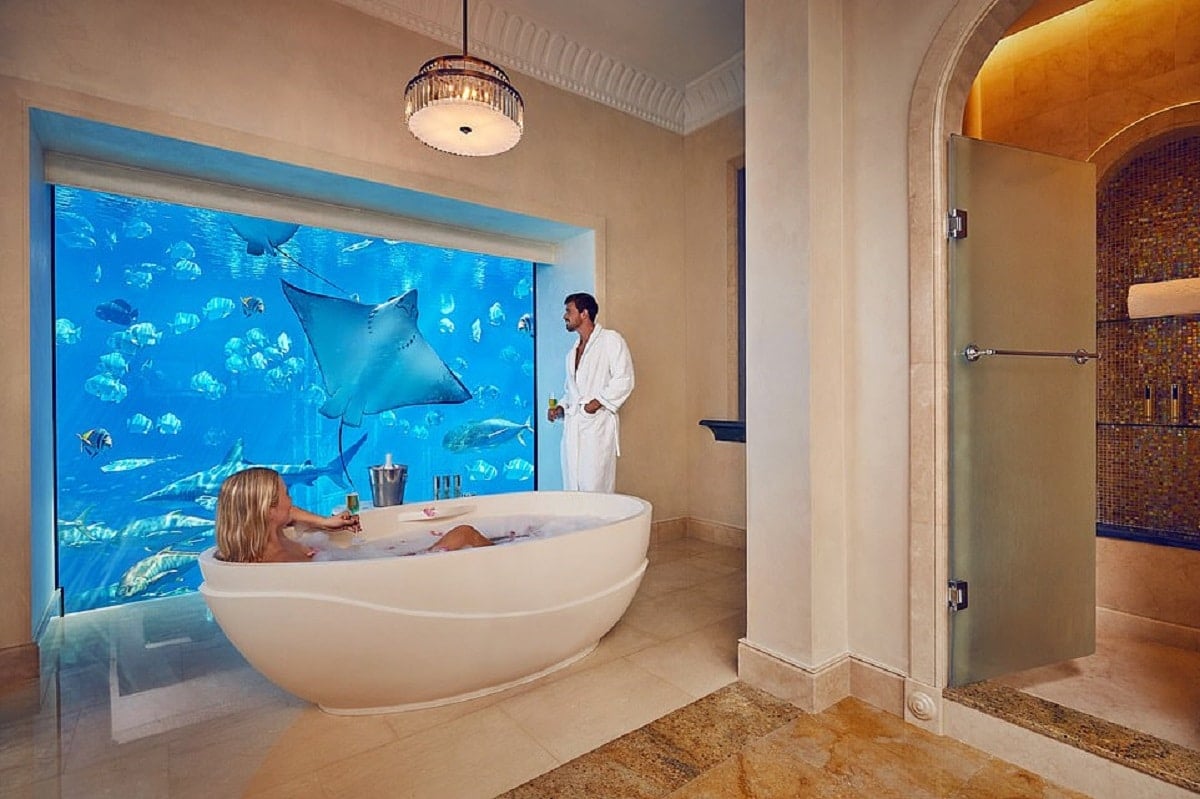 Located on Dubai's Palm Jumeirah Island, Atlantis, The Palm's immense silhouette encompasses everything from a massive waterpark, and underwater suites, through to high-end bars and restaurants.
---
---
While there are over 1,500 rooms, only the highly sought Underwater Suite boasts the supreme theatre of floor-to-ceiling windows, welcoming the resort's Ambassador Lagoon and its abundant marine life into the immaculate bathroom.
---
The Silo Cape Town, South Africa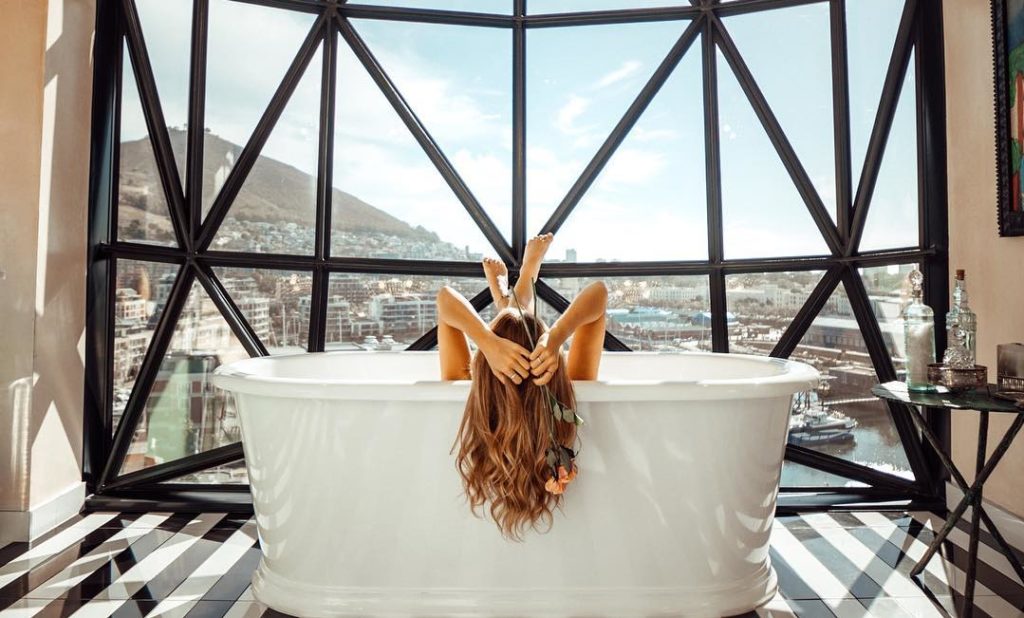 This luxury Cape Town hotel, sitting atop the phenomenal Zeitz Museum, is one of the city's most charming restoration projects. London's famous Heatherwick Studio has turned this former grain silo into a six-floor luxury hotel defined by bulging pillowed windows and tasteful interiors.
The bathroom of each suite is epic enough, with glass-and-chrome vanities, and elegant Penhaligons amenities, but its the placement of the freestanding tub in front of those massive convex windows, looking out to the muscular Table Mountain, that seals the deal. This is surely one of the most beautiful hotel bathrooms in the world.
---
The Ritz Carlton, Hong Kong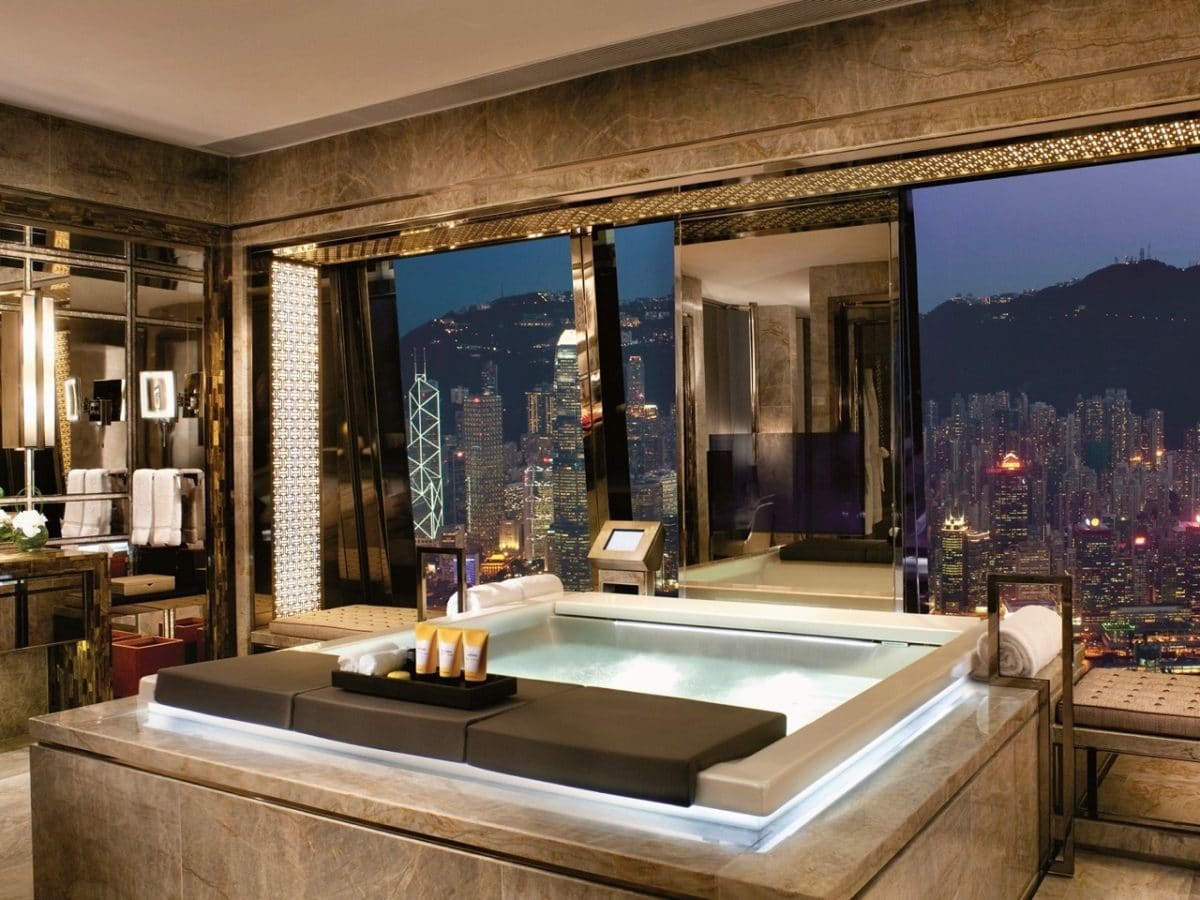 Boasting one of the most beautiful hotel bathrooms in Hong Kong is The Ritz Carlton's namesake suite, swollen to a massive 3,930 square-feet. The full marble bathroom overlooks every feature of Hong Kong's energetic skyline, from Victoria Harbour and the glitzy high-rises, to the mountains beyond.
Luxury Asprey amenities, a rainforest shower, and dedicated powder room round out the generously sized bathroom.
---
Lion Sands Game Reserve, South Africa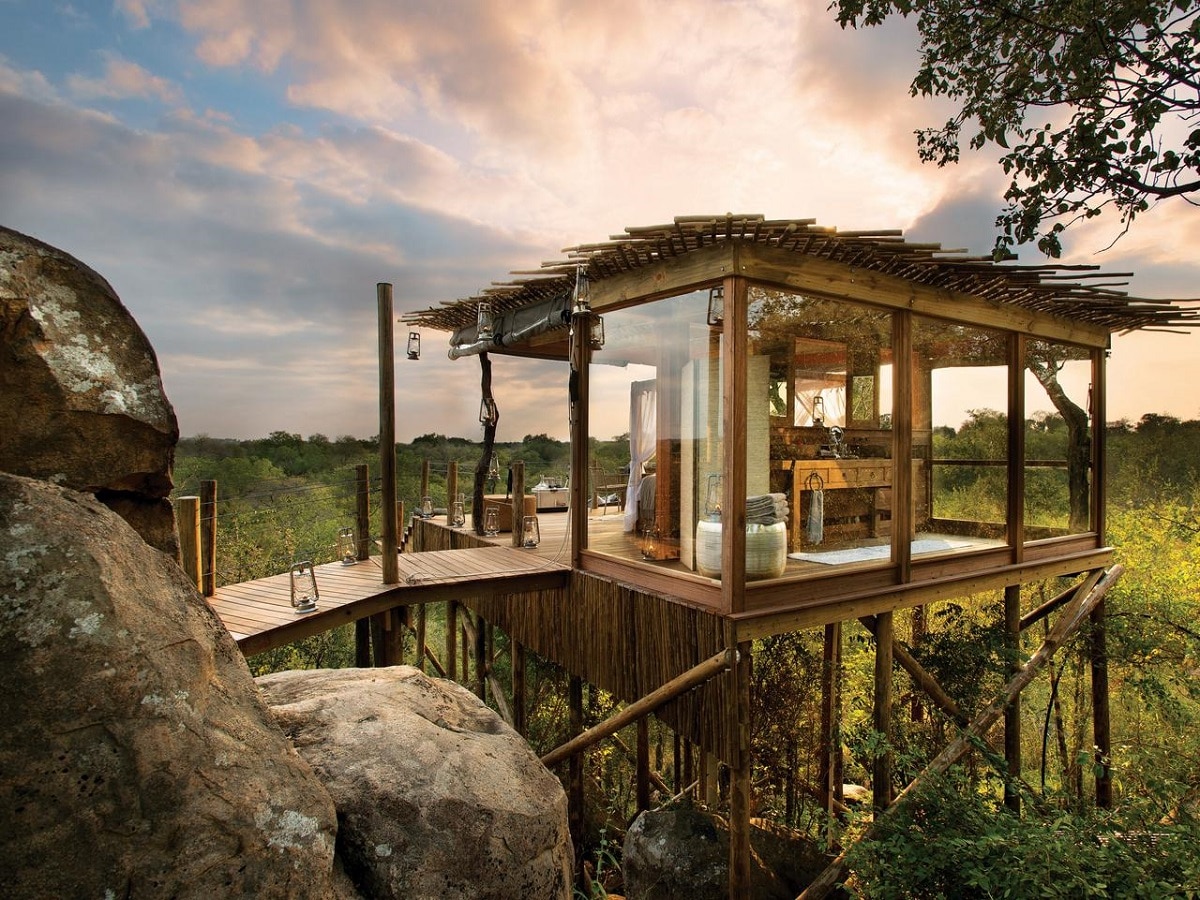 South Africa's sense of luxury is on a completely different scale to the rest of the world, especially when it comes to their safari lodges. It's then no surprise that you'll find some of the most beautiful hotel bathrooms in the world here, perhaps best expressed by the floating Kingston Treehouse at Lion Sands Game Reserve in Kruger National Park.
Being elevated almost ten feet above the ground, the open-air bathroom offers the perfect panorama of lions, elephants, leopards, buffalo, and rhinos. That's quite a soundtrack for your pre-safari grooming session.
---
Sofitel Sydney Darling Harbour, Australia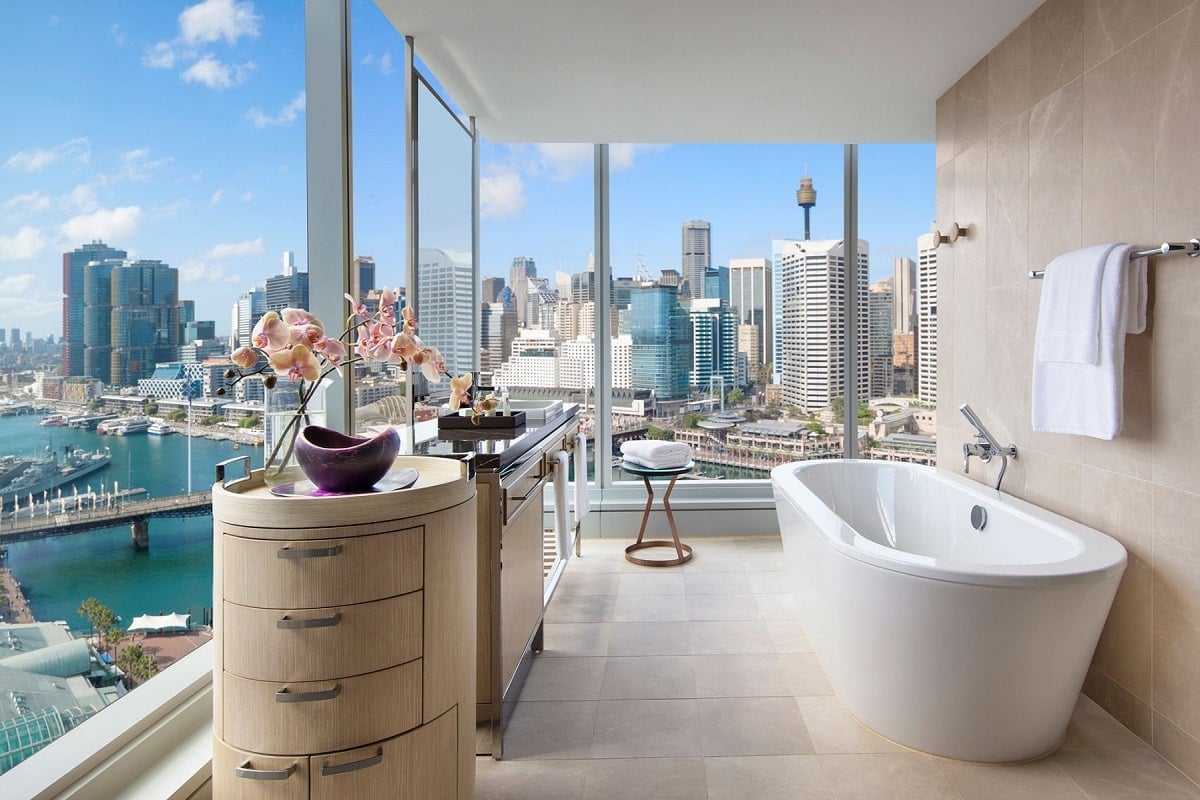 Sofitel Sydney Darling Harbour doesn't boast immediate views of Sydney Opera House or the Sydney Harbour Bridge, yet it still hosts one of the most beautiful hotel bathrooms in Australia. How? Pure elegance, and a stunning view over Darling Harbour define the space of solitude.
---
---
Glass windows are used to maximum effect in the bathroom of a Luxury Room Darling Harbour View, with very few features getting in the way of that gorgeous perspective. The freestanding tub, augmented by luxury French amenities, is all you'd need to soak up Sydney's envied harbour.
---
COMO Point Yamu Phuket, Thailand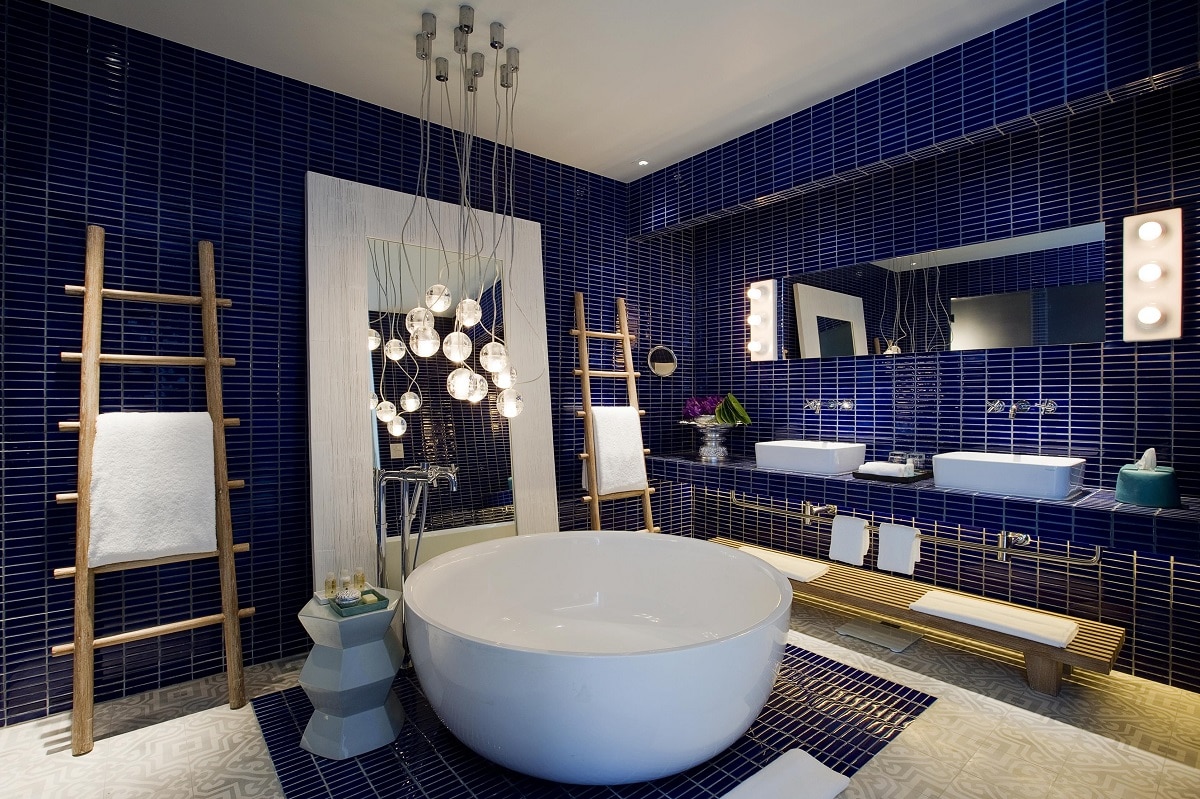 There are many luxury hotels and resorts in Phuket making the most of the island's peninsula, from Sri Panwa to Trisara. However, it's the COMO Point Yamu that maintains the island's most impressive bathroom – a testament to how smart design can negate the need for a spectacular view.

Full credit goes to renowned Italian designer Paola Navone, who has worked up a palette of bright aquamarines and burnt oranges using traditional Thai techniques. Complemented by statement lighting, a deep-set circular bathtub, and signature COMO Shambhala bathroom amenities, it's a bathroom of considerable merit.
---
Ponta Dos Ganchos, Brazil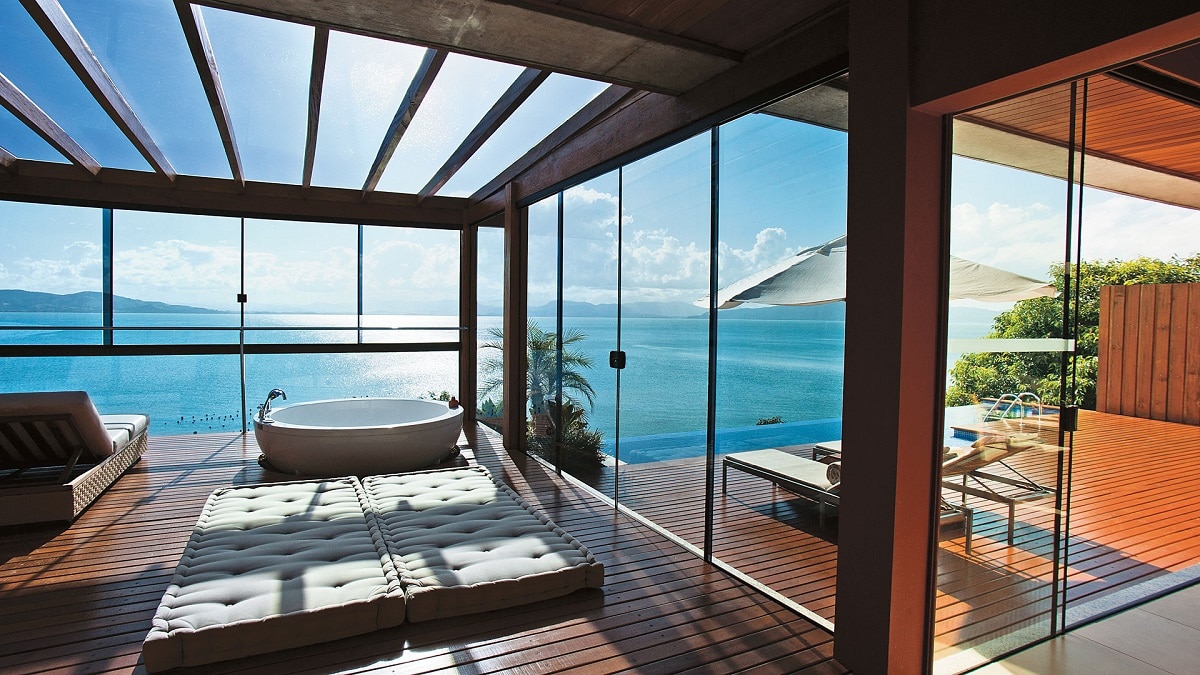 Perched on Brazil's Emerald coast, luxury resort Ponta Dos Ganchos doesn't just offer lavish hilltop spa treatments and romantic private island excursions. Have the good sense to book the Especial Esmeralda Villa and you'll get access to one of the coolest hotel bathrooms in the world.
This enormous hub of self-care, lined with golden-hued garapeira wood, is so spacious at 350 square feet, that it hosts its own dry sauna, a spa area with plush massage tatamis, and a ridiculously sexy eburnean whirlpool bathtub basking in the unforgettable view.
---
Conservatorium Amsterdam, Netherlands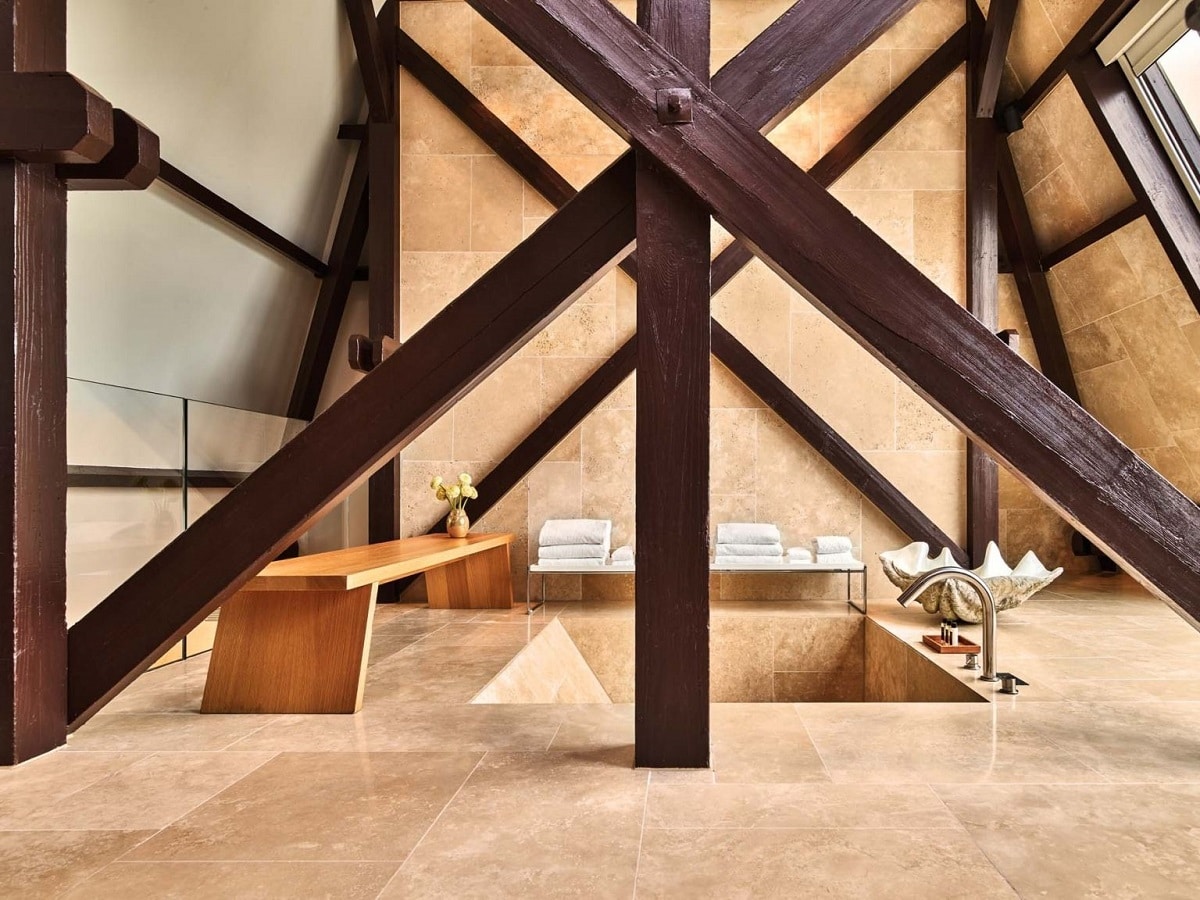 Amsterdam's coveted Conservatorium Hotel is best experienced through the 'I Love Amsterdam' suite. This signature suite is where visionary Milan-based designer Piero Lissoni has shaped Daniël Knuttel's 19th-century architectural details with a sense of pure ecstasy.
Never mind that the suite comes with a professional-quality sound system and even an acoustic guitar, nodding to the property's past as a music school. Its the two captivating Jerusalem sandstone bathrooms that get all the attention, with super-sized showers, luxury bathroom amenities, and marble tubs, broken up by Oregon pine and dramatic hemlock beams.
---
Four Seasons Hotel Firenze, Italy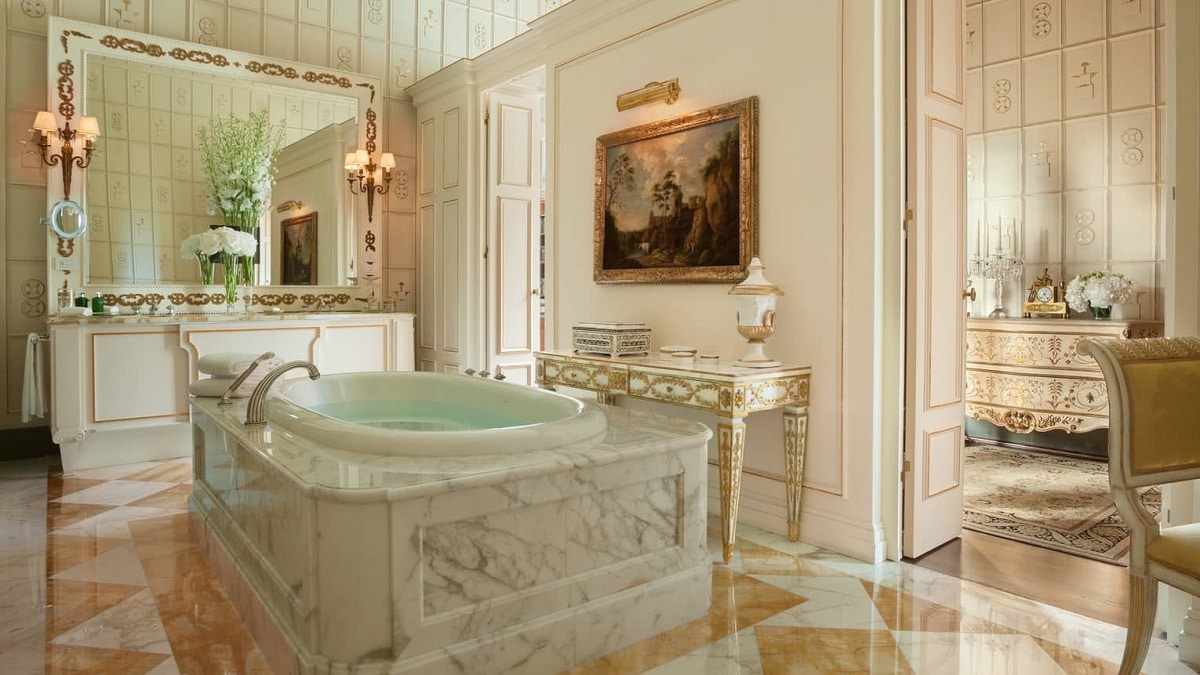 Too much opulence could run the risk of intimidating guests, which certainly may be the case with the almost excessively high-end Royale Suite at Four Seasons Hotel Firenze. Piercing the heart of Florence, this stately palazzo tops out with this highly ornate suite.
Most impressive is the 500 square foot main bathroom, glistening with its highly polished full marble finishing, leading from an original Capodimonte Maioliche-style ceramic floor. Between the lavish vanity, walk-in shower, and tub perched over a private terrace, it's an easy win when seeking out the world's best hotel bathrooms.
---
---
---
One&Only Cape Town, South Africa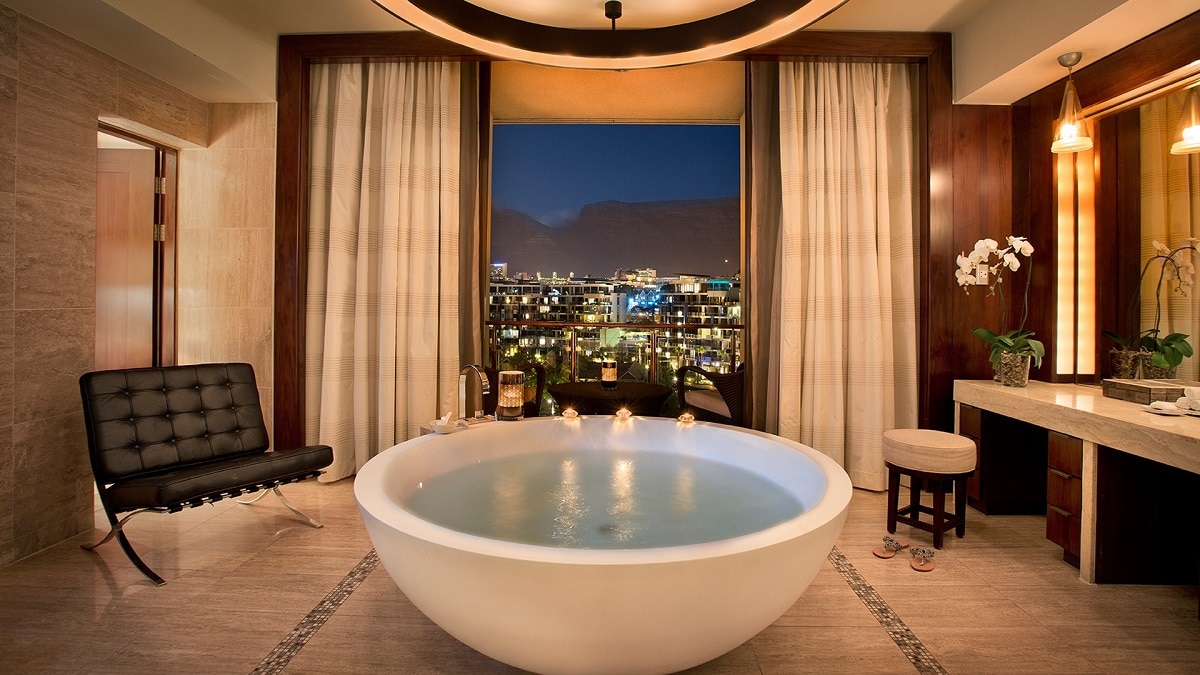 The second Cape Town appears on this list of the most beautiful hotel bathrooms in the world. It's worth the repeat though, as One&Only, much like the aforementioned Silo Hotel, smartly uses its perspective of Table Mountain for incredible impact.
This is most obvious in the aptly named Table Mountain suite, where the bathroom's focal point is a central pearl-like tub presented beneath a lavish glass dome. That contemplative mountains view, shooting in through an angled window, is unbeatable.
---
Vik, Chile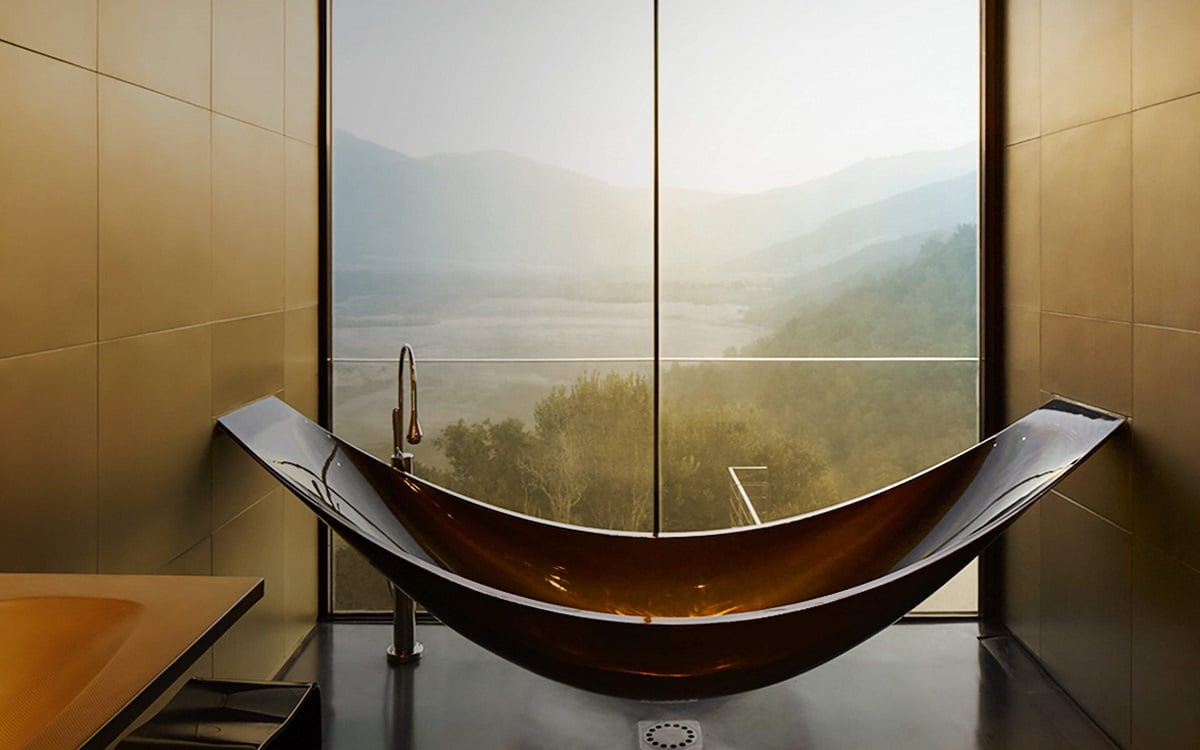 Built by a Norwegian-Uruguayan billionaire, Vik is the most acclaimed hotel in Chile, not just for its extraordinary location – the property shadows a vineyard cradled in the foothills of the Andes mountains – but also its incredible design. Each guest room is a work of art, right down to the granular details.
As a testament to how important a bathroom is to a hotel, the show-stealer is the self-care station of the signature Vik Suite. A carbon fibre bathtub is positioned right next a large glass window, overlooking the world-class vineyard. What's most remarkable is that this floating tub has been shaped with arches to resemble a hammock, bringing an extra layer of supreme relaxation while you soak.
---
Le Royal Monceau Raffles, France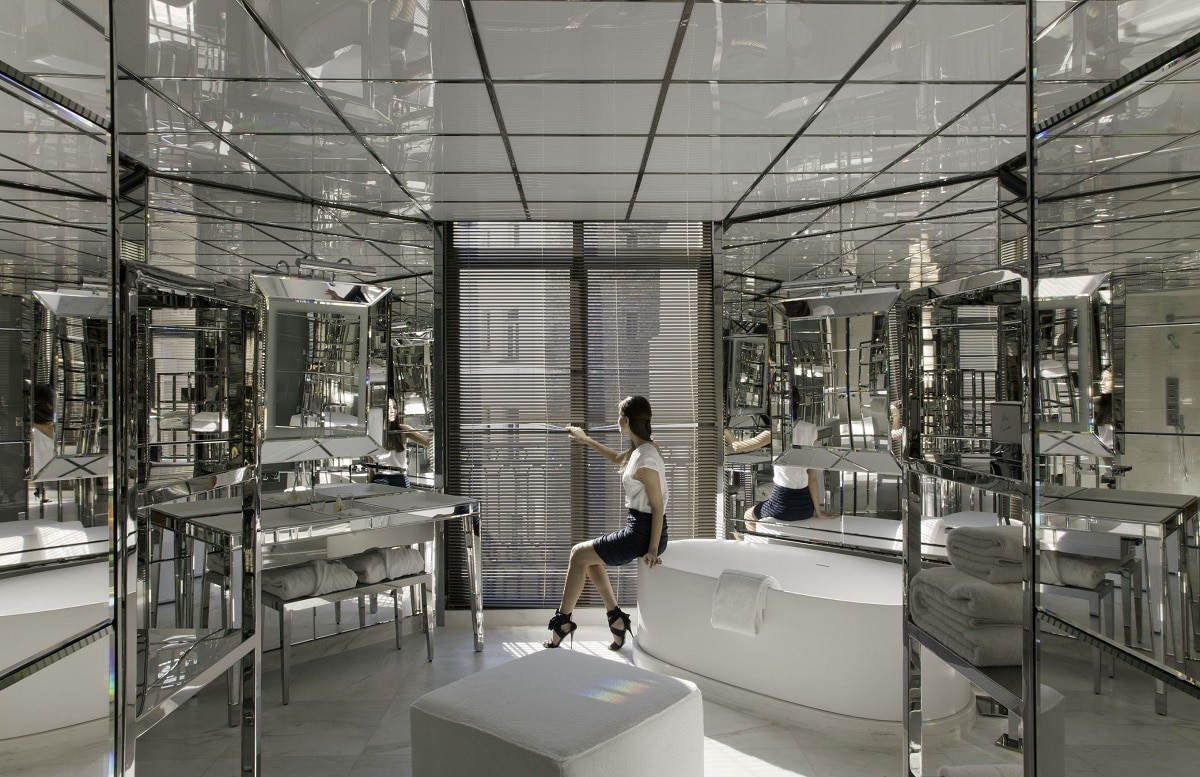 The award for the most interesting bathroom in the world goes to… Le Royal Monceau Raffles. Looking like a Christopher Nolan film set, this slightly intimidating, highly conceptual bathroom belongs to the Royal Monceau Suite and is guided by light.
While those all-important smaller details are taken care of with high-end French amenities and plush bathrobes, French interior designer Philippe Starck has worked up a space completely devoid of shadows, calibrated to give guests the best possible light bouncing off mirrored walls.
---
Mystique Santorini, Greece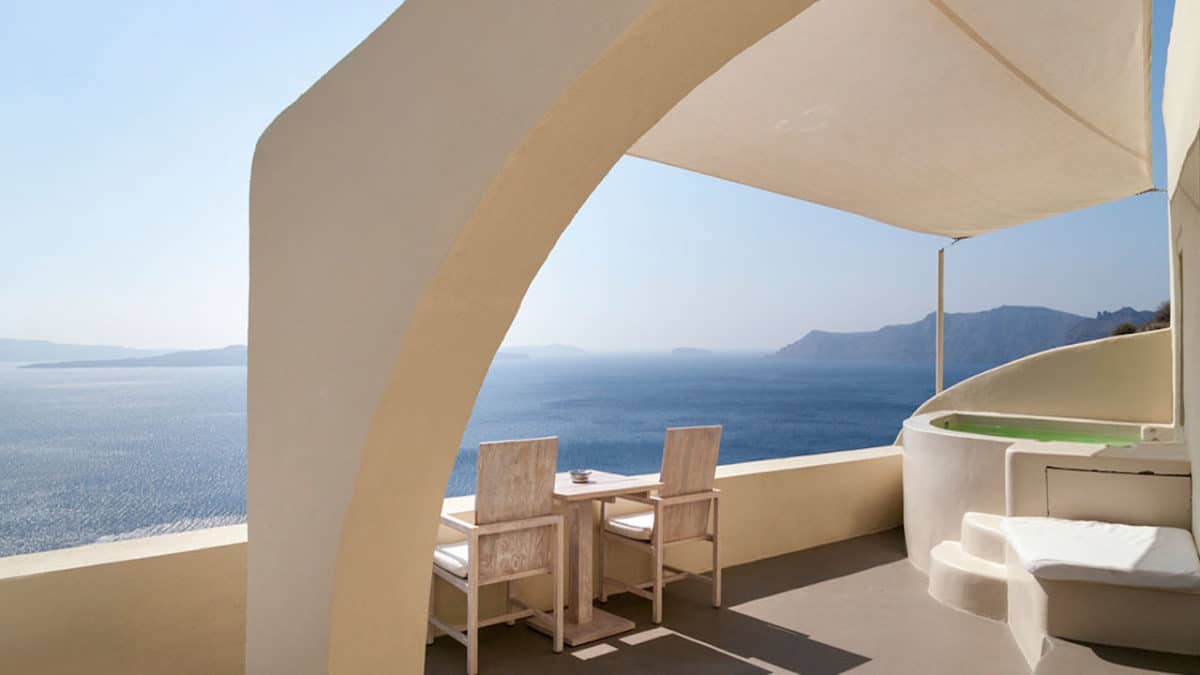 A list of the most beautiful hotel bathrooms in the world wouldn't really be complete without at least one visit to Santorini. The mythic Greek island commands some of the most truly liberating views in the world, and that kind of wellness hit is best complemented by a bathtub such as the one at Mystique Santorini.
Carved into the Caldera cliffs and overlooking the Aegean Sea, this luxury hotel offers the highly prized Holistic Suite, with open-air jacuzzi as a major feature. It's the kind of photo that you'd see once and could base your entire life savings around.
---
---
---
La Sultana Marrakech, Morocco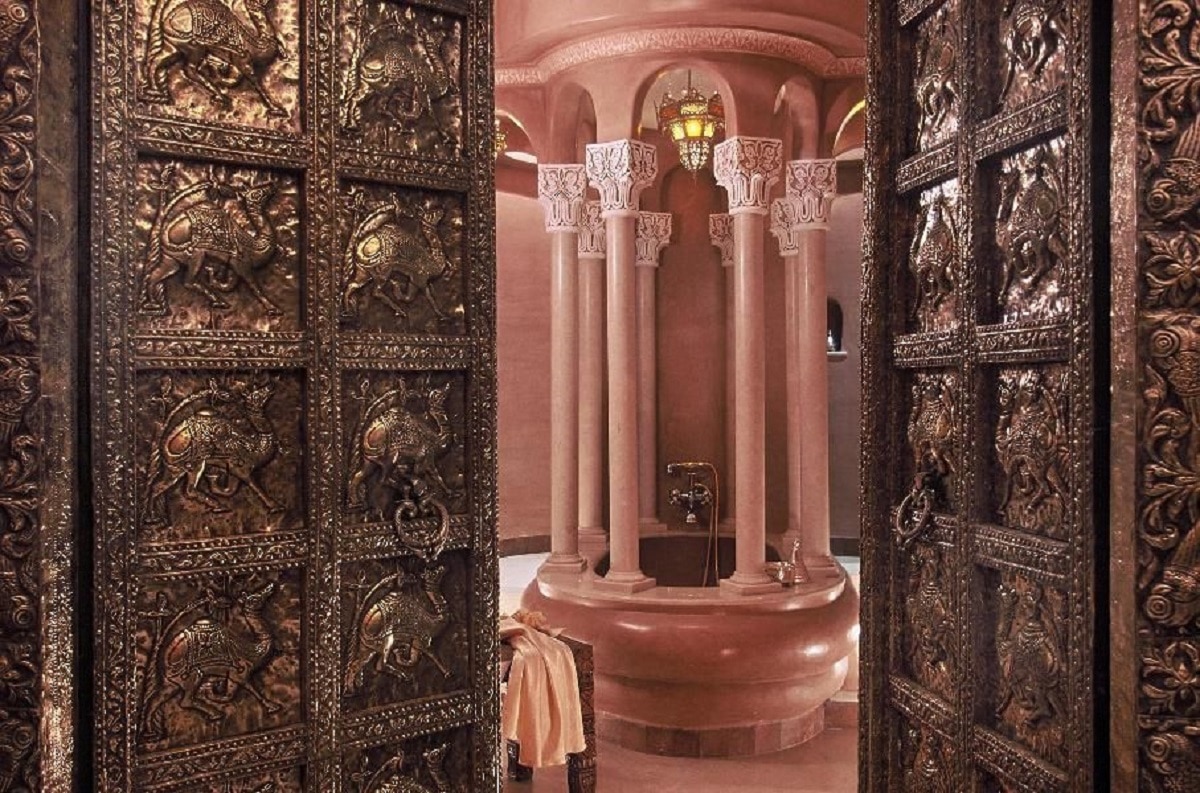 La Sultana is one of the most convenient luxury hotels in Marrakech, edging close to just about everything you'd want to see in the historic city. While you'll be spending plenty of time outdoors, there's just as much temptation to stay inside if you've landed yourself the exclusive Dromadaire Suite.
Here, the earthy pink bathroom is hidden by massive antique copper doors, detailed with hand-worked tadelakt plaster and anchored by a marble tub flanked by dramatic columns.
---
Ol Jogi Estate, Kenya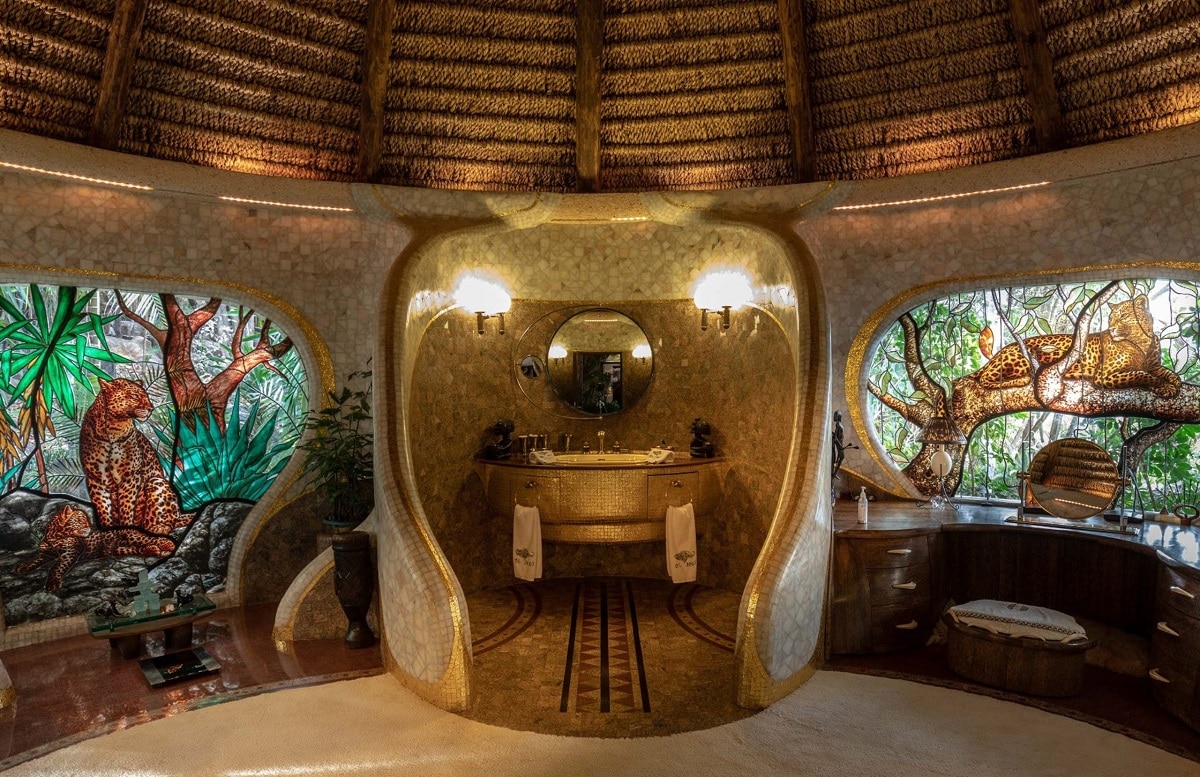 Built on a dynastic fortune of art and horses, Ol Jogi Estate is a private safari lodge set on 60,000 acres of deep, dense wildlife conservancy in Kenya's Laikipia region. Beauty is without question, which is why the family's best design choices come when inside meets outside.
The enormous bathroom of the Mbogo Cottage uses colourful stained glass to represent some of the wildlife that populate the area, with all the bathroom essentials – luxury branded amenities, downpour rain showers, jacuzzi tubs – neatly organised around the art.
---
The Langham, Chicago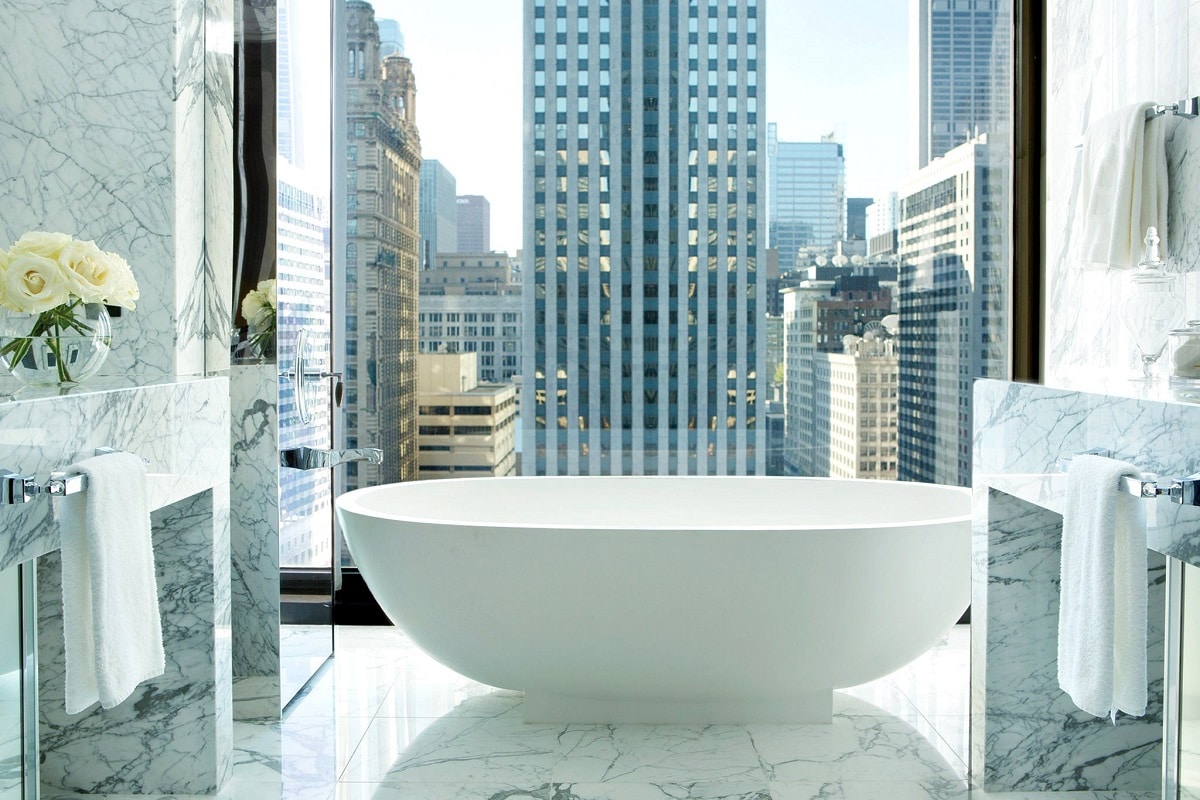 The natural beauty of Kenya or Santorini may be far beyond one of America's most famous and complicated cities, but the immensity of Chicago River and the Magnificent Mile is undeniable. With variegated, historic architecture lining the trim canal, the famed Windy City boasts the most beautiful concrete jungle in the world.
Of course a pristine bathroom that offers the kind of bird's eye, front row to all that action is going to go over well. That happens to be the Infinity Suite at The Langham, the epitome of luxury in Chicago. It gets no better than bathing over the country's greatest cityscape.
---
Best Hotel Bathrooms In The World – Frequently Asked Questions
What can make a hotel bathroom better?
Simply put, the amenities. Many luxury hotels like to have the best high-end collections from renowned brands. "The sensorial experience of hotel collections creates memories… What a guest smells, touches and sees within the bathroom influences their entire stay and how it makes them feel… [the amenities are] often remembered more than others as [they are] directly linked to personal care" says Vanity Group CEO & Founder Paul Tsalikis.
How can I make my bathroom feel like a luxury hotel?
Upgrade your shower head, invest in a new tub, go for something sexy like behind-mirror strip lighting, and buy better brands for toiletries like shampoo, conditioner, and body soap. Also think about open design and what kind of shower you want. Many luxury hotels now opt for a frameless wet room shower.
What Are The Best Hotel Bathrooms In Australia?
Sofitel Sydney Darling Harbour uses smart design, top-quality amenities, and a perfect view to its advantage. Other impressive bathrooms include QT Perth, Pier One Sydney Harbour, Qualia, Ovolo Nishi, Park Hyatt Melbourne, Hotel X, and The Darling.
Feeling relaxed? To keep that sense of escapism going check out the best hotel pools in Australia.