Although carbon-copied arenas, beer-stained pubs, and gaudy clubs make up the majority of venues for music fans the world over, there are a handful of stages that truly exist in a league of their own, and hold the ability to turn a concert from a perfectly serviceable gig into a bonafide spiritual awakening. Whether it's through a world-renowned architect or mother nature herself, you can't beat tightly engineered acoustics and unique features when it comes to live music. The following twelve are some of the coolest concert venues in the world.
Arena of Nîmes (Nîmes, France)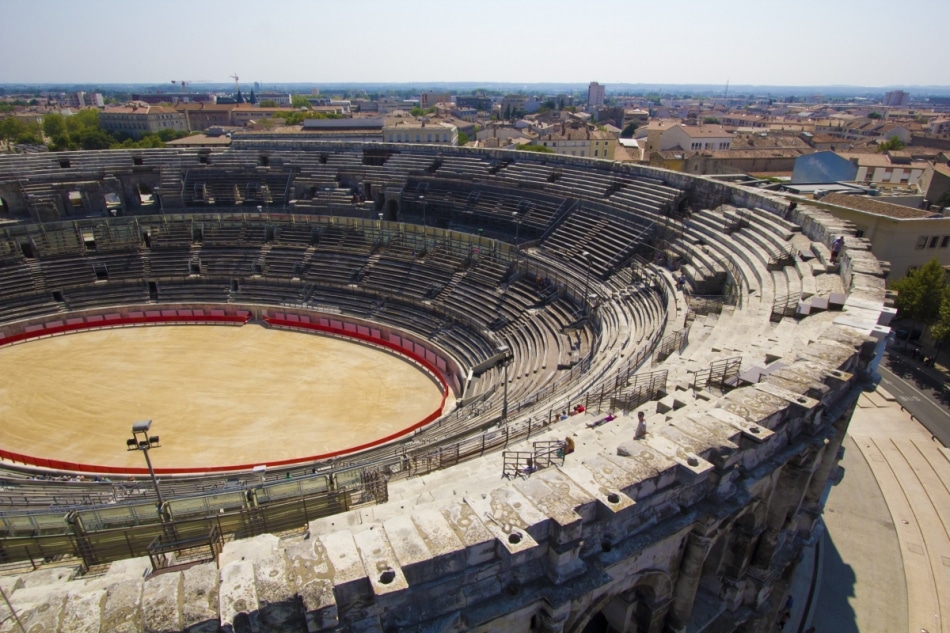 Although taking one of the many seats at the majestic Arena of Nîmes may make you feel like you've stepped onto the set of a Game of Thrones episode, this immaculately preserved Roman amphitheatre is actually one of France's most iconic live music venues.
Built during the 1st century AD in the heart of Nîmes, the building served as an entertainment centre for the masses, hosting all sorts of gladiatorial combat, and public executions. That bloody history is still soaked up into these weathered walls, which has seen numerous expensive renovations over the past few decades.
Year-round, there are plenty of historical recreations on the event schedule, but you'd want to time your visit around the end of June for the annual Festival de Nîmes. It's during this time that the elliptical venue hosts a bevy of music heavyweights, previously ranging from Daft Punk, Toto, and Elton John to David Bowie, ZZ Top, and Radiohead.
---
Red Rocks Amphitheatre (Colorado, USA)
There is simply no concert venue in the world as mythologised as Colorado's Red Rocks Amphitheatre. Centuries of natural phenomena have carefully led to this one-of-a-kind music mecca, a stage walled by two monolithic 300-foot red rocks which have emerged from the ocean floor to create the ultimate in natural acoustics.
The shapely arena is so well-regarded amongst musicians that just about every artist you can think of has dreamed of stepping on that stage at some point. Red Rocks Amphitheatre has been considered the greatest venue in the world for so long that a leading industry mag – Pollstar – had to rename their annual "Best Small Outdoor Venue" award after Red Rocks following its 11th consecutive win, just so others could have a chance.
If you're lucky enough to see a gig here, it's wise to show up early and take a hike around the 816-acre Red Rocks Park. This was a known hotspot for dinosaurs long ago, so fossils are aplenty, amongst other important geological features.
During concert events, there's also a museum near the venue's entrance where you can get a quick rundown of the magnificent history behind Red Rocks, and see a list of every single band and artist who has ever played on the stage from U2, The Beatles, and Jimi Hendrix, to Nas, Radiohead, and even Australian hotshots such as Flume and Rufus Du Sol.
---
Dalhalla Amphitheatre (Rattvik, Sweden)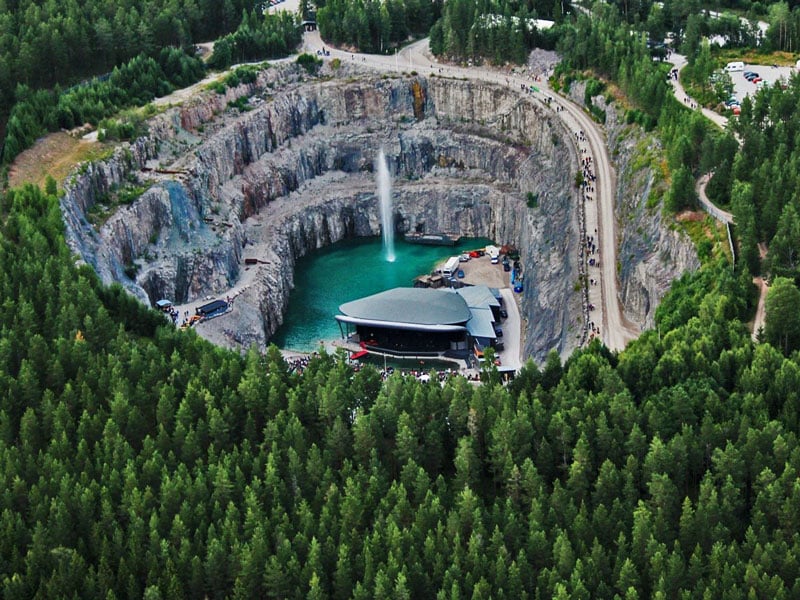 If Red Rocks is nature's greatest music arena for North America, Dalhalla is Europe's. As one of the most unique and coolest concert venues in the world, this sunken open-air theatre is located at the depths of a former limestone quarry and benefits from exceptional acoustics, buried roughly 169-feet below the thick surrounding forest.
Much like Red Rocks, Dalhalla was also formed over very specific natural occurrences across time. In fact, it dates back to approximately 380 million years ago when one of the largest meteorites to have ever hit Earth struck down into a part of the world now known as Dalarna County. This formed one of the 15 largest known impact craters on Earth, The Siljan Ring, in which various tectonic shifts formed the ideal conditions for quarrying.
Its history as a music venue began in 1991 when former opera singer Margareta Dellefors marked it as the perfect spot for summer festivals. As such, Dalhalla is still a seasonal beast and only hosts concerts when temperatures soar from June to September. With those cavernous walls offering a deep and magnetic sonic experience, the stage has most recently attracted the likes of Kraftwerk, The Beach Boys, Patti Smith, James Morrison, and Tom Jones.
---
Sydney Opera House (NSW, Australia)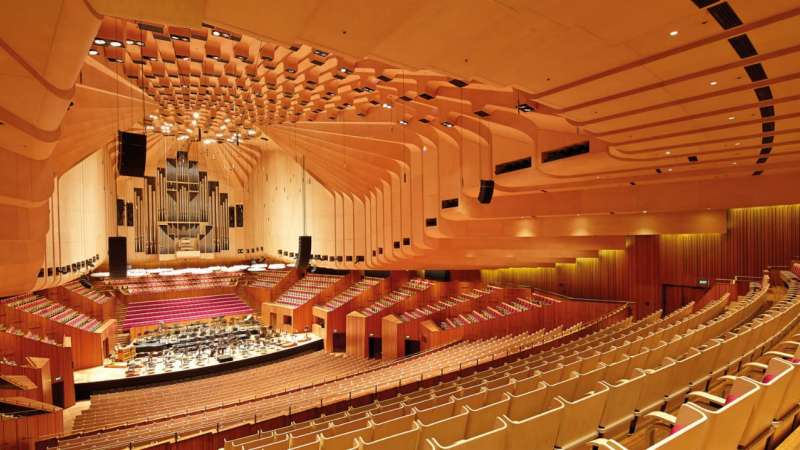 Although this one may seem too obvious, Australia really does have one of the world's greatest concert venues. As the most recognisable landmark in the country and an emblem for Sydney, the performing arts centre has seen landmark achievements throughout its 47-year history, from theatre productions and large-scale art exhibitions, to comedy specials and festivals.
The 2,000-seated Concert Hall is the soul of the Sydney Opera House. It's where the House's greatest hits are forever etched into the high vaulted ceiling and birch timber framework, echoing historic moments like when Arnold Schwarzenegger took the stage after winning his final Mr Olympia body-building title in 1980, or when Stephen Hawking appeared via hologram to give a lecture alongside his daughter Lucy Hawking in 2015.
Buddy Guy, Prince, D'Angelo, Ice Cube, Kanye West, Solange, Kraftwerk, Flying Lotus, Erykah Badu, Crowded House, The Cure, and The Presets are just some of the names that have come through recently – a list which should grow considerably once the hall undergoes its current $150 million makeover and reopens in 2022.
---
The Caverns (Tennessee, USA)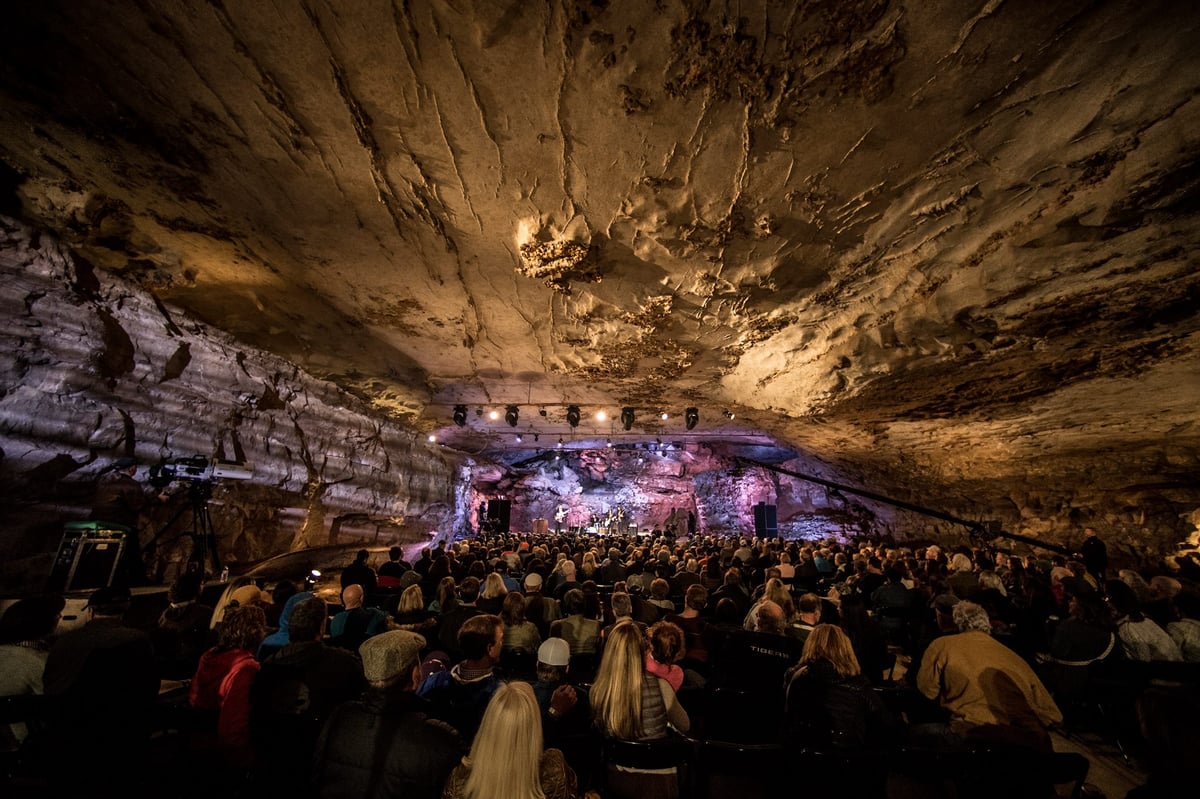 Almost smack bang in the middle of Tennessee is Grundy County – home of the south's most unique concert venue – is a brilliantly designed subterranean amphitheatre simply named The Caverns. There aren't many places where you can go on a cave tour and check out some live music at the end of it, but thanks to careful planning and natural acoustics, this prehistoric venue seamlessly blends adventure with music.
The dense network of the interconnected caves spans roughly three football fields long, with the main room hosting a wide stage so bands can take advantage of the remarkably sonorous atmosphere. It's so distinctive, in fact, that PBS made it the home of the network's Emmy-winning Bluegrass Underground series, boosting its reputation significantly both as a destination for live music and as a venue of particular historical significance.
Though the underground cave system is extensive, the actual music venue only hosts up to 1,200 in a standing-room-only format. Previously, it's hosted the likes of John Butler Trio, Band of Horses, Andrew Bird, Lettuce, The Flaming Lips, Wyclef Jean, and St. Paul & The Broken Bones.
---
Wieliczka Salt Mine (Krakow, Poland)
Draw a line south from Poland's cultural capital of Krakow and you'll land on a small town called Wieliczka, most noted for its World Heritage Listed salt mine. The historic excavation site, which produced table salt from the 13th century until its closure in 2007, is popular for a vast network spanning 287-kilometres of tunnels – many of them still unexplored.
The mines, which take in all sorts of emerald lakes and monuments carved from salt, is often considered an underground city of sorts, glowing from salt crystal and looking like a setting ripped straight from the video game Uncharted. And it then makes sense for this cobbled city to have an entertainment hub, taking place in a 700-seated chamber which often operates as a music venue for the city's biggest events.
Although contemporary music isn't as prevalent here, fans of classical jazz and film scores are known to keep a close eye on the event calendar. As with most of these unique European venues, there's also a strong focus on seasonal events like the New Year's Concert and a summer music festival which invariably wraps with a concert named, "An Afternoon With Strauss." The venue even boasts its own namesake orchestra, which is 200 years old and still regularly draws capacity crowds.
---
House of Eternal Return (New Mexico, USA)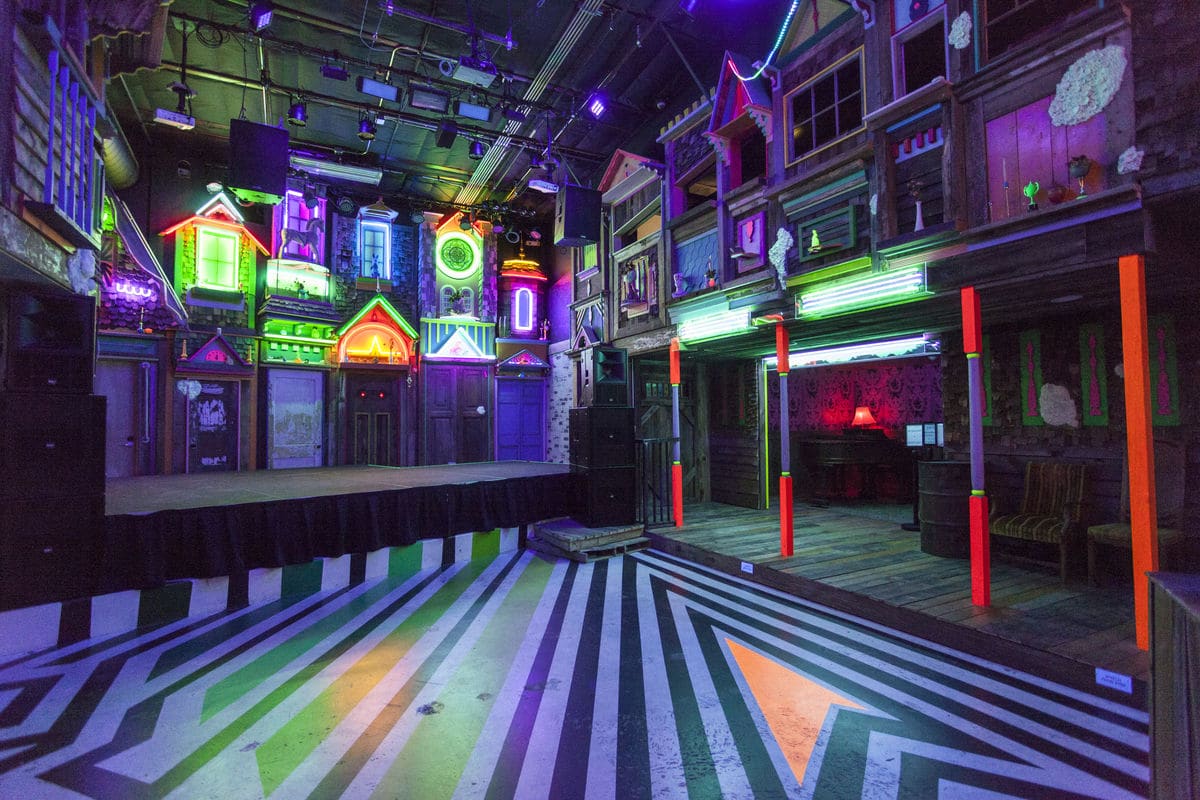 As the US' oldest capital city, Santa Fe certainly has some considerable history behind it. The sun-dried pueblo-style homes that populate the small city centre hide some of the country's oldest buildings, which when framed by the rose-tinted New Mexico landscape looks otherworldly and unlike anything else in America.
There's little surprise then that this inspiring city is also internationally renowned for its art scene, both traditional and experimental as creatives touch everything from the gallery-dense Canyon Road, to a psychedelic show-stopper called House of Eternal Return.
Just outside of the city centre, House of Eternal Return is curated by art collective Meow Wolf as a completely interactive, exploratory adult funhouse, with over 70 rooms and an overarching narrative tied to parallel universes and multiple timelines. And right at the centre of all the mind-bending neon trees and refrigerator tunnels is a bizarre, misshapen room that looks like it was designed at the peak of an acid trip.
This wildly colourful space sets the scene for much of Meow Wolf's after-hours activity, which is usually more party-minded gigs from popular DJs and indie bands. Everyone from Animal Collective and Ty Segall, to Talib Kweli and Cold War Kids have played here, filling out the small room with sweaty, sardine-packed beats while concertgoers either huddle close to stage, or wander off in an attempt to piece together the obscure House of Eternal Return narrative. The entire art complex remains open during concerts – part of why seeing a gig here is so unique.
---
Slane Castle (County Meath, Ireland)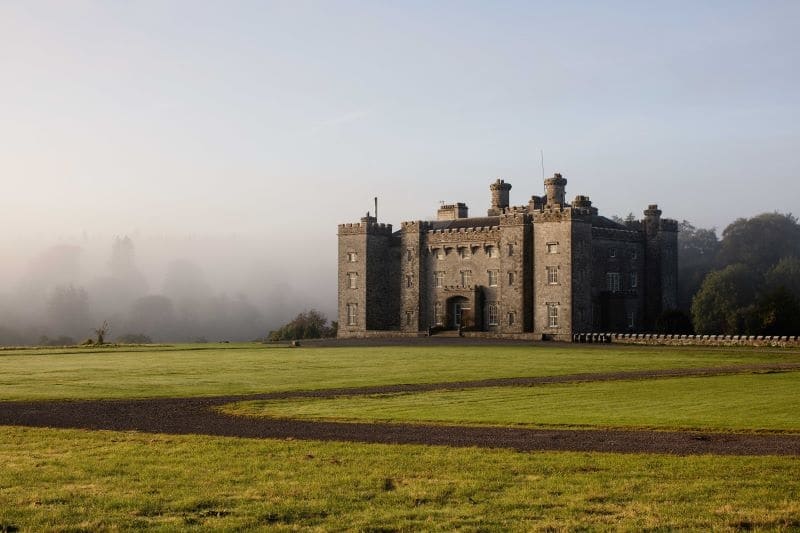 Turning a historic castle into a destination for music lovers may seem like something only a mad iconoclast would do, but whoever had the idea to place a large stage on these massive sloping lawns is a certified genius.
Slane Castle, right in the heart of Ireland's County Meath and overlooking the River Boyne, was built in the late 18th century and has been hosting massive concerts, and its own music festival, since 1981. More recently, the castle has taken on its own distillery, producing Irish Whiskey on-site using a 'Triple Casked' method, boosting the destination's value considerably.
As you could imagine, just about every artist and their ego would want to say they've rocked a historic Irish castle. And many have laid claim to that, including Rolling Stones, Metallica, Kings of Leon, Eminem, Foo Fighters, Queen, David Bowie, and U2.
---
Hollywood Bowl (California, USA)
The unmistakable white arches of LA's iconic Hollywood Bowl are impressive enough, but what really kicks this venue up to god-tier status is the view behind it. The creamy curvilinear bandshell folds into the epic Hollywood Hills, giving the audience a spectacular perspective of the imposing mounds, and the instantly recognisable Hollywood sign in the distance.
Being the largest outdoor amphitheatre in the States, playing on the stage is an illustrious tick on any band's bucket list, and a treat for music fans thanks to the solid, rounded acoustics formed by the surrounding foothills.
Plenty of big-tickets acts have come through and performed some of the best sets of their career at the Hollywood Bowl. This long list includes The Beatles, The Who, Kanye West, Ray Charles, Blondie, The Doors, Jimi Hendrix, The Roots, Mary J. Blige, and Nas. Many have even filmed special concerts on the stage, nodding to its international reputation as one of the most coveted venues in history.
---
Jay Pritzker Pavilion (Chicago, USA)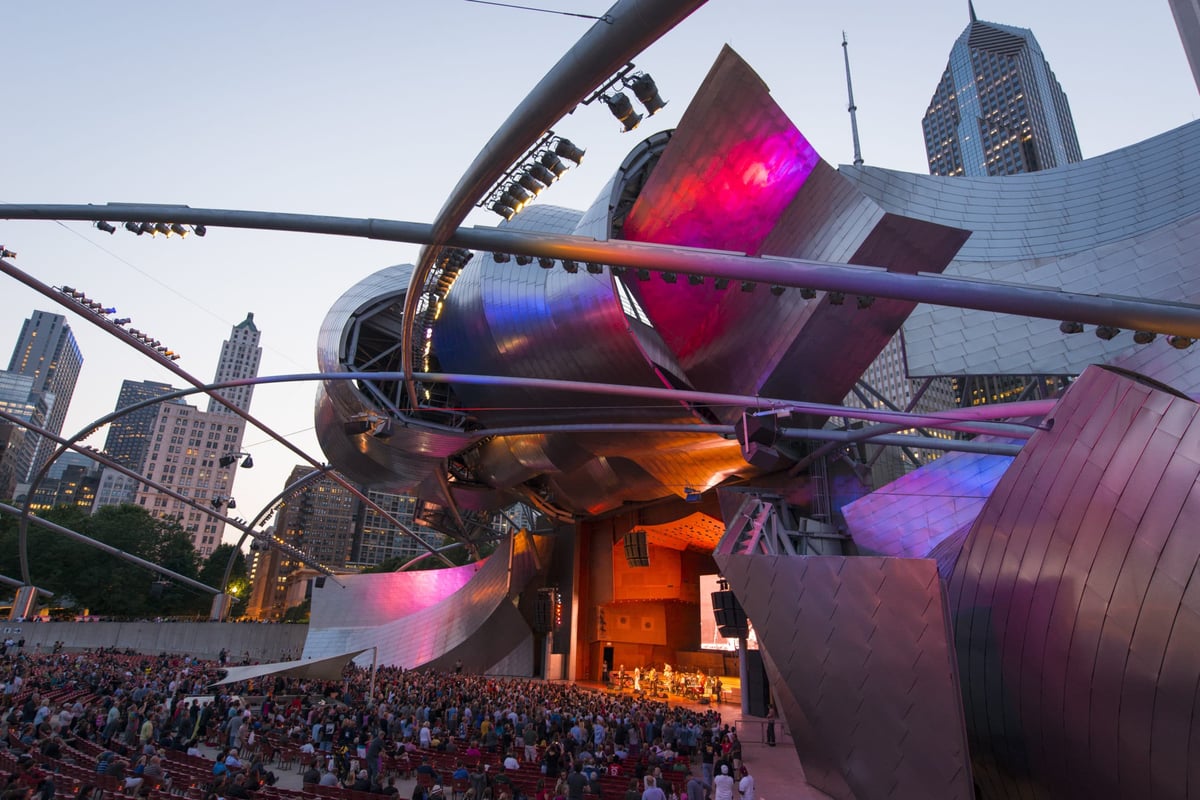 Though it may not boast the natural beauty of Red Rocks, nor the history of Hollywood Bowl, Chicago's Jay Pritzker Pavilion milks much of its uniqueness from intelligent architecture and state-of-the-art technology.
Designed by exemplary architect Frank Gehry, the 120-foot tall pavilion sits in the centre of Chicago's Millennium Park and gets its unique look from an intersecting headdress of stainless-steel ribbons. This patterned crown not only looks neat from a birds-eye view, but creates an overhead trellis to support a one-of-a-kind sound system, designed to mimic the acoustics of an indoor concert hall by pushing enhanced sonics equally over both the 4,000 fixed seats and the 7,000-capacity lawn.
Given Chicago is a year-round music city, it's not unusual to see the stage brimming with some kind of performance on most days. The city's numerous free summer music festivals, mainly spanning gospel, blues and jazz, are usually the biggest happenings on the stage through the year, but it's also hosted the likes of Billy Corgan, Tori Amos, The Decemberists, Wilco, Death Cab for Cutie, Flight of the Conchords, and Damien Rice.
---
Teatro Antico di Taormina (Taormina, Italy)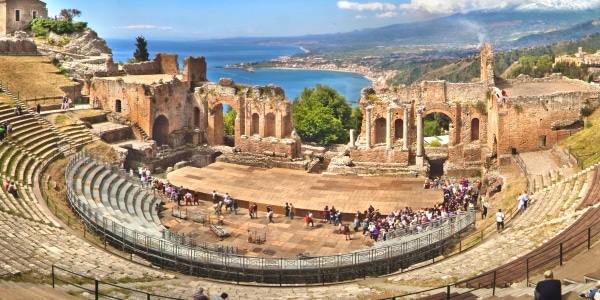 Crumbling ancient ruins of an ancient Greco-Roman theatre in Southern Italy would surely qualify as one of the most incredible venues in the world, especially given the view. The stunning vista from this historic monument scans land and sea with distant views of Giardini-Naxos bay and Mount Etna.
Teatro Antico di Taormina, which was built in the third century BC, backs up on the edge of a hill and has significantly degraded so that the wall behind the stage opens up to the spectacular view.
The Sicilian monument has long been considered the most beautiful in Italy, able to host up to 5,000 fans who pack in throughout the year to watch a host of shows, ranging from fashion to music. Even the legendary Taormina Film Festival takes place here, welcoming Hollywood and film industries the world over to its absolute majesty.
Though it's the concerts that are some of the most popular events each year, lifting the aching ruins with the sounds of artists like Ray Charles, Elton John, Bob Dylan, James Taylor, Diana Ross, Kasabian, and Placebo.
---
The Gorge Amphitheatre (Washington, USA)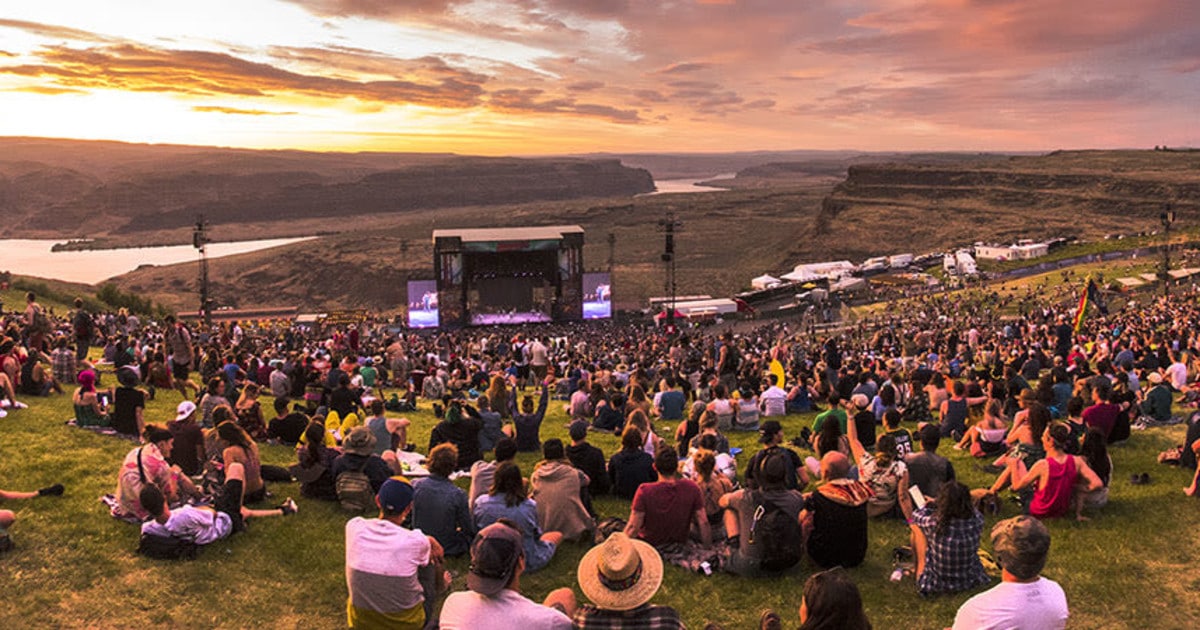 Overlooking the Columbia River, the largest in the US Pacific Northwest, the Gorge Amphitheatre is a marvel and one of the most awarded outdoor concert venues in the country. The defining gorge formed roughly 50,000 years ago when a broken ice dam in Canada sent shockwaves all through the Columbia River.
The stage is positioned near the edge of a cliff and was purpose-built to take advantage of the natural acoustics for the purpose of attracting people to what was once an adjoining winery. The winery failed, but the stage stayed, and has since grown into a mammoth attraction that's only a simple 14-kilometres west of the city of George.
Pretty much all the music icons have taken this stage at least once in their career, with Live Nation the managing company. This list includes Dave Matthews Band, Pearl Jam, Bob Dylan, and big-ticket music festivals like Sasquatch! Music Festival and The Vans Warped Tour, all events taken to the next level by the gorge-ous (sorry) view.