Dining when you're 30,000 feet in the air doesn't exactly have the best reputation, and for good reason – airline meals are often almost inedible. Doing their bit to change this unpalatable reputation is Air France, which has recently announced the introduction of a Michelin-starred menu for guests flying in both La Première and Business cabins.
Running exclusively on long-haul flights departing from Paris (exactly when you need a square meal), the new menus will be served from July to October this year. The menus themselves have been designed by the French chefs Michel Roth and Anne-Sophie Pic, who have won multiple Michelin stars between them, and according to Air France's statement have been tasked with offering "exceptional French cuisine that is more sustainable and responsible."
The menu will take advantage of various seasonal produce, including carefully sourced vegetables, meats, fish and more. As anyone who's enjoyed an exceptional meal will know, good food should be complemented by great wine, which Air France also has covered with a wine and champagne list curated by the internationally recognised sommelier Paolo Basso.
---
---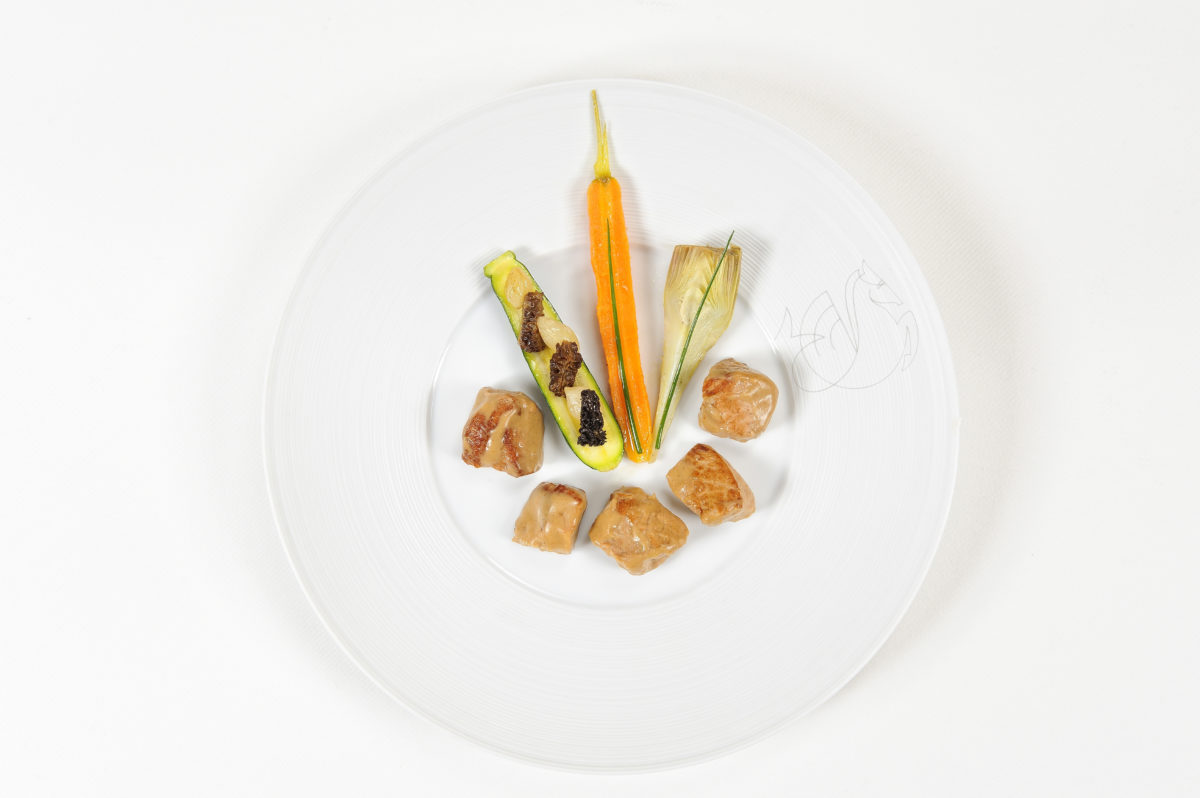 RELATED: Air New Zealand Unveils Skynest, The World's First Sleep Pods For Economy Class
Beginning this month, Anne-Sophie Pic's menu will be available in the Business cabin, while the menu created by Michel Roth will be served in the La Première cabin. Check out the details of the two Air France Michelin-starred menu options below.
Michel Roth's La Première cabin menu:
Caviar Sturia accompanied by a pancake with smoked fish cream (appetizer)
Lobster medallion, green asparagus and raspberry vinaigrette (starter)
Tender beef, pan-seared foie gras with a truffle sauce, stir-fried asparagus and porcini mushrooms;
Oven-cooked verbena veal, vegetable and morel mushrooms;
Chicken supreme with rosemary, fine sweet pepper tart and stuffed zucchini;
Chicken supreme with olives and black truffles, poivrade artichokes and macaroni gratin;
Quinoa with candied lemon, summer vegetables and basil creme;
Truffled polenta, green vegetables, mint pea coulis with carrot jus;
Fillet of brill in a shellfish jus accompanied by simmered green vegetables and mussels;
Shrimp in lobster sauce perfumed with tarragon, red rice and baby spinach.
Anne-Sophie Pic's Business cabin menu:
Braised beef, potato mousseline, plum chutney and tarragon breadcrumbs;
Roast chicken, spelt risotto, courgettes with green cardamom;
Saithe with seaweed, lovage sauce, Camargue red rice, spinach and fennel compote;
Artichoke barigoule, creamy polenta, smoked vanilla Burrata, tangy tomato coulis;
Poached saithe with curry and coconut milk sauce, black rice;
Beef stew with coffee and sweet onion consommé;
Chicken with tonka bean sauce and creamy polenta with mushrooms ;
Seashell pasta, chard and lemon coulis, lightly smoked goat cheese cream, roasted pumpkin seeds.