Making good on plans that were announced back in 2019, Singapore Airlines has officially opened its new flagship lounges – SilverKris First Class Lounge and The Private Room in Terminal 3 of Changi International Airport (SIN). The two completely redesigned premium lounges bring Singapore Airlines' SilverKris Lounge Precinct to four lounges in total, easily carving out approximately 65,000-square-feet of space with enough seats for over 1,000 guests. This is in addition to both the KrisFlyer Gold Lounge and SilverKris Business Class Lounge, rounding out a transformative expansion project worth SGD$50 million (AU$50.8 million).
For KrisFlyer members, Changi T3 is going to look remarkably different to what it used to be, now functioning as the ultimate on-ground Singapore Airlines experience for Business Class and First Class passengers. The new First Class lounge and The Private Room are of course the pinnacle offerings for the SilverKris Lounge Precinct, both completely reimagined by Hirsch Bedner Associates (HBA), a renowned firm whose most recent work includes luxury properties One&Only Portonovi in Montenegro, St Regis, The Palm in Dubai, and the Capella Bangkok.
Considering we're looking at two separate but linked premium Singapore Airlines First Class lounges let's break it down one by one, shall we.
---
---
First, the most exclusive of the two.
Singapore Airlines The Private Room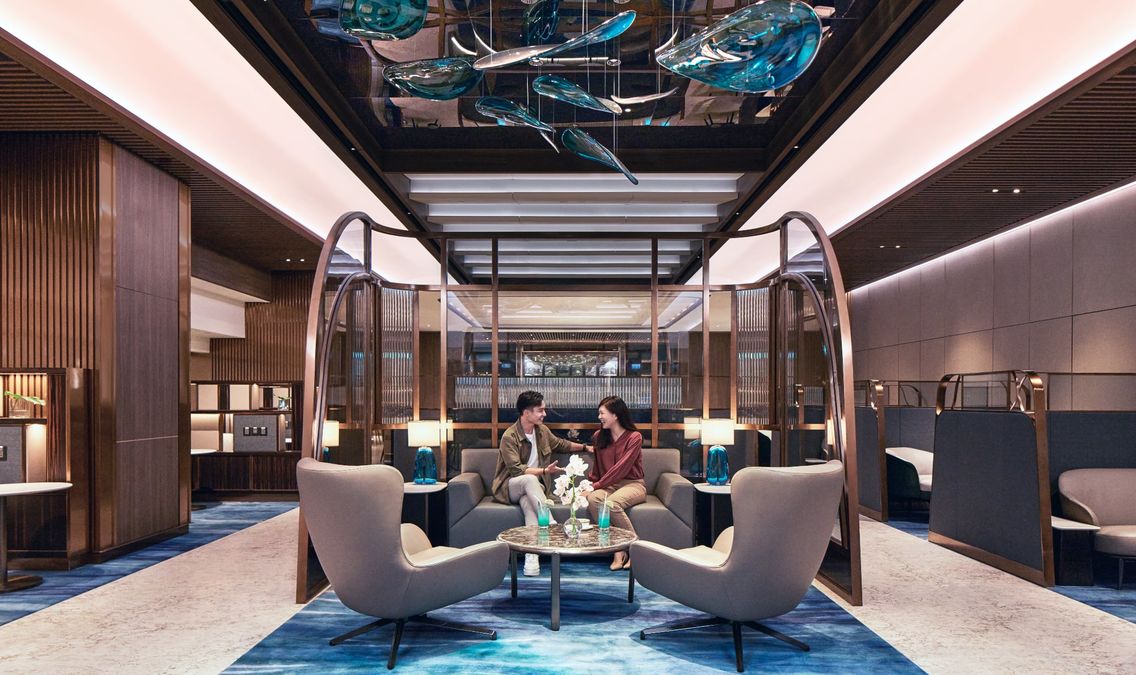 As the carrier's most exclusive lounge, The Private Room represents the top-tier offering from Singapore Airlines and is open to passengers flying Singapore Airlines Suites and Singapore Airlines First Class only. This is in line with the former Private Room, which has been refined in for a new generation of flyers, with everything redone from the entry (you no longer have to enter via the Business Class lounge) to the dining room.
The newly conceived design looks like it replaces and outclasses the former SilverKris Business Class Lounge in every way, with 10% more capacity than the old space with roughly 950-square-meters maximised to seat 78 guests. And while that doesn't seem like much, consider that Singapore Airlines A380 fleet has only six suites each (or 12 of the old suites) and the 777 fleet has around four to eight First Class seats. Overcrowding won't be an issue.
The Singapore Airlines Private Room lounge shares the same grand reception area as the Singapore Airlines First Class Lounge and new SilverKris Business Class Lounge, fashioning somewhat of a cabin crossroads where Business Class passengers go right and First Class passengers turn to the left. The other lounge, the KrisFlyer Gold Lounge, is located on the upper floor of Changi T3.
After that left turn, both The Private Room and First Class lounges now have their own separated corridors. This is notable for anyone who would previously get confused and stumble into the wrong lounge, a small but obvious pain point Singapore Airlines sought to address with this substantial overhaul.
One side of The Private Room has been reserved for numerous open tables and chairs with generously large shelving dividers and copper-toned metallic accents, each featuring the standard high level of connectivity and work-from-lounge essentials.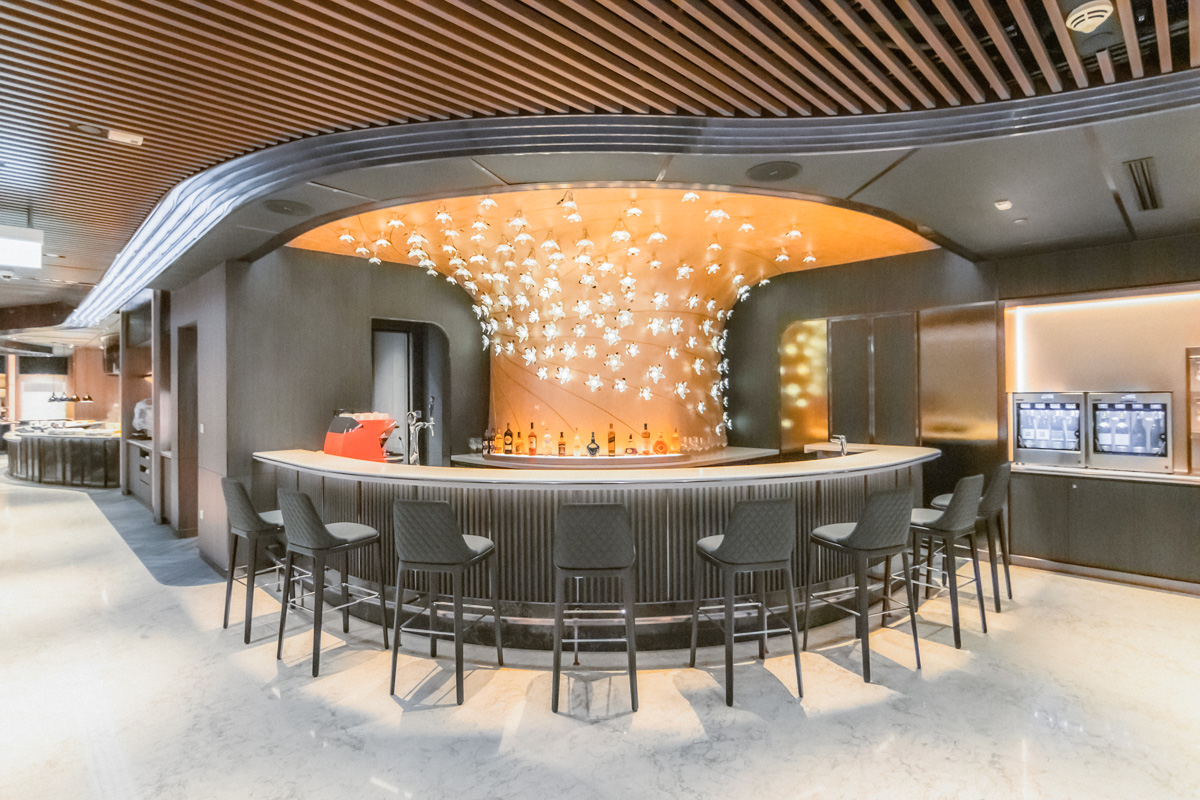 RELATED: Singapore Airlines Reveals Lie-Flat Beds In 737 MAX Business Class Cabins
---
---
Running through the middle of the lounge is a communal area with several high-backed armchairs, sofas and low tables, shadowed by an eye-catching blue sea glass sculpture by Czech Republic design firm LASVIT hanging from the ceiling.
It looks like Hirsch Bedner Associates has really worked with the limited space to afford as many private nooks as possible, taken alongside an attractive Art-Deco dining room that can seat 28 people at a time, split between elegant banquettes and smaller tables.
An a la carte menu on offer differs greatly from the buffet in the First Class lounge, ranging from wagyu burgers and lobster laksa best paired with 2007 Taittinger Comtes de Champagne, Greywacke Sauvignon Blanc from New Zealand or Chateau Leoville Poyferre from Bordeaux.
Available on-demand are four private day rooms that will most likely push passengers to arrive as early as possible to reserve a spot. Each features both a massage and Zero-G bed and reclining seat with sessions capped at two hours for each booking.
Similarly, there are three generously sized shower suites, each with its own toilet inside and each featuring COMO Shambhala's Invigorate bath products. Reportedly, one of these three showers suites is larger than the other two, although all three feature massive glassed-in showers with Grohe overhead and handheld showerheads, spaced nicely from a Grohe Sensia Arena toilet.
---
Singapore Airlines SilverKris First Class Lounge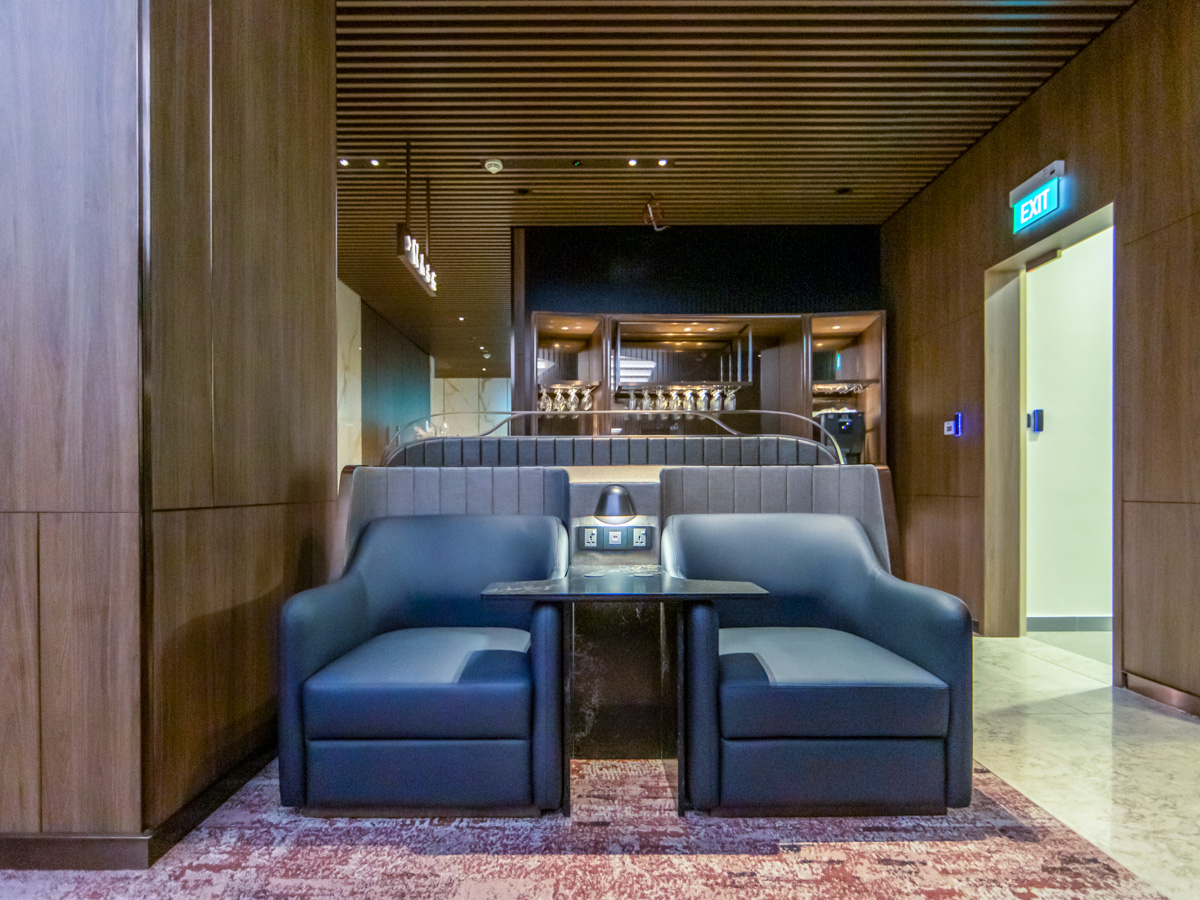 Let's back up a bit to the reception area that these two lounges share with the SilverKris Business Class Lounge. You've taken your left turn towards the First Class lounges, but instead of veering into The Private Room, you've stepped into the new SilverKris First Class Lounge.
There's a similar level of luxury here, but wider accessibility considering Star Alliance First Class passengers as well as Solitaire PPS Club members are allowed in. Although the new First Class lounge replaces the old one almost entirely, the size is still the same at roughly 1,100-square-metres and enough capacity for 130 guests.
The First Class Lounge packs in six shower suites, each with its own toilet, and four private day rooms similar to those described above for The Private Room. And like above, you'll only be able to reserve these when you actually show up, so it's first-come, first-served with a maximum stay of two hours.
---
---
Two of these day rooms have a bed fitted with a Tempur firm mattress on a Zero-G bed base, boasting full-body support and numerous massage options to help any travellers shake off that long-haul itch. The zero gravity session promises a completely "weightless relaxation experience" as well, elevating the offering. The other two day rooms feature an adjustable Poltrona Frau recliner.
The difference here is that the day rooms in The Private Room have both the bed and recliner, whereas the day rooms in the First Class Lounge either have one or the other.
Unlike The Private Room, the SilverKris First Lounge only has a premium buffet with a more casual offering but one that should be no less impressive than what's available at the more exclusive of the two lounges. You might not be getting lobster laksa, but there are live cooking stations where chefs prepare a variety of dishes like egg breakfasts, roti prata, noodle dishes, wagyu sliders, pasta and satay.
Along with the buffet, the First Class Lounge features a standalone bar with barista-made coffee during the day and signature cocktails and 2006 Piper Heidsieck Rare Millesime Champagne in the evenings.
And of course, there are numerous beautifully designed workstations with a great sense of privacy and all the work-from-lounge essentials.
---
The New Singapore Airlines First Class Lounges Are A Necessary Step Forward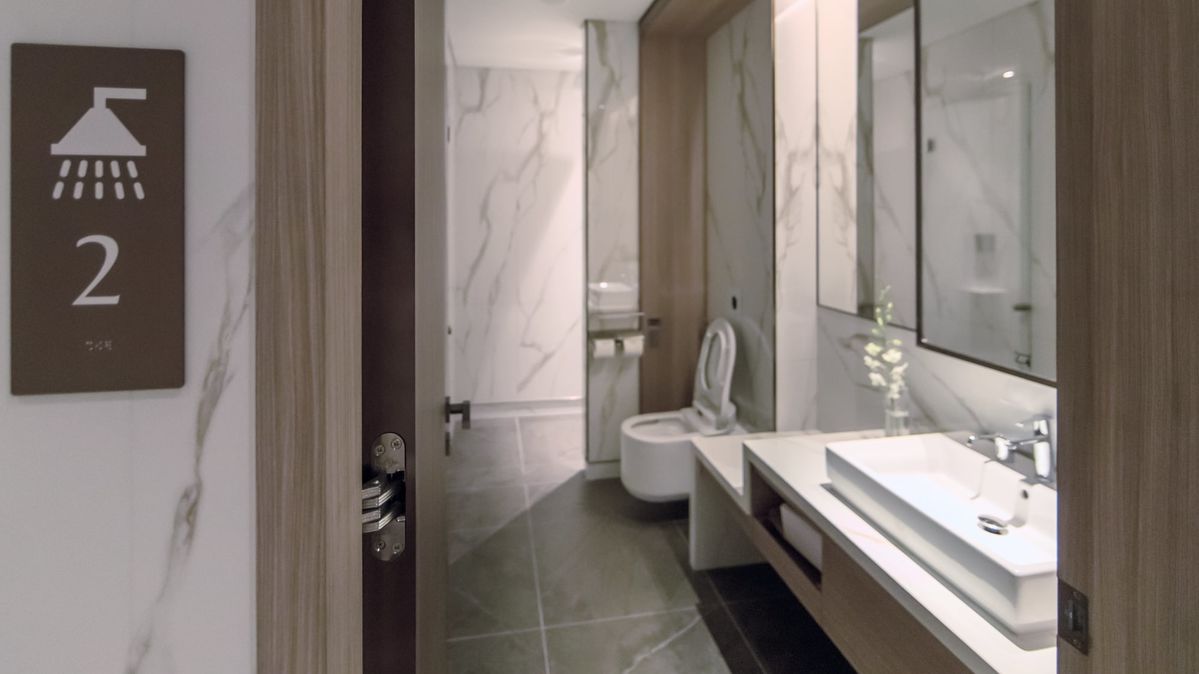 The previous First Class lounges for Changi Airport seemed a little dated and were in dire need of a refresh like this. Little details matter. Before, the shower rooms didn't each feature its own toilet, for example, and there weren't these generous day rooms that you could book out for two hours.
First Class passengers deserve these kind of refinements to help take the edge off any long-haul travel and better connect the on-ground and in-air experiences offered by the eternally awarded airline.
It is a shame that the First Class lounge still has to contend with a buffet while The Private Room gets its own dedicated a la carte service and an expanded offering of Champagne and wine. But then again, there have to be some substantial benefits to getting access to what is one of the most exclusive airport lounges in the world, right?
---
---
Both of the new Singapore Airlines First Class lounges – the KrisFlyer First Class Lounge and The Private Room – are now open for passengers flying through Changi Airport T3.