Harbour baths in Scandanavia are often used as a way for design firms to fully express their love of unique, dramatic designs, from Helsinki's Löyly to this historic treasure – Knubben Harbor Bath in Arendal, Norway. The venerable outdoor structure was first designed by Ketil Ugland, unveiled in 1937 to quickly become one of the most distinctive and referenced parts of the small city. That is until it was demolished due to decay, many years after its last iteration as a jazz club. Now, Oslo-based architectural firm Snøhetta wants to revive the cultural gem, re-conceived with an elegant contemporary design that fascinatingly resembles the cross-section of a topographical map and Norway's coast.
Knubben Harbor Bath was primarily used by the local swimming club for diving competitions and several other water sports. Time (and salt) took its toll on the structure and it was closed just a decade later, only to reopen as the aforementioned jazz club in the 1960s. In the 1980s, the structure was all but demolished after being deemed unsafe, but it's obviously maintained a romantic image in the city since. The ambitious revival and redesign will form part of the city's 300th-anniversary celebrations, meaning it'll open to the public in 2024.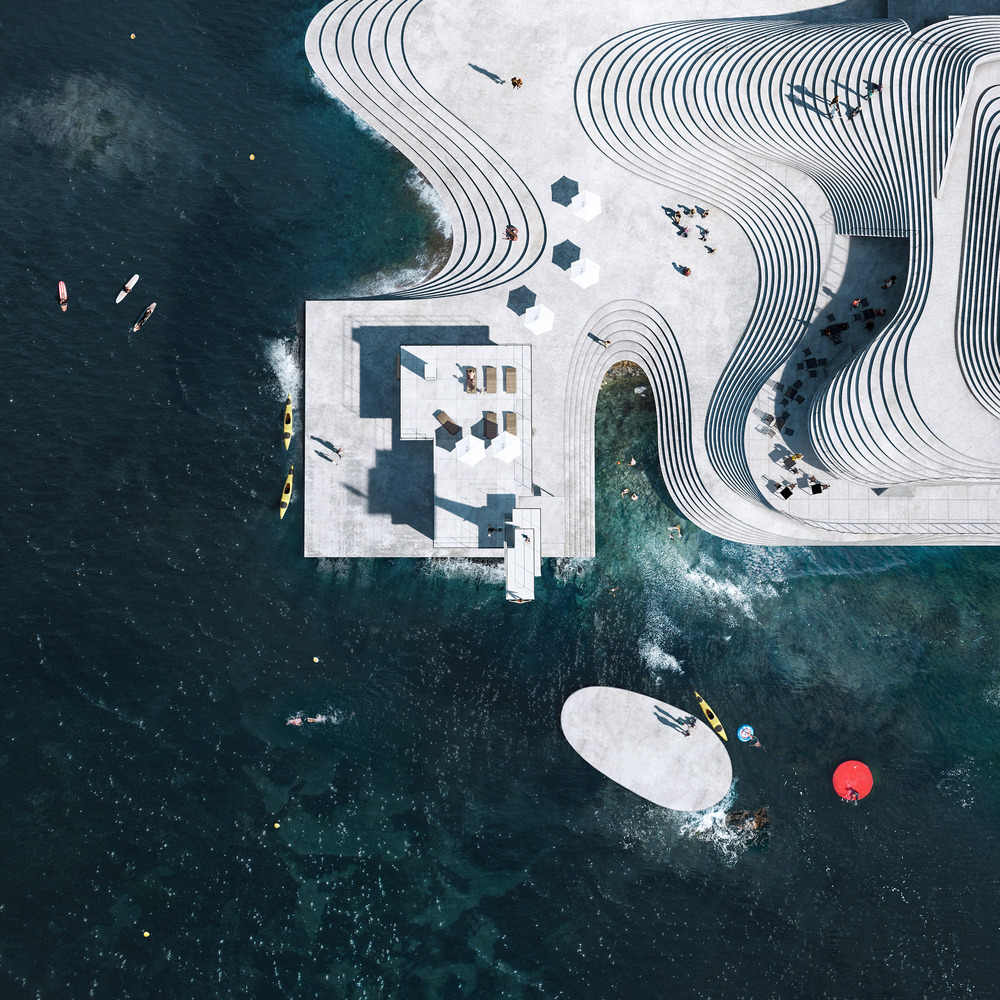 RELATED: Little Park New York Is A $335 Million Marvel Of Waterborne Architecture
---
---
Snøhetta, which is responsible for the Oslo Opera House and many other abstracted design projects throughout Scandinavia, clearly want the new Knubben Harbor Bath to be much more than just a place to dip your toes in the chilly waters. Inspired by the surrounding hilly landscape, the new-look baths will include various other public features such as an open-air stage, amphitheatre, a few restaurants, and some interior spaces. Basically, it'll be the new "it" precinct for anyone planning on visiting the Norwegian city in a couple of years.
The dramatic redesign will see concrete layers built onto the existing skerry, although it's likely the firm will be looking to use more sustainable materials in the development, including potential green technology that would emit fewer greenhouse gases through production while also maintaining concrete's ability to withstand the insidious effects of the salty water. There has also been mentioned of steel piles to further protect the curved structure, which will have stepped levels that look not too dissimilar to Helsinki's Löyly, mentioned above.
Once completed, Knubben Harbor Bath should be a 750-square-metre complex with everything mentioned above, plus diving platforms, changing rooms, and a sunbathing deck to maximise the views of the harbour, looking out between the islands of Tromøy and Hisøy.
Knubben is a nice little look at the evolution of Scandi design, which remains distinctive in the world of architecture, and should also be seen in Snøhetta other ambitious projects which include Le Monde Group Headquarters in Paris, Bibliotheca Alexandrina in Egypt, and the Norwegian National Opera and Ballet in Oslo.