Once Upon a Time in Hollywood, the ninth film from acclaimed writer-director Quentin Tarantino has been described as his "love letter to Los Angeles." When filming in L.A. during the back half of 2018, Tarantino and his crew transported many of the iconic locations across Tinseltown back to their 1960's glory.
Once Upon a Time in Hollywood opens in Australian cinemas this week, and to celebrate, Los Angeles Tourism has provided us the goods to fuel your trip back in time to the golden age of film for your next jaunt in The City of Angels.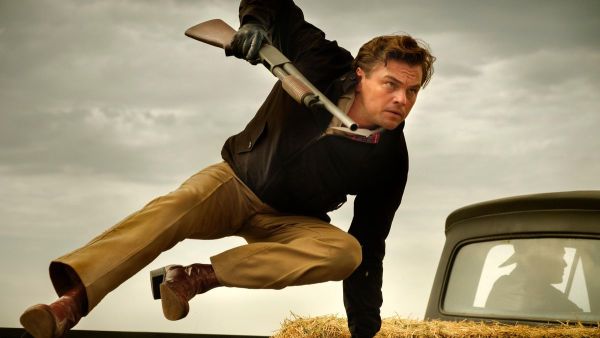 "Bounty Law" + "The F.B.I." (Puerco Canyon)
The 703-acre Cameron Nature Preserve in Puerco Canyon (3501 Puerco Canyon Rd., Malibu) is part of a contiguous block of public parkland that stretches from Corral Canyon Park at Pacific Coast Highway inland to Malibu Creek State Park. The parkland offers ocean views and miles of trails for hikers, bikers, and equestrians, a highlight for when visiting Los Angeles.
Tarantino gives the audience a glimpse of Bounty Law, a fictional 1950s television Western that starred Rick Dalton at the height of his career. (In fact, to prepare for Hollywood, Tarantino wrote five half-hour episodes and now wants to direct them). Years later, Dalton guest stars on an episode of The F.B.I., which actually ran on ABC from 1965 to 1974. According to American Cinematographer, the sequence was filmed at Puerco Canyon in Malibu. Gaffer Ian Kincaid explains that footage of DiCaprio was inserted into an actual episode – "… the location, truck and weather all had to match the scene shot 50 years prior."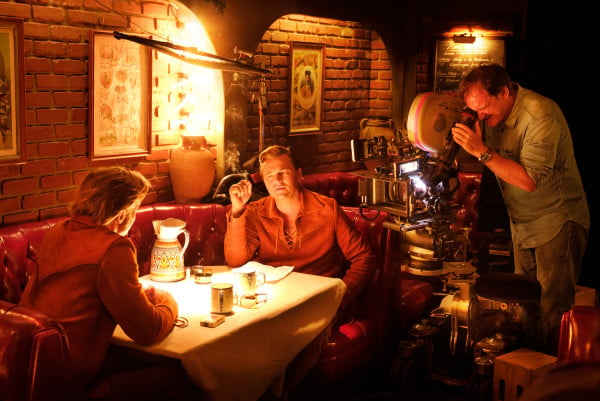 Casa Vega
Dalton and Booth get a drink at Casa Vega (13301 Ventura Blvd, Sherman Oaks 91423), the Valley institution founded by Rafael "Ray" Garcia in 1956. Casa Vega continues to be a celebrity favourite thanks to second-generation proprietor Christina "Christy" Vega Fowler, who respects her famous guests' privacy and accommodates special requests like discretely entering and exiting the landmark restaurant.
As they have for more than six decades, diners slide into red leather banquettes and tuck into classic House Combinations or specialty dishes like the Vega Ribeye and the Casa Vega Molcajete with sliced flank steak, chicken breast, tiger shrimp and grilled Chile Relleno. The Cantina offers numerous Margarita variations and an extensive tequila selection. Pro tip: for a truly authentic Once Upon a Time in Hollywood experience, ask for table C6.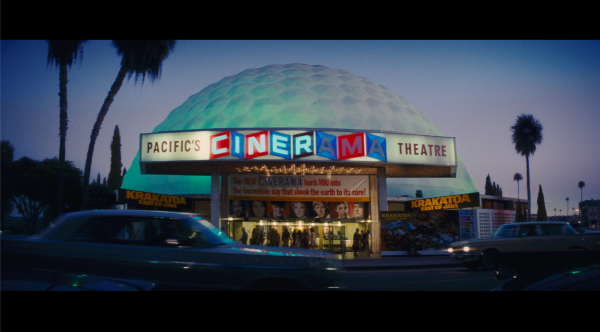 Cinerama Dome
Los Angeles is host to many iconic theatres, but Pacific Theatres' Cinerama Dome (6360 W Sunset Blvd, Hollywood 90028) is the first and only theatre of its kind in the world.
It opened on November 7, 1963, with the premiere of It's a Mad, Mad, Mad, Mad World and has hosted more than five decades of premieres and blockbusters, even being declared a Los Angeles Historic-Cultural Monument in December 1998. For Hollywood, Tarantino's favourite movie theatre was dressed for the premiere of the disaster film Krakatoa, East of Java which was released on May 14, 1969.
The Dome was renovated and reopened in March 2002 with state-of-the-art projection and sound as part of ArcLight Cinemas Hollywood. The signature marquee and portico on Sunset Boulevard, the 316 hexagons in the famous geodesic dome, and the deeply curved screen (32 x 86 feet!) were all restored to their original specs. The Dome seats more than 800 guests per showing and has maintained the historic loge seating – a favourite of moviegoers over the years.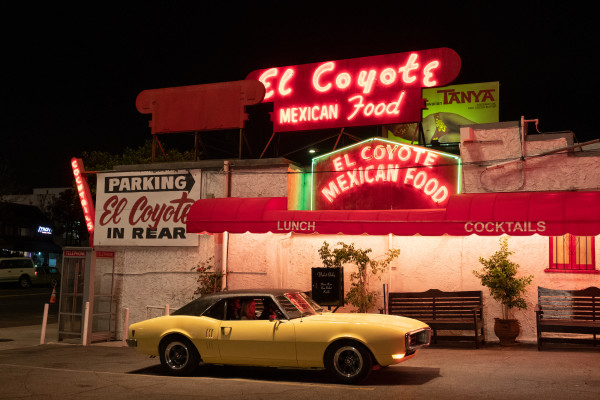 El Coyote Mexican Café
After opening its doors way back in March 1931, El Coyote Mexican Cafe moved to its current location (7312 Beverly Blvd, Los Angeles 90036) in 1951. A favourite amongst local Angelenos and those visiting L.A., generations of guests have dined on authentic Mexican cuisine and sipped the famous Margaritas in El Coyote's lively, colourful setting. Autographed photos of Hollywood stars line the walls and Christmas lights brighten up the dining room all year.
Sharon Tate, Jay Sebring, Wojciech Frykowski, and Abigail Folger ate their last meal at El Coyote on Aug. 8, 1969. Along with 18-year-old Steven Parent, the group was murdered later that night by members of the Manson Family at 10050 Cielo Drive in Benedict Canyon. The house was rented by Tate and her husband, director Roman Polanski, who was in Europe at the time. Musician Trent Reznor rented the house in 1992 and set up a recording studio there before moving out a year later. Owner Rudolph Altobelli demolished the house in 1994 and built a replacement home called Villa Bella – the street address was changed to 10066 Cielo Drive.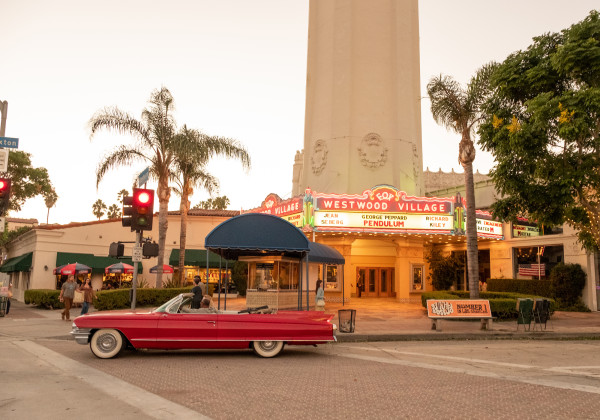 Fox Bruin Theatre + Fox Village Theatre
Located near UCLA at the corner of Broxton and Weyburn in Westwood, the Regency Bruin Theatre (948 Broxton Ave, Los Angeles 90024) opened in December 1937. In Once Upon a Time in Hollywood, Sharon Tate stops by the Bruin to watch herself in The Wrecking Crew, the 1969 film starring Dean Martin. ("I play Miss Carlson, the klutz.")
Featuring a wraparound Streamline Moderne marquee, the theatre was designed by noted architect S. Charles Lee, who also designed the Los Angeles Theatre among a slew of other famous cinemas. The Fox Bruin Theatre was designated a Los Angeles Historic-Cultural Monument in June 1988.
Italian Restaurant, Cicada
Cicada, the stunning Art Deco restaurant and special event venue located in Downtown L.A.'s historic Oviatt Building (617 S. Olive St. Los Angeles 90014). Once Upon a Time in Hollywood isn't the only movie appearance there – nearly 30 years since Pretty Woman was released, Cicada is still called the "Pretty Woman restaurant", which was known as the Rex Il Ristorante back then. On select nights, the restaurant transforms into Cicada Club, a classy evening of dinner and dancing with nostalgic music performed by swing and jazz bands.
"Lancer" (Western Street – Universal Studios Hollywood)
Rick Dalton guest stars as a bad guy on an episode of the Western TV series Lancer directed by Sam Wanamaker (Nicholas Hammond). During the shoot, Dalton gets into a philosophical discussion about acting with his co-star, an 8-year-old method actress. Lancer was an actual series that aired on CBS from 1968-70 – Wanamaker directed the debut episode, "The High Riders."
In the August 2019's issue of American Cinematographer, gaffer Ian Kincaid says that the Lancer scenes were filmed at the Western Street set on the backlot of Universal Studios Hollywood.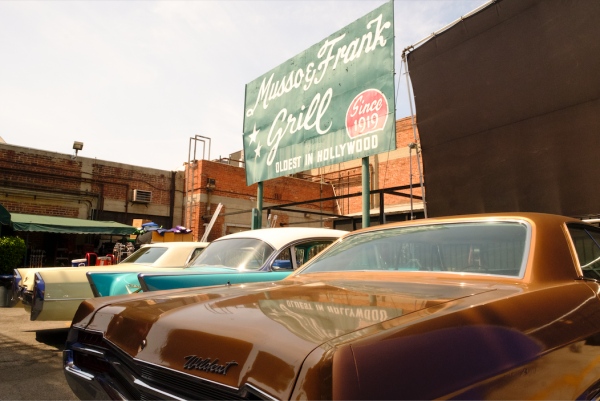 Musso & Frank Grill
The iconic Musso & Frank Grill (6667 Hollywood Blvd, Hollywood 90028), Hollywood's oldest restaurant, is featured prominently in Tarantino's new flick. Celebrating its centennial this year, Musso's is as famous for its Martinis as the legendary clientele, which spans generations of celebrities from Charlie Chaplin and Marilyn Monroe to Keith Richards and Johnny Depp.
In a scene filmed at Musso's, Dalton meets agent Marvin Schwarzs (Al Pacino), who says he's a big fan and offers him an opportunity to make a Spaghetti Western in Rome.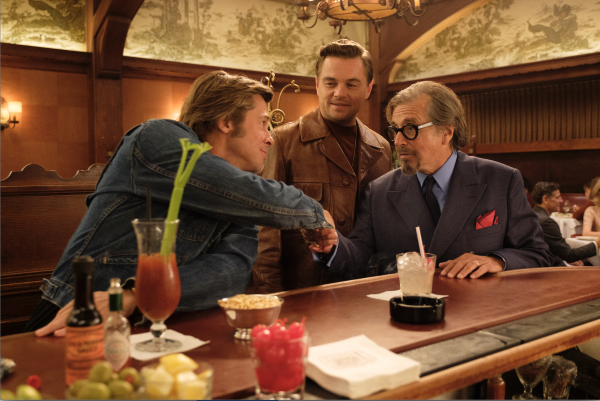 Spahn Ranch (Corriganville Park)
Spahn Ranch was a 55-acre movie ranch that is infamous for being the primary residence of the Manson Family for most of 1968-69, including the Tate-LaBianca murders. The ranch was owned by 80-year-old George Spahn (played by Bruce Dern), who allowed Manson and his followers to take it over in exchange for daily chores and sexual favors from the women. A wildfire destroyed the dilapidated film sets and residential structures in September 1970. Now part of Santa Susana Pass State Historic Park, Spahn Ranch hosts organizations like Atlas Obscura that offer guided tours of the former Manson Family hideout.
In the film, Spahn Ranch is portrayed by Corriganville Park in Simi Valley. Formerly owned by actor and stuntman Ray "Crash" Corrigan, the park was once the Corriganville Movie Ranch and was the filming site for more than 3,500 movies, TV programs and commercials. Today, the park is home to five trails that wind around the 246-acre property, which is owned by the Rancho Simi Recreation and Park District.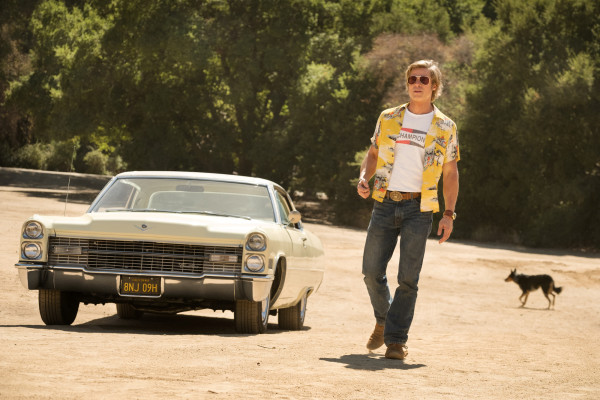 Vogue Theatre (Cabo Cantina)
Designed by S. Charles Lee, the Vogue Theatre (6675 Hollywood Blvd, Los Angeles 90028) opened in July 1935 next door to Musso & Frank Grill. For several years, the Vogue was the home of Supperclub, which closed in 2015. More recently, the venue housed Screenbid, a film and TV memorabilia auction house. Cabo Cantina (6669 Hollywood Blvd, Los Angeles 90028) occupies the former Vogue space that's directly adjacent to Musso's.
Location manager Richard Schuler, who has worked on L.A.- based films like A Star is Born, explained to Tim Grieving on The Frame: "What's to the left of [Musso's] however, the Cabo Cantina, all of that got stripped off – from the straw awning to all the signage and everything. The Vogue Theatre used to extend in front of that, so we put the Vogue Theatre back in right there."
Now, before you catch the flick yourself, watch the full trailer for Once Upon a Time in Hollywood here.