The moments you'll remember when it's time to shuffle off this mortal coil won't be the hours you spent in front of some screen, the nights spent stumbling god-knows-where after a rowdy Friday session, or any of the like. What lives on in eternity can be as simple as a quiet evening under the night sky, finding comfort in the fact this brief existence – the fleeting seconds you're inhabiting right now – is all that matters. And it's something that Bubbletent Australia can facilitate with its transparent glamping setups, overlooking the world's second-largest canyon.
Drive two and a half hours north-west of Sydney CBD and you'll find these Instagram-ready, inflatable domes hosted on a 400-hectare working farm placed between Mudgee and Lithgow, located in the heart of Capertree Valley. Inspired by New Zealand's International Dark Sky Reserves – the top stargazing spots across the globe – in addition to similar constructs littered around Europe, "immersive" and "unrivalled privacy" are phrases that immediately come to mind; both sentiments confirmed by the innovators behind them.
"Other glamping experiences cover up your view – the stars essentially go to bed when you do," says Sonny Vrebac, Co-Founder of Bubbletents Australia.

"But what if you could be shielded from the elements and warm… and the stars stay with you all through the night?"
---
---
RELATED: The Glass Cabins That Showcase The Very Best Of New Zealand
"The property is remote and there is so much space and privacy around each tent. You could spend your whole stay walking around naked if you wanted to."
Topline features range from queen-sized floating beds – with pillows, throws, slippers, gowns made from local wool – hammocks, love swings, fully-equipped kitchenettes (BYO supplies), to outdoor wood-fired bathtubs, outdoor rinsing stations, and eco-friendly bathrooms.
Other niceties include fire pits, telescopes, and depending on which bubble tent you opt to stay at, climate control. In other words, it's a certifiable step up from a sleeping bag with some running water. And as it's off-grid, anything plugged runs on solar-powered batteries; while rainwater is harvested and biodegradable washing + cleaning products are used.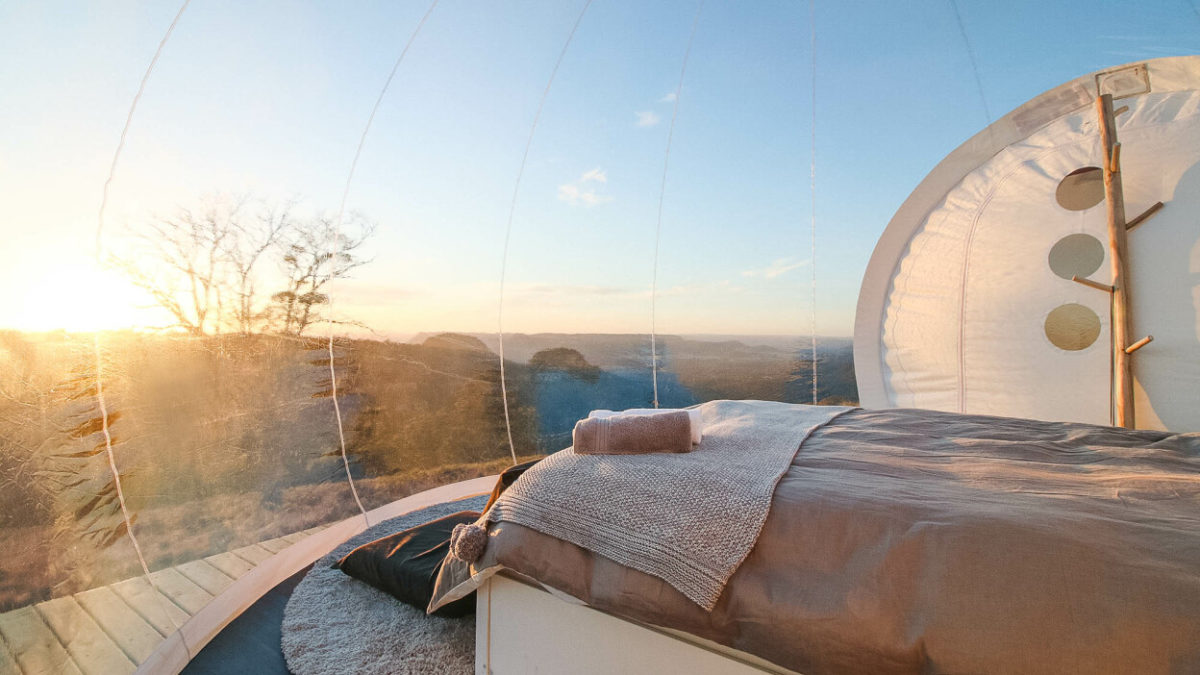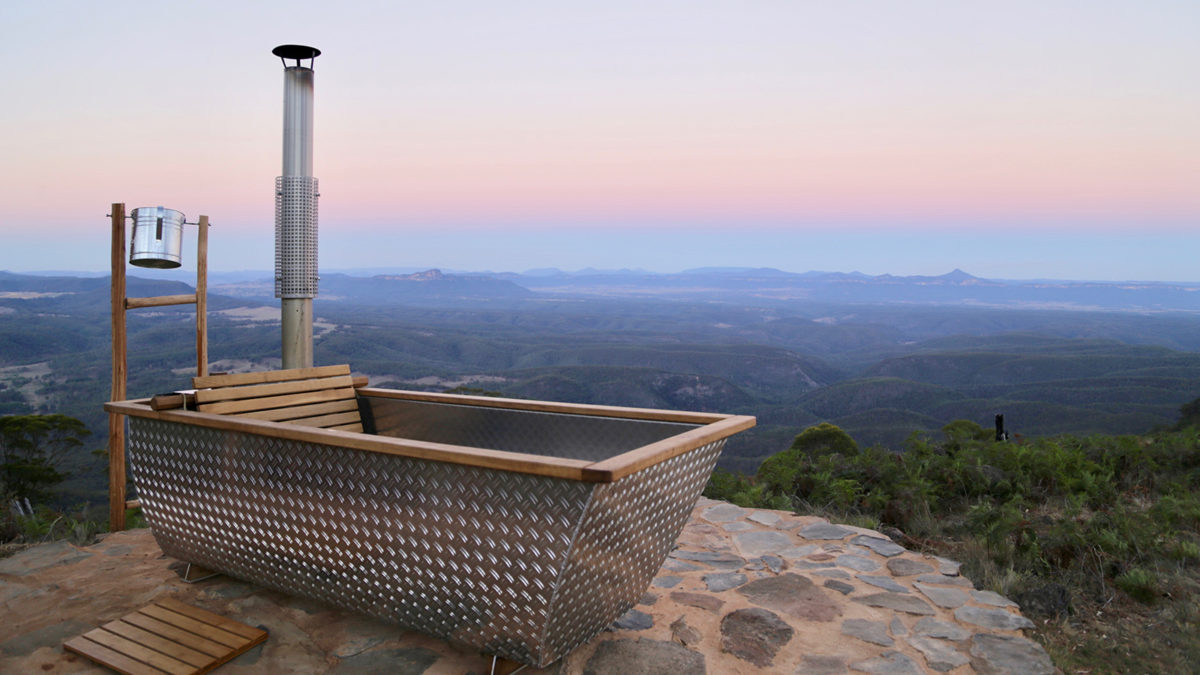 Bubbletent Australia offers three distinct domes named after a different constellation of stars:
Leo
"Standing proud on a rolling hill with one of the highest points in the entire valley is Leo, our first-born. With sweeping views across our great canyon, you can be a step closer to the heavens while soaking your weary bones in Leo's very own Swedish wood-fired hot tub perched just above the tent. A romantic's oasis, a dreamers delight, a traveler's rejuvenation."
Virgo
"Virgo – the sign of those seeking eternal perfection and this is what Virgo delivers. With climate control inside, where you can make it whatever season you want at the touch of a button, a wood-fired bath tub and pristine sunset views as the curtain of darkness is gently pulled up across the valley and the first glow of sunrise gently stirs in the morning, it is little wonder that it is the little darling of our guests. No wonder our guests say once-in-a-lifetime experience."
Cancer
"Tucked neatly on top of towering cliffs presiding over a stunning gully, Cancer is a dream come true for the outdoor enthusiasts who want to ponder their own place in nature. With secret lookouts, treasured spots of shades, and on the edge of homely bush guarding our abundant wildlife of kangaroos, wombats, wild goats, and birds of prey including the iconic Australian wedge-tailed eagle. All while allowing you to marvel at the nightly sky in the evening from the tent or from the wood-fired bathtub, plug into nature at Cancer."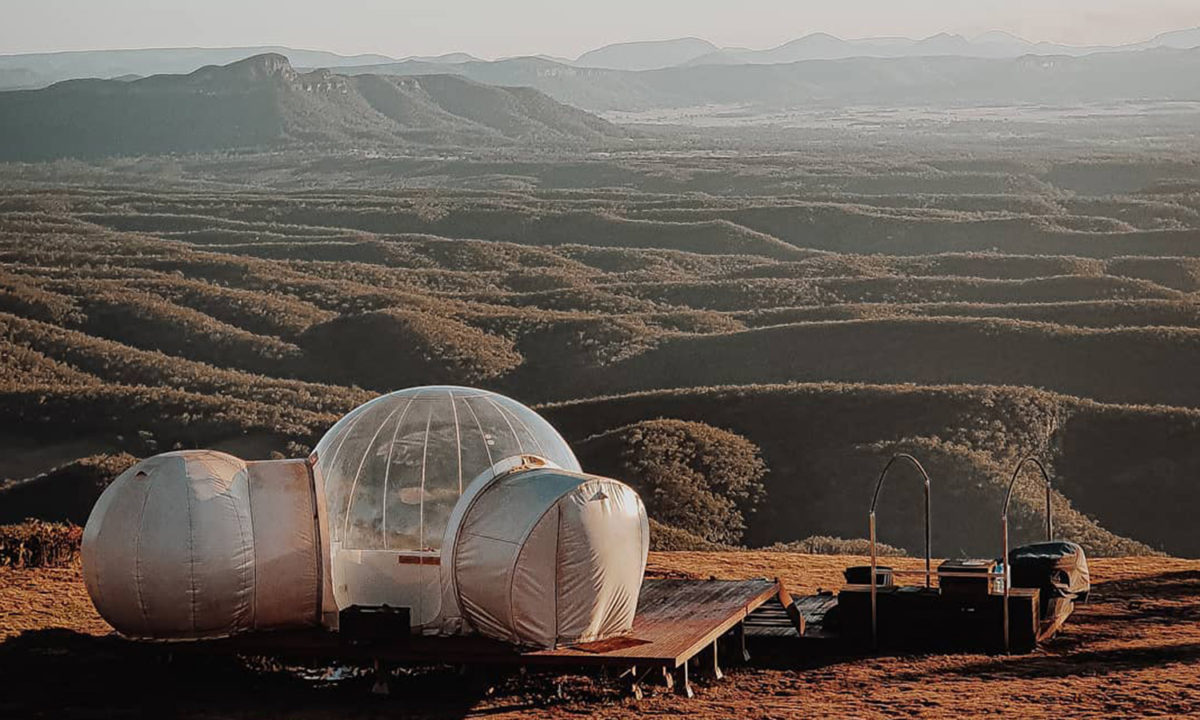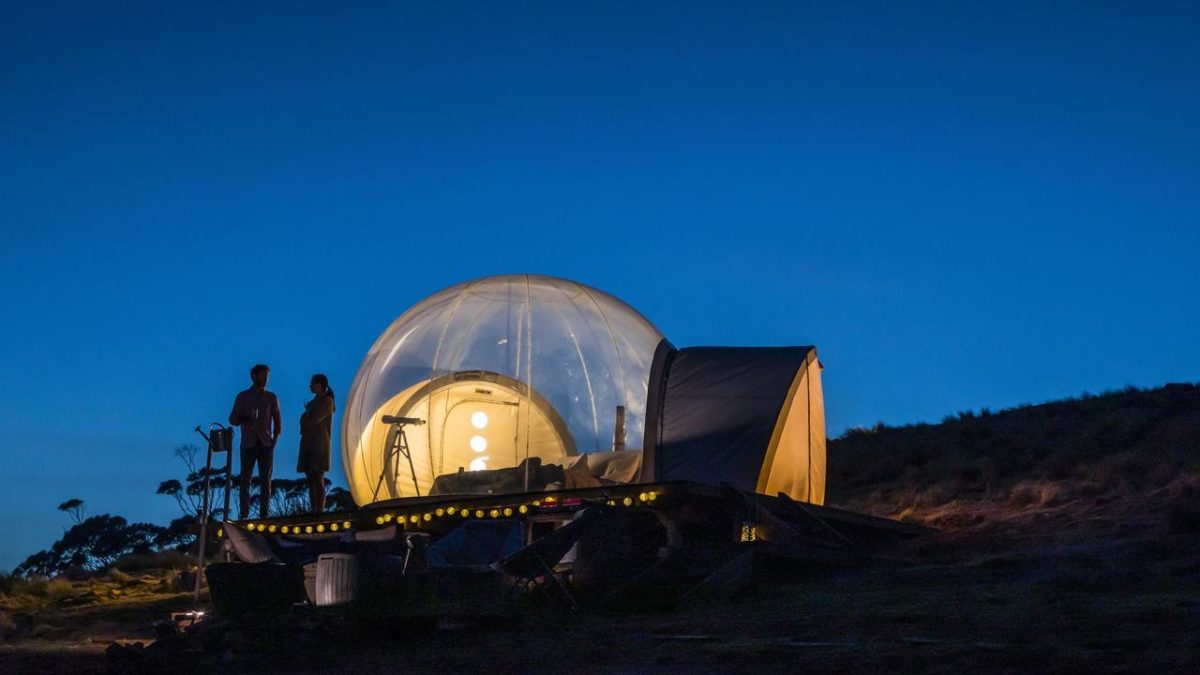 "There are 88 constellations in the solar system," Sonny tells CNN, hinting Bubbletent Australia could be looking at expansion soon enough.
"Why not take it back to where it all started?" adds Co-Founder Mayu Iwasaki, alluding to potential New Zealand locations on the horizon.
---
---
You can now book a stay with Bubbletent Australia starting from $545 per night – find out more below.