There are few Scandinavian traditions as fascinating and definitive as chilling in a sauna with a bunch of mates and working up a sweat before dialling it down with a cold swim or shower. For major cities like Helsinki in Finland and Oslo in Norway, how locals and visitors experience day-to-day living cannot be separated from the tradition of manipulating your body's temperature to confer numerous benefits like increased metabolism, pain reduction and improved blood flow. It then shouldn't really be a surprise that Oslo has taken the next step in modern sauna culture by introducing what some are claiming as a dedicated sauna island, Oslo Badsforening – a collection of floating saunas milling around Oslo's tranquil, inviting waterfront – and a floating sauna that you can actually spend the night in.
What seems to have happened over the past few years is that Oslo's sauna culture is becoming more and more entwined with the freezing fjord that surrounds the city. Floating saunas are now just as common as land-based saunas, and not only is this just generally much cooler visually but it's cooler functionally. You're now able to jump straight from the sauna into the fjord, made possible with these architecturally savvy spaces that blend aesthetics, steam and freezing cold in safe environments.
Floating saunas have really picked up in Norway across the past decade, but it's not until recently that international visitors have really cottoned onto the trend. That's good news for Oslo Badsforening, which is a complex of floating saunas located at the increasingly popular Bjørvika wharf precinct, filling the waterfront with steaming stoves and semi-naked bathers who can be spotted regularly jumping from floating platforms into the fjord after they've spent time working up a toasty red tan in these incredibly stylish saunas.
---
---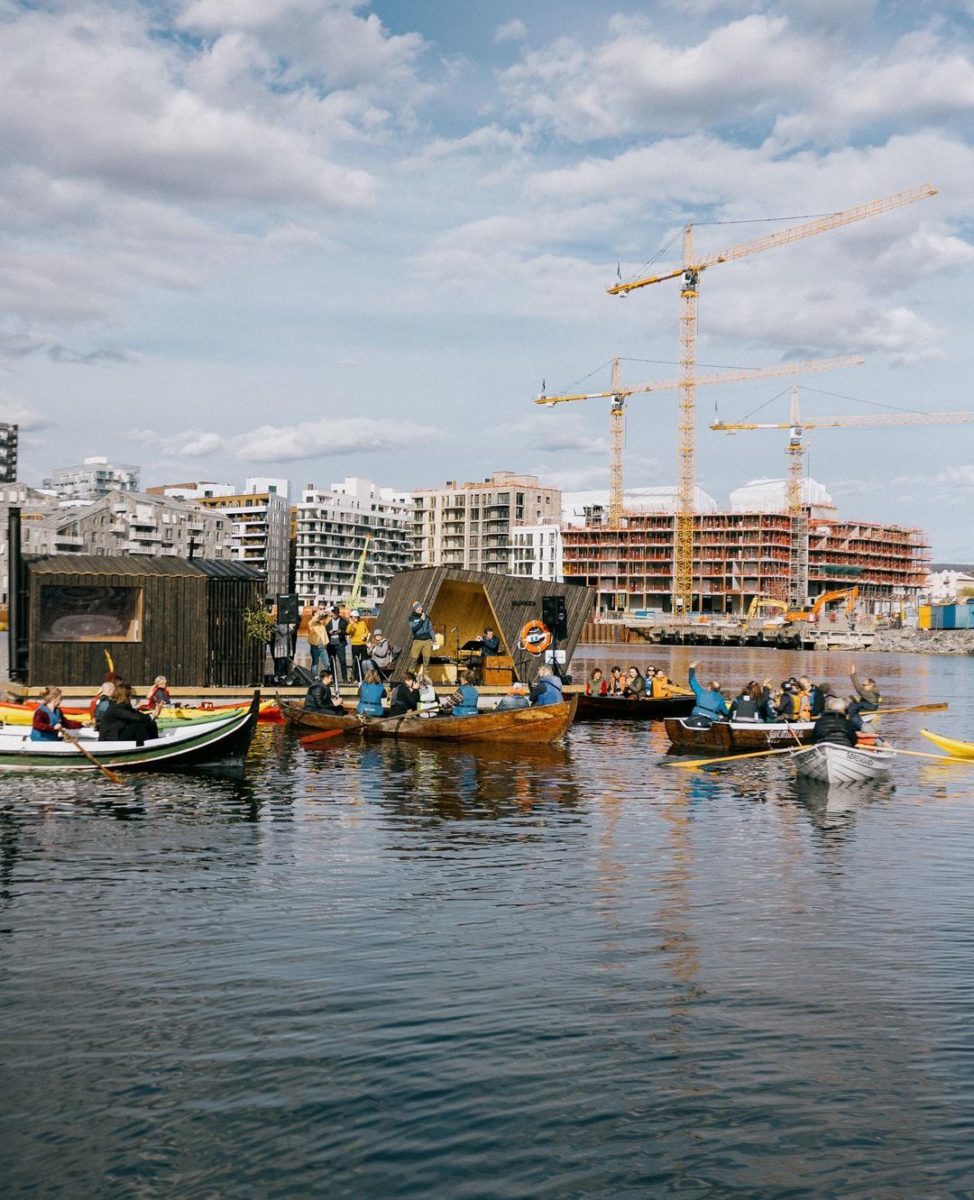 RELATED: Six Senses Svart In Norway Is The Most Incredible Hotel You've Ever Seen
The latest addition to Oslo Badsforening's spread of six saunas, which vary greatly in design and style, is Bispen & Munken. Marketed as a true island sauna, the small floating cabin doubles as some floating accommodation that will be docked year-round in front of the impressive Munch Museum, which was opened back in 2020 as a comprehensive collection dedicated to the works of Norwegian artist Edvard Munch.
Photographed by Oslo-based artist Jan Khur, Bispen & Munken is made up of a sauna (of course) as well as a bathroom and double beds, with enough space for up to four guests who can ferry themselves back and forth between the island sauna with a small wooden boat. The open facade is exposed to the elements, making it a bit of a glamping experience designed studiously by Norwegian architectural firm Biotope and the Norwegian Trekking Association.
For accommodation on board Bispen & Munken, you're looking at around NOK500 (~AU$75) per night.
RELATED: Sydney's Floating Villa, Lilypad, Has Been Rebuilt With A Sauna & Wine Cellar
As reported by Wallpaper, the team are also currently at work on a second much larger floating sauna to be located nearby with a bigger program of sauna-related activities. Curiously, this will include a traditional multi-sensory wellness ceremony which Germans call Aufguss. These ceremonies are typically led by a qualified Aufgussmeister, or a "sauna master" who uses water infused with essential oils to create scented steam from the sauna's hot stones, and then uses rhythmical towel movements to circulate the air and experiment with different patterns of wellness.
While the current Bispen & Munken, or the other floating saunas that define Oslo Badsforening – a collection that includes a wooden Estonian igloo-like sauna with homemade hotboxes – doesn't really have the space for an Aufguss ceremony, they are at least compelling ways to experience Oslo if you're feeling like post-pandemic Scandi adventures.
---
---