Event management company The Hour Group have confirmed modern icon Hasbulla Magomedov is making the journey from Dagestan to Australia in late August/early September.
"I am very excited to be heading to Australia, I can't wait to see all my Aussie fans and visit these amazing cities," said the 19-year-old internet sensation.
"I've heard so many great things about Australia, I'm looking forward to all the great experiences your country has to offer."
RELATED: Why Are Blokes Obsessed With Hasbulla?
During the initial announcement, the South Melbourne-based operation was vague on specifics (i.e. dates, locations, ticket prices). Based on its past tours ranging from An Evening With Khabib Nurmagomedov, An Evening With Kobe Bryant, to An Evening With Shaq, we assumed Hasbulla was coming to Australia for yet another unforgettable Hour Group speaking event.
As of today, however, we know for certain what's about to go down. Hasbulla's visit will encompass "a series of interactive experiences" at iconic locations around both Sydney and Melbourne for all fans to attend.
For the super devoted disciples of Mini Khabib, however, an extremely limited meet and greet opportunity with the man himself including a professional photo and tour merchandise pack will be available. Although it is worth noting all the ladies out there might run into something of a barrier.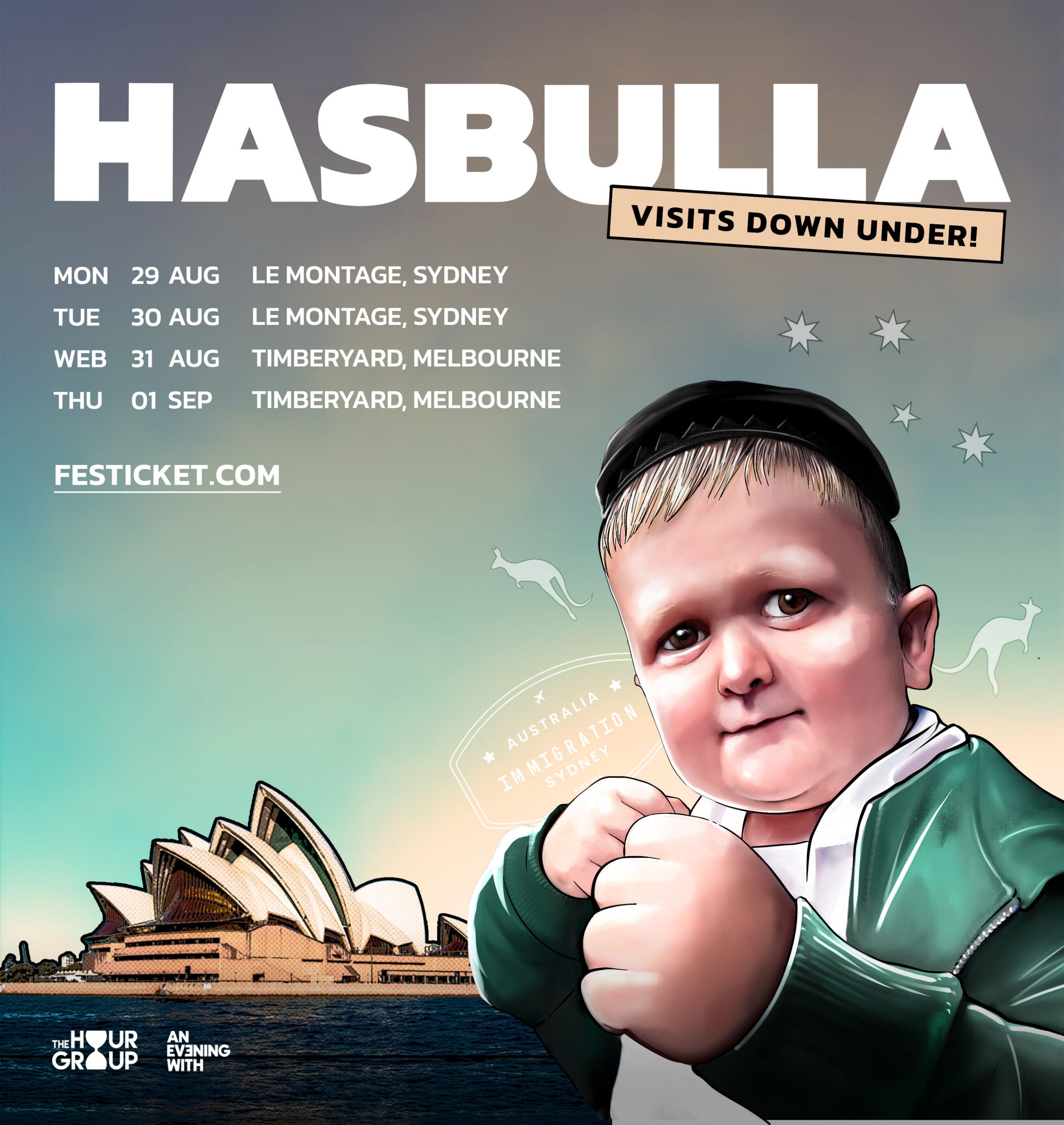 According to a statement issued by The Hour Group:
Due to Hasbulla's personal and cultural beliefs, he regrettably cannot take photos with female guests. To our female guests if you would like to attend the meet and greet with Hasbulla, you are welcome to do so, but please acknowledge the limitations of photography. We understand the disappointment this creates; however, we respectfully acknowledge the cultural and personal beliefs of Hasbulla and have to accommodate his requests accordingly.
Tickets for this historic occasion will go on sale on June 30th at precisely 9 AM (AEST).
RELATED: UFC Heavyweight Champ Jon Jones Is Touring Australia To Host MMA Training Sessions
"Traditionally, Hasbulla has not conducted many public appearances," said Chris Tamblin, Co-Founder of The Hour Group.
"The Hour Group are honoured to be bringing him down to Australia for what will be a fun and eventful tour."
The Hasbulla Australia Tour 2022 dates and locations are as follows – hit the link below to cop those meet and greet tickets when the time comes:
Hasbulla Australia Tour – Sydney
August 29th (Monday) – Le Montage
August 30th (Tuesday) – Le Montage
Hasbulla Australia Tour – Melbourne
August 31st (Wednesday) – Timberyard
September 1st (Thursday) – Timberyard
Hasbulla Australia Tour Ticket Prices
First Release Tickets – $249
Second Release Tickets – $299
Final Release Tickets – $349