A first meal menu from the doomed Titanic has sold for over $180,000 AUD. The lunch of sweetbreads, pastries, and spring lamb was served on the liner April 2, 1912.
So just how did this once trivial item survive the deep descent into the great, big blue? As it so happens, the highest ranking surviving officer, Charles Lightoller, had gifted the menu to his wife as a rather odd souvenir before he left from Southampton on April 10, 1912. Beats the hell out of petrol station flowers, I suppose. Especially with the current value it holds.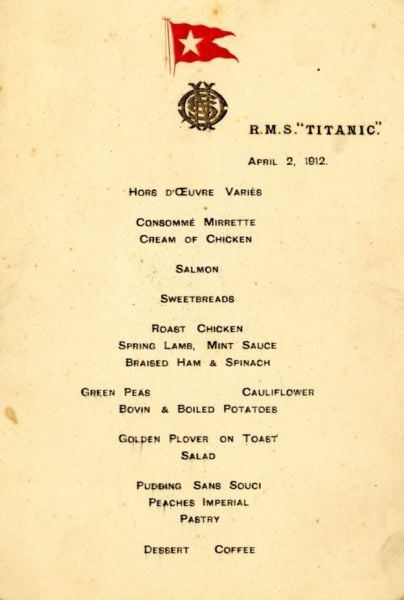 "This menu is one of the most important examples of its type in existence today, simply superb a true blue chip item," says Henry Aldridge and Son auctioneer, Andrew Aldridge.
"It is from most famous ship in the world, the first meal served on it, and owned by its most senior surviving officer."
Other items that were sold off at the same auction included a key to the ill-fated ship's chart room, which eventually sold for £78,000 ($142,536 AUD), as well as a badge worn by third class steward's badge, Thomas Mullin, which fetched for £57,000 ($104,161 AUD). And to really juice up the authenticity of said badge, it is said that it was found with his body (yikes!).
As far as anyone is concerned, and to the extent of all historical knowledge, there is only one other Titanic menu artefact of this kind that remains in existence.