Microsoft is on the verge of something wildly ambitious with the introduction of the Xbox Series X (and the less powerful, more affordable Series S), and within the context of the "console wars", it's not what you'd expect. The company sent us a Series X ahead of its November 10 launch date to play around with, and after spending a week with the ridiculously powerful console, it's obvious what the tech giant is doing. Before we get into our Xbox Series X review, a quick refresher on the specs is in order.
Anyone rushing out to grab the $749 AUD Xbox Series X can expect their gaming experience to be powered by the following specs.
CPU: 8x Cores @ 3.8 GHz (3.66 GHz w/ SMT) Custom Zen 2 CPU
GPU: 12 TFLOPS, 52 CUs @ 1.825 GHz Custom RDNA 2 GPU
Die Size: 360.45mm2
Process: TSMC 7nm Enhanced
Memory: 16 GB GDDR6 w/ 320mb bus
Memory Bandwidth: 10GB @ 560 GB/s, 6GB @ 336 GB/s
Internal Storage: 1 TB Custom NVME SSD
Expandable Storage: 1 TB Expansion Card
External Storage: USB 3.2 HDD Support
I/O Throughput: 2.4 GB/s (Raw), 4.8 GB/s (Compressed, with custom hardware decompression block
Optical Drive: 4K UHD Blu-Ray Drive
Performance Target: 4K @ 60 FPS, Up to 120 FPS
For anyone who doesn't regularly review the latest tech advancements, that easily translates to 4x the speed of Xbox One X, a better consistency in high-resolution 4K support, and a number of nifty tricks which make the gaming experience feel faster and more fluid.
---
---
This kind of investment from Xbox may be ambitious, but it makes complete sense when considering how Microsoft plans on breaking away from their fan-confected rivalry with Sony and retiring from the "console wars" altogether.
What Console Wars?
In 2019, the global film box office was valued at $42.5 billion USD. In 2018, the music business, (including streaming) was valued at $19.1 billion USD. Combine those two figures, 2.5x it, and maybe you'd catch up with the annual revenue of the global gaming industry, which reportedly sits around the $150 billion USD mark.
Most of that figure does not come from gaming hardware though. In fact, gaming consoles aren't at all that profitable. It's the software that really matters, which is why I don't think Microsoft really care if the Xbox Series X|S outsells the PlayStation 5. The woeful losses taken during the Xbox One generation may have hurt the company, but it's clear the tech giant was steady building towards something more ambitious than just shipping units.
Xbox is now an ecosystem, and every move they make from here on out will likely be in complete service to that. They are dead set on becoming the Netflix of the gaming industry, which is why gamers buying the new machines can expect a staggering library of games when the consoles launch, offering a huge boost in value and an incentive for more subscribers to their service: Xbox Game Pass.
Although none of these launch titles are brand new, a great deal of them have been optimised to take advantage of the Xbox Series X's powerhouse architecture. Gears [of War] 5 has the most muscle of the bunch, but there's also Sea of Thieves, DiRT 5, the recently launched Watch Dogs: Legion, and award-winning platformer Ori & The Will of the Wisps. It won't be long before Xbox stacks this collection considerably, even ahead of big-ticket 2021 releases like Far Cry 6 and first-party horror-shooter Scorn.
Then you've got thousands of titles readily available through Xbox's extensive backwards compatibility software, many also benefiting from the spec boost so, for example, an Xbox 360 game would see a swift uptick with high-definition resolution and a substantial decrease in loading time. The intention is not just clear, it's demonstrable: the Xbox Series X offers the very best version of a game that a console can handle to date, at least at the time of this review. It can even take a standard definition game, with no native HDR support, and reconstruct it to improve graphics.
This won't mean much to people who care solely about a game's narrative and couldn't be stuffed with the best graphics and performance available. But increasingly, that kind of thinking is fading. Graphics matter, as do tech specs like real-time ray-tracing and smoother frame rates, both things that the Series X handles with absolute ease.
---
---
It all provides a stage for developers to create richer gaming environments that are more immersive and action-heavy without having to worry about obnoxious performance drops. An example of this is Just Cause 3, which is well-known for atrocious performance during more demanding moments like when there are multiple explosions on screen. Playing through the title with the Xbox Series X for the purpose of this review, I didn't experience the same brief stutters and frame rate downgrades that I've come to expect from the Xbox One version.
Another thing indicating Xbox's lack of concern with hardware sales is the idea of Smart Delivery, which further ups the incentive for entering Microsoft's gaming ecosystem. Basically, anyone who isn't rushing out to pick up the Series X can rest easy knowing that any new game they purchase for the Xbox One will be automatically upgraded, at no additional cost, to the Series X|S version when they make the switch. No more having to buy brand new versions of games to fit the new generation.
Convenience is at the forefront. All the titles available across the Xbox Game Pass (100+ right now and growing pretty much everyday) can be played on the PC or, when xCloud launches in Australia next year, streamed on an Android phone/tablet directly. To help, the new Xbox Series X|S controllers can easily connect to any Android device.
Big Black Box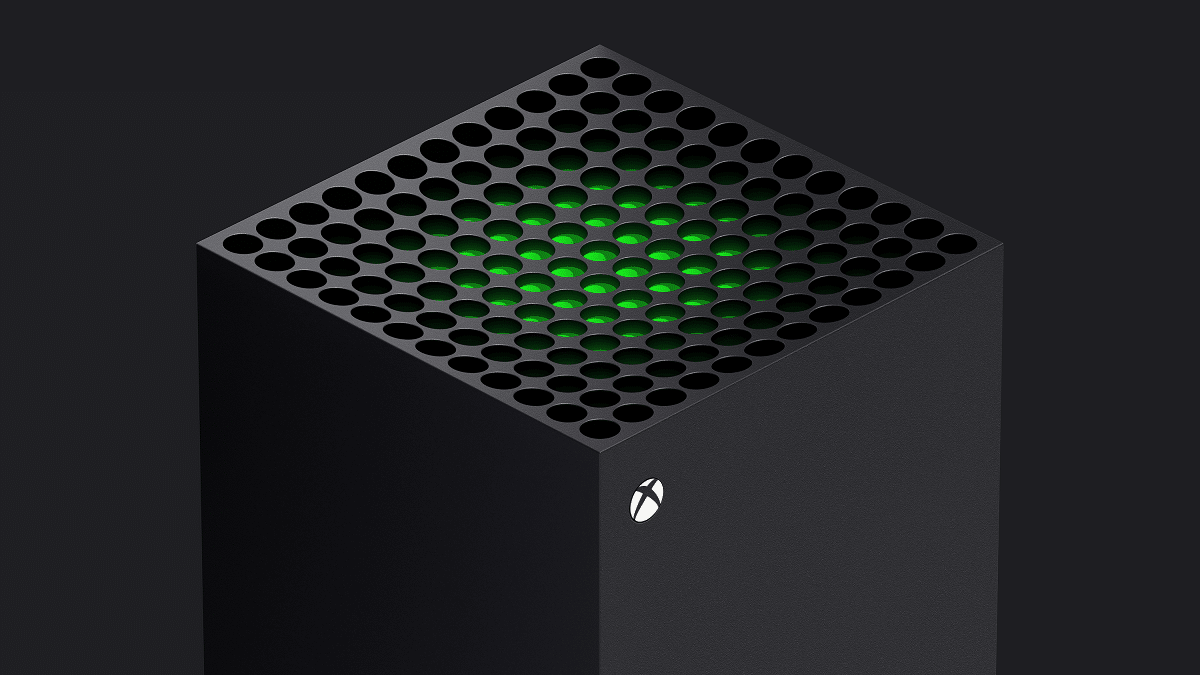 It'd be hard to review the Xbox Series X without talking about the monolithic shell that houses all that tech. The design couldn't be any more conceptually opposite to Sony's stormtrooper-white PlayStation 5, trading the theatrics for an almost uniformly matte black tower that kind of resembles a traditional PC tower, albeit a bit stockier measuring in at 30.1 cm x 15.1 xm x 15.1 cm – with a weight of 4.45kg.
The brutalist design is quite appealing though, and would fit well with a great variety of design schemes. Helping the aesthetic is a sleek concave top that is covered with circular holes for the system's advanced, and whisper-quiet, cooling fan. It's the one ostentatious design element of the Xbox Series X, with the middle holes coloured green inside to represent the Xbox logo. It's also a telling sign that this device should stand vertically, with a horizontal orientation looking too awkward. This isn't as flexible as the PS5, which can be orientated either way, although the size should slot into most media units without issue.
On the bottom-front of the unit is a Blu-ray disc slot, one USB port, and a small button to sync up the Xbox controller. Up top, in the left-hand corner, is the smooth, flat power button that glows white when pressed. Given how consistently quiet the unit is, the glow is the only way to even tell the unit is running.
Scan the back and you'll find the standard connectivity: power cable port, ethernet port, a sizable slot for separately-sold proprietary 1TB SSD expansion cards, two more USB slots, and the new HDMI 2.1 port. If you've got a HDMI 2.1-compatible TV (which is a big 'if' – the tech is fairly new) then you can take full advantage of the Xbox's support for frame rates of up to 120hz.
Do note that if you're using one of the USB 3.1 slots to plug in a hard drive for extra storage, the game's filling up that hard drive won't be able to draw on the incredible speed of the Series X's SSD (discussed below). Although if you're going for the official 1TB Seagate expansion card, that will tap into the SSD's speed. I suggest forking out extra for the latter.
---
---
RELATED: Is The PS5's DualSense Wireless Controller A Game Changer?
Not much has changed with the official Xbox Series X controller on first review. It's still pristine when it comes to ergonomic design, except now there's been a bit more focus on textured bumps for a more comfortable grip. The D-Pad is also more circular to allow for easier directional input, which from experience makes it much easier to throw together a quick, complex combo on Mortal Kombat X.
The controller still takes AA batteries up the back, which may seem outdated, but helps it last a lot longer between charges (via USB-C now). There's always the option of putting in a rechargeable battery pack anyway.
What We Like
Those aforementioned tricks that the Xbox Series X can pull can boost a game's performance in noticeable ways, mostly in service of a more convenient experience for impatient and more hardcore gamers. Here are the highlights.
RELATED: How To Pre-Order The Xbox Series X In Australia
Ray-Tracing
Real-time ray-tracing has been notoriously difficult to properly implement on consoles, whereas PC gamers have been enjoying the adaptive physics-based lighting engine for years now. Xbox have installed DirectX Raytracing into the Series X so that games that do support it benefit from the more realistic lighting and accurate reflections that work with the 4K support to produce gaming worlds that feel much more alive.
Although the library is limited right now, and compatible games like Assassin's Creed Valhalla won't be released until November 10, the notable benefit of ray-tracing can be seen with titles like DiRT 5 and Watch Dogs: Legion, both of which have been recently optimised for the new-gen. The benefits may be subtle, but anyone looking closely could easily notice the subtle ways in which light dances around, for example, Watch Dogs' London setting. Especially at night, the neon-washed nightclub districts look incredible and don't look as relatively flat as they would on previous gen consoles.
RELATED: Microsoft Confirms Xbox Series S Price… And It's Very Affordable
---
---
As with most of the Xbox Series X's best features, the potential hasn't even been realised, and might not be for some time. Current titles are being built for cross-platform play, which makes it less logical to build code to fully utilise the console's specific architecture. Once developers start making games specifically for the Xbox Series X, well beyond this review, this will only be more impressive. I'm betting games with darker atmospheres, like the upcoming Scorn, would benefit the most, being able to build a more immersive and intensive environment without having to worry about frame-rate drops.
Although the Xbox Series X may booster a developers confidence and ability to produce bigger games, this also means that titles will increasingly come with ridiculous load on an SSD. It's already being reported that the upcoming Call of Duty: Black Ops Cold War will be a staggering 136GB, taking a sizable chunk out of storage, which limits the amount of games you can have installed at any one time.
Quick Resume & Load Times
The feature I've been most blindsided by is Quick Resume, and it's one Microsoft has been getting at for awhile now. The speed of the SSD makes it possible to suspend a game in a separate partition of the drive and allow for what is essentially multi-tasking. Quick Resume allows you to jump between different games in mere seconds, switching between play and essentially eliminating the need to wait until you've reached a save checkpoint.
It's like an app drawer on a phone, immediately brought up by pressing the Xbox symbol on the controller.
Although not all games seem to support this feature, yet. Switching between the Witcher III and Gears 5 was no issue at all, and I wouldn't even have to wait 10 seconds to jump back into each exactly where I left off. But switching between Gears 5 and Darksiders Genesis wasn't quite the same. Whenever I'd jump out of Darksiders Genesis, switching back to the Diablo-like game would just bring me back to the title screen. It seems Quick Resume doesn't work as well for games that need to stay signed into the network.
Another glaring issue was actually unplugging the Xbox Series X and bringing it into the Boss Hunting office so we could shoot this video. Taking it back home and setting it up again, I was keen to see if my Gears 5 session would instantly restart where I left off. It didn't. In fact, the screen went black for a good minute before the whole game restarted again. No doubt this is something that just requires an update, and will be fine on launch, but it shows that the tech is still being tweaked, and perhaps more importantly, improved.
The interaction between hardware and software for unmatched speed is dubbed the "Xbox Velocity Architecture" and its absolute beast when it comes to reducing load times. On a Witcher III, well known for how boringly long it takes to "fast travel", the same function on the Xbox Series X is blinding with its snap-of-the-finger speed.
Playing through Gears 5, I almost forgot the game even had a loading screen to begin with. It's almost dangerously fast too. When getting my ass kicked by one of the final bosses, the Matriarch, I often experienced dying and then respawning so fast that I initially thought it was a glitch, and it'd take a few seconds before I knew what was happening. The boss would get a jump on me because my mind was too slow to actually register that I didn't have that usual breather after getting slammed.
---
---
A Quiet Achiever
As mentioned above, the console is remarkably quiet. Comparing it to the Xbox One or PS4, both of which can be obnoxiously loud when processing is pushed to its limits, the Xbox Series X doesn't make a peep, even when I pushed it hard for this review. In fact, I've never heard it make even so much as a buzz, even when I left it on for three days straight while it was downloading games.
Three built-in airflow channels help evenly distribute temperature to keep the console from overheating, which is impressive given just how hard-working the internals are. Even more efficient is the unique split motherboard design, which is a first for a console, and helps by precisely controlling the temperature to allow for more power without pushing the system too hard.
More Is More: The Xbox Game Pass
Discussed in more detail above, the Xbox Game Pass will be Microsoft's key feature moving forward. It's the Netflix of gaming, putting the company more in direct competition with Google and Amazon as opposed to Sony. That's a statement in and of itself, but it also positions Microsoft as the pioneer of accessible gaming. Again, you don't even need an Xbox Series X|S to be able to play the truckload of games that will be rolling out to this service.
Most surprisingly, new first-party titles will also be available on the Xbox Game Pass. So essentially it's no longer about buying a console and then buying games separately as they are released. One monthly subscription fee ($10-$15) gets you access to just about everything you need – unless you want to buy on disc, of course.
There's such a comprehensive selection available already that it puts Sony's 20-deep PlayStation Plus Collection, to which all PS5 owners have instant access, to shame. Some of my favourite Xbox 360 titles are on here, as are Xbox One games that I haven't had a chance to play yet. I simply select what I want, wait for it to download, and then jump right in. The value is insane, especially since it's only going to grow from here on out.
A Few Disappointments
There's No Wi-Fi 6
Unlike the PlayStation 5, which has Wi-Fi 6 with a theoretical max speed of 6.9Gbps, the Xbox Series X sticks with the dual-band Wi-Fi 5 standard, which on further review makes little sense. This is especially disappointing given the former, still in its infancy but picking up in presence, is significantly faster than the current Wi-Fi standard. There's little wonder as to why I had to wait so long for a bigger game like Destiny 2 to download. This also means that there will be more latency in online games, which shouldn't affect gameplay too much, but falls short in comparison to what the PS5 should be able to do.
UI Is Still A Mess
Compared to the PS5's elegant and clean looking interface, Xbox's UI feels cluttered and confusing. It's easy enough to quickly get a handle of it, much like when Windows 10 introduced the initially divisive Tiles shortcuts, but for the most part it feels unnecessary. This was much the same for the Xbox One, and while it has been cleaned up somewhat, it's still got a ways to go before it reaches something that aligns better with the unit's minimalist design.
No First-Party Games For Awhile
Although the Xbox Game Pass is a strength, it's also a weakness. There's not much incentive for Microsoft to rush out first-party titles to compete with the quality of exclusives that Sony are no doubt planning. Instead, the company can just coast on their wide-ranging backwards compatibility for a while. But there's only so much old titles can do for a new machine. This market demands exclusives, regardless of what Microsoft's intentions are. Even if they are buying up studios left, right and centre for eye-watering amounts of money, there's nothing exclusive coming – at least nothing that has been announced yet – aside from one or two titles.
---
---
The Xbox Series X will be available in Australia from November 10 at a retail price of $749.