It was in everyone's best interest that Uncut Gems receive an Oscar nod – if not for the sake of promoting the cinematic arts outside of empty VFX-laden spectacles, then to save humanity from the incoming atrocity.
But in a turn of events that almost defies belief, the Safdie Brothers' masterpiece has been left out in the cold without a single Academy Award nomination. And now, we're all about to pay the price as Adam Sandler threatens to make the worst film ever in retaliation.
---
---
"If I don't get it, I'm going to fucking come back and do one again that is so bad on purpose – just to make you all pay – that's how I get 'em."
Sandler had stated prior to the nomination announcements.
So far, there has been no word regarding what grotesque form this revenge will take. Sandler was last heard through the following gracious tweet, which we can't help but read with a hint of quiet fury (much like the calm before the storm):
RELATED: The Full List Of Oscar Nominations For The 92nd Academy Awards
Bad news: Sandman gets no love from the Academy.
Good news: Sandman can stop wearing suits.
Congrats to all my friends who got nominated, especially Mama. pic.twitter.com/o1Ep3E7GRB

— Adam Sandler (@AdamSandler) January 13, 2020
---
---
The wholesome thread in all this is Sandler's support for his Waterboy screen mother, Kathy Bates, and her campaign for a little gold statue. The two reportedly showed each other much love during their acceptant speeches at the National Board of Review Awards where Sandler was honoured as Best Actor. Bates was also honoured as Best Supporting Actress. But let's not get too distracted from the real matter of concern here…
The greatest fear is that of which is unknown. The sheer possibility of how hard Sandler will hit back alone is enough to turn atheists into acolytes. So the question stands to be… just how bad will this get? Wait, forget I asked. There's literally data we can refer to.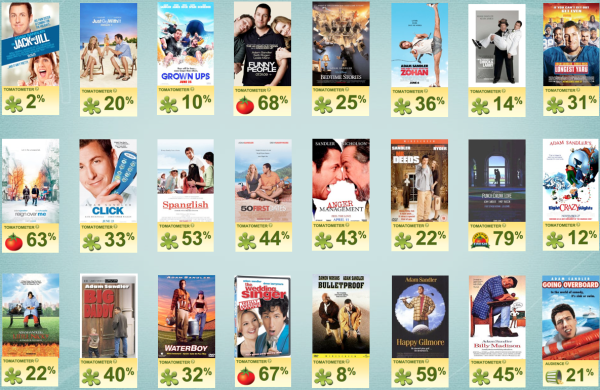 RELATED: 'Uncut Gems' Uses The Seventh Most 'Fucks' In Cinematic History.
It goes without saying that we dread what the future holds. Yet on some level, we deserve everything coming our way. This is what happens when our unappreciative asses don't give a good Adam Sandler film what it is owed.
And may God have mercy on our souls.
Uncut Gems will be available to stream on Australian Netflix from January 31st.