Within the pantheon of classic films that achieved perfection the first time around, you'll find the likes of Antoine Fuqua's Training Day (2001), Martin Scorsese's The Departed (2006) – itself a remake of the Hong Kong trilogy Infernal Affairs – as well as Michael Mann's Heat (1996). As much as the reptilian parts of our brain would enjoy any/all follow-up content from these cinematic masterpieces, their legacies should be kept away from the greasy clutches of Hollywood suits intent on milking every last cent out of these beloved properties. The news of Heat 2 arriving this August, however, doesn't provoke any such fears about comprising the original film. Not only is director Michael Mann returning at the helm… the sequel will take the form of a crime novel.
Co-written between Mann himself and celebrated thriller author Meg Gardiner (China Lake, Jericho Point, Kill Chain), the forthcoming print instalment will serve as both a sequel and prequel a la The Godfather: Part II. Expanding on the iconic characters we fell in love with almost three decades ago – LAPD Lieutenant Dectevice Vincent Hanna (portrayed by Al Pacino), master thieves Neil McCauley (Robert De Niro) and Chris Shiherlis (Val Kilmer) – Heat 2 represents the first of many novels from Michael Mann Books, which inked a multimillion-dollar deal with HarperCollins imprint William Morrow. It also represents Michael Mann's debut as a novelist.
"It's been my intention for a long time to do the further stories of Heat," says Michael Mann.

"There was always a rich history or backstory about the events in these people's lives before 1995 in Heat and projection of where their lives would take them after."
---
---
RELATED: WATCH – South African Task Force Stopping A Heist Rivals Any Hollywood Action Movies
"When I was writing the film, it was imperative for me to create complete life stories about all the characters and to know everything about them, including Neil McCauley's early institutionalised years when he lost track of his brother, before he parachuted into the streets – young, angry and dangerous."
"And the novel shows a McCauley very much attached and the dramatic events that resulted in his dictum that, 'If you're making moves on the street, have no attachments, allow nothing to be in your life that you cannot walk out on in thirty seconds flat if you spot the heat around the corner.'"
Heat 2 picks up one day after the events of the film, with a wounded Chris Shiherlis desperately attempting to escape Los Angeles. The timeline reportedly jumps between the six years preceding the heist where it all went south, and the years immediately following said heist – featuring brand new characters, brand new worlds of high-end professional crime, plus "highly cinematic action sequences."
The settings range from the streets of LA, the "inner sanctums of rival Taiwanese crime syndicates" based in a South American free trade zone, to a massive drug cartel money-laundering operation just across the US border in Mexico, and eventually South-East Asia. Because why not?
"Heat 2 explores the dangerous workings of international criminal organisations with full-blooded portraits of its male and female inhabitants," explains Mike Fleming Jr of Deadline.
"A key is a deep dive into the life of Vincent Hanna (portrayed by Al Pacino on screens), six years earlier in Chicago, and signature cases that honed his skills. It includes the failing of his earlier marriage, the effects of his Marine Corps service in Vietnam, and conflicts within the Chicago PD where he discovers his life's calling – the pursuit of armed and dangerous felons into the dark and wild places that would doom his marriage in Heat. In Chicago, that included the hunt for a particularly vicious crime crew."
---
---
The book will also explore the lives of Charlene (Ashley Judd), Nate (Jon Voight), Trejo (Danny Trejo), and the wheelchair-bound Kelso (Tom Noonan), who provided the bank alarm schematics to De Niro's Neil McCauley in Heat.
"The bank job was not the first time Kelso worked with McCauley, and not the last time he will work with Chris," hints Michael Mann.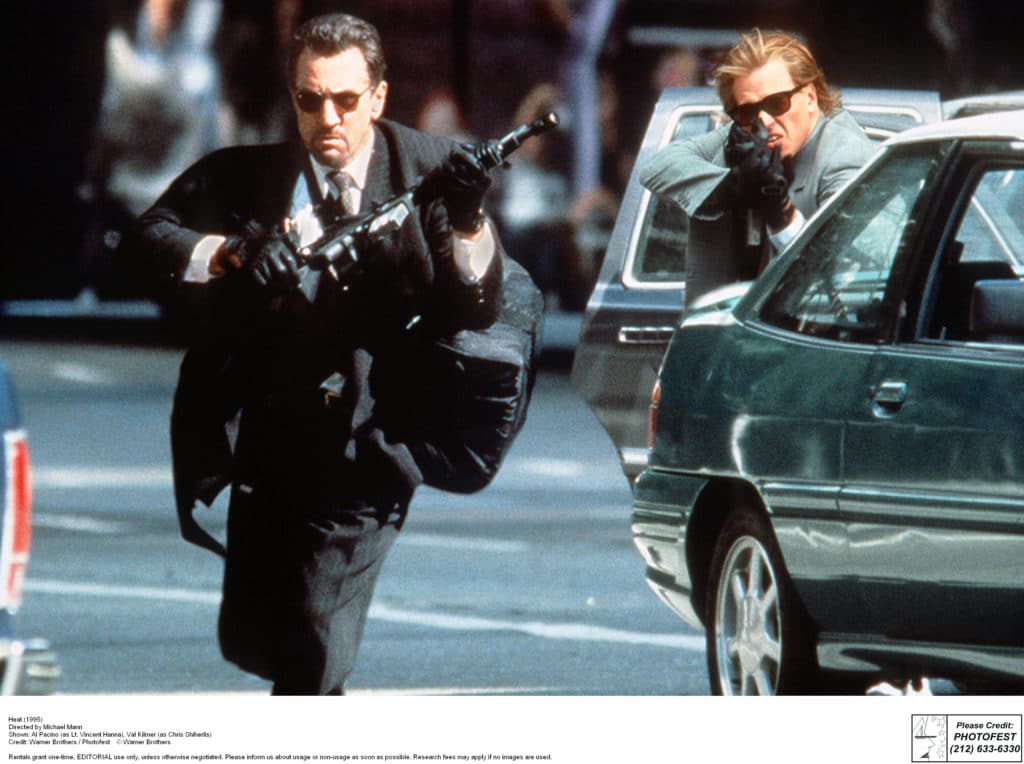 RELATED: 'Superbad 2' Could Happen Under One (Hilarious) Condition, Says Jonah Hill
But those of you disappointed this isn't hitting the big screens needn't worry. In 2020, Michael alluded to the possibility of something more visual.
"We're on it, and I'm putting time into [the novel] and a screenplay I can't tell you about… I absolutely want to make a movie of the Heat prequel."
Whether this is truly in the best interest of diehard Heat fans is another matter entirely. I guess we'll cross that bridge when we get to it. Let's just pray we're not in for any more Irishman-style VFX shenanigans which – I think everyone can agree – should never see the light of day again. Ever.
Funnily enough, Heat 2: The Novel even comes with a trailer, which you can check out below. Perhaps due to the fact its preceding instalment was so inherently cinematic, perhaps due to the expectation it'll be cinematic. Whatever the case, it'll officially be available to read from August 9th.