The most anticipated film in Netflix history, The Irishman is shaping up as one of the biggest releases of 2019. Based on the thrilling novel I Heard You Paint Houses by Charles Brandt, the film is director Martin Scorsese's long-awaited passion project. Featuring Scorsese favourites Robert De Niro and Joe Pesci, along with acting great Al Pacino, The Irishman has 'masterpiece' written all over it.
To get you up to speed, here's everything we know about the film so far.
Goodfellas Reunited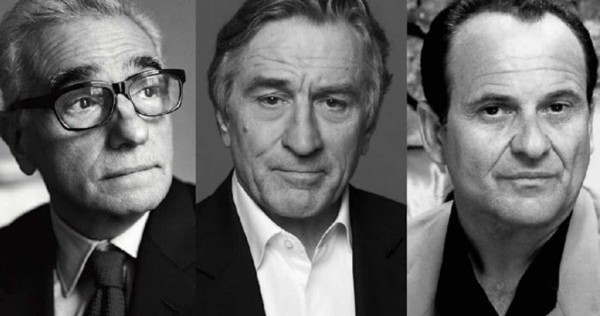 The Irishman finds Martin Scorsese, Robert De Niro and Joe Pesci reuniting for the first time since 1995's Casino. Before that, the three created Goodfellas in 1990, recognised as one of the greatest gangster flicks of all time. Also along for the ride is Al Pacino who is surprisingly making his first movie under the direction of Scorsese. These four Hollywood heavyweights together are enough for most film lovers to start getting excited at just how awesome The Irishman could shape up to be.
---
---
RELATED: History's 10 best heist flicks of all-time
An Insane Support Cast
While the majority of attention has been on the three main stars of the flick, the supporting cast of The Irishman is pretty wild. Scorsese favourite Harvey Keitel (Pulp Fiction) is joined by the likes of Anna Paquin (X-Men), Bobby Cannavale (Boardwalk Empire), Ray Romano (Everybody Love Raymond), Stephen Graham (Snatch) and comedian Sebastian Maniscalco. Oh yeah, and New York rapper Action Bronson is also set to appear in a yet-to-be-announced role.
---
---
Based On A True Story
As mentioned, The Irishman is loosely based on the hit crime novel I Heard You Paint Houses, which in mob terms is code for killing a man. Written by Charles Brandt the book complies five years worth of interviews with Frank "The Irishman" Sheeran, a mob hitman who confessed to the unsolved murder of Jimmy Hoffa.
Sheeran is played by De Niro while Pacino takes on the role of Hoffa, with Pesci as Russell Bufalino, the head of the Bufalino crime family. The film is set to dive into the history between Sheeran and Hoffa and the friendship they developed before Sheeran was forced to make Hoffa disappear.
https://www.instagram.com/p/BarpPgGAZz9
Talking with Screen Daily Scorsese said the film is "About two brothers, they have to trust each other and there is a betrayal," adding this is a common theme throughout all his films. Expect thrilling dialogue, incredible acting and scenes of shocking violence throughout.
Netflix's Most Expensive Film Yet
Initially touted as having a budget of $140 million, The Irishman's budget has climbed to an unconfirmed $245 million or so, easily making it the most expensive film the streaming service has ever commissioned. The reason for the high cost is the CGI used to make the main cast look younger versions of themselves. As the film switches between time periods, the likes of De Niro, Pacino and Pesci have had to be digitally de-aged, something that's clearly not cheap to do.
It's A Wrap
Although shooting has been complete since last March, The Irishman has been in post-production for almost a year now due to the aforementioned special effects needed. While it's been a little quiet in regards to the film's release, a teaser trailer finally dropped during the Oscars on Monday. While it doesn't reveal much – we do see the names of the principal cast as a used bullet casing falls across the screen – just hearing De Niro and Pacino speak a few lines of dialogue is enough to give anyone goosebumps.
Expect A Spring Release
There's no official release date either, with northern hemisphere's fall (our spring) listed as the film's drop season in both cinemas and on Netflix simultaneously. Considering The Irishman was initially announced back in 2014 and has been through years of production troubles, to know it's actually coming later this year is a godsend and one we can't wait for.
https://www.instagram.com/p/BeehLPwgNx1