Forget No Time To Die – this is the real spy film people want to see. That's right. All twenty-five minutes of Michael Scott's Threat Level Midnight movie from The Office is now available online.
The complete cinematic masterpiece was previously an exclusive DVD extra, with nothing more than key excerpts being shown in the original episode – until today.
Enjoy the adrenaline-pumping thrills of international espionage, explosive hockey games, explosive Toby heads, and golden-faced Jim villain all in one satisfying, uninterrupted hit.
---
---
The Office aired its final episode in 2013, and fans have understandably been craving more Dunder Mifflin-related content. Threat Level Midnight may, however, just be the start.
In September of this year, during an announcement about NBCUniversal's streaming service, the Chairman of Direct-to-Consumer and Digital Enterprises hinted at a possible reboot.
"It is my hope that we can figure what that great reboot would be," says Bonnie Hammer.
"We are having conversations."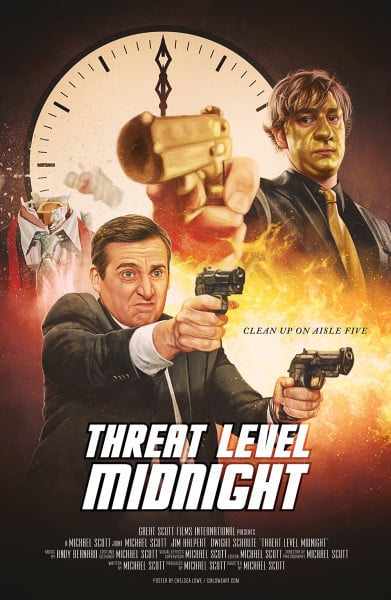 NBCUniversal recently re-acquired the streaming rights to The Office for upwards of US$500 million from Netflix. The monster property is set to return to its original proprietor in January of 2021.
Now I'm no detective, but even a slightly suspicious man would be connecting the dots at this point. Is this release of Threat Level Midnight a means of gauging interest? Are we just being played like content-hungry instruments? Will we actually receive a reboot of The Office?
---
---
Honestly, who knows. In the meantime, watch the full Threat Level Midnight above.
RELATED: Run Out Of Date Night Ideas? Try 'The Office' Clue Boardgame.