Channel Nine recently aired a brief but telling promo for Warnie, its forthcoming two-part biographical series about the life and times of legendary cricketer Shane Warne, and let's just say the early reception hasn't been entirely positive.
In fact, it's been downright brutal across the board…
Absolutely pssing myself…

Channel 9 have gone and done it… made a Warnie movie..

Looks like the worst movie ever made.. and I sat through 190 minutes of MS Dhoni.. the Untold Story!

— Rob Cucvara (@LoftusVersfeld) May 31, 2023
On the YeahNah scale the Warnie TV drama series look like a massive nah #Origin

— Anthony Sharwood ❄️ (@antsharwood) May 31, 2023
Are channel 9 taking the piss with the Warnie mini series. That promo was shithouse, embarrassing and disgraceful. Let him rest in peace

— Troy (@troy_79) May 31, 2023
Oh my god. I just saw an advert for a new "Drama event series" on Channel 9 named "Warnie" about Shane Warne. It looks fucking stupid. I'd be insulted if I were his family and saw this. Thank god I stopped watching FTA Tv years ago. Everything is so goddamn awful.

— Aaron (@Aaron_Amb25) May 31, 2023
Does anyone else think it's too soon for a 'Warnie' show on @Channel9?

He hasn't even been gone for 15 months, and already the show seems filmed and ready to release

How quickly after his passing did someone go 'yep it's time to make a show on his life'?

Or am I too nit-picky?

— Jack Blyth (@jblesfooty224) May 31, 2023
Incidentally, when the project was first announced, it drew the ire of Shane Warne's eldest daughter, Brook Warne, who blasted the plans to dramatise her late father's life "beyond disrespectful."
"Do any of you have any respect for Dad? Or his family? Who did so much for Channel Nine and now you want to dramatise his life and our families [sic] life six months after he has passed away?" Brooke Warne posted on Instagram.
It does, however, appear as though the relationship has since been repaired.
"During pre-production, the 9Network and Screentime have met with the Warne family who have offered their support for the series," stated 9Network.
"The 9Network looks forward to collaborating with the family as filming continues."
9Network added: "Shane Warne was an Aussie legend, a cultural icon, a cricketing genius, a charmer and a rogue. Warnie transcended cricket. Like all great characters, he inspired extreme reactions from people from all walks of life, in Australia and around the world."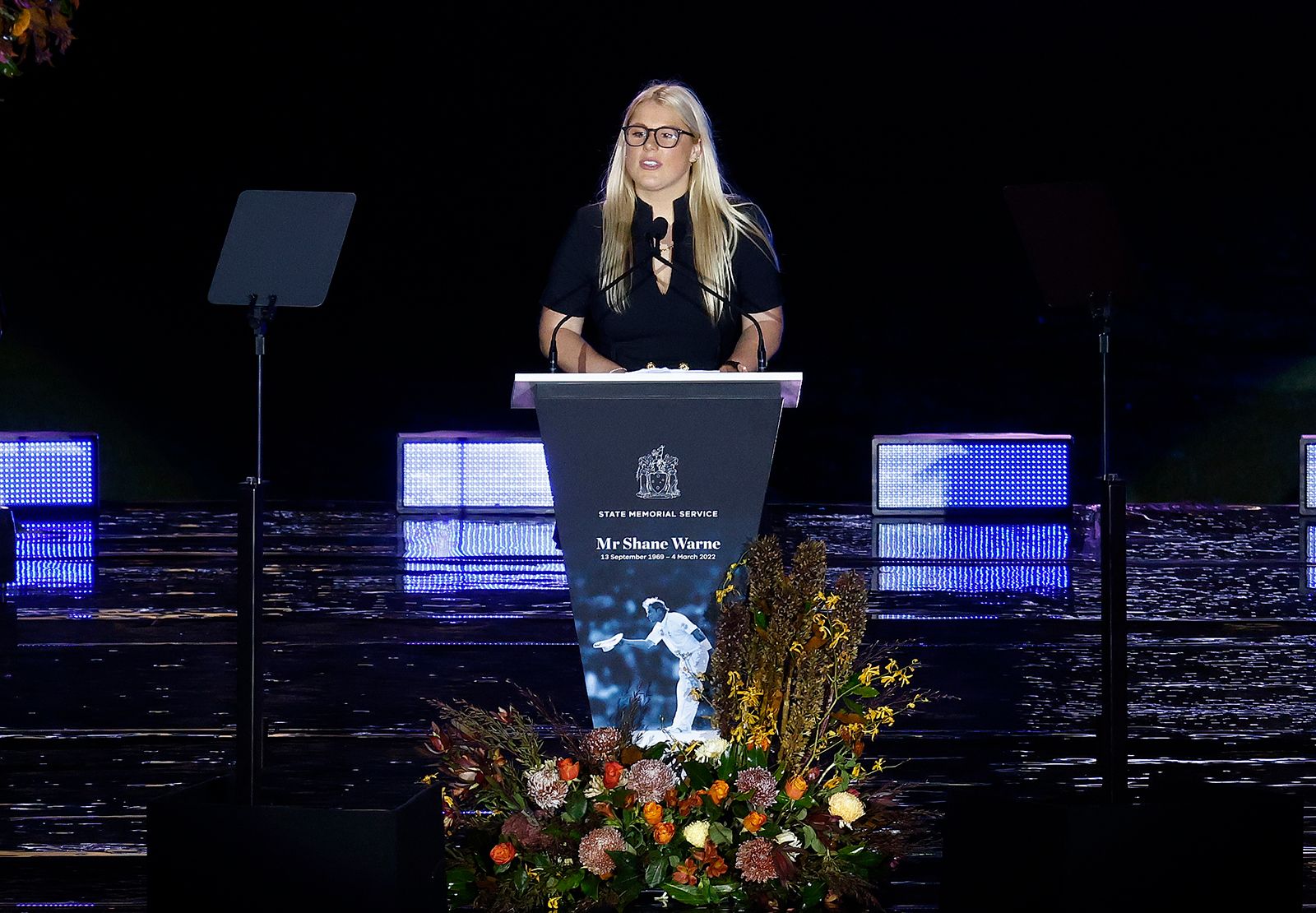 With both instalments scheduled to air back-to-back later this year, over the course of two nights, Warnie will serve as a dramatic tribute to one of the greatest Australians who ever lived: revisiting his exploits on and off the cricket pitch, along with all the hard-living shenanigans that happened in between.
The plot outlines are as follows (via TV Blackbox):
The first episode traces Warne's journey from a cheeky suburban kid dreaming of a professional footy career, through a period of rejection, to an international cricket sensation. He brings a unique combination of competitive spirit, charisma, and fun to cricket, achieving worldwide fame. Yet, amidst the glory, off-field crises put his career in jeopardy.
RELATED: Shane Warne Was Once Denied A Role On 'Peaky Blinders' For One Hilarious Reason
The second episode commences with Warne grappling with injury and constant public scrutiny. He is shown at the peak of his career, facing a major crisis due to a mistake. With the media spotlight on him, Shane encounters controversy both on and off the field, and his body struggles under the immense strain of the demanding workload. As his critics grow louder and the competition fiercer, Warne fights to keep his family together and secure his legacy as one of the greatest players of all time.
Warnie is led by Alex Williams of Underground: The Julian Assange Story and The Heights as Shane Warne himself, who will be supported by the likes of Anthony Hayes (Gold, Light Between Oceans) as TJ Jenner and Marny Kennedy (Between Two Worlds, Janet King) as ex-wife Simon Callahan.
Other cast members include Jacquie Brennan (Wentworth, Informer 3838) as Brigitte Warne, Jeremy Stanford (Winners & Losers, Wentworth) as Keith Warne, Ben Hall (Neighbours, Devil's Playground) as Mark Waugh, Tom Stokes (The Railway Man, Equals) as Steve Waugh, and newcomer Shanti Kali as bombshell ex-girlfriend Elizabeth Hurley.
Shane Warne passed away almost a year ago on March 4th of 2022 after a suspected heart attack which occurred during his final holiday on the island of Ko Samui, Thailand. He was only 52 years of age. What followed were tributes from just about every corner of the globe.
Here on home soil, a state memorial service saw more than 50,000 individuals gathered at the MCG to farewell the King of Spin with speeches from former teammates, close friends, and his family, in addition to performances from Robbie Williams, Ed Sheeran, and Elton John. Channel Nine's broadcast of the occasion reached 403,000 viewers.
Keep an eye out for Channel Nine's Warnie in the weeks ahead. Or don't.