Production is well underway for Gangs of London season 2, as reports indicate the hit Sky and AMC crime drama is on track for an early 2022 release date. Which is refreshing considering how long it took to complete its first season.
"It took us three years to get [Gangs of London season 1] designed and done and out," says series co-creator and The Raid director, Gareth Evans.

"It's something that we're very heartened by – to hear that there's a hunger for it, that there's a desire for it… Just watch this space, really."
With cameras rolling as we speak thanks to Pulse Films in association with Sister, the sophomore instalment will see a returning cast of all the key players – Sope Dirisu as undercover police officer Elliot Finch; Michelle Fairley as Wallace crime family matriarch Marian Wallace; Brian Vernel as Marian's elder son Billy Wallace; Pippa Bennett-Warner as Elliot's love interest Shannon Dumani; Lucian Msamati as Wallace family associate Ed Dumani; Paapa Essiedu as son of Ed and likely successor for the Wallace empire Alex Dumani; as well as Valene Kane, Orli Shuka, Asif Raza, and Narges Rashid in their respective roles.
---
---
RELATED: 'Gangs Of London' Creator To Direct Netflix Action Film Starring Tom Hardy
Newcomers such as French rapper Jasmine Armando – who is set to make her television debut – Salem Kali of Un Prophete, Aymen Hamdouchi of SAS: Red Notice, and Fady El-Sayed of Baghdad Central, will also make an appearance. But as you may have gathered by now, there's one glaring omission…
In the wake of the season 1 cliffhanger which – SPOILERS – saw Elliot Finch execute Sean Wallace (portrayed by Joe Cole), fans have been speculating whether the latter's death was final (especially with the ambiguous camera framing and editing). At this stage, there has been zero confirmation about whether this development is permanent.
Given how there has also been zero news about Joe Cole reprising his lead role in addition to zero sightings of the man himself on set, it's safe to assume Sean Wallace is six-feet below ground next to his father Finn Wallace (portrayed by Colm Meaney). Or perhaps old mate Gareth Evans and co-creator Matt Flannery have simply done a top-notch job of keeping everything under wraps, away from prying eyes.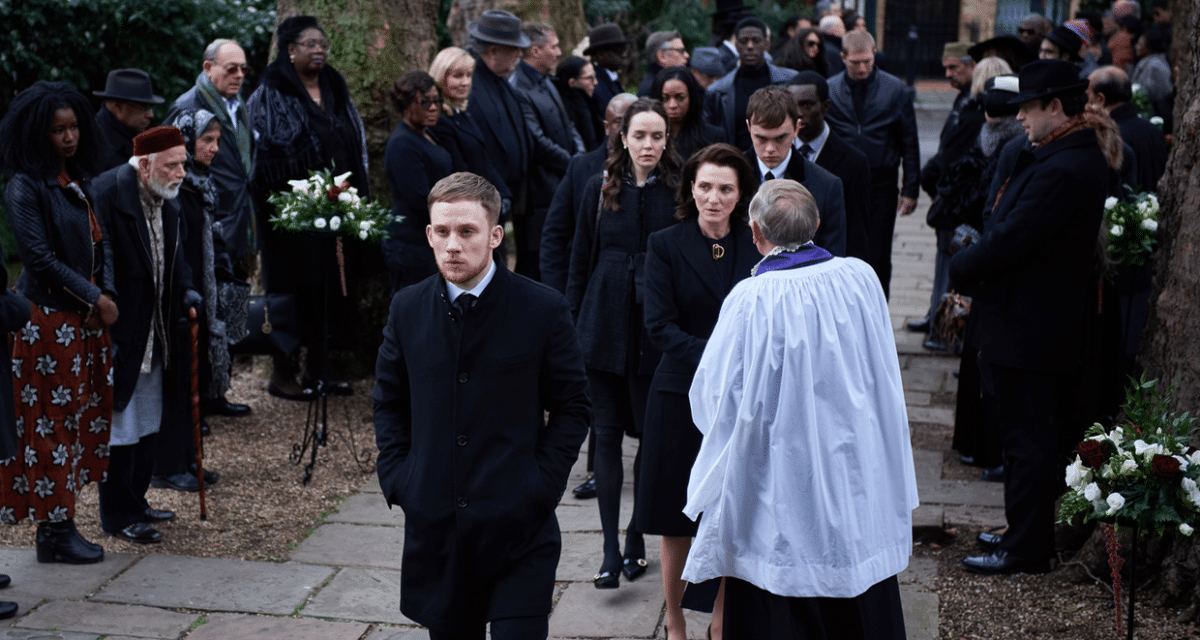 RELATED: 'Bodyguard Season 2' Confirmed By Richard Madden
According to Deadline, here's what we know about the Gangs of London season 2 story so far:
Set a year after the events of the first season, since the collapse of the Wallace-Dumani empire, order is lacking, and the energy and chaos of a gold rush threatens the city with gangland anarchy.
---
---
The Investors are viewing the city as a place of ruin and decide enough is enough. Licensing a new gang to restore stability, drama instead ensues. These brutal enforcers bring a new kind of authority, coldly designed to terrorize the other gangs into submission.
Anyone doing business in the city must now go through them, and our gangs must decide where their loyalties lie if they are to survive.
Once again, Sky and AMC's Gangs of London season 2 has an early 2022 release date – we'll let you know the specific day when it's finally revealed.
Now read up on everything – and I mean everything – we know about Gangs of London season 2 here.