The decade-long struggle appears to have paid off. Before the video game adaptation gets a chance to premiere, Paramount+ has already greenlit its forthcoming Halo series for season 2 with Fear The Walking Dead's David Wiener serving as both executive producer and showrunner for the sophomore instalment.
"Halo is an expansive, world-building opportunity for Paramount+, and we're thrilled to give fans a second season to look forward to before we launch the series next month," says Tanya Giles, Paramount+ Chief Programming Officer.

"Halo will deliver a thrill-ride for fans of the game and non-gamers alike, as it ties together stunning visuals with a deeper look at the personal stories behind these iconic characters, all set within an epic battle for the future of humanity."
"Halo takes us into a dazzling world that we believe will enthral audiences as much with its electrifying visuals as its bold, character-driven storytelling," adds David Nevins, Paramount+ Chief Content Officer (Scripted Originals), Chairman & CEO of Showtime Networks.

"This second-season pickup reflects the confidence we have in the power of this epic series to attract and engage viewers. Halo has been a great collaboration with Amblin and 343 Industries, and we are all grateful for the opportunity to continue it."
---
---
RELATED: Netflix's 'Assassin's Creed' Series To Be Penned By 'Die Hard' Screenwriter
During an interview with Halopedia, Transmedia Studio Head of 343 Industries Kiki Wolfkill explained how the television show's canon will be informed by the video game universe though won't strictly adhere to it, thereby providing the series writers with some freedom to surprise audiences. In other words, there's really no telling where the story will go.
"We do have some context and perspective that is different from some of those stories that we've experienced or read about in the games," notes Kiki Wolfkill.
"We're referring to this as the Halo Silver Timeline as a way of differentiating it from core canon and both protecting core canon and protecting the television story… and by that I mean being able to give ourselves the chance to evolve both and for both to be what they need to be for their mediums without colliding with each other."
As previously mentioned, it certainly hasn't been an easy journey for the live-action Halo series. The project spent the better part of the past ten years floating around in what was practically dead space.
In 2013, it was being handled by the now-defunct Xbox Entertainment Studios, enlisting the one and only Steven Spielberg as an executive producer. A few years later, it ended up at Showtime, which famously greenlit an expensive 10-episode order with Kyle Killen (Lone Star, Awake, Mind Games) and Rupert Wyatt (Rise of the Planet of the Apes). As we all know by now, that also ultimately went nowhere.
But it appears the Halo series has finally found a forever home in Paramount – at least for season 1 and season 2. Steven Kane (The Last Ship, Major Crimes, Alias) has served as showrunner for the first season and will, of course, be stepping aside for David Wiener come Halo season 2.
---
---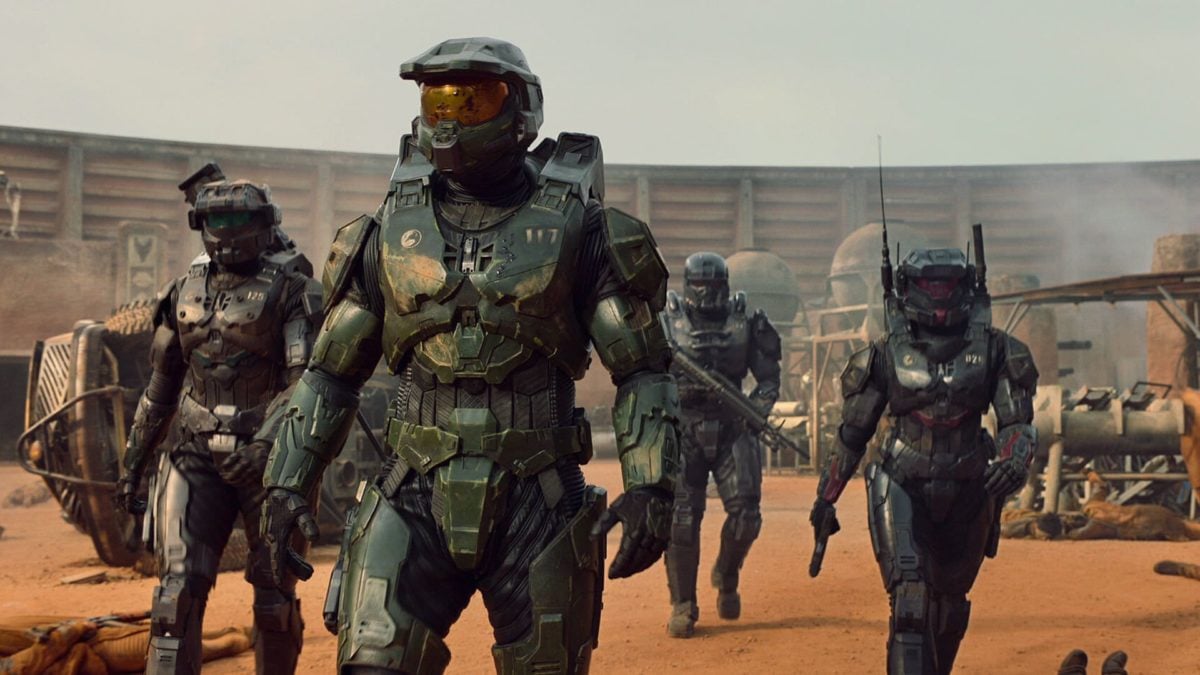 RELATED: The Real-Life 'Halo' Warthog Packs 1,060HP
Set during the 26th century, humanity is in the midst of an intergalactic conflict against the alien known as the Covenant. In order to turn the tide, UNSC scientist Dr Catherine Elizabeth Halsey (portrayed by Natascha McElhone) establishes the Spartan-II Project, which is designed to create genetically + technologically enhanced supersoldiers.
Similar to the beloved video game franchise, the Halo series will follow the larger-than-life Master Chief Petty Officer John-117 (portrayed by Pablo Schreiber), the faceless protagonist raised for combat since childhood and charged with commanding a Spartan unity. And based on what we've seen so far, the helmeted Schreiber certainly looks, moves, and feels the part.
Pablo Schreiber and Natascha McElhone are joined by Jen Taylor as AI construct Cortana, Yerin Ha as Kwan Ha, Charlie Murphy (not that one) as Makee, Shabana Azmi as Director of ONI Admiral Margaret Parangosky, Bokeem Woodbine as Soren-066, Olive Gray as Miranda Keyes, Rafael Fernandez as UNSC Captain Jacob Keyes, and more.
The first season of Paramount+'s Halo TV series has locked in a release date of March 24th, 2022 – check out the official trailer below.