The story behind Netflix's true crime docuseries The Staircase is set to become an HBO drama starring Colin Firth as crime novelist turned convicted murderer Michael Peterson, exploring the lead up to his wife Kathleen Peterson's suspicious death back in 2001, as well as the subsequent court trial.
"This has been a project I have been working on in one way or another since 2008," says co-showrunner Antonio Campos (The Devil All The Time), who has also signed on to direct six of the total eight episodes.

"It's been a long and winding road, but well worth the wait to be able to find partners like HBO Max, Annapurna, co-showrunner Maggie Cohn (American Crime Story), and the incredible Colin Firth to dramatise such a complex true-life story."
The details surrounding The Staircase had previously been featured on multiple occasions, predominantly in podcast and print form; but experienced a whole new level of mainstream attention/scrutiny when Netflix acquired the original 2004 documentary series directed by Jean-Xavier de Lestrade – the latter of whom produced additional episodes as the case developed.
---
---
RELATED: HBO's 'True Detective' Season 4 Is On The Way
For the uninitiated, here's a brief summary courtesy of the docuseries' synopsis (spoiler free):
In December 2001, Michael Peterson called to report that his wife Kathleen had fallen down a set of stairs in their Forest Hills mansion and died. The authorities refused to believe Peterson's story – that Kathleen had fallen while drunk – and concluded instead that he had bludgeoned her to death, most likely with a blow poke – a gift from Kathleen's sister – that was discovered missing from the house. Peterson was soon charged with murder.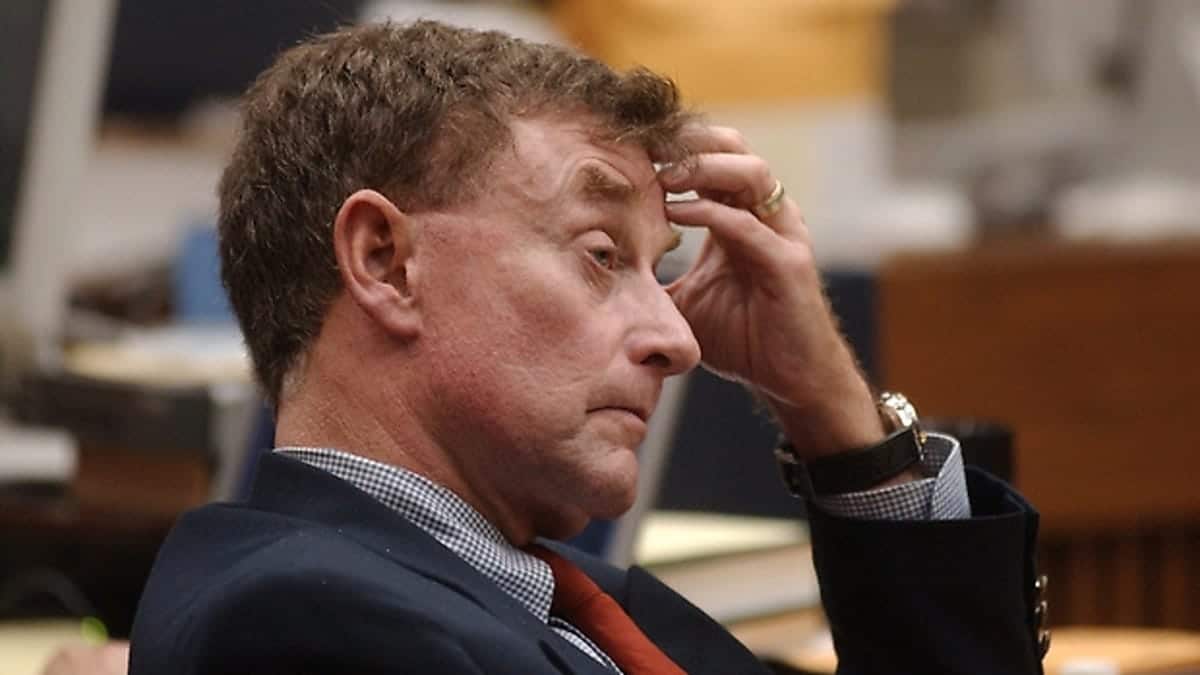 During the trial, it's discovered that while Peterson was living in Germany, a family friend died from an intra-cerebral haemorrhage, followed by the body falling down stairs after collapsing, which resulted in similar head injuries to those sustained by Peterson's wife. An investigation by German police and US military authorities concluded that the death was accidental, and Peterson ended up adopting the woman's two daughters (who stand by their father throughout the entire trial).

The prosecution introduce this death into the trial as an incident giving Peterson the idea of how to "fake" Kathleen's accident
And the reveals only get wilder from there…
RELTED: Netflix Is Paying A Stupid Amount Of Money For 'Knives Out' 2 & 3
"It is a thrill to collaborate with Antonio Campos, Maggie Cohn, and Annapurna Television for the exploration of this true-life story that's rife with dramatic revelations," says Sarah Aubrey, HBO Max Head of Original Content.

"With the enormously talented Colin Firth at the centre of this adaptation, the story of The Staircase will continue to captivate audiences with every bizarre twist and turn."
---
---
HBO has yet to announce further casting (fun fact: Harrison Ford was originally in talks to lead as Michael Peterson), a production timeline, nor release date for The Staircase drama series. Expect it on Australia's equivalent platform Binge.