Yellowstone 1923 (previously dubbed Yellowstone 1932) has scored big time by casting its lead actors: Harrison Ford and Helen Mirren.
It's not every day you can convince an Academy Award winner like Mirren and an Academy Award nominee like Ford to join the Dutton family — the latter of whom has fronted iconic franchises such as Star Wars, Indiana Jones, Blade Runner, as well as a handful of the classic Jack Ryan flicks.
One can only imagine how much high-fiving has been going on between franchise creator Taylor Sheridan and longtime collaborator John Linson. And around the Paramount+ offices, for that matter.
---
---
RELATED: Brace Yourselves, There's A Shitload More 'Yellowstone' Coming Our Way
The series will be produced by MTV Entertainment Studios, 101 Studios, and Bosque Ranch Productions; executive produced by Sheridan himself, alongside John Linson, Art Linson, David C. Glasser, with Ron Burkle, Bob Yari, and Ben Richardson also signed on.
Here's everything else we know about the Yellowstone prequel series 1923 starring Helen Mirren and Harrison Ford.
Everything We Know About Yellowstone 1923 (Formerly Yellowstone 1932)
What is Yellowstone 1923 about?
As per the official Paramount+ press release, 1923 will introduce a new generation of the Dutton family with another Yellowstone origin story — exploring the early twentieth century when pandemics, historic drought, the end of Prohibition, and the Great Depression all plagued the mountain west, and the Duttons who call it home. The generation in question this time around being the grandparents of Kevin Costner's patriarch and renowned rural hard-ass, John Dutton.
According to Paramount+ and MTV Entertainment Studios, the change in the title from 1932 to 1923 reflects elements that have been worked into the main arcs during production. The two biggest events involve the end of World War I – which occurred in 1918 – and the beginning of Prohibition – which occurred in 1920.
Check out the official Yellowstone 1923 synopsis below:
The limited series focuses on the Dutton family's next two generations as they struggle to survive historic drought, lawlessness and prohibition, and an epidemic of cattle theft; all battled beneath the cloud of Montana's great depression, which preceded the nation by almost a decade.

---

---
Where does it fit in the Yellowstone Cinematic Universe?
As you will have probably gathered from the naming convention alone, this particular Yellowstone prequel series takes place after the first prequel spin-off 1883 starring Tim McGraw, Faith Hill and Sam Elliot, but before 1981 – which will feature the early life of John Dutton (played by a digitally de-aged Kevin Costner) as he takes over the famous Yellowstone ranch from his father – and long before both 6666 + the main series.
"While most shows franchise near the end of their run, we seized the opportunity to franchise in real-time to foster success for both streaming and cable properties," says Chris McCarthy, President & CEO of ViacomCBS Media Networks.
"With the brilliant mind and gifted storytelling of Taylor Sheridan, we have created an entirely new world to explore with 1883 while expanding Yellowstone, and with 1923, we will open up a new chapter in this rapidly growing universe."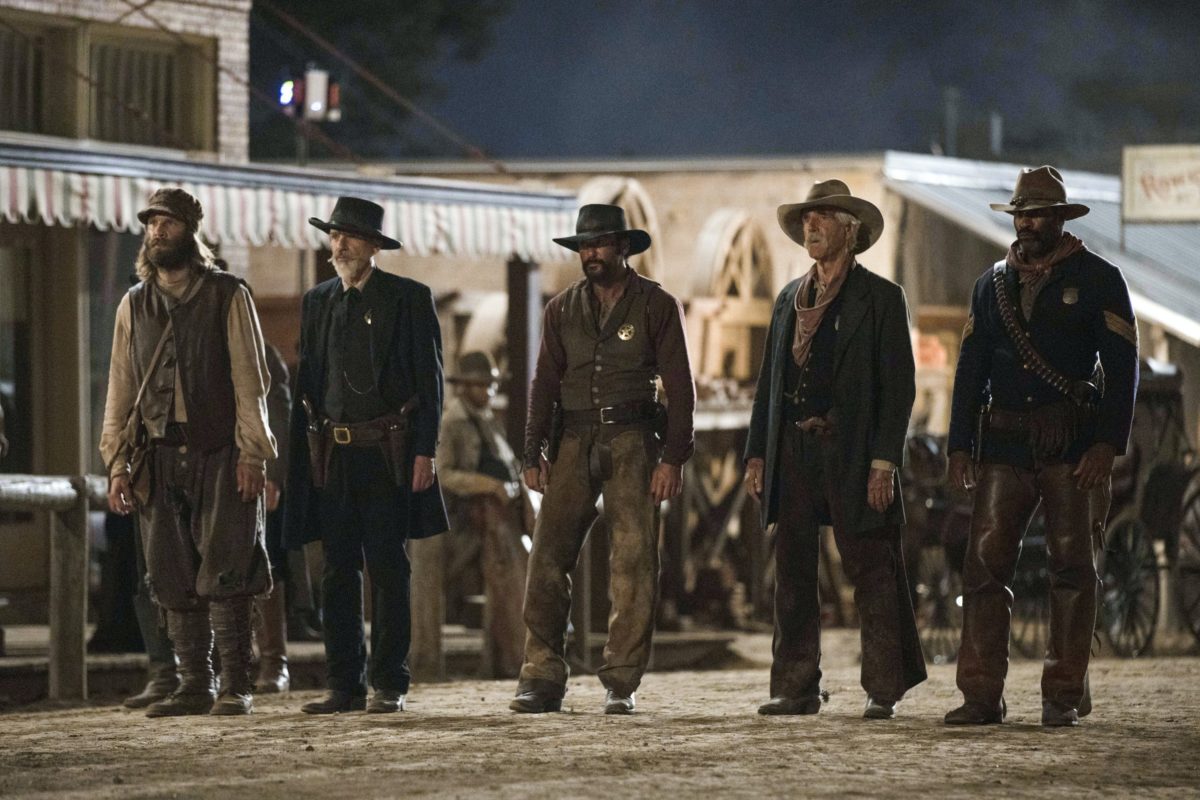 Currently, it's unclear whether creator Taylor Sheridan will forge any meaningful connection between the Yellowstone franchise and his other active projects: Mayor of Kingstown starring Jeremy Renner, Tulsa King (formerly Kansas City) starring Sylvester Stallone, the Bass Reeves project starring David Oyelowo, or Land Man.
UPDATE [18/05/22]: The Bass Reeves project starring David Oyelowo has since been renamed 1883: The Bass Reeves Story, indicating it'll function as a spin-off/sister series in the Yellowstone universe as well.
RELATED: 'Tulsa King' – Taylor Sheridan's New Mafia Series Starring Sylvester Stallone
Who are the Yellowstone 1923 cast members?
Aside from Harrison Ford and Helen Mirren, it's unclear who else we can expect to join the Yellowstone 1923 cast. There's a good chance James Jordan will make an appearance. The actor has appeared in several Taylor Sheridan projects, including livestock agent Steve Hendon in Yellowstone, Cookie in Yellowstone 1883, and prison guard Ed Simmons in Mayor of Kingstown.
---
---
Do we know the Yellowstone 1923 release date?
Following the precedent set by the first prequel, the Yellowstone 1923 release date will fall sometime in December 2022. Keep an eye out here for the confirmation regarding when you can stream it via Paramoiunt+.
Is there a Yellowstone 1923 trailer?
At this stage, there isn't a Yellowstone 1923 trailer.