The best co-working spaces in Sydney echo a growing industry, and one that's still evolving years after it was first declared a worldwide trend. Perhaps the ongoing COVID-19 pandemic has only added fuel to the aggressive growth of beautifully designed, highly functional co-working and shared office spaces. It certainly makes sense, since the very idea and structure of working life is being heavily reconsidered after a year of just about everyone being forced to work from home.
Our idea of office work isn't what it used to be. It's more fluid and pragmatic, with the approach that the ends always justifies the means. The work gets done, but the process leading to that is now more open, free-thinking, and focused on fostering creativity and producing quality work. Context matters here, and if Marie Kondo and Jordan Peterson have taught us anything, it's that organisation is key to not just a good work life, but a good life in general.
Below you'll find some of the best co-working spaces in Sydney. One's that play into that idea of nurtured creativity, providing professionals with both the tools and settings they need tap into better, more mindful productivity and sharpen their conscientiousness. And that's whether a worker is a location-dependent freelancer, staff of a major company, digital nomad, remote entrepreneur, or small business owners looking to grow a start-up.
---
---
Future Of Co-Working Spaces In Sydney & Australia
---
A report commissioned by global workspace provided Regus in 2019 implied that 12 per cent of all commercial office stock in Australia will be used for flexible workplaces by the year 2030. That scope includes both co-working and serviced offices according to Commercial Real State.
Part of what is expected to drive this move towards increased flexibility is a massive reduction in operating costs for businesses, who are starting to realise that less office space is needed for companies when they make use of these redefined structures. Plenty of studies that look at co-working spaces have found that this new approach to structuring the work day leads to improved staff productivity via a number of ways, like saving travel time and giving workers access to shared resources.
Sydney is clearly lagging behind global cities like New York and London when it comes to co-working spaces, which means there is plenty of more room to grow the city's flexible working scene.
A shared co-working space has plenty of benefits, so next time you need somewhere better than Starbucks to help you nail those KPIs, or just feel too lonely and distracted working from home, take note of the best places to work in Sydney from a co-working perspective. These state of the art facilities come with plenty of well-designed and beautifully conceived amenities, designed to help grow the cohesive membrane and collaborating businesses working both separately and together to achieve many different goals all at once.
Where To Find The Best Co-Working Spaces In Sydney
---
WeWork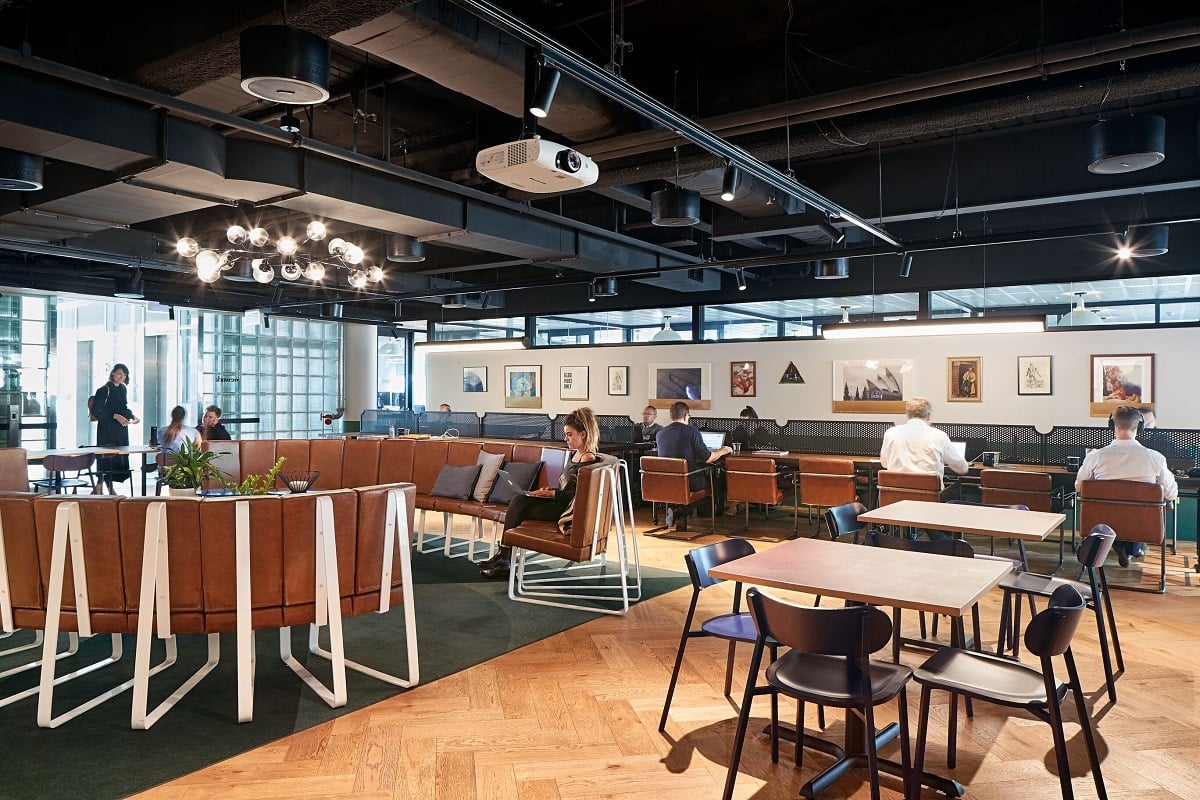 Let's start with the world's most well known co-working brand. WeWork is a globally recognised chain with 800 locations across the world, and 8 co-working Sydney offices that are regularly teeming with all kinds of businesses, freelancers and start-ups. An "All Access" monthly subscription is available for users who get access to over 250 perks and benefits from WeWork's partnership program, which includes discounts on productivity software like Slack and GoDaddy, as well as temporary hot desking for those who just need a place to work for a short time. Most recently, the brand introduced a no-commitment "On Demand" rate for those who need to be even more flexible with their use.
Addresses:
64 York Street, Sydney
1 Sussex Street, Barangaroo
50 Miller Street, Sydney
161 Castlereagh Street, Sydney
383 George Street, Sydney
320 Pitt Street, Sydney
5 Martin Place, Sydney
13/333 George Street, Sydney
66 King Street, Sydney
100 Harris Street, Pyrmont
50 Carrington Street, Sydney
Prices:
Pyrmont – $850/month for private office; $550/month for dedicated desk, $450/month for hot desk.
Martin Place & George Street – $1150/month for private office; $850/month for dedicated desk; $550/month for hot desk.
---
---
---
Example House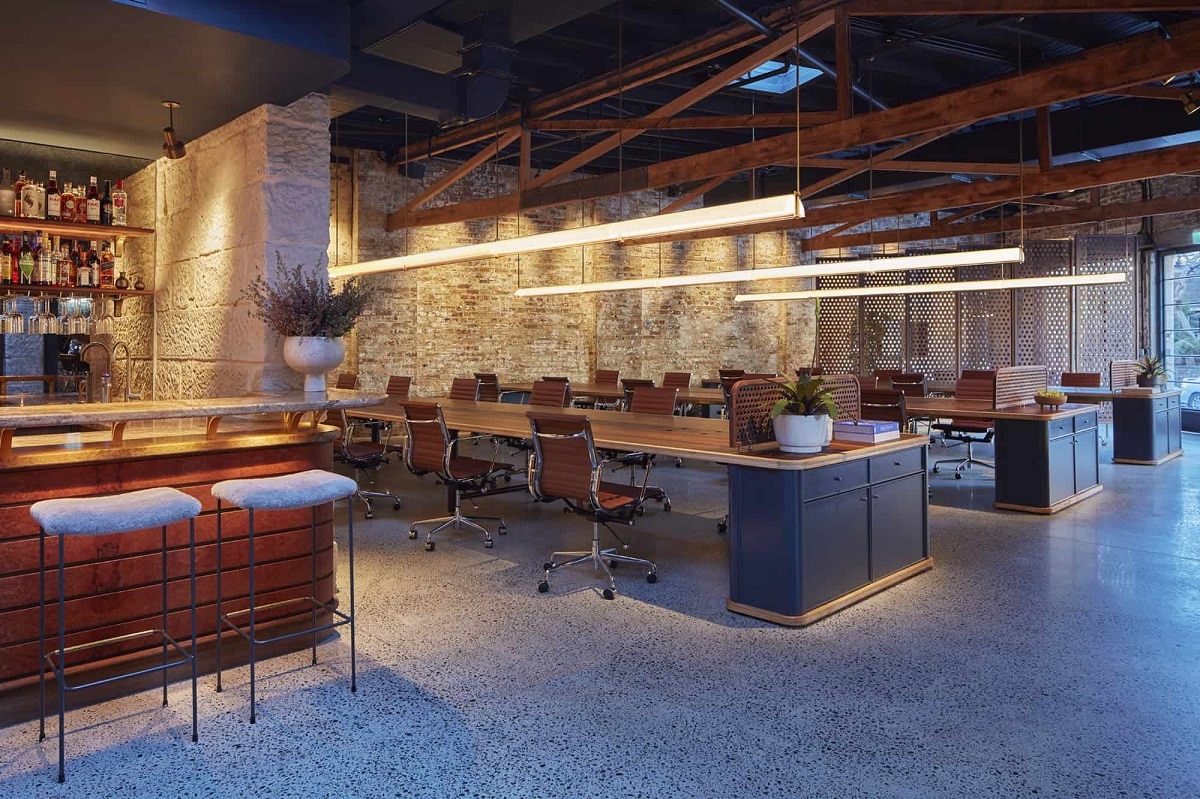 Located in Rushcutters Bay, with the best of Potts Point just a short walk away and one of Sydney's best parks just a stone's throw, Example House is a vibrant co-working space that was once a smash repair garage. The rustic exterior is in complete contrast to the relentlessly modern, sleek interior worked up by Sydney design icons Acme. Considered one of the Sydney's best creative work spaces, Example House has 20 desks available to hire for either individuals or a full small business. The space features multiple breakout areas and private meeting rooms, its own concierge, fruit and snacks, printing facilities, showers and a fresh towel service, a zippy 1TB internet connection, and member events including monthly collaboration forums, industry events, and wellness Wednesdays. There's also a fully functional bar for those hard-earned post-work drinks.
The boutique approach to co-working also has the benefit of a small and close-knit community of creatives.
Address: 69 Roslyn Street, Rushcutters Bay
Contact: (02) 8322 4600
Price: Month to month memberships start from $40 per day.
---
Stone & Chalk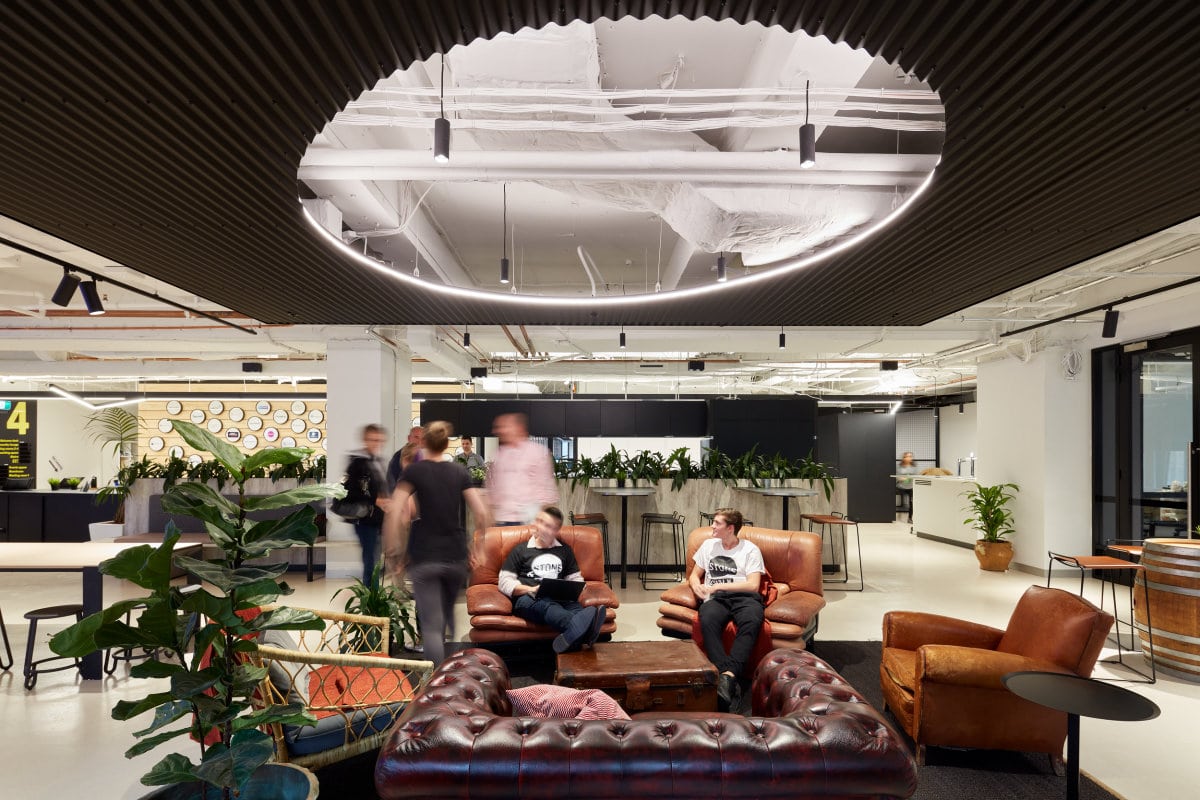 Located in the middle of Sydney CBD, Stone & Chalk is one of the fastest growing co-working spaces in Sydney, frequented by fintech workers and supported by partners like American Express, Westpac, and Optus. Recognised as one of the leading spaces in Sydney for start-ups, the aim here is to help foster the growth of small businesses and boost productivity through beautiful design and a relaxed, supportive environment. The leading innovation hub also has a space in Melbourne, and one in Adelaide.
Address: 4/11 York Street, Sydney
Price: $820/month for private office; $685/month for dedicated desk; $580/month for hot desk.
---
WeCo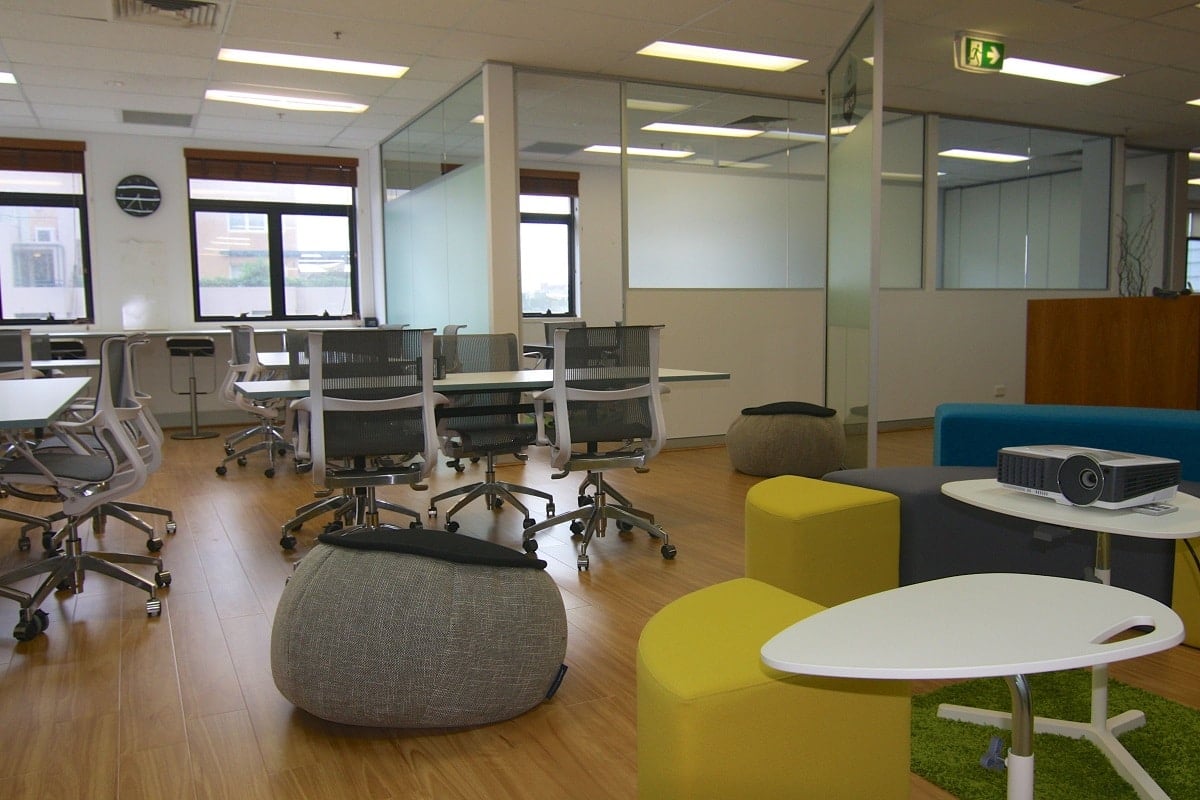 Not far from Edgecliff station is WeCo, a Sydney co-working space focused on providing intimate service in a prime position which is walkable distance from iconic restaurants like Chiswick as well as the splendours of Double Bay. One of the biggest reasons to think about WeCo when it comes to flexible working situations is the offer of a 3-day free trail as well as a no lock-in membership, part-time options, and transferable memberships.
Address: 2/100 New South Head Road, Sydney
Contact: (02) 8073 7937
Price: $499/month for full time; $340/month for part time; $300 for 10 days
---
Paramount by The Office Space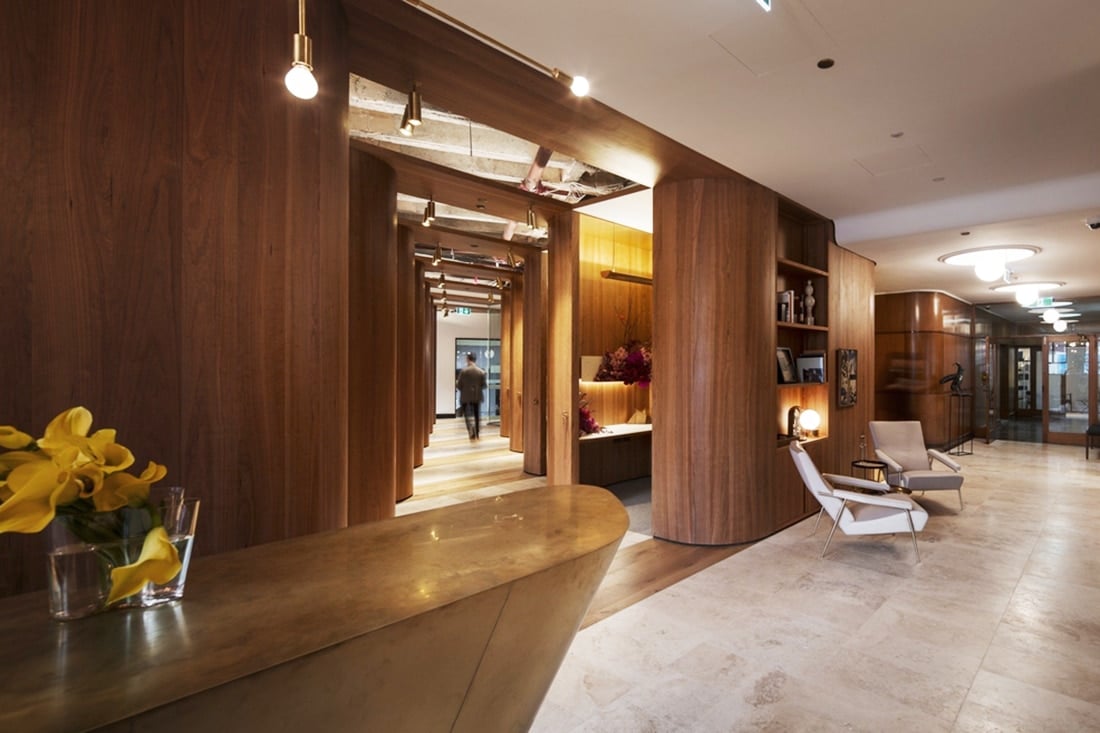 If you want to add a touch of luxury to your co-working experience in Sydney, go for Paramount. Coming at you from The Office Space, the glistening, ultra-modern venue was recognised by the 2016 World Architecture Festival as the having best office design in the world. Once you step inside, it's not hard to see where that high praise has come from – the art deco Paramount building has been used for a heavy, heady impact, designed by Woods Bagot with curved office suites, compact bars, and plenty of breakout spaces. If lavish design and premium materials like cherry oak and brass stimulates those creative juices, Paramount is the best choice for your Sydney co-working space. Plus, there's a bar and cinema.
---
---
Address: 4/55 Brisbane Street, Surry Hills
Contact: (02) 8218 2100
Price: From $1,100/month
---
Fishburners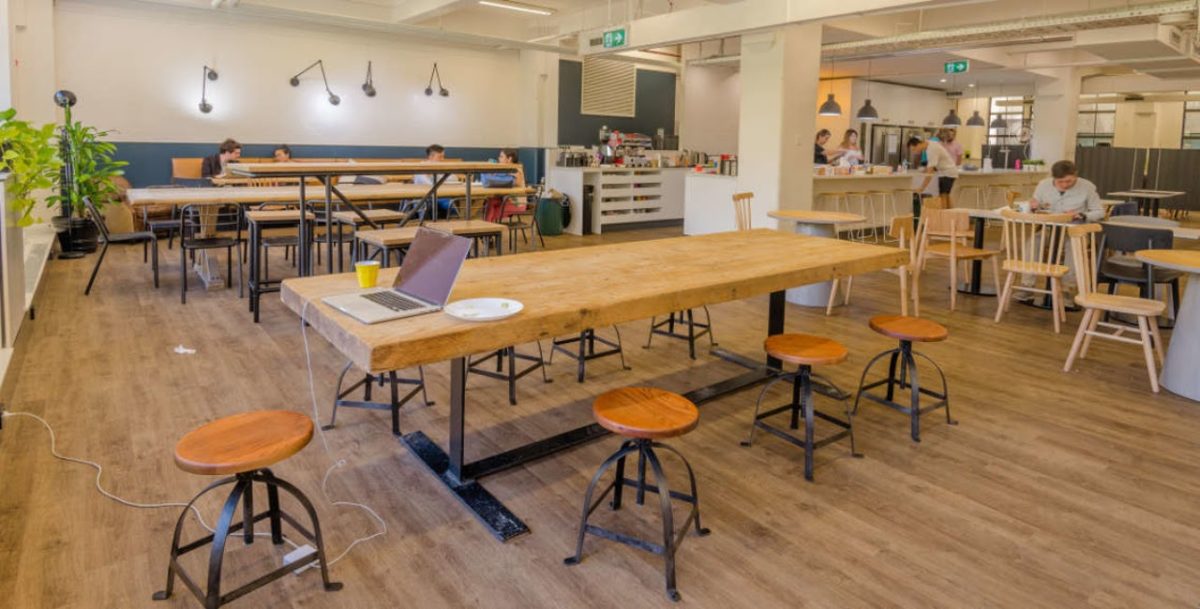 Fishburners has been a mainstay on Sydney co-working circuit for many years now, populated mostly by start-ups within the technology sector. The incubator of successful small business has already put up an impressive list of 'graduates', and operates like a not-for-profit organisation where members get access to an impressive list of city experiences via group partners. The stunning facilities and a vibrant community are of course just an added bonus.
Address: 2/11 York Street, Sydney
Contact: (02) 8188 3991
Price: $35/day; $566/month for 6 months of a dedicated desk; $430/month for 6 months hot desk
---
Le Porte Space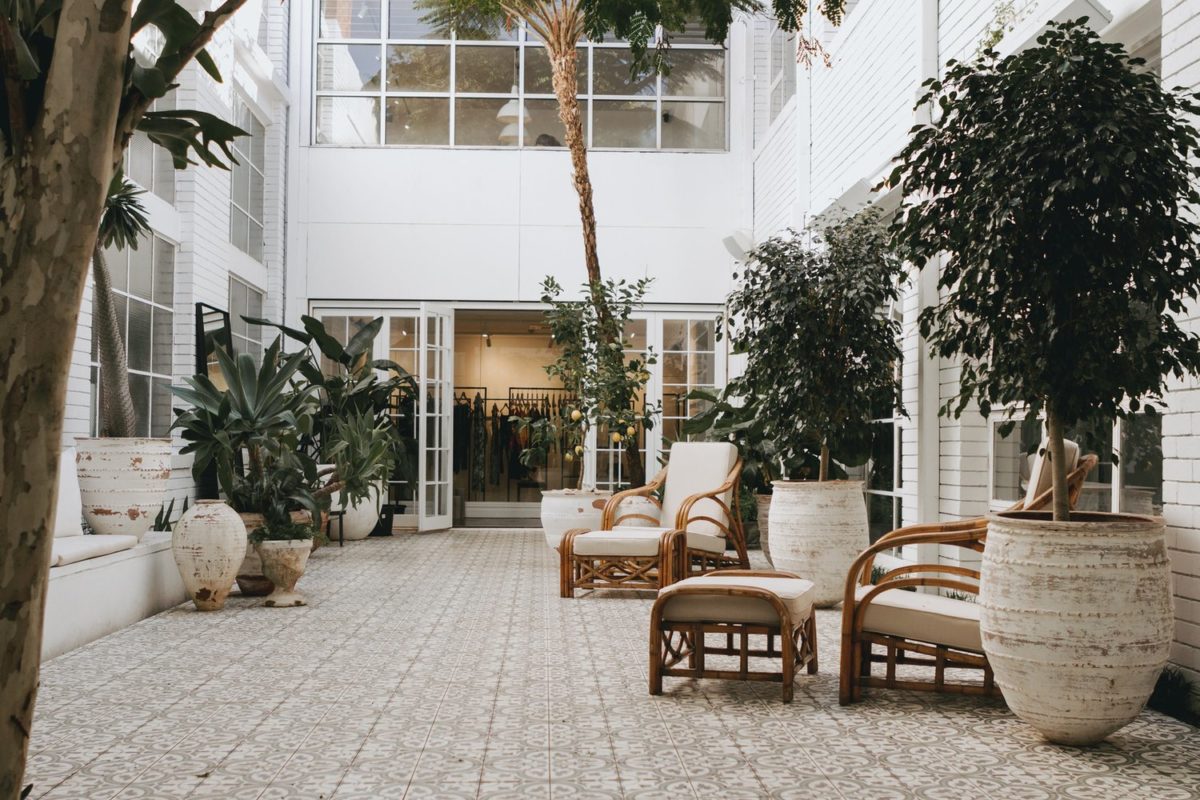 Le Porte Space reflects the diversity in design of Sydney's best co-working spaces, offering up a space that is dripping with Parisian influences. Much like Paramount in Surry Hills, the focus here is on providing a luxurious setting that helps workers slide into a state of relaxation and calm, using style to its advantage along with a luxury retail space, café, 3 dedicated event spaces, photographic studios, and no less than 30 distinctive offices and co-working facilities bolstered by green outdoor areas, a private dining room, and a dedicated wellness program with infrared saunas and premium gym equipment.
Address: 87-103 Epsom Road, Rosebery
Contact: (02) 8377 0600
Price: Upon enquiry
---
The Treehouse At SUNSTUDIOS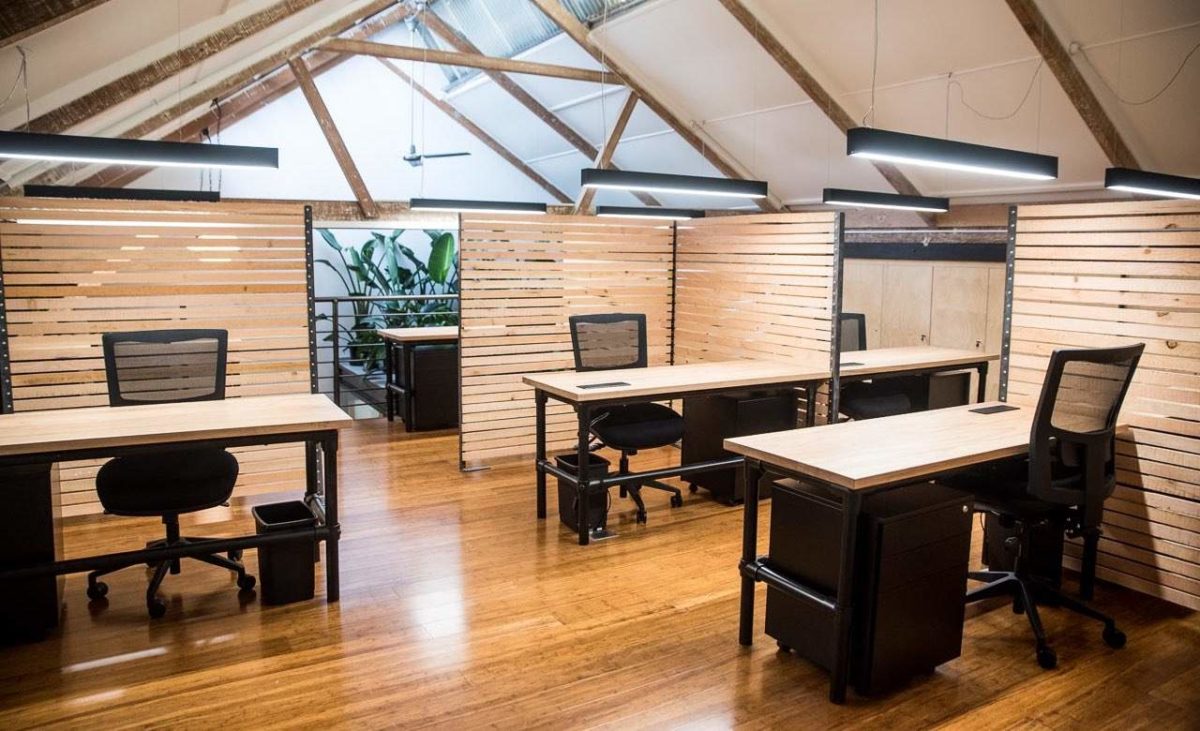 The Treehouse is part of SUNSTUDIOS over at Alexandria, mostly aimed at providing a space for visual creators to grow their brand and connect to new ideas across the worlds of photography, television, and video production. Imagery plays a large part in the design here, which makes full use of the former 1930s woolshed to build an inspiring space that's bolstered by generous flexible membership plans.
Address: 42 Maddox Street, Alexandria
Contact: (02) 9641 5555
Price: Upon enquiry
---
The Porter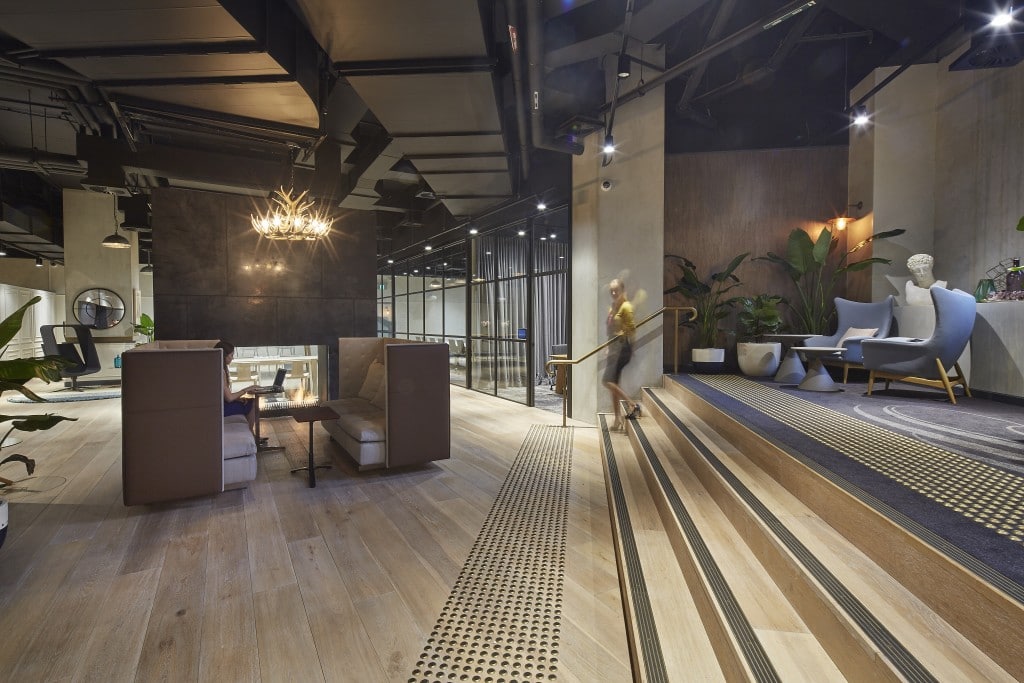 The Porter is fashioned as a premium executive lounge in the heart of Sydney, with numerous co-working spaces designed to make productivity a more seamless process. With a location at 1 O'Connell building, the convenience is a big reason to choose this Sydney co-working office, which is fully hosted and has a managed business lounge designed to facilitate meetings, collaboration, and a variety of workshops.
---
---
Address: 1 O'Connell Street, Sydney
Contact: (02) 8075 0930
Price: day passes from $38
---
COMMUNE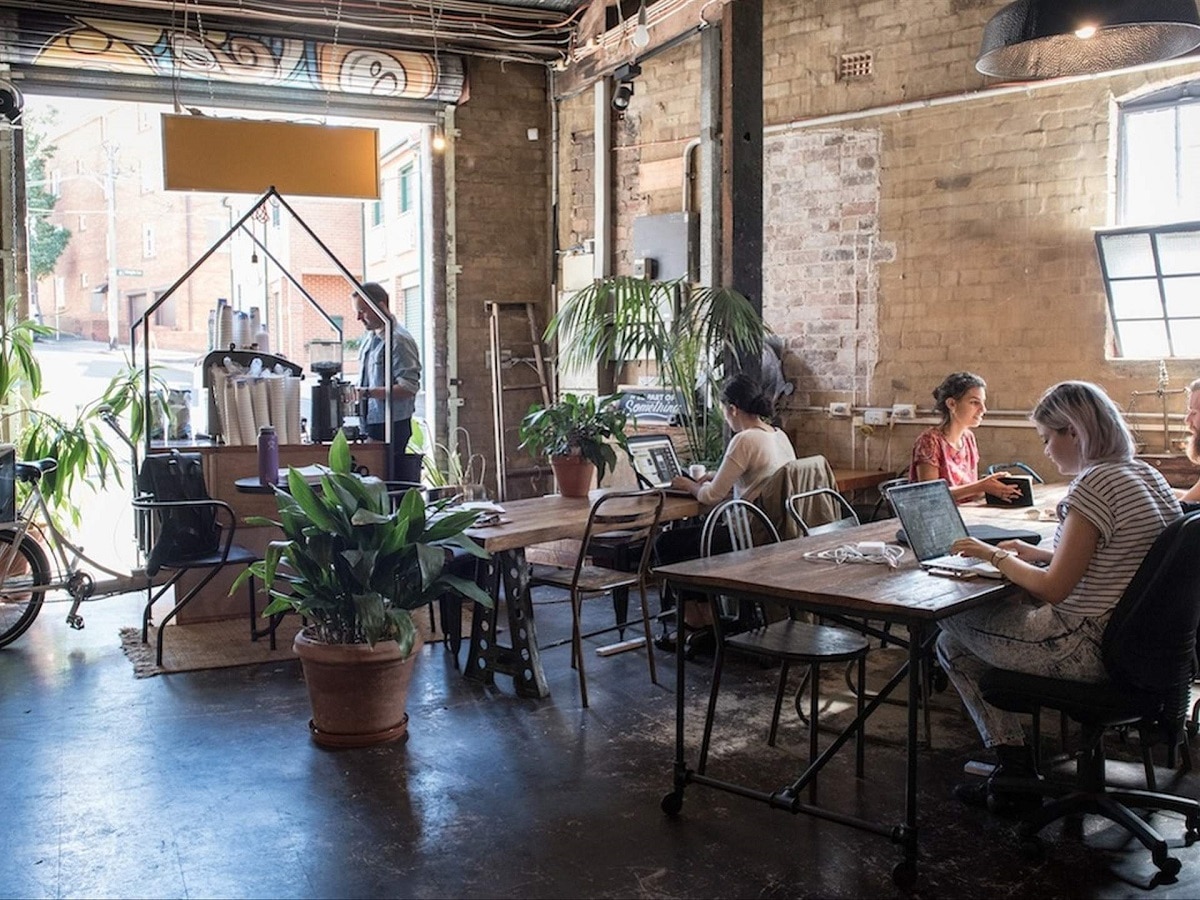 COMMUNE is a converted warehouse in Newtown hinged on the idea of 3 C's – collaboration, creativity, and community. The simple, elegant philosophy is well connected to the gorgeously designed space, taking The Commune co-working office and positioning it as a magnet for inner west minds who want to work in an environment that values growth and goal-kicking. The flexible rates also attractive plenty of start-ups, with COMMUNE offering plenty of valuable services to members whether they are there on a casual basis or anchoring down for something more permanent.
Address: 32-38 King Street, Newtown
Contact: 1800 026 863
Price: From $25 for a day pass; $155/week for full-time dedicated desk space
---
Desk Space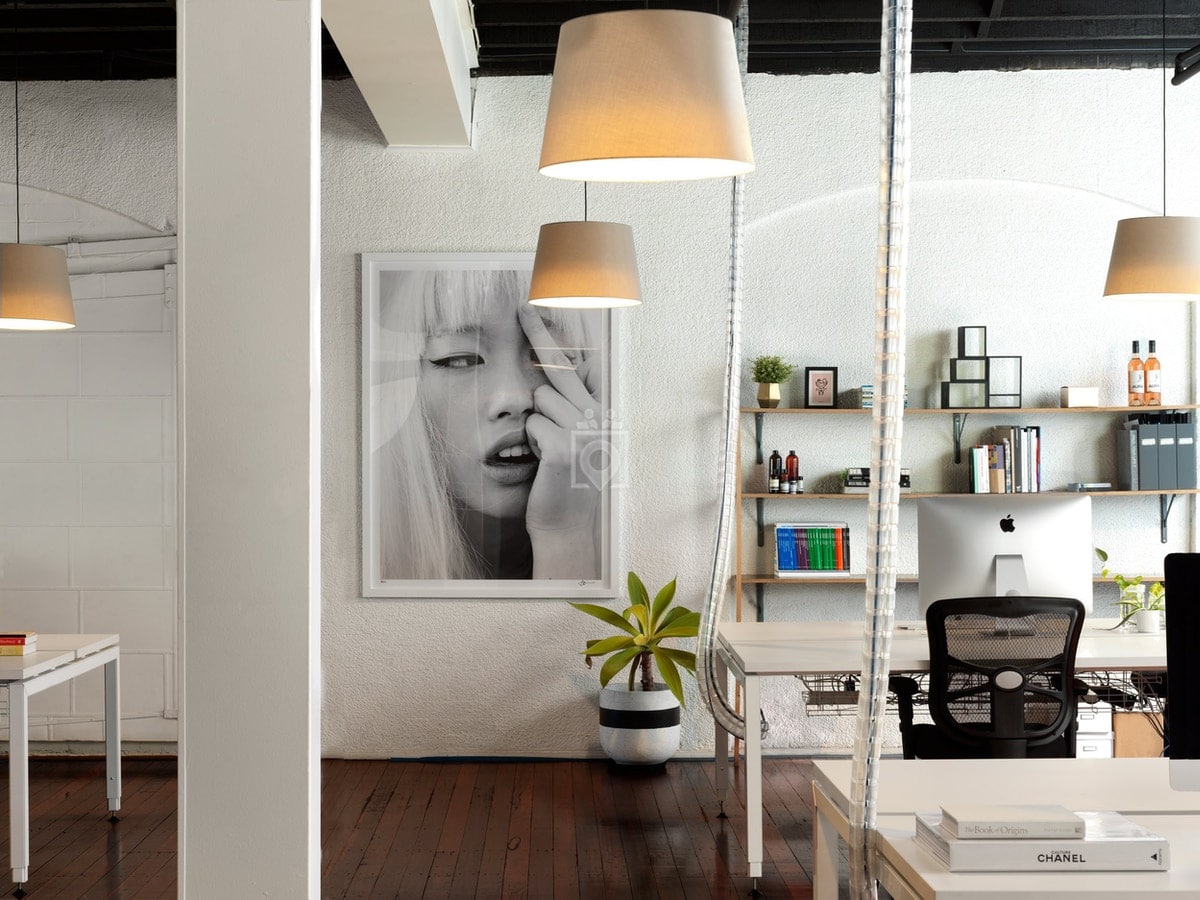 Opened in 2009, Desk Space is a Darlinghurst co-working space with an industrial interior design that's been proving very attractive for entrepreneurs across all industries. With flexible rates and plans, and a prime location not far from the cafes, bars and restaurants of both Darlinghurst and Potts Point, Desk Space offers up plenty of value complemented by a very active program of events and benefits.
Address: 1-3/85 William Street, Darlinghurst
Contact: 1300 970 483
Price: from $75 per week; $720/week for a permanent office
---
Berrins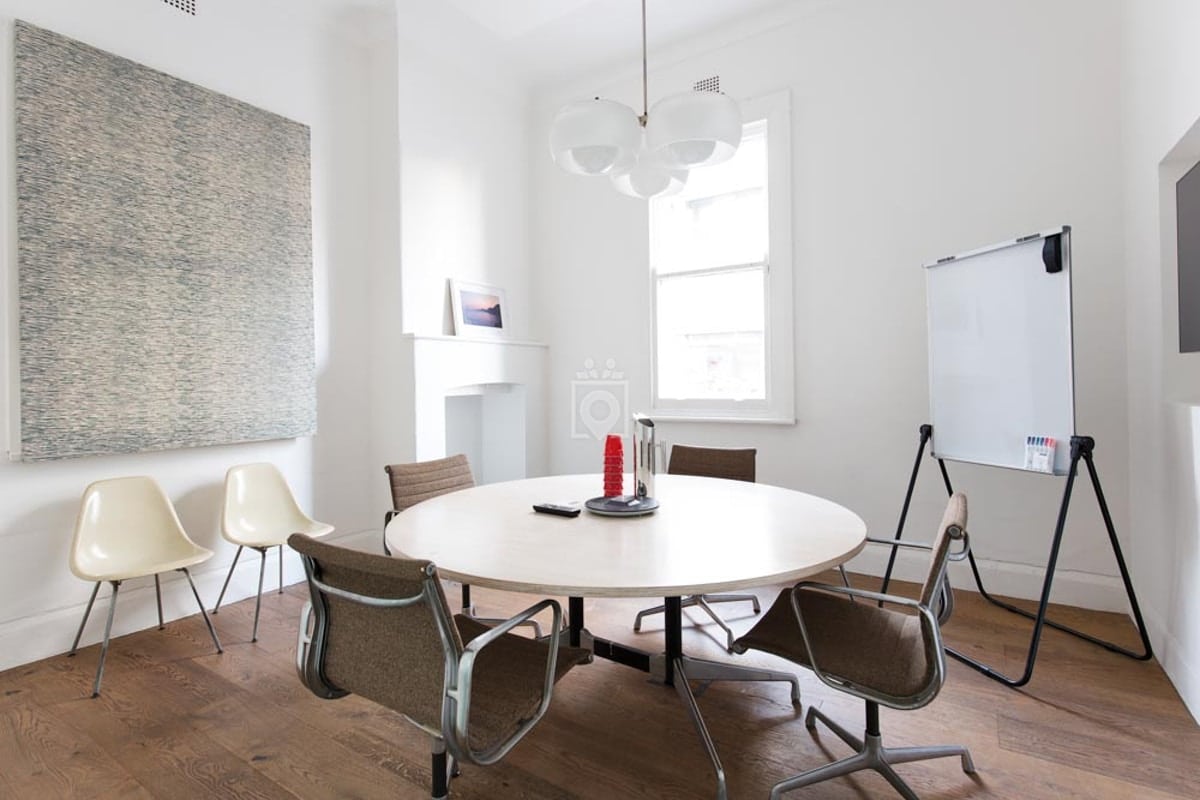 Berrins is one for creatives who live over on the Northern Beaches, located in the heart of Manly with co-working spaces and a handsome retail pop up space just a stone's throw from Manly Wharf. That means it's just a short walk to and from the ferry every day, giving start-ups a convenient spot to work in one of Sydney's best beachside suburbs.
Address: 2/40 E Esplanade, Manly
Contact: (02) 9977 6600
Price: $999/weekend for pop up; $699/month for 5 day access; single desks from $59 per day
---
Tank Stream Labs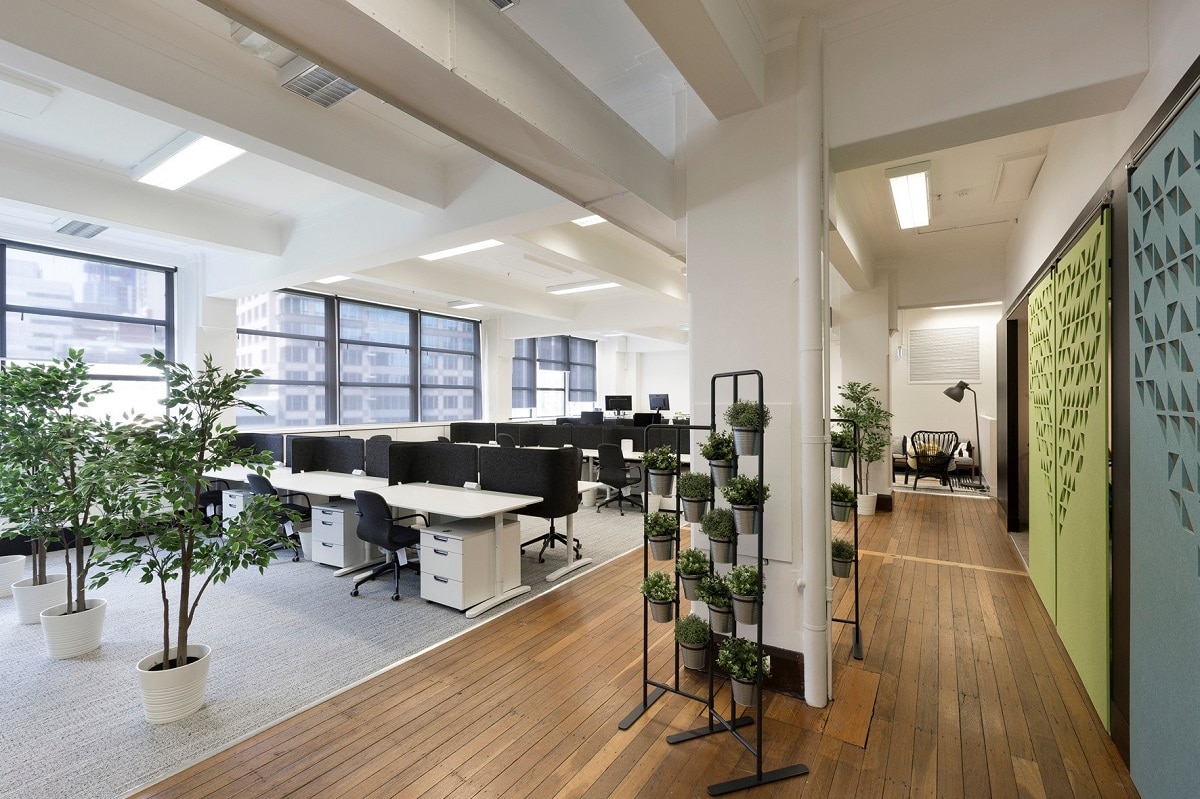 Tank Steam Labs have two locations across Sydney's CBD, offering co-working spaces to both Circular Quay and Martin Place. That means you're around some of the city's newest restaurants as well as some great places to take potential clients. The easy, no-fuss design and fun facilities that sit behind both venues are frequented mostly by those within the fintech sector.
---
---
Addresses:
4/14-19 Bridge Street, Sydney
8/11-17 York Street, Sydney
Price: Ranging from $400-$750
---
Spaces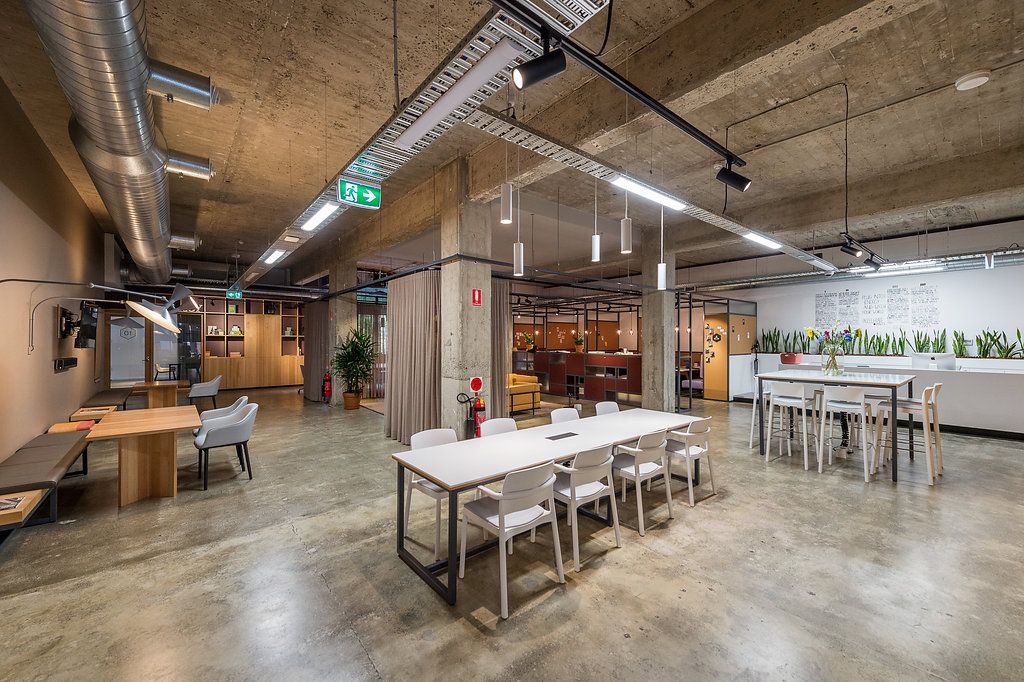 Spaces is a concept co-working space that comes to Sydney all the way from Amsterdam, now boasting three locations across the city – one on Martin Place, and one in Surry Hills, and another in Parramatta. The brand was built on the idea that success begets success, creating a feedback loop of goal-kicking that's encouraged and facilitated through beautiful design and community. As such, Spaces is a hub of thinkers, achievers, and dreamers who frequent the spaces, most of whom seem to prefer Surry Hills thanks to its 200 co-working desks and 3 meeting rooms.
Addresses:
111 Flinders Street, Surry Hills
1-3/60 Martin Place, Sydney
49-50/8 Parramatta Square, Sydney
Contact: 1800 545 553
Price: From $348/month
---
Your Desk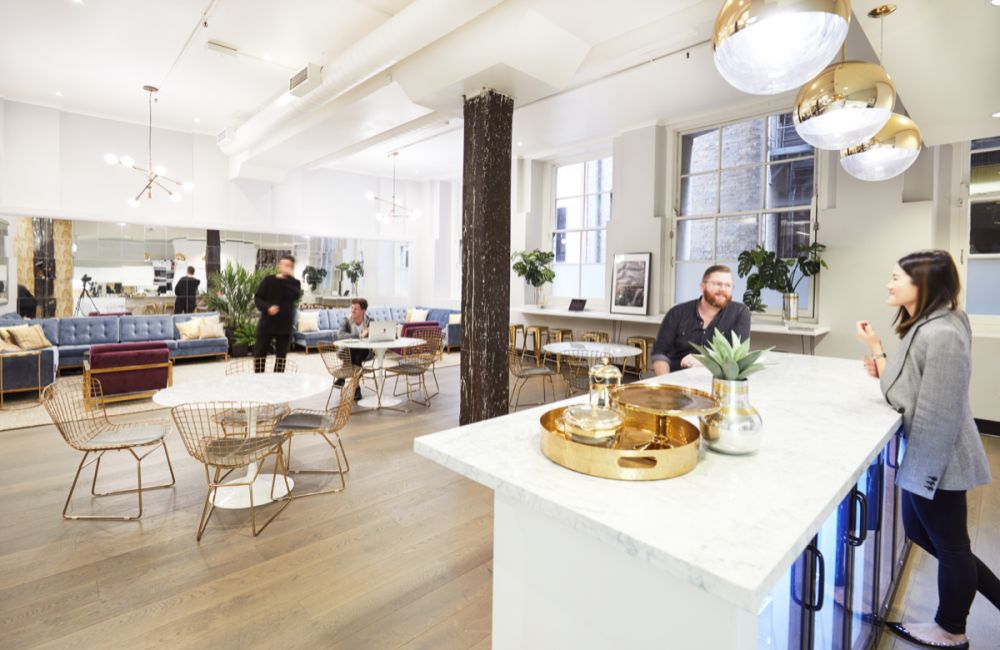 Starting in 2012, Your Desk has grown from a small family business with 26 desks, to a much – much – bigger family business spanning 22 desks and 16 meeting rooms as well as two locations across Sydney. The success has been built on light, relaxing design and a real sense of comfort that allows freelancers and small businesses to truly grow and work in an environment where they feel significantly less stressed. Your Desk now offers plenty of flexible and affordable options, making it one of the most attractive co-working spaces for digital nomads and creatives.
Addresses:
1-3/204 Clarence Street, Sydney
5/104 Commonwealth Street, Surry Hills
Contact: (02) 8202 7500
Price: From $100/month for a virtual office; $350/month for part time; $600/month for dedicated desk; from $2,800/month for private office.
---
---
---
Best Co-Working Spaces In Sydney – Frequently Asked Questions
What is the best co-working space in Sydney?
The ideal co-working space for you will depend on your needs. If you want something small and intimate, try get a desk at Example House in Rushcutters Bay. If you value flexibility, WeWork has an extensive network and plenty of membership options. If you want something supreme and luxurious go for Paramount or Le Porte Space.
Where can I hot desk in Sydney?
There are many options when it comes to hot desking in Sydney, with some of the better ones including Stone & Chalk, as well as Desk Space.
What are the benefits of co-working?
Aside from being incredibly cost-efficient, co-working allows you to be amongst other creatives in beautifully designed and inspiration settings that have been shaped to boost productivity and help workers feel calm, nurtured, and focused.
---
If you've started working independently or are trying to more flexible with your hours, remember to take note of where to eat in Sydney so you can impress potential clients. Get across Sydney's best Japanese, Mexican, and Steak restaurants. Or for something different, check out the best go-karting tracks in Sydney.