While upskilling is always a good idea, a lot of people find that life often gets in the way. Between work, commuting, going to the gym, etc etc, there are not enough hours in the day to go and learn a new skill. Well, it's 2022 now and the world is a very different place – which means there's never been a better time to upskill. Here are 8 of the best online learning platforms to help you learn a new skill or even find a new career.
Coursera
Best for: business, finance, data science, management.
Trusted by over 47,000,000 students, Coursera is home to thousands of world-class 4 to 10 week courses across a range of subjects, mainly focused on getting employment in the tech realm. With courses built by universities (like Yale) and businesses (like Google) across the globe, Coursera is a great, structured online learning environment that millions recommend.
---
---
Udemy
Best for: business, music, health, photography.
A 'peer-to-peer' learning platform, Udemy allows almost anyone to compile courses on a whole variety of topics. With over 100,000 clips, Udemy claims to have the world's largest selection of structured online video courses and is a great way to upskill yourself in a range of subjects affordably.
Udacity
Best for: computer science, databases, tech.
Udacity claims to be 'the world's fastest, most efficient way to master the skills tech companies want'. It's a compelling proposition, and their success stories will make even the least tech-savvy individual want to get into coding. Udacity is all about learning real-world, practical skills that make you employable. Probably not appropriate for someone just looking to get into a new hobby.
Skillshare
Best for: creative arts, photography, writing, entrepreneurship.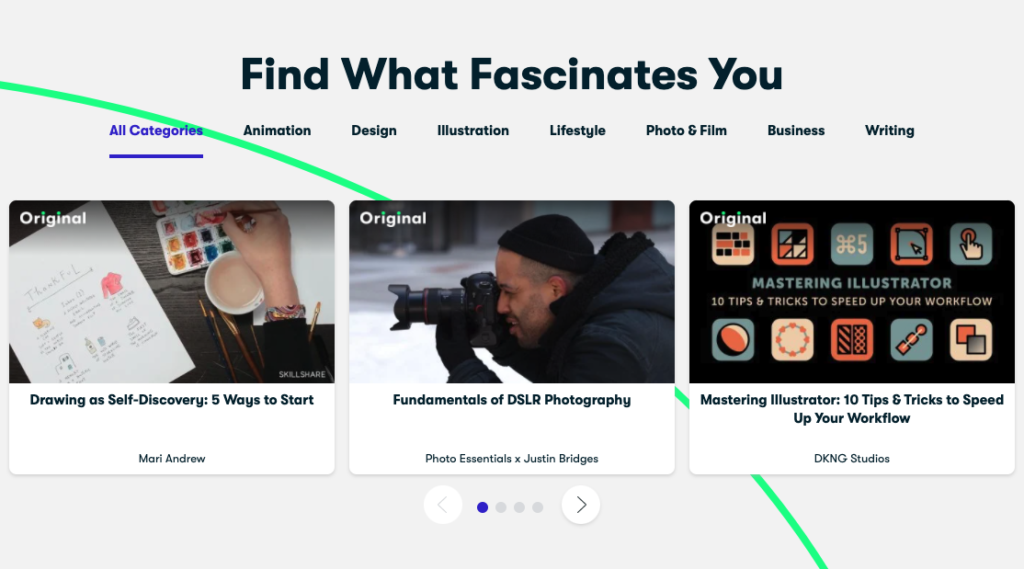 If you're interested in exploring your creative side, whether it be learning how to write a book, draw a portrait, or design a suit – Skillshare is where you want to be. Skillshare classes are led by some of the biggest names in their respective industries – think Gary Vaynerchuk, Seth Godin, and Young Guru. Plus you can test out Skillshare with a two-month free trial.
Masterclass
The much publicised Masterclass burst onto the online learning scene in 2014 and features (non-interactive) classes from world renowned experts in their fields. It's half online learning, half entertainment, and all quality. Think learning fashion design from Marc Jacobs, photography from Annie Liebowitz, and filmmaking from Martin Scorcese. If you want to learn from the best in the game, Masterclass is the answer.
---
---
LinkedIn Learning
Best for: business, management, leadership.
After Microsoft bought corporate social networking platform LinkedIn, they also bought arguably the biggest online learning platform in the world Lynda.com and rebranded it as LinkedIn Learning. It's a great learning resource for all things business and management, with everything from body language in the workplace to excel tips and tricks. LinkedIn Learning operates on a monthly subscription basis with a one-month free trial.
Springboard
Best for: data science, UX/UI, coding.
Much like Udacity, Springboard is one of the best online learning platforms for those who truly want a career in technology. Whether you want to learn how to design a web-app or run a SQL report, Springboard is the place for you. It's priced on a per-course basis, with most courses running for around four weeks and costing ~$400.
YouTube
Best for: almost everything else…
What kind of list would this be without mentioning the king of homemade online video learning? If you want to learn how to tile your kitchen, plait your daughter's hair, do a standing backflip, or almost any one of a million random things you can think of, YouTube is a great place to start.