When it comes to choosing who I'd rather be between Batman and Superman, the Dark Knight always wins. Superman might be a near-indestructible alien life form with x-ray vision and the ability to leap tall buildings in a single bound, but he doesn't have the alter ego, nor the cash, to compete with the Bruce Wayne Gotham lifestyle. Clark Kent is a mild-mannered reporter, Wayne is a playboy billionaire with more money than he knows what to do with. But could an ordinary person live life like Wayne?
Back in 2012, Forbes published an article about Wayne's net worth and calculated it to be US$11.6 billion. Fast forward six years and I'd assume his wealth would be more in the region of US$20 billion – taking into account inflation and Wayne Enterprise making some smart tech investments – making him one very rich individual.
Researching the Bruce Wayne Gotham lifestyle, I've broken down his spending into a number of different categories and worked out how much the playboy spends on everyday things like rent, clothes, and cars in a calendar year. It's safe to say Wayne's life doesn't come cheap.

[Note: all $$$ = USD]
Luxurious New Jersey Mansion- $30,000 a month/ $360,000 annually
As far as mansions go, Wayne Manor is up there with the best of them. The sprawling property has multiple bedrooms and bathrooms along with large areas to entertain guests for one of Wayne's many charity functions. Although Gotham is a fictional city, many have drawn comparisons with New York City, and the area in which Wayne resides is similar to modern-day New Jersey. With the internet generally believing Wayne Manor would retail for around $32 million, you'd probably be looking at somewhere in the region of $30,000 a month to maintain the same living conditions as Wayne, and that's not including the cost of the Batcave.
Private Butler – $262, 800
Anyone with as much money as Wayne who lives in a property as massive as Wayne Manor would be paying people to do the daily chores. Step forward Alfred Pennyworth. Wayne's trustworthy butler takes care of all the menial tasks around Wayne Manor but is more than just Wayne's manservant. He's Wayne's confidant and is on call 24/7, always ready to help out with a word of advice or tend to Wayne's wounds when he comes back from a night on the job. Forbes believed Alfred would be on $30 an hour, and as he's on-call night and day, would be paid for working 24 hours a day, 365 days a year, making him an expensive but loyal butler.
Mercedes-Benz AMG Vision Gran Turismo – $1.5 million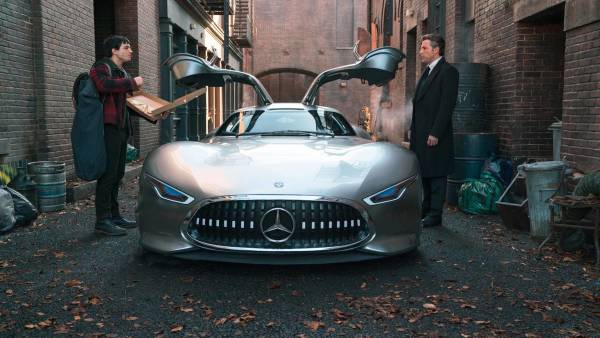 In all the film adaptations of Batman, Bruce Wayne is seen driving a large number of expensive civilian cars. He's been captured cruising in a 1957 Aston Martin (Batman vs. Superman) Lamborghini Murcielago LP640 (Batman Begins/The Dark Knight), Bentley Arnage (Batman Begins), Mercedes-Benz 300 SL (Batman Forever), Rolls-Royce Silver Wraith (Batman Returns) and a Dodge 3700 GT (From Batman). In the latest big-screen adaptation, Justice League, Ben Affleck's Wayne drives an original Mercedes-Benz AMG Vision Gran Turismo. This futuristic grey beast is a head turner and the ideal daily driver for a playboy like Wayne. You can also image the cost of that bad boy in Australia after luxury car tax and other fun add-ons.
Embraer Manhattan Private Jet – $8,000 per hour / $800,000 annually
As well as an incredible car collection Wayne no doubt has his own private jet to transport him across the globe. Considering money isn't an option I'd lean towards the Embraer Manhatten as his mode of transport. An ode to the Art Deco era, this sleek flying machine features a luxury lounge, dining area and sleeping quarters and includes rich mahogany wood panels with brass and gold finishings. While buying a private jet is out of reach of the ordinary man, you can hire a top-end jet for close to $8,000 an hour, although you wouldn't want to be flying more than a few hours at that price
Gucci Three-Piece Suit – $5,000 per suit / $60,000 annually
As you can imagine when it comes to clothes it's all designer brands for the Bruce Wayne Gotham lifestyle. Often favouring the three-piece suit, Wayne wears made to measure Giorgio Armani outfits in the Christian Bale trilogy and tailored Gucci suits in Ben Affleck's take on the character. Wayne opts for traditional looking clothing and is someone who wouldn't want to wear the same outfit often, and considering how rich he is, I see him buying a new suit every month to keep up with the fashion world.
Brunello Cucinelli Formal Derby Laces-Ups In Cordovan – $3,600 a pair / $36,000 annually
If Wayne's wearing a $5,000 Italian suit then there's no doubting his shoes will be just as luxurious. He most likely owns a different pair to match each suit, preferring handmade Italian brands such as Brunello Cucinelli, A. Testoni and Salvatore Ferragamo.
1787 Chateau Margaux – $1,000 a bottle / $12,000 annually
Wayne is known to live a fairly healthy life and is a fan of drinking ginger ale while his guests drink the best vintages in the Wayne Manor cellar so he can keep his wits about it. In Batman v Superman he is seen drinking Chateau Margaux and considering his taste for the finer things in life, there's no doubt Wayne would be enjoying one of the more rare vintages, such as the 1787 Chateau Margaux, priced at around $225,000. That's a little pricey for the average bloke but you can pick up a 2007 Chateau Margaux from Dan Murphy's for $1000, which is their cheapest bottle of the French wine available.
Breguet 7047PT Tradition Fusee Tourbillon – $189,700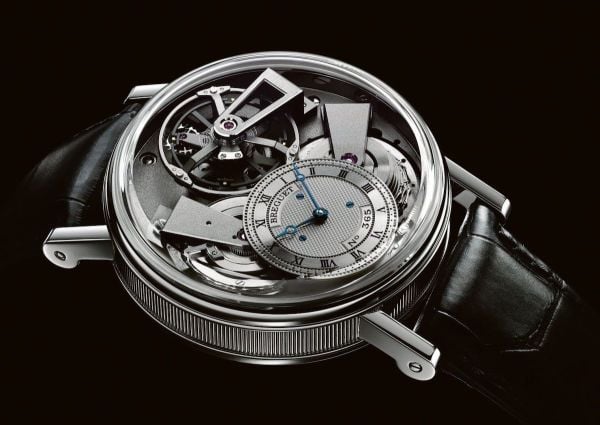 In The Dark Knight Rises, Christian Bale's Bruce Wayne wears a Jaeger-LeCoultre Reverso that retails for around $15,000, which is quite cheap when you take into consideration what Affleck's Wayne wears in Batman v Superman. Affleck's Breguet 7047PT Tradition Fusee Tourbillon goes for almost $200k and is a sophisticated timepiece with a case crafted in platinum. The watch includes a black leather strap with an exposed glass face showing the inner workings of the watch.
Grand Total: $3,220,500 per year
No matter whether you're the CEO of a Fortune 500 company or a famous Hollywood actor like The Rock, there's almost no chance you could afford the Bruce Wayne Gotham lifestyle. Wayne's wealth is something the majority of us will never attain and I'm OK with that – because the guy spends his free time chasing criminals through sewers instead of drinking Pol Roger on a yacht in the south of France like he could be.
RELATED: How much would it cost to own the life of Harvey Specter?