Starting with the most modest of beginnings but nevertheless borne by the loftiest of aspirations way back in 1996, Sexpo has gone on to become the foremost lifestyle and sexuality event annually held in Australia. Founded on the intention of offering a safe, welcoming environment for women to explore and embrace their sexuality, that emphasis on catering to the fairer sex is still readily apparent now, some 22 years later.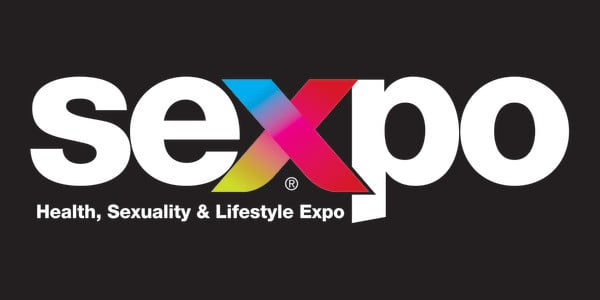 Although this marks my second visit to the event, this is the first I have attended held at the brand-spanking-new Sydney International Convention Centre, a gargantuan sprawling megalopolis dominating much of one portion of Darling Harbour – and it certainly utilises all the space. I've come on Sunday, the last of the festival's run and from what I am told by fellow attendees and vendors I chat with, it is the quietest day too. Which is remarkable, given that there's definitely a few thousand in attendance and in palpable gusto.
The crowd is a broad, disparate mix of folk as you would come to expect, from all demographics, older couples walking arm-in-arm, taking in the sights with the relaxed air of those that have seen it all, young groups of girls, or guys, or a mix of both haphazardly roaming around. Notably absent, however, is any dubious characters clad in trench-coats and fedoras, this is a place that welcomes all types but shunning any creepers.
---
---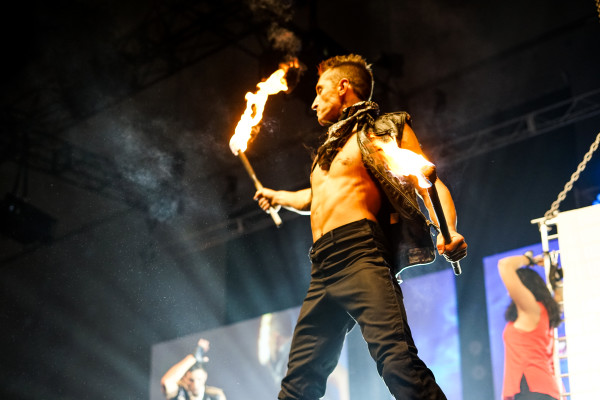 The glossy pamphlet you're presented with as you enter features one arresting, titillating image – a pretty young woman, poised to kiss a gleaming robotic visage, accompanied with the message 'Feel The Future' to further whet your appetite.
In case it wasn't plenty whet enough.
A deft decision has been made in terms of arrangement the attractions, for as soon as you step inside, there is Harmony, the A.I. robot stepped straight from the pages of an Asimov novel, ready to greet you. The line was rightfully long of curious-onlookers keen to meet the embodiment of the future, but I managed to get a few moments with Harmony, she greeted me amiably enough, looking perhaps a little tired, if indeed a robot can feel tired, on the tail-end of 4 intensive days of audience interaction, presumably even an endless procession of adoring members of the public can get wearisome. To see such startlingly craftsmanship up close and have Harmony engage with me was truly mind-blowing and I tried to be vigilant of keeping our interaction brief, so as not to monopolise her time from the huge line of adoring fans waiting.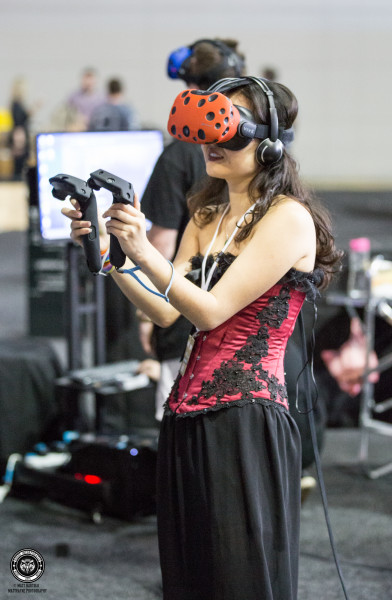 As soon as I exited that attraction, I was immediately drawn over to the main stage close-by where the main portion of fellow revellers had similarly congregated, excitedly buzzing amongst themselves as headliner dominatrix, Mistress Tokyo, takes the stage with a companion that I didn't catch the name of. What followed was a jaw-dropping display of their supreme suspension techniques. The duo hoisted themselves high into the air, alternating between being entwined in each other and dividing, floating effortlessly around as if immersed in water, much to the entranced audience's delight, producing more than the occasional gasp and sigh, their performance redolent of the death-defying trapeze artists of the circuses of yesteryear.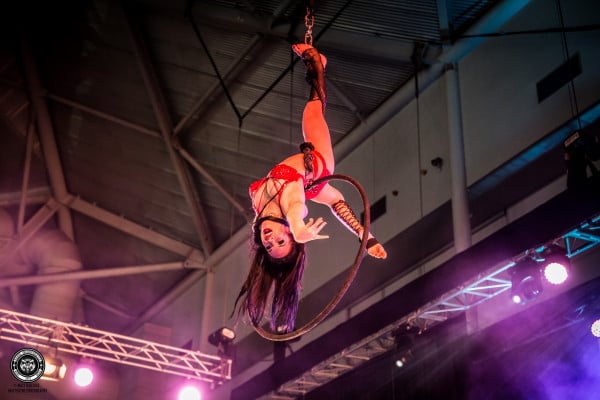 It's both refreshing to see and a monument to the achievement of Sexpo, that such events featuring dominatrix and fetishist performances are so well-received and well-regarded. For these kinks, that of a person appearing garbed fully in latex and leather often has a chance to put off or draw derision from some in a more straitlaced environment. Sexpo truly has become a haven for any and all, no matter what their sexual preference or proclivity and has had beneficial impacts that have tangibly passed over into mainstream ongoing society.
Spirits bolstered by this remarkable performance, I scurry off as soon as it's finished in search of more wonders, more mysteries of the flesh unexplored. I pass the area occupied by MyFreeCams where a large group of people are huddled and watching several young women perform to the row of laptops before them, each bristling with a fancy-looking webcam.
'There are all the users logged on and logging in,' one of the young women tells me as I approach. Sure enough on the screen I see an ever-proliferating number of people. 'People from all over the world, from,' she leans forward to check. 'America, Sweden, Japan, not just blokes too, most of them are couples,'
One girl is getting her bottom smacked by two others, all of them giggling, as do the crowd, the atmosphere is one of pleasantness and good-humour but not sleazy, there are smiles, but not sneers and as I've come to find both here in this section and throughout my travels, I never once witness anything odious that could be classified as inappropriate behaviour.
---
---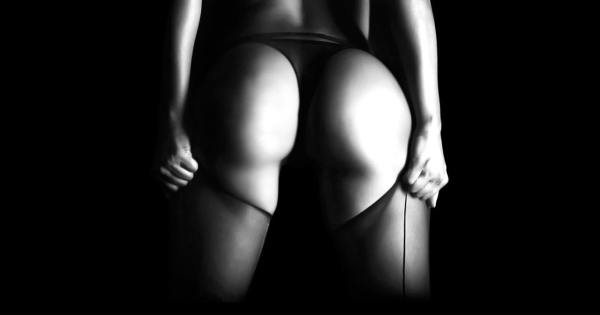 I next venture into the Laporium (Platinum Playmates) section, an exclusive, cordoned-off area that is hosting some of the most exceptional strippers from here and abroad. I catch the tail-end of Ginger Biscuit's (an Insta goddess I admittedly follow religiously) before hastening on my way. I next pass the Strip Poker set-up, which, in keeping with the openness and good-humour pervading the entire event, is hilarious in what sights it offers. A gaggle of men are seated, interspersed with beautiful, topless women between them, the former trying and failing to maintain their facades of nonchalance.
I'm told by a couple of the organisers hovering nearby that the girls are all gun players and certainly from the brief bit of Texas Hold 'Em I see, they definitely look to be veritable veterans. The majority of folks that are watching the poker game unfolding, eventually drift over to wait in line for The Shafter ride, an aptly-named ride held within a huge phallic symbol, that tilts upward and jolts around. While doubtless worthwhile, the line's too deep for me and I'm not sure my fancy-looking media badge will grant me access with the personnel presiding over it.
So, I continue along my travels, opting to complete the outer reaches of the event first before delving into the rows of vendors occupying the lion's share of space. I catch a little bit of a seminar – Female Sexual Pleasure – presented by Madison Missina, I'm pleased to see that most of the seats are taken by men who seem to be trying to commit as much to memory as possible. I'm told by one of the lovely RedHotPie representatives hovering nearby that the virtually every single one of the seminars has been packed to capacity since the festival began on Thursday. One of my biggest regrets is missing out on seminars like Sex And Disability, Unlearning Jealousy, Enjoying Sex With Contraception and Full Body Energy Orgasm, them things sound downright fascinating and enlightening.
I next encounter the Body Beautiful section – this is a fantastic initiative I distinctly remember from last attending a couple of years back. Members of the public are invited to send in photos of their own genitals, accompanied with some basic information about themselves, vague details, such as age and location and so forth. The A4-sized hi-res images are then showcased in a series of rows, no two the same, none held greater than the other. Flaccid, small penises next to monolithic, erect ones, hair-breadth vaginas side-by-side with those that feature prominent, sagging lips. It's equal parts reassuring and flattering, for those showcased and what they embody to those that shuffle past, for doubtless many of the latter are self-conscious and perhaps afflicted with self-loathing at their own bits.
Embrace what you've got – is the underlining message that I take away from it all.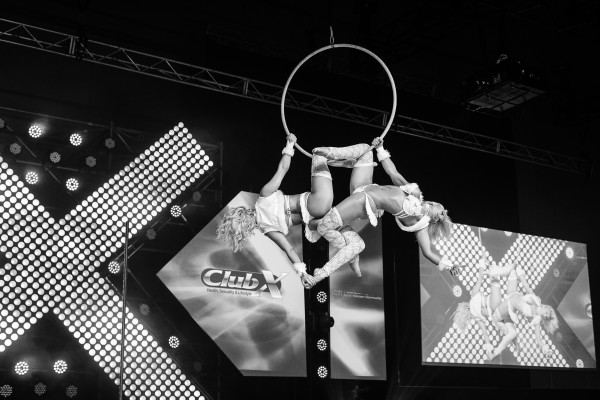 I lastly spend a while roaming through the aisles of stalls. I urge you to dedicate a large portion of time to complete such an endeavour, as your prone to missing out on a tucked-away one selling wares that might be perfect for your tastes, whatever they may be. I cannot possibly list them all, but what I did see extended far beyond a slight variation of your average sex shop's small selection of vibrators. I glimpsed lingerie shops and candle stores, portrait places and herbal centres. Edible this and wearable that. All of it for your perusal and purchase.
One area particularly densely populated was that of Fleshlight Australia, perhaps due in large part to it being the place where adult film actresses, Jenna Haze and Lisa Ann are located, both of whom have their latest and greatest fleshlight models available for sale and they signed the fans' packages (of the products people, mind out of the gutter!) and posed for photos.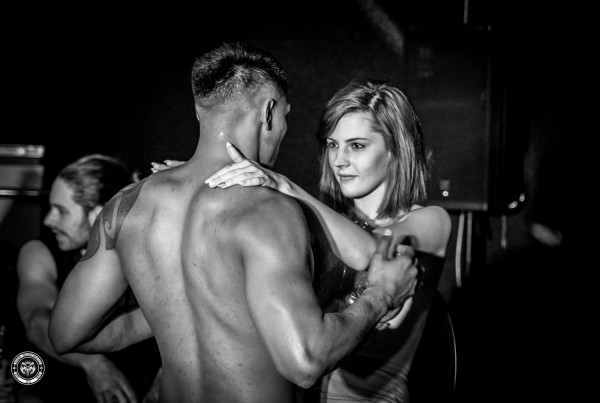 By the time that I've emerged from my aimless, joyful wandering around inspecting the goods on offer and chatting with the ever-accommodating vendors, the evening is winding down, marking an end to the Sydney leg of the Sexpo. I was given the full-treatment, afforded the whole VIP experience and found it to be singularly and resoundingly positive. Each proceeding year has been larger than the last, grander in scale, which is a natural progression of things as public interest has increased exponentially. I thoroughly recommend a visit and an extended wander-around, abiding by the adage – Don't knock it 'till you try it!
---
---
For all those folks living in South Australia, or planning on visiting – the next leg of the Sexpo convention is set to be held in Adelaide, kicking off on August 10th -12th at the Adelaide Convention Centre. Get going and bring your open-mindedness – puritanical-minded wet blankets need not apply!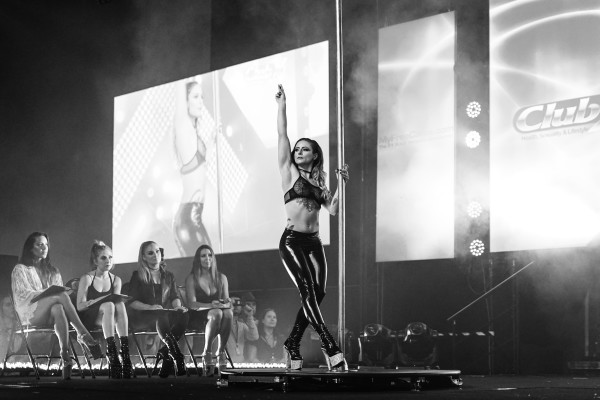 Words by Samuel Elliot.
Samuel is a Sydney-based freelance literary and entertainment reporter. Having previously worked for The Australia Times, Elliott now produces a broad range of work for numerous publications in both digital and print. He currently divides his job in the television industry and readying his next novel,Schooled, for publication in 2019. Find more of his work here.
RELATED: Sam's Exclusive Candid Chat With Porn's Current 'It' Girl, Lana Rhoades