The rich are getting richer everywhere, but the rapid growth of wealth in China is difficult to even comprehend.
To break it down, 2017 yielded 332 new billionaires worldwide and 106 of them were from China. Essentially, this means there was a new billionaire in China every three days.
These statistics are particularly crazy when you look at the progression over time. In 2006, there were just 16 Chinese billionaires. Now, after 2017, the number is at 373, equating to one-fifth of the global total.
Though the US is still the global leader with 585 billionaires, wealth creation in the region has been lagging. While the US created 87 billionaires in 2012, there were only 53 new names on the list in 2017.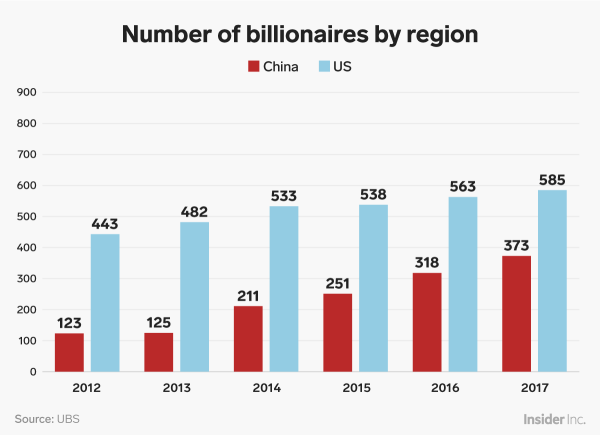 The above chart, sourced from Business Insider, depicts the growth in numbers of billionaires between the two regions and also accounts for those who drop off the list (hence the 55 person spread instead of 106 in China from 2016-2017). If these current trends continue to prevail, Asian billionaires' wealth will surpass that of their American counterparts in the next three years.
The growth in the Chinese marketplace was driven primarily by self-made entrepreneurs, particularly in the technology industry. More than 300 Chinese companies IPO'd in the last year, providing clarity to the difficult-to-measure wealth of people in private markets with little transparency.
However, John Mathews, the head of ultra-high-net-worth Americas for UBS Global Wealth Management, believes that US entrepreneurs could play catch-up next year. Mathews said many major IPO's are in store for the coming years, potentially adding more billionaires to the US's count. The race is on.
RELATED: How long it takes for these billionaires to make your annual salary