For the super-rich of the world, money can purchase you pretty much anything. So what's left in this world for someone in the top 1% with a Gulfstream, a 200-foot superyacht and a football team to buy?
Citizenship. But not for the reasons that might initially spring to mind. Speaking with Bloomberg, Christian Kalin, chairman of Henley & Partners, which is a supplier of citizenship advice and publishes rankings such as the Quality of Nationality Index, admits that most clients are "just looking for security."
While countries such as Australia allow for newcomers to apply for citizenship after meeting a strict criteria, there are actually only 10 countries in the world that allow outsiders to acquire citizenship outright.
That outright investment minimum ranges from a whopping US$23.7 million right down to a mere US$100,000. Payment is usually required in the form of a direct investment, usually in property or a local business.
The primary motive is the desire for the ultra-rich to simply have two passports – or perhaps even three or four – which is seen as a status symbol. Many wealthy individuals from less stable countries or economies might also want a second passport for peace of mind should things go south back home. Conveniently, Bloomberg confirms that eight of them are classified by the IMF as an offshore financial hub.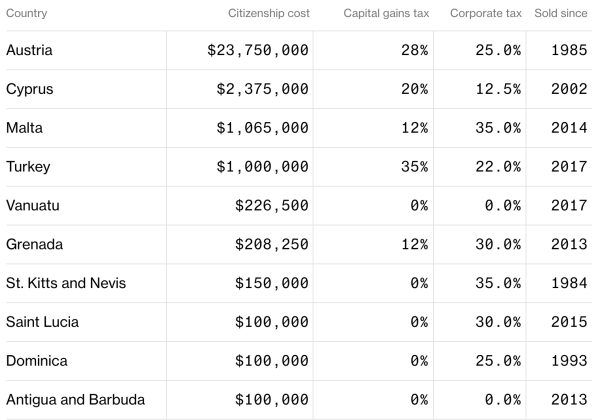 RELATED: Surprising new contender becomes world's most powerful passport