Oscar Wilde is famous for saying, "I won't belong to a club that accepts me as a member." Wise, perhaps, but he didn't live long enough to receive a private invitation from American Express to join the Centurion club.
The Centurion Card, also known as 'the real black card,' is the most exclusive and prestigious credit card in the world. Its perks are reserved for the uber elite, and even AMEX's pre-existing ballers must await an invitation.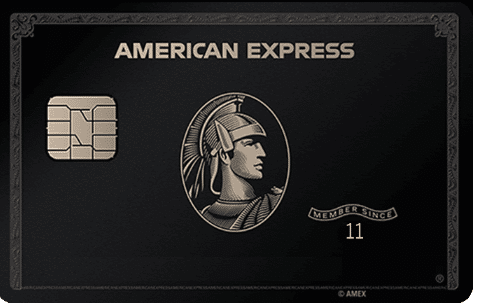 Physically, it's made of anodised titanium and metaphysically, it's cloaked in secrecy. It was officially launched in 1999 for "a small but affluent group of cardmembers for whom individual attention and access to previously unavailable elite travel benefits was of great interest."
---
---
The first rule of the Centurion Card is, of course, that you don't talk about the Centurion Card.
"It's our long-standing policy not to share the details of our Centurion Membership."
While some cardholder benefits are publicly listed, it's the XXX offerings, such as the "24/7 concierge service," that elevates the card to a league of its own. Not to mention the mere status symbol of just having one in your wallet.
How to lay claim to the card
AMEX doesn't officially reveal the criteria it uses to discern its Centurion cardholders. However, it is alleged that;
Personal customers must regularly spend upwards of US$350,000 annually on their existing AMEX Platinum accounts, and
Business cardholders must spend upwards of US$500,000 across existing accounts.
Supposedly, past account statements are trawled for exceedingly high spending patterns in the specific categories of luxury goods, dining, events, and travel.
While it is invite-only, there's still room for hopefuls, who dare to ask. However, it is presumably a marketing ploy with an equally presumable response.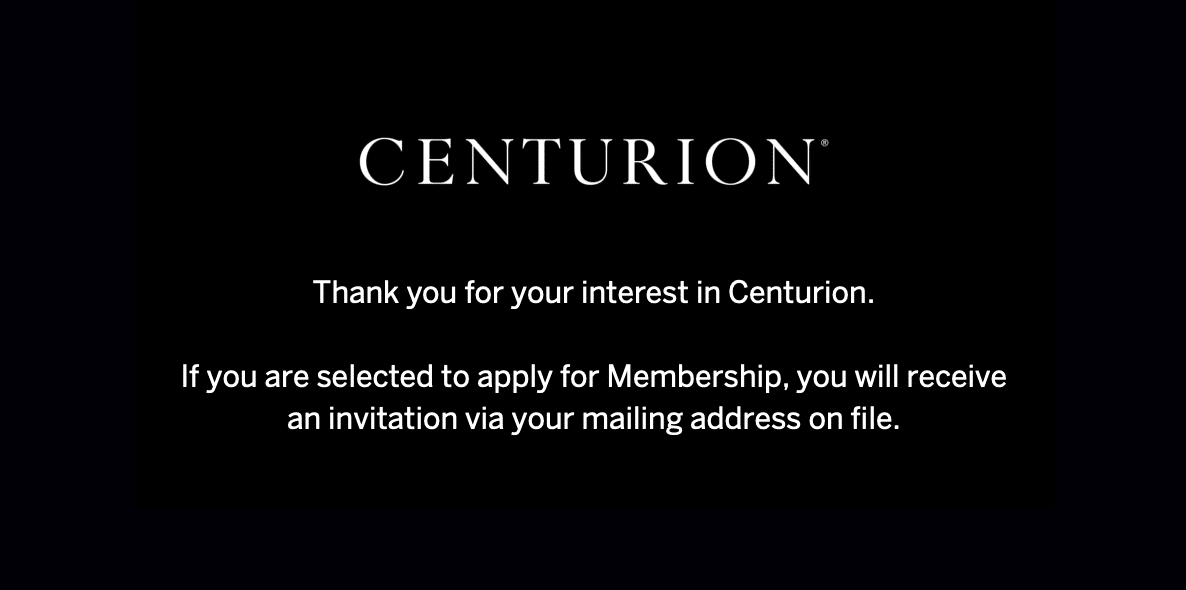 While commenting on the card publicly and posting on social media is a serious faux pas, there are many who have shared the theatrics involved in its unboxing.
---
---
This video reveals to the rest of us plebs, that as of November 2019, the card (with a newer, simplified look), is issued in a sleek Tom Ford black leather cardholder, and accompanied by the statement:
"Centurion has always been for distinguished Members like you – those who break new ground and have a meaningful impact on the world.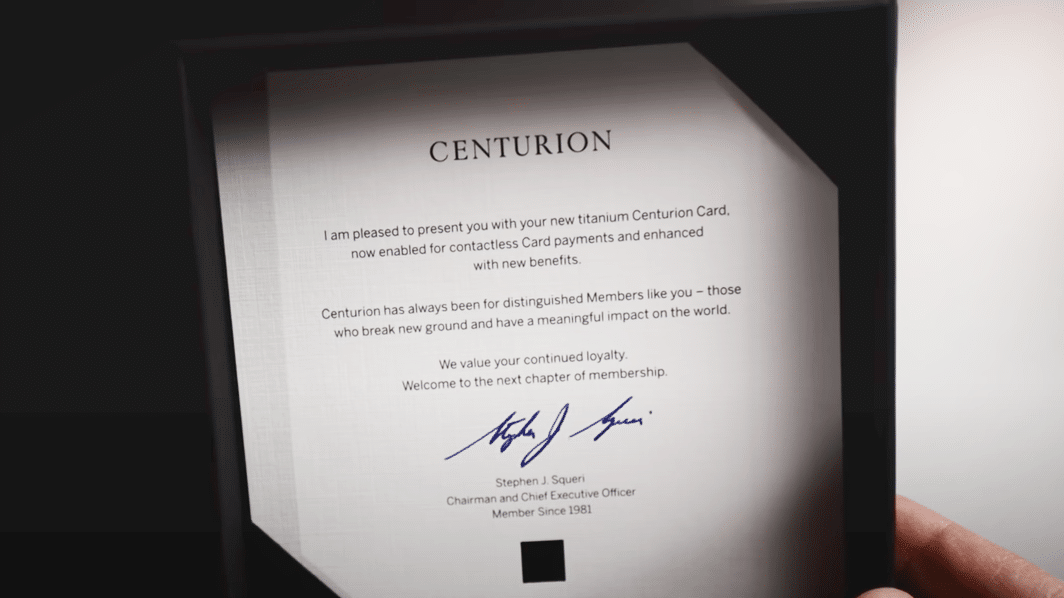 If you're deemed worthy, you have to fork out:
A one-time $10,000 initiation fee
A $5,000 annual fee, (recently doubled from $2,500). Two additional cards are allowed on the account, each for a $5,000 fee.
Earn 1 Membership Rewards point per dollar spent on all purchases under $5,000 each.
Earn 1.5 Membership Rewards points per dollar spent on purchases over $5,000, up to 1 million extra points per year.
Personal cardholders who spend their Membership Rewards points on travel via the AMEX site receive 50 percent credit back, (which essentially doubles the value of a membership rewards point).
No preset spending limit, however, balances must be paid out in full each month.
Most critics absolutely butcher the card's reputation based on its points earning potential. While it does trail many other AMEX and market offerings, this line of thinking is completely amateur. Let's all get clear about one thing; Centurion cardholders aren't in the business of hoarding miles and hacking domestic travel.
However, it can be a welcome side effect. The largest Centurion purchase made publically to date was the tidy US$170 million for Amedeo Modigliani's "Reclining Nude."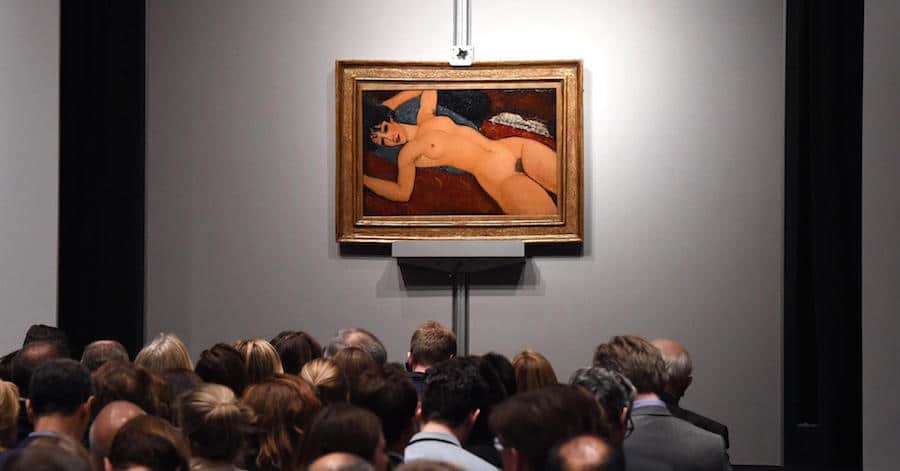 Chinese billionaire Liu Yiqian nabbed it at Christie's in 2015. His family is presumably covered for flights for the rest of their lives – both on Earth and in space. We're not kidding, either, as AMEX has previously partnered with Space Adventures Ltd. offering cardholders the ability to redeem points for three Space Adventure packages.

And if you were wondering about Christie's typical AMEX 2-3% merchant fee, (in this instance a jaw-dropping $3.4 – $5.1 million), AMEX has been known to give a percentage of the charges back to merchants in cash for taking such good care of their important Centurion customers.
AMEX Centurion's Listed Concierge Perks
Dining and Events
The Centurion Dining Program reserves impossible to get tables daily for cardholders across 1,000 of the world's top restaurants. Including in the kitchens of Massimo Bottura, Alain Ducasse and the Roca Brothers.
Cardholders get early access to event packages, such as the Kentucky Derby, Coachella VIP, the Grand Prix de Monaco and the Wimbledon Club.
Shopping
---
---
Saks Fifth Avenue annual credits of $1000 and access to their stores outside of normal business hours.
Personal shoppers at luxury clothing site NET-A-PORTER and MR PORTER, including same-day delivery.
One-off surprise gifts which have included $1000 Van Cleef & Arpels gift cards, Bottega Veneta and Tom Ford cardholders, bottles of Dom Pérignon with Baccarat crystal champagne flutes and Tiffany & Co. crystal ice buckets.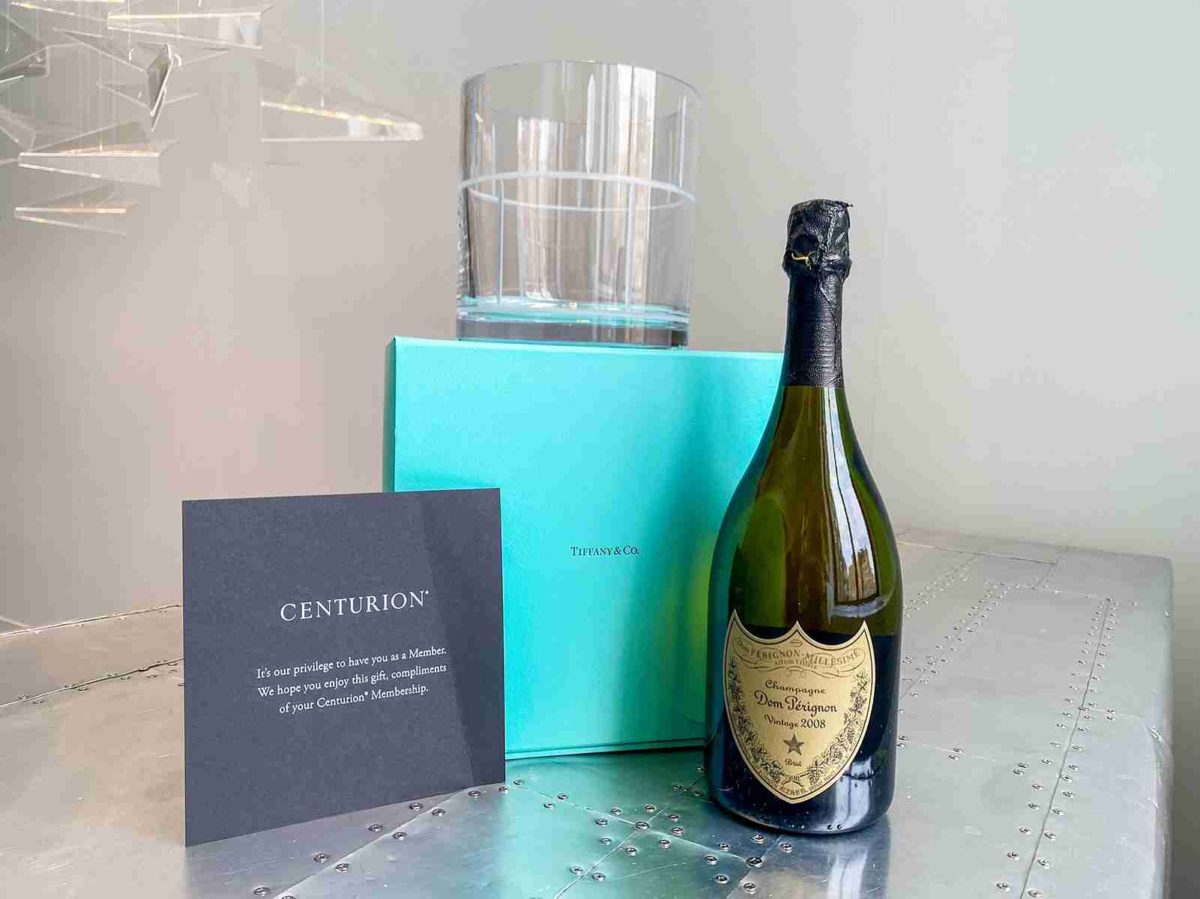 Lifestyle
Equinox Destination Access Membership across 100-plus Equinox locations worldwide.
Subscription to Centurion Magazine and personal customers receive the limited edition title Black Ink.
Travel
A dedicated travel agent.
Complimentary companion airline tickets for international flights on selected airlines with the purchase of a full-fare ticket or a business/first-class upgrade.
Access to lounges with Centurion member-only drink options at the bar and surprise travel-friendly gifts like headphones and speakers.
'Seamless arrivals' where a personal guide greets you at the gate, takes you through customs and to ground transportation, for your party of up to eight.
Hotel benefits including one free night added to a stay at the Mandarin Oriental hotel, once a year, and special offers like room upgrades at the Ritz-Carlton, Leading Hotels of the World and Aman Resorts.
Not bad. But it's only when you start scratching the surface, you'll discover they are merely child's play. To fully reap the benefits of this bad boy- call the number on the back of your card.
You will be introduced to your 24/7 concierge, as part of the Centurion Membership Services program.
AMEX Centurion's Unlisted Concierge Perks
In one Reddit thread, an ex-AMEX concierge who had her street cred approved by moderators proved that Centurion staff provide what can only be described as elite customer service. And concierge services were supposedly made bigger and better this past April 2020, (a hint at why the annual fee doubled).
Centurion carholders are encouraged to form a special bond with their concierge, and, unlike lower-tier cards, can specifically request to use the same one. She explains the pull that she has on her end when treating different tiered clients;
"For black cardholders, is instead of just saying, "this is so and so from American Express Concierge…" when calling a business or restaurant, we would say, "this is so and so from American Express Centurion Concierge…"

That one word makes all the difference. She admitted clients like to test the waters, and concierges would always oblige to "anything that is legal." The majority of requests constitute:
Ordering flowers and one-off gift experiences.
Personal shopping experiences.
Directions – "you can even just call up while you're driving and ask for the nearest gas station, or restaurant, park, tourist attraction."
Itineraries – "if you're travelling, they can put together information for you on places to see and do, event calendars, tips on what to pack."
Cardholders call with a request and are given a promise date, by which they can expect their request to have been completed.
The role of concierge extends beyond the job description
Cardholders can have two additional account holders, yet concierges don't have to reveal what the account holder's significant other or family member might request from the concierge.
---
---
"We were not allowed to tell them a single detail."
Yet despite their confidentiality with clients, she admitted,
"We always Googled people. A friend of mine spoke with Gerard Butler… a lot of the celebs use assistants and fake names. Most people I googled were lawyers, business execs, doctors…"
Celebrities like Oprah, Kim Kardashian, Yeezy and Jerry Seinfeld are rumoured to be account holders. With Jerry going so far as claiming in his Netflix Comedians In Cars Getting Coffee episode with John Mulaney, that he was one of the first to get one, and perhaps the reason the card exists.
When asked on the forum, "what's the most hilarious/asinine request you've gotten?"
"A client was on a business trip in another state. He said he ate something that really upset his stomach and right in the middle of the conference, where he was on some sort of panel, he shit his pants. When he finally excused himself, some slipped down his leg… [leaving] a trail to the bathroom. He called me from the bathroom, mortified… I called the hotel concierge, who ran across the street, bought him a pair of underwear, socks and pants, and brought it to the man in the bathroom…. I got the hotel concierge to fill his bath, and put some peptol bismal in his room for when he got back."
They really do clean up their client's shit.
Another doozy was when the anonymous respondent answered "what was the craziest request"
---
---
"Craziest was a guy who gave me a list of concept cars that he wanted. He knew none of them were being made, but he wanted me to call each one and find out who would make one personally for him. One was a little roadster, had three wheels, and another was an ATV that turned into a Seadoo when it hit the water. They gave me a dollar amount and were willing to make one just for my client."
Other concierge war stories fact-checked from Snopes include:
One cardholder requested the exact horse ridden by Kevin Costner in the 1990 film Dances with Wolves. It was quickly located and found to be residing in a stud ranch in Mexico. The horse was purchased and couriered to its new owner in Europe.
Another cardholder wanted sand from the Dead Sea for their child's school project. A courier was sent by motorcycle to the Dead Sea shore to collect and the sand, and it was delivered from Israel to London.
Founder and CEO of The Points Guy, Brian Kelly, used his business Centurion to escape from Bali in November 2017, when the eruption of Mount Agung left him stranded with a cancelled flight. Despite his own contacts, it was the AMEX black concierge who got him safely off the island in a private jet.
"The Amex Concierge in Singapore went above and beyond to make the arrangements happen."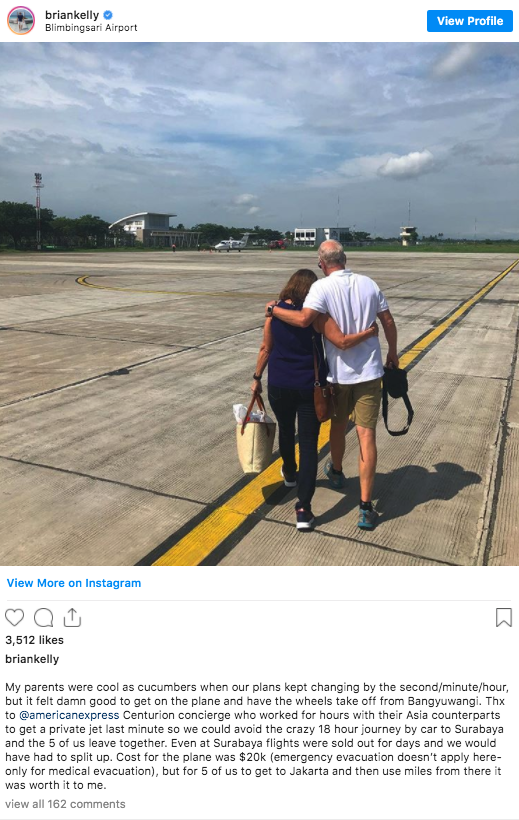 This is the card that will get you noticed. Even amongst the uninitiated, who only know you paid at least $15,000 of fees in your first year of ownership just for the pleasure of carrying it. But it is so much more than pleasure; it's a status item you can't buy.
When you flash it, you are simply treated differently. Unless of course, they don't take AMEX. You better get that concierge on the phone…