These days, you can guarantee with 99% certainty that whenever UFC commentator/comedian/DMT enthusiast/dudebro father figure Joe Rogan makes the news, it ain't for a positive reason. The latest controversy hanging over the man's shiny dome like a dreary rain cloud involves a lethal combination of COVID-19 misinformation and having previously used racial slurs on his massively popular podcast (specifically the N-word). In response to the public and private backlash – ranging from company employees to musicians like Neil Young and Joni Mitchell – Spotify quietly removed 113 episodes with the blessing of Rogan himself. Of course, in the midst of every crisis lies great opportunity. And as The Joe Rogan Experience faces increasing hostility from the worker bees over at Spotify, right-wing platform Rumble has now stepped in to float a nine-figure life raft.
"We stand with you, your guests, and your legion of fans in desire for real conversation," Chris Pavlovski, CEO of Rumble Inc, writes in an open letter to Joe Rogan (posted via Twitter).

"So we'd like to offer you 100 million reasons to make the world a better place. How about you bring all your shows to Rumble, both old and new, with no censorship, for 100 million bucks over four years?"
"This is our chance to save the world. And yes, this is totally legit."

---

---
RELATED: Spotify Data Leak Reveals $100 Million Deal With Joe Rogan Was A Bargain
Precisely who would Joe Rogan be getting into bed with should he abandon Spotify for Rumble? Established in 2013, the online video hosting service based in Canada has championed the likes of former US President Donald Trump, Sean Hannity, Dinesh D'Souza, Glenn Greenwald, as well as former US Congresswoman Tulsi Gabbard; financially backed by the likes of famed venture capitalist Peter Thiel and author slash politician slash fellow VC, JD Vance. In short, the flavour of this ice cream cone is triple-choc conservative (to put it mildly).
"Rumble was designed to be immune to cancel culture, and we are at the forefront of a movement that believes everyone benefits from access to a neutral platform that hosts diverse ideas and opinions," Pavlovski explained elsewhere in a press release announcing the platform's partnership with Donald Trump's TRUTH Social.
"We are a movement that does not stifle, censor, or punish creativity, and believe everyone benefits from access to a neutral network with diverse ideas and opinions. We are on a mission to restore the internet to its roots by making it free and open once again."
According to Time, Rumble experienced significant growth when the COVID-19 pandemic kicked off in earnest, with monthly viewership surging from 1.6 million users in late 2020 to 31.9 million by the end of 2021's first quarter. Meaning momentum is on its side, and more eyeballs certainly wouldn't go amiss.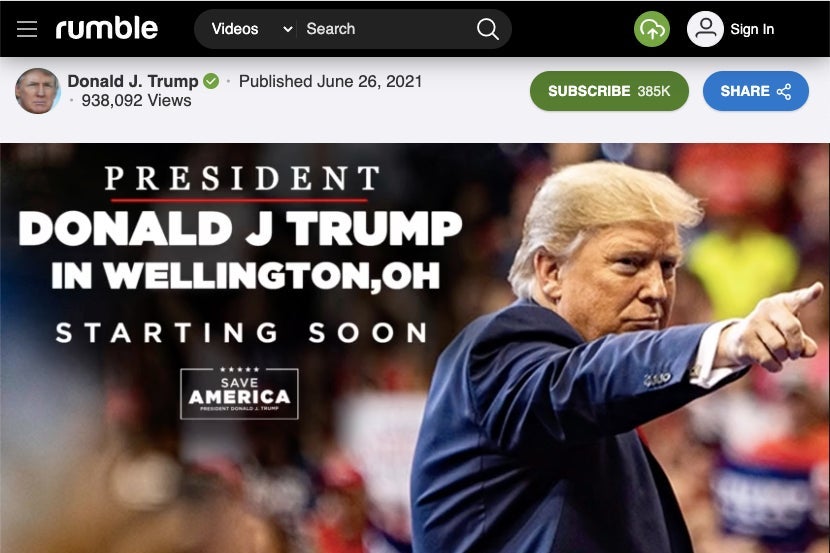 RELATED: The Watch Collection Of Joe Rogan
Armchair economists from all corners of the internet have long questioned whether a podcast such as The Joe Rogan Experience is truly worth nine figures – from the moment of its acquisition by Spotify to the current discussion with Rumble Inc. For reference, the ongoing series had already boasted 200 million monthly downloads in addition to a monster viewership prior to said Spotify acquisition circa 2019; bumping the company's stock price by +11% the day the deal was confirmed. Hell, even as we speak, the very mention of Rumble's $100 million offer to Joe Rogan caused shares has coincided with Rumble's CF Acquisition IV SPAC to soar by +43%.
---
---
Any lingering doubts regarding Mr Rogan's status as a bona fide audience draw, on the other hand, was soundly put to rest when Spotify's performance data leaked via internal newsletter. Since joining the audio streaming platform in September of 2020, The Joe Rogan Experience has consistently ranked as the #1 podcast every single month. The month it debuted under the green banner, it commanded 4.5% of all podcast listening activity on Spotify (14.9 million hours). In October of 2020, the market share climbed to 4.7% while consumption increased to 16.3 million hours. Plus keep in mind – this was all achieved before JRE became a Spotify exclusive in December later that year.
A company spokeswoman confirmed the numbers revealed were not reflective of the show's current audience, which has obviously increased at a steady rate in the years following the contract's inking. Hence why they've been willing to eat a procession of controversies, though not without plenty of protests and internal complaints. Thankfully for Joe Rogan, as a general rule of thumb, if the boss is in your corner, your job is pretty safe.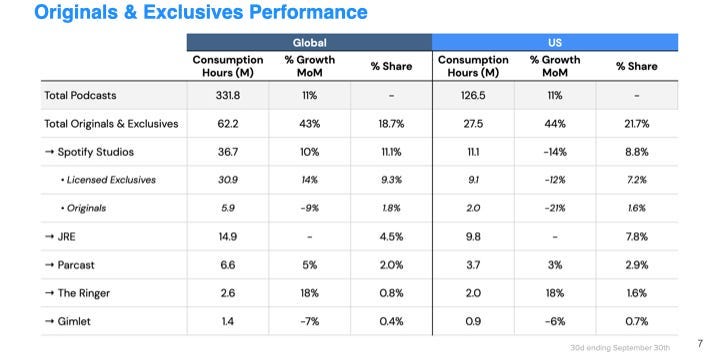 "The guy who runs Spotify – the CEO – is amazing," Joe Rogan said of Daniel Ek during an interview with Tom Papa.
"He's a fan of the podcast and he likes it wild."
In contrast to Rogan's claim that Ek "likes it wild" without zero policing, while the blokes ostensibly still have each other's backs, here's what the Spotify CEO recently communicated to staff during a memo published just days ago, before reaffirming he doesn't believe "silencing Joe is the answer":
There are no words I can say to adequately convey how deeply sorry I am for the way The Joe Rogan Experience controversy continues to impact each of you. Not only are some of Joe Rogan's comments incredibly hurtful - I want to make clear they do not represent the values of this company. I know this situation leaves many of you feeling drained, frustrated, and unheard.

I think it's important you're aware that we've had conversations with Joe and his team about some of the content in his show, including his history of using some racially insensitive language. Following these discussions and his own reflections, he chose to remove a number of episodes from Spotify. He also issued his own apology over the weekend.
"We should have clear lines around content and take action when they are crossed, but cancelling voices is a slippery slope."
Given how Spotify's Q1 earnings report indicated The Joe Rogan Experience had "performed above expectations with respect to new user additions and engagement," it's safe to assume any decision to stay/leave will be entirely possible up to Joe Rogan. As we all know, in a world dictated by bottom lines, it's hard to argue with something which essentially prints you money. Dollars talk, bullshit can walk.