We have no doubt the majority of you are sick of reading about UFC commentator/DMT enthusiast/dudebro father figure Joe Rogan and his shaky marriage with Spotify by now, but the latest headlines surrounding the financial aspect of his contract will likely renew your interest.
When the deal was first inked back in mid-2020, the figure attached to this exclusive content agreement by The Wall Street Journal hovered around $100 million. As it turns out, according to anonymous sources recently cited by The New York Times, the true value of the eye-watering pact is actually somewhere in the airspace of $200 million "with the possibility of more." No wonder he didn't accept Rumble's $100 million life raft to jump ship.
In light of this stunning revelation, the reason why Spotify has been so keen to stick it out with Joe Rogan suddenly makes far more sense. After all… money talks. Bullshit, protests, internal complaints, episode takedowns, and so forth can walk (no matter how many times the bloke has said the N-word). And an investment of this magnitude certainly won't be undone due to online outrage. Although it would be remiss to frame the entire narrative around dollars alone.
---
---
RELATED: Joe Rogan Receives $100 Million Contract Offer To Ditch Spotify
Armchair economists from all corners of the internet have long questioned whether a podcast such as The Joe Rogan Experience is truly worth nine figures. For reference, the series had already boasted 200 million monthly downloads in addition to a monster viewership prior to the Spotify acquisition circa 2019; bumping the company's stock price by +11% the day the deal was announced.
Any lingering doubts regarding Mr Rogan's status as a bona fide audience draw were soon put to rest when Spotify's performance data leaked in an internal newsletter. Since joining the audio streaming platform in September of 2020, The Joe Rogan Experience has consistently ranked as the #1 podcast every single month.
The month it debuted under the green banner, it commanded 4.5% of all podcast listening activity on Spotify (14.9 million hours). In October of 2020, the market share climbed to 4.7% while consumption increased to 16.3 million hours. Plus keep in mind – this was all achieved before JRE became a Spotify exclusive in December later that year.
A company spokeswoman would later confirm the numbers were not reflective of the show's current audience, which has steadily increased in the three and a half years that followed.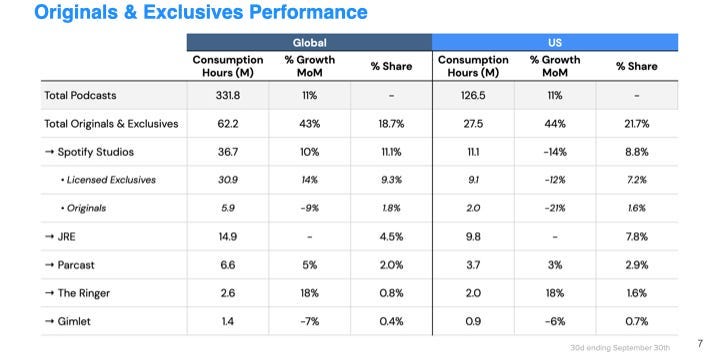 RELATED: Spotify Data Leak Reveals $100 $200 Million Deal With Joe Rogan Was A Bargain
Plus it doesn't hurt when the boss is in your corner.
---
---
"The guy who runs Spotify – the CEO – is amazing," Joe Rogan said of Daniel Ek during an interview with Tom Papa.
"He's a fan of the podcast and he likes it wild."
Despite all this, Ek recently communicated the following to staff in a memo published weeks days ago, before reaffirming he doesn't believe "silencing Joe is the answer":
There are no words I can say to adequately convey how deeply sorry I am for the way The Joe Rogan Experience controversy continues to impact each of you. Not only are some of Joe Rogan's comments incredibly hurtful - I want to make clear they do not represent the values of this company. I know this situation leaves many of you feeling drained, frustrated, and unheard.

I think it's important you're aware that we've had conversations with Joe and his team about some of the content in his show, including his history of using some racially insensitive language. Following these discussions and his own reflections, he chose to remove a number of episodes from Spotify. He also issued his own apology over the weekend.
"We should have clear lines around content and take action when they are crossed, but cancelling voices is a slippery slope."
Do with this information what you will.