For the first time in history, a non-sports, non-game trading card has broken through to set a new record, fetching an absurdly high hammer price of US$105,780 (AU$138,839). And that would be none other than a rare Signs of Stardom Jay-Z trading card, put to auction with the hip hop king's autograph affixed to a silver strip underneath.
Sold at Goldin Auctions' monthly card auction, the rarity opened with a minimum starting bid of just $500, but reportedly ended with the aforementioned hammer price in no time, with a total of 49 bids. That's may be nothing on the US$3.93 million (~AU$5.5 million) Mike Trout baseball card sold for last year, but it's still far more than anyone would have expected.
According to the auction house, this is easily the highest price any trading card that didn't depict a sports star (or a Pokemon) has fetched.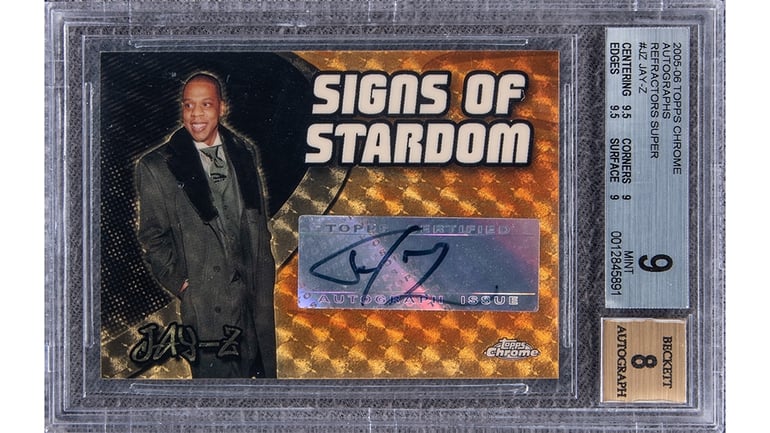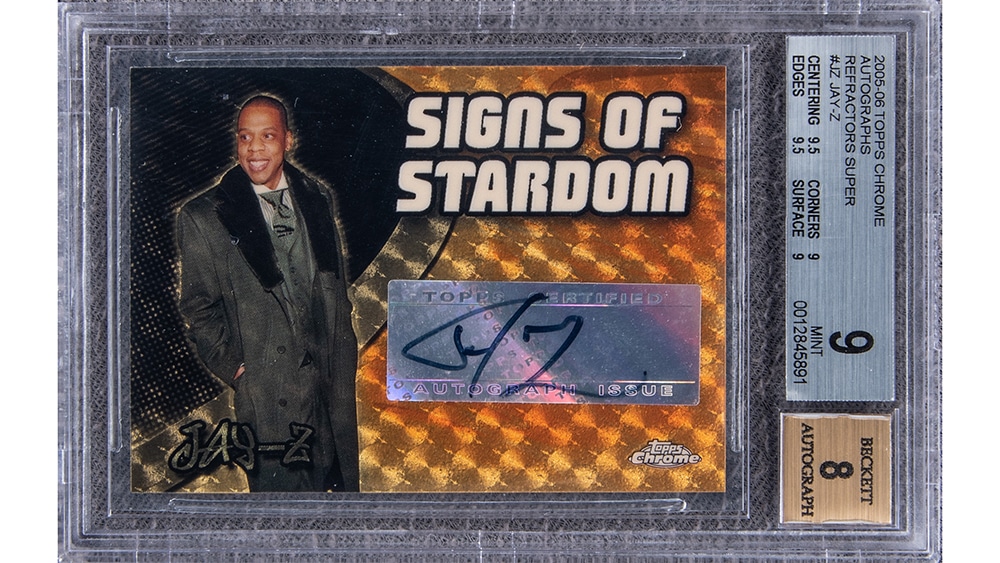 The card simply features an image of the famed multi-hyphenate emcee in a grey three-piece suit, dated as a 2006-2007 Topps Chrome card with a "Mint 9" grading – which indicates "great condition". The "Signs of Stardom" in large lettering near the top of the card is part of a series for Topps that includes big name entertainers as well as sport stars – even Jenny McCarthy has one.
RELATED: US Rapper Logic Drops Over $300K On Rare Pokemon Card
This particular iteration of the Goldin Auctions card auction raked in a total of US$8.5 million (AU$11.1 million), which says quite a lot about just how feverishly popular rare trading cards have been in the past year or so. Goldin has reported that they've already surpassed last year's total sales of US$100 million (AU$130.8 million).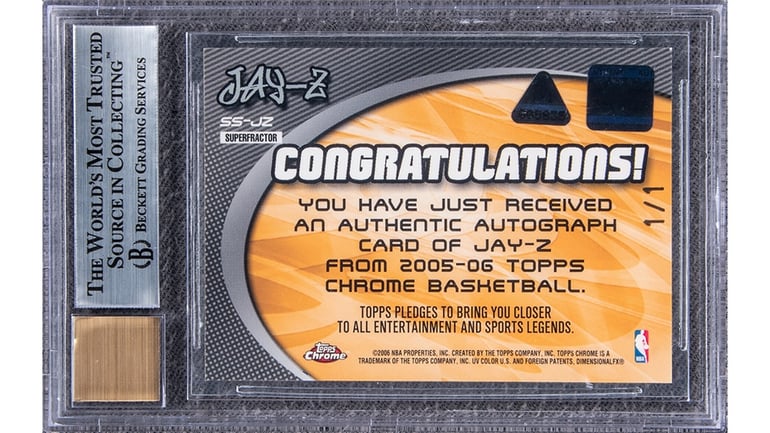 And is it of really any surprise that it just so happens to be Jay-Z that cuts through and outsells any other entertainer-depicting trading card previously sold at auction? The man is, after all, one of the world's most prolific and successful businessmen when it comes to the industry. Even his already swollen net worth has skyrocketed even further in the past few months, off the back of deals like selling 50% of Armand de Brignac to LVMH, to offloading his controlling stake of Tidal to Twitter's co-founder Jack Dorsey. No wonder he could afford to, allegedly, shell out the better half of $1 million just so his daughter could pose with the iconic plastic 'King of NY' crown once donned by Biggie Smalls.
These power moves have reportedly shifted Jay-Z's net worth up 40%, from US$1 billion (AU$1.3 billion) to US$1.4 billion ($1.8 billion).
"Signs of Stardom" may not have been on the money when it came to Jenny McCarthy, but Topps' prescience was right on the mark for Jigga.