Jeff Bezos, the man on top of Forbes' World Billionaires List with a staggering net worth of nearly US$137 billion, could be soon to top a new list: the world's most expensive divorce settlements of all time.
Bezos, the founder and CEO of Amazon who most likely does not need an introduction at this point, announced via Twitter on Wednesday that he and his wife, MacKenzie Bezos, are divorcing after 25 years of marriage.
— Jeff Bezos (@JeffBezos) January 9, 2019
The big catch here: Bezos resides in Seattle, Washington. All US states operate differently when it comes to divorce but Washington is a community property state, meaning that wealth accrued during a marriage is split in half unless a prenup or postnup indicates otherwise. In this case, that wealth includes Amazon, which Bezos founded soon after marrying MacKenzie. This could mean her exiting the union with as much as $75 billion.
While we don't know whether any legal documents such as prenups or postnups exist for the Bezos', its fairly certain that this divorce, as is the case with many other high-net-worth ex-couples that have come before this, will not be a straightforward one.
Big money divorces are never as simple as dividing a massive pile of cash into two stacks. A majority of Bezos' net worth is illiquid and tied up in company issues, shares and other complex places. To further complicate matters, Bezos is the 25th largest landowner in the United States.
Funding a settlement as big as the one that will soon take place could mean selling or pledging shares which would dilute his ownership and control of the company or even cause major fluctuation of the stock value itself, though most analysts agree that this will not be the case.
There's a whole lot at play here. Assets are tied up, public perception is important to both the family and the company, and there are four kids that have repeatedly shown to be at the forefront of the family's previous decisions. What most sources presume will happen is that the Bezos', who have mutually decided to go through with this complicated divorce, will want to continue to grow the family fortune for the sake of their children – three sons and a daughter adopted from China. MacKenzie would most likely not push for a settlement that would require him to dilute his control or go below a 15% stake in the company (his stake currently stands around 18%). Ultimately, their goal is bound to be something that will continue to allow him to grow his bombshell of a company.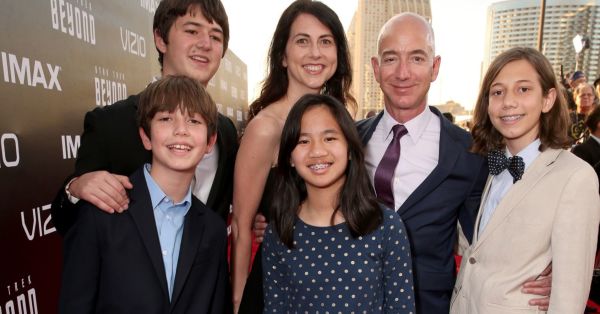 The final result (including whether they ever had a pre- or postnup) will only be determined with time but, until then, Jeff still has his seat at the top of the billionaire's list.
RELATED: This Resume For Jeff Bezos Proves You Never Need More Than One Page