UPDATE [25/08/2021]: While news of OnlyFans attempting to ban explicit content from their platform in order to appease banks and payment processors broke just a few days ago, it seems the subscription-based service has now reversed the decision. No doubt thanks to some extremely negative backlash, OnlyFans has sent out a tweet stating that they have received the assurances necessary for them to continue business as usual. The planned policy changes for October 1st, which were essentially OnlyFans moving to ban porn, will no longer be going ahead.
"Thank you to everyone for making your voices heard," reads the tweet sent out at 10 PM on August 25.

"We have secured assurances necessary to support our diverse creator community and have suspended the planned October 1 policy change. OnlyFans stands for inclusion and we will continue to provide a home for all creators."
The expected, and mostly deserved, backlash coupled with explicit adult content creators already beginning to jump ship to competitors like Fansly, obviously put the pressure on OnlyFans to try to find another way.
---
---
Thank you to everyone for making your voices heard.

We have secured assurances necessary to support our diverse creator community and have suspended the planned October 1 policy change.

OnlyFans stands for inclusion and we will continue to provide a home for all creators.

— OnlyFans (@OnlyFans) August 25, 2021
Original Article – OnlyFans Move To Ban Porn
In order to ensure the "long-term sustainability" of its business model, OnlyFans is moving to ban most sexually explicit content from its wildly successful platform… which was built on sexually explicit content. Announced today, the service largely known for subscription-based amateur porn plans to prohibit a considerable portion of its content, although it's not clear how much will be stripped away by OnlyFans' decision to ban porn just yet.
OnlyFans founder Timothy Stokely and CEO John Carlyle – the latter of whom most notably served as Director of Risk Management at, get this, Lehman Brothers – are making the move towards content creators with a wider appeal to satisfy various banking partners and payout providers. According to Axios, the business has been struggling to find investors, for obvious reasons, despite its massive success.
It's also very much an evolve-or-die situation for OnlyFans, as pressure is coming in from banks and payment processors who have raised concerns about the type of material hosted on the platform. Rather than lose the ability to process payments, OnlyFans has chosen to go the safer route and ban the very adult material which made it famous.

Seeing as the overwhelmingly vast majority of OnlyFans' 130 million-plus userbase is on the platform to either produce or purchase self-made porn (I assume), the move represents a rather callous disregard for the sex workers, porn stars, and other adult content creators who have helped the business get to the point where it is now shooting for a $1 billion valuation. Although there doesn't seem to be much of an alternative, unless OF wants to adopt blockchain.
RELATED: Lana Rhoades Is A Multi-Millionaire After Quitting Porn
Originating in the UK and founded in 2016, OnlyFans claims it has paid out more than $5 billion to over 2 million content creators across the world. But its penchant and reputation for producing X-rated content have obviously been somewhat restricting in its mainstream appeal, not only confining it to the web – but overshadowing its proposed purpose. The purpose, of course, being to provide a flexible subscription-based model where content creators can offer exclusive content and charge their target audience for access.
---
---
OnlyFans' loose sense of restrictions meant that "exclusive content" soon tuned into straight-up porn of every conceivable variety. This particular brand of freedom became a key avenue for adult content creators to pocket seriously large sums of cash from the service's generous 80-20 split (especially during worldwide lockdowns).
As with most things in social media, the earning potential of an OnlyFans content creator has always been skewed in favour of already established influencers and celebrities. Playing into the classic power-law distribution, the top 1% of all OnlyFans accounts reportedly make 33% of all the money, and the top 10% make 73% of all the money. Most accounts would earn around $180 per month, excluding tips.
That bias towards the likes of Bella Thorne and Cardi B is only going to widen the gap even further, squashing OnlyFans' majority with a refined set of content guidelines which will seemingly preference safe-for-work content from October 1, 2021.
"OnlyFans will prohibit the posting of any content containing sexually explicit conduct," the company said in a statement released to media this week.
"In order to ensure the long-term sustainability of our platform, and to continue to host an inclusive community of creators and fans, we must evolve our content guidelines."
According to the same statement, creators will still be able to post content containing nudity, but under the terms of a newly tweaked Acceptable Use Policy. This will be in stark contrast to the rather liberal current terms, which allows nudity except in the case of content featuring public nudity in or broadcast from a jurisdiction where public nudity is illegal. Obviously, other forms of clearly illegal X-rated content is similarly not allowed.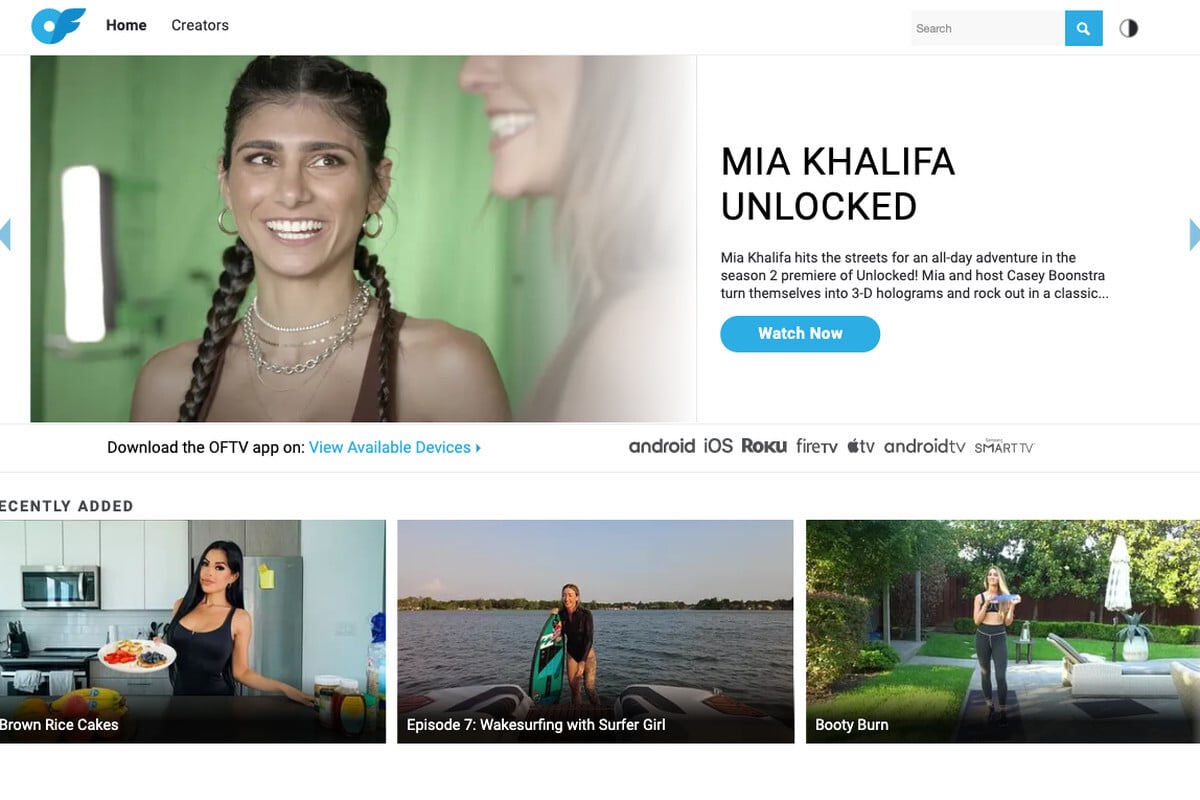 The move follows OnlyFans launch of a new free on-demand streaming service that will not include any sexually explicit material whatsoever. Titled OFTV, the platform features original content from more than 100 OnlyFans creators focused more on activities like fitness, cooking, music, and probably questionable life hacks and synchronised dance trends. In other words, a free version of Patreon.
The launch of OFTV has finally meant that OnlyFans can launch a smartphone app for both iOS and Android. It couldn't before, due to the whole porn thing.
---
---
Some of the famous faces who currently have high-performing OnlyFans accounts and don't post explicit adult content include Bhad Bhabie, Jordyn Woods, Bella Thorne, Cardi B, Tyga, Amber Roe, Rubi Rose, Blac Chyna, Trey Songz, and Tana Mongeau.
Recently, Floyd Mayweather also signed up to be an OnlyFans creator, adding to the growing contingency of athletes making up a growing "creator genre" on the platform.
Just how much OnlyFans' decision to ban porn will impact current OnlyFans creators still remains to be seen. The company said they will be sharing more details in the coming days as they "actively support and guide our creators through this change in content guidelines."