In case you haven't heard, porn has joined the gig economy. The new decade has led to accelerated and disruptive changes in the way porn is produced and distributed. And in the topic of conversation, one particular platform keeps popping up: OnlyFans, whose rise to power has been akin to that of The House of Medici.
The paywalled website links amateur and professional pornstars, and content creators, with their fans directly. It wasn't created for porn, but the site's loose regulations on nudity and low commission created an environment where the NSFW content thrived.
While the London-based platform has been live since 2016, this year has produced its most significant growth yet. Another success story we wished we'd backed.
It's no surprise porn thrived while everyone was "working from home." But it was users rushing to a paid-porn model, despite Pornhub's charitable Premium free access offer, that bucked all trends. Especially at a time consumers worldwide were tightening up their spending amid a global pandemic.
OnlyFans reported 3.5 million new sign-ups in March – 60,000 of which were new 'creators'. A 75% increase above normal. According to Forbes, May saw 200,000 new sign-ups daily, 8,000 of which were new creators.
The unforeseen sign-ups had the platform on the back foot. OnlyFans responded at the start of May by cutting creator referral earnings, citing the funds were needed to support new infrastructure and technology. A move ill-received by existing creators but arguably leading to a greater good for consumers.
Direct to consumer porn is what people want. And it's because the OnlyFans model is selling them something regular porn can't: intimacy.
How does OnlyFans work?
Creators set their subscription price between $4.99 – $49.99 per month and leverage extra earnings through fees for private messages or tips from fans. OnlyFans takes a 20% cut of the creator's earnings, or 15% if the sign-up came via the creator's marketing.
The platform hit mainstream media outlets in January when Kaylen Ward (aka "The Naked Philanthropist") offered nudes to her OnlyFans subscribers in exchange for donations to bushfire-relief funds. Within a week, she claimed to have raised a million dollars for charity. And based on the OnlyFans online calculator, likely the equivalent from referral fees and ongoing subscriptions. Respect.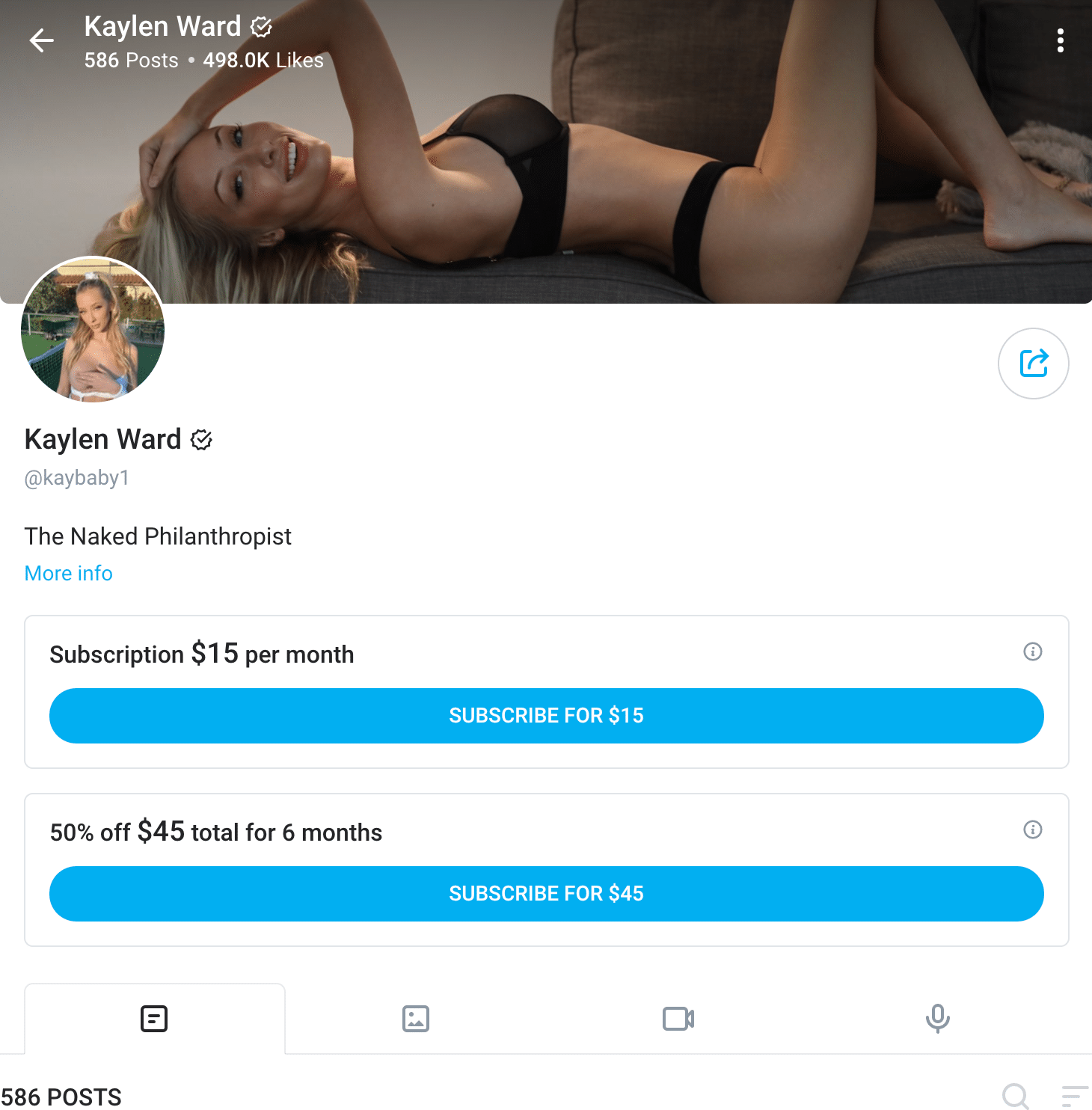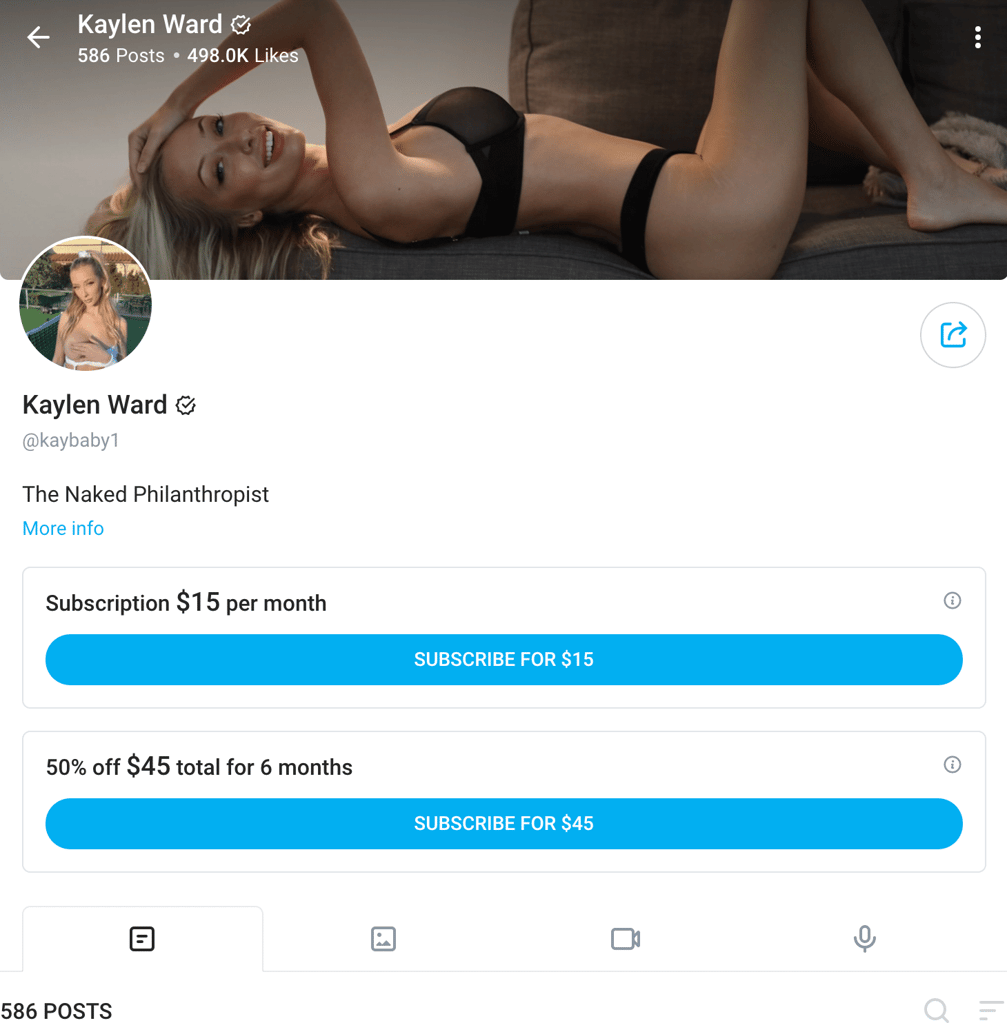 OnlyFans has a simple entry point for creators and fans alike. Creators can effectively get set-up using just a phone, bank account and proof of government-issued ID. A fetish or niche helps too.
OnlyFans, aka "the paywall of porn", is the forerunner platform in an era where porn is slowly becoming the most customisable, ethical and profitable it's ever been. Maybe that's why people are willing to pay for it again.
How did we get here?
The 'Golden Age of Porn' spanned fifteen years from the 1970s to 1980s. Porn producers and stars reached celebrity status, their films found critically acclaimed box-office success, and viewers happily paid for the pleasure to be involved.
Sales continued to climb with the rise of home video by the late 80s. The following decades saw profits continue from video, and to some extent, DVD sales. But then came the internet. To anyone in our age group, paying for porn quickly became inconceivable.
Tech juggernaut "MindGeek" monopolised Youtube-like viewing sites, streaming pirated studio pornographic content and profiting from both banner ads and data. Unlike the music industry, studios didn't have the capital or insight to sue. They simply rolled over to making next to no profit.
As scene rates dropped, stars needed to diversify to make rent. Only a handful of household names could keep themselves afloat by mainstream pornography alone. Most expanded from films to home-made webcamming, phone sex, and even escorting.
As social networks rose in popularity, explicit content was naturally censored. That's when Fenix International Limited (OnlyFans' parent company) bet on the gap in the market. They conceived of an Instagram (plus sex and nudity) style model where performers could monetise and promote their own. It wasn't even a risky bet. The site didn't have a marketing budget either. Creators brought their existing followers across to the new platform with them, and the rest is history.
Adult entertainers scrambled at the opportunity. They know how to hustle and the importance of platforms which welcome adult-content. The mastermind behind it, Mr Stokely, the company's chief executive, is clouded in secrecy. He makes no appearances. It is rumoured one of his co-directors, Leo Radvinsky, is the founder of adult-cam site MyFreeCams.
The clear differentiator between a subscription to a porn site and a subscription to OnlyFans is subscribers can DM their creators. Fans don't feel the scenes are rehearsed or that they're distanced from the process. Creators feel like the girl-next-door types, and PSA: they quite literally could be.
Despite original popularity and use amongst sex workers and porn stars, OnlyFans has the strong support of influencers and amateurs posting Insta-banned thirsty nudes. In a proud moment for Australia, Perth-based Jem Wolfie boasts OnlyFans' number one ticket holder.
In April 2019, Mr Stokely congratulated her on her approximate 10,000 fans, subscribing at $15 per month, since her joining the platform in August 2018. While OnlyFans takes a 15-20% cut from her monthly $150,000 earnings, she told Perth Now she earns it back through extras, earning up to $30,000 daily.
Her subscription fee has since dropped to $5 a month, but assuming even 5% of her 2.5 million Instagram followers dish out the spare change, that's half a million per month. Don't even get me started on referral fees or extras.
Tempted? The upside for OnlyFans creators
Just like Uber (but with better margins), OnlyFans creators can finally earn when and where they want. Considering sex work is mostly criminalised around the world, this is a massive win for the industry.
Some creators are raking in thousands a month from subscriptions and add-ons. Including;
Private scenes catered to subscribers' chosen kinks.
Sending snail mail; including costumes, underwear or polaroids.
Facetime/Snapchat/Zoom calls,
The 'Girlfriend Experience,' via incessant daily texts and calls
Explicit content, supposedly, only makes up 50% of the site; the rest extends into the realm of sexy workouts and Vlogs. Creators find their OnlyFans 'look' is more natural to maintain than their social media brand. Fans want simple, make-up free shots taken mostly via phone. It's casual, it's personal, and it's real. Viewers feel like it's been made for them.
But since stay-at-home orders began worldwide, many amateur creators have rushed to the platform, and they might not like what they find.
And then the severe and significant downsides…
OnlyFans is a serious side hustle and does not bring instant overnight success. Without existing social media followers, finding new subscribers is a chore. And only half the battle.
Success is reported from consistent communication as much as from X-rated content. Most creators spend 24/7 on their phone, appeasing clients, preparing photoshoots and responding to custom requests.
As competition increases, creators are feeling the heat to show up. Fans develop a false sense of intimacy and stronghold over their creators, clearly confused by the relationship set as their financial providers. It needs to be managed head-on with hard boundaries and strong mental toughness.
Not to mention the security risks of posting explicit content online (often in private spaces) and the physical challenges of batshit crazy personal requests. Creators are also at risk of being stripped of their bank accounts if they profit from sexual acts, not to mention that all leaked content lives online forever. And it will be leaked, at some point.
To date, OnlyFans leaks have been as innocent as cheeky screenshots shared in your mates' group chat, up to severe and sinister hacks. Websites like Thothub are explicitly devoted to leaking creators' content.
In February 2020, just before the site's popularity skyrocketed, between 1.5 and 4 terabytes of OnlyFans original content was shared via cloud storage on Twitter. Some leaked clips are engineered to lure new subscribers. But often it's disgruntled subscribers who get off more on knowing the content was stolen, than on the content itself—each to their own.
Overcrowding and competition on the site have led to the new creators opting for a 'freemium' model, shifting earnings to their add-ons only. However, this is even more enticing to new subscribers, who are still showing up in droves.
Subscription, benefits and more
Subscribers get way more with OnlyFans than a quick fix from a pirated clip. Fans feel a stronger sense of emotional connection to their creators who act like the hot flirty matches you hope to find during a late-night Tinder binge.
Our generation wants to feel good about what we're spending, and OnlyFans boasts a strong enough sentiment to beat out millions of hours of free porn.
It looks a lot less shady on the credit card statement, too. You can add money into a virtual wallet, so you can subscribe, send tips or unlock paid messages without separate credit card transactions. Phew.
Is OnlyFans the future of porn?
As the number of creators increases, particularly 'freemium' creators, the most loved aspect of the site, it's realness, might be the first to go. Nothing good happens when consumers can get more for less.
None of us wants a future where OnlyFans goes the way Instagram did. Where we all removed our embarrassing X-Pro filtered and vignetted 2012 posts because they no longer matched our highly curated (borderline wannabe influencer professional) feeds. But the calibre of the content isn't just being challenged by the mass onboarding of influencers, yogis and chefs. Instead, it's coming from the top-down by a series of policy changes. Since cracking mainstream success, the likes of Beyoncé dropping the site name into her latest hit "Savage," creators fear the platform is whitewashing the brand and restricting explicit content.
New policy changes, such as "no blood, scat, fisting," (which don't appear on the T&C's), are being cited as the cause of many recent account deactivations. Sex workers and pornstars have been taking to Twitter to report on the foul play; sudden shutdowns and more specifically, the platform's lack of clarity surrounding them. Deleted accounts are simply followed by an automated email, stating "unfortunately, we are not able to override this automatic process."
The perceived lack of empathy has been a fatal blow to sex workers and pornstars who felt they had grown their own brands harmoniously with the growth of the platform. Not to mention instant suspension removes a creator's access to all data pertaining to their content, subscribers and revenue. Most of which isn't backed up elsewhere.
Immediate disqualification and perceived 'whorephobia' is sadly commonplace for sex workers who often, and always suddenly, find themselves on the wrong side of new "zero-tolerance policies." Tumblr, for instance, restricted long-standing explicit accounts in December 2018. The removal of explicit images from the site led to a drop off in global traffic from 521 million in December 2018, to 370 million in February 2019. It has retained a stagnant user base since, based on web analytics firm SimilarWeb.
These platforms who shun their loyal adult entertainers and hastily side with mainstream influence are dismissing an infinitely more profitable and committed workforce. Selling out to flakey platform-hopping influencers might be a good short term strategy, but certainly a more high-risk one.
Unfortunately, the deactivations have come at an uncertain time. Sex workers need their online presence more than ever, as brothels and strip clubs remain shut for the long foreseeable future.
However, since pornstars and sex workers have finally smelled the roses of the gig economy, it's also unlikely they would return to low paying scene work and production companies who see them as expendable. The power has shifted, and there's no putting the cat (or pussy)… back in the bag.
If OnlyFans' main driver of success is the connection and loyalty fans have developed for their creators, you'd expect the company would back off from further NSFW changes. If fans were given a choice – would they side with the platform or the creator whose underwear they have been sent in the mail? It's a safe bet, especially following the Tumblr example, that the support will go where the artist goes. And the artist will simply find another site that features adult content.
Even now, OnlyFans certainly doesn't have a monopoly. Creators have other options, including JustFor.Fans, IndieBill, ManyVids, FanCentro and SwiipeUp. Each platform offers different morals, protections for creators and pricing models.
Direct to consumer porn is here to stay. Yet, OnlyFans might not be the model to back if it pushes for IPO. My advice, go where the porn goes. And I hope for the sake of performers that the next destination will learn from the mistakes of its predecessors.