Donald Kendall – PepsiCo's former CEO – deserves a Nobel Peace Prize for the deal he cut between PepsiCo and the USSR in 1989.

Not only was a Communist government buying a true-blue capitalist product from its greatest political rival… but the USSR eventually handed over the keys to their own military warships to finance it.

Kendall didn't mind a humblebrag to Brent Scowcroft, President George H.W. Bush's national security advisor, either.
"We're disarming the Soviet Union faster than you are."

Donald Kendall
If the 'Cola Wars' between Coca-Cola and Pepsi comes to mind more readily than Pepsi's involvement in the Cold War, here's a refresher on the "deal of the Century", which, incredibly enough, left Pepsi in command of the sixth-largest submarine fleet in the world.
How did Pepsi penetrate the Iron Curtain?
On July 24th, 1959, the American National Exhibition opened to over 3 million Soviet citizens in Sokolniki Park, Moscow. It was a rare glimpse into the American way of life that Soviet citizens wouldn't see again for decades.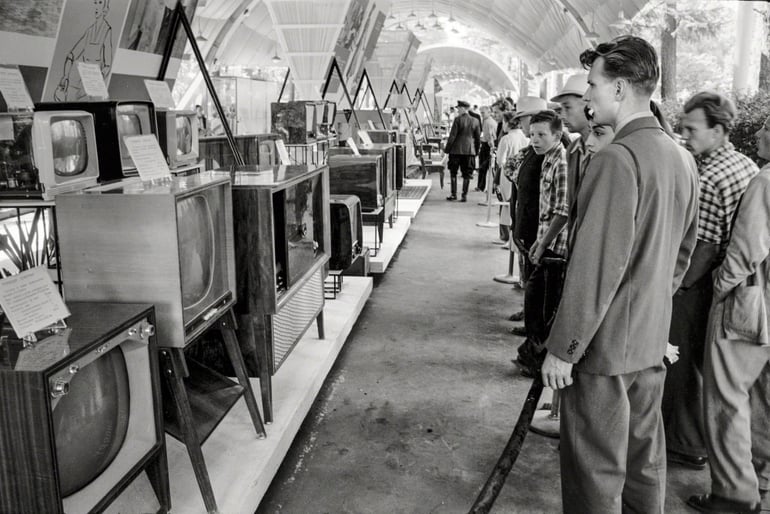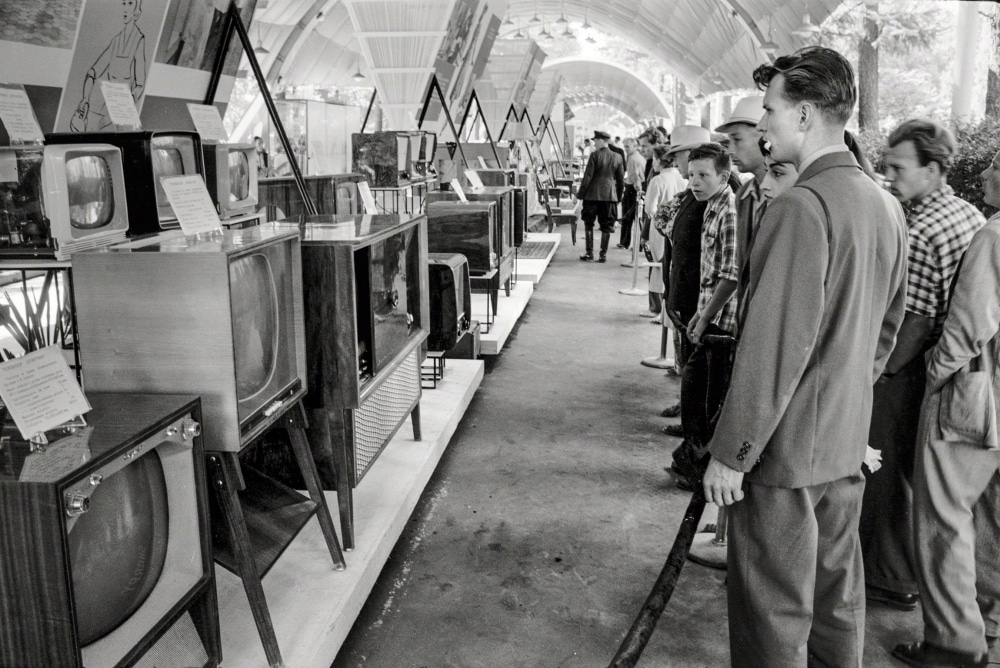 At the convention, Vice President Richard Nixon rolled out the red, white, and blue carpet for Soviet Premier Nikita Khrushchev. Although it didn't take long for Nixon to make a capitalist dig at the Communist leader.
Nixon: I want to show you this kitchen. It is like those of our houses in California. [Nixon points to dishwasher.]
Khrushchev: We have such things.
Nixon: This is our newest model… in America, we like to make life easier for women…
Khrushchev: Your capitalistic attitude toward women does not occur under Communism.
Source: CIA transcript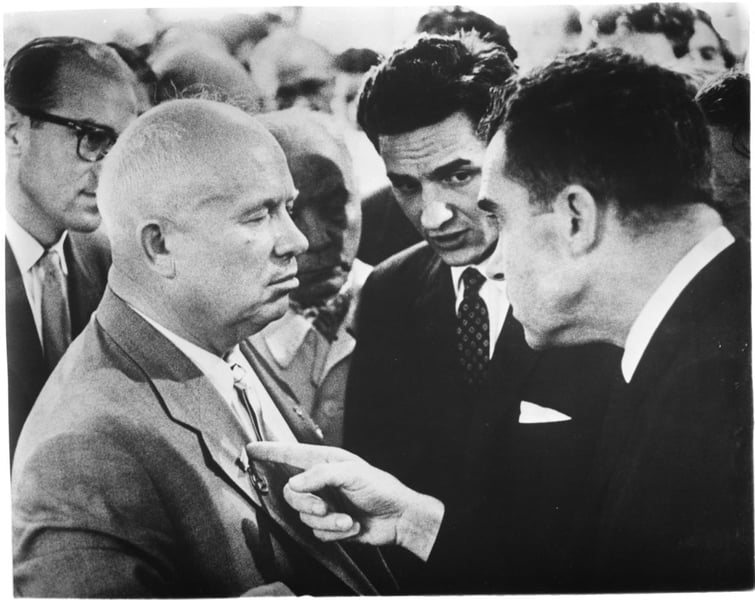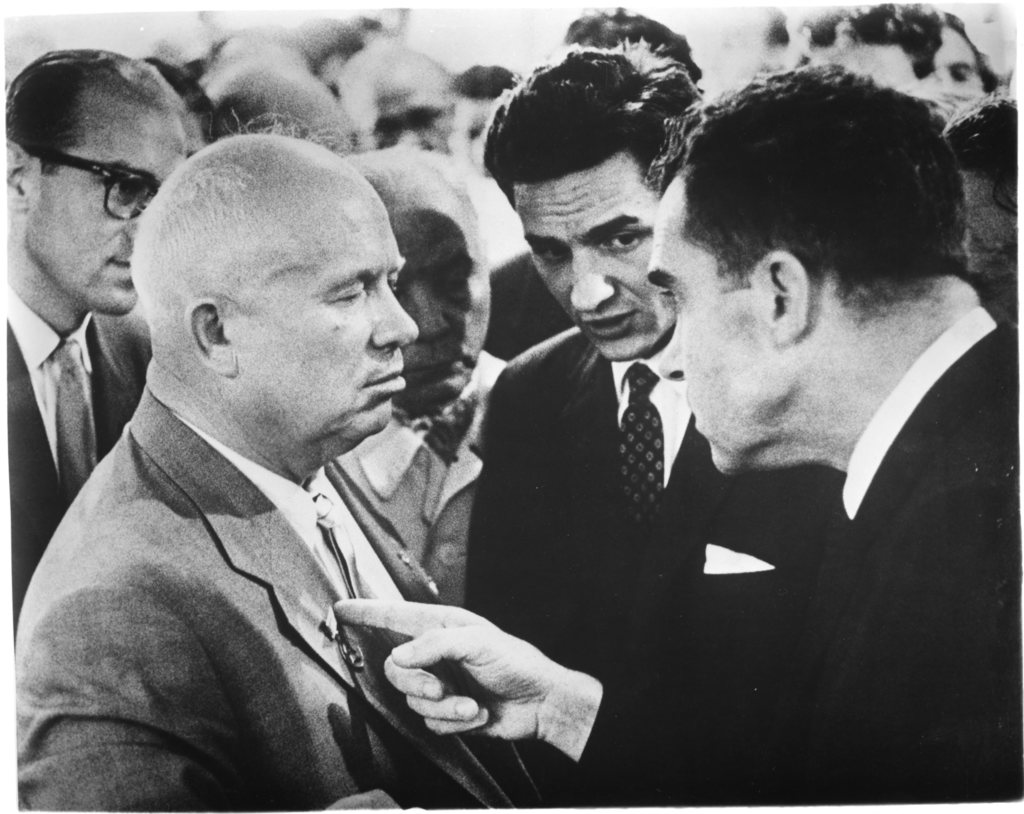 To cool things off, Nixon guided Khrushchev to the Pepsi-Cola booth and poured him an ice-cold cup of Pepsi – mixed with local Russian water, not American water. The stunt was premeditated, but Khrushchev's reaction was better than anyone could have imagined.
The marketing stunt that changed history
Donald Kendall, head of Pepsi-Cola International Relations, vowed to do anything to "get a Pepsi in Khrushchev's hand," including cornering Nixon at the US Embassy in Moscow to plead for help. Kendall had promised the company's top brass he would leave the USSR with a leg up on Coca-Cola.
It went like clockwork. Khrushchev was photographed mid-sip, ushering his Comrades to take a swig. This image and his appraisal – "very refreshing" – made the front page of The New York Times.
Kendall was praised, for helping "Pepsi [reap] a publicity windfall the company's elders never expected."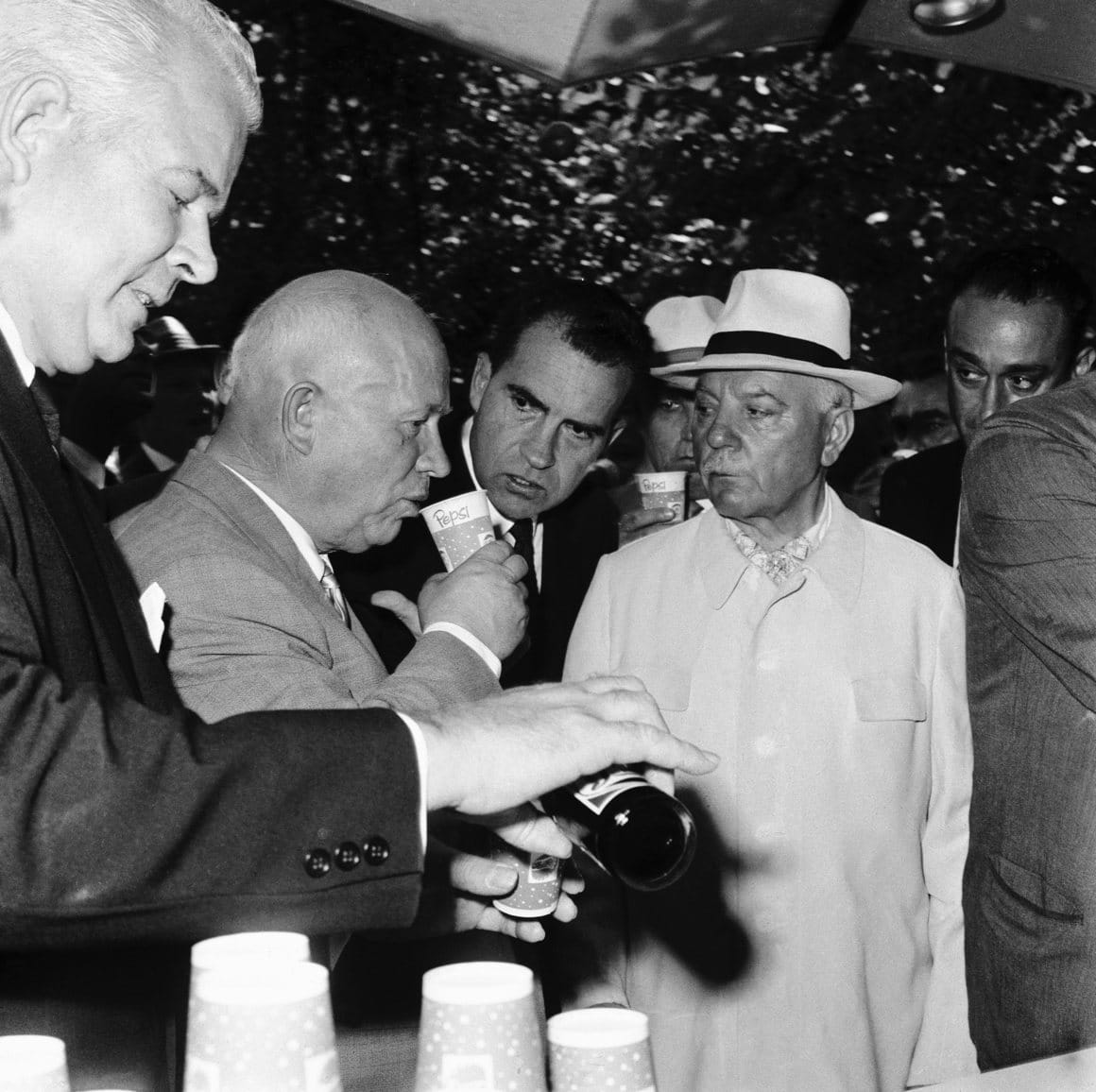 Kendall's trans-Atlantic successes saw him rise to the position of the chief executive officer of Pepsi-Cola in 1965, engineering its merger to PepsiCo in the same year. However, the long-awaited deal between PepsiCo and the USSR under the guidance of Premier Leonid Brezhnev was only finalised in 1972.
And it all came down to the slight issue of payment.
The Pepsi payment terms
If Kendall wanted to get paid, he had to get creative. The Soviet ruble was not convertible into foreign currency, and as expected, the Soviet government held little of this foreign currency. Eventually, Kendall took his cues from communism itself, which was based on a gift economy.
The 1972 counter-trade agreement stated:
PepsiCo would barter Pepsi to the Soviet government in exchange for an equal value of Stolichnaya Vodka. PepsiCo held world-first, exclusive rights to sell Stolli in the USA.
As bottling plants became operational in 1974, Pepsi became the first capitalist product sold and manufactured behind the Iron Curtain. Stolichnaya became the second-largest brand of vodka in the United States.
It was a win for everyone; except Coca-Cola. Kendall had ensured the agreement locked his rival out of the USSR until at least 1985.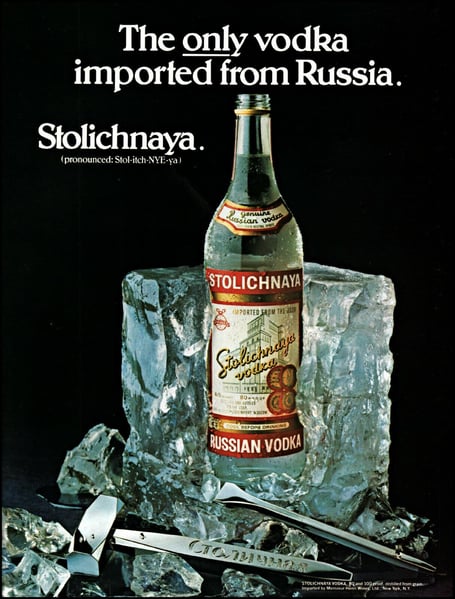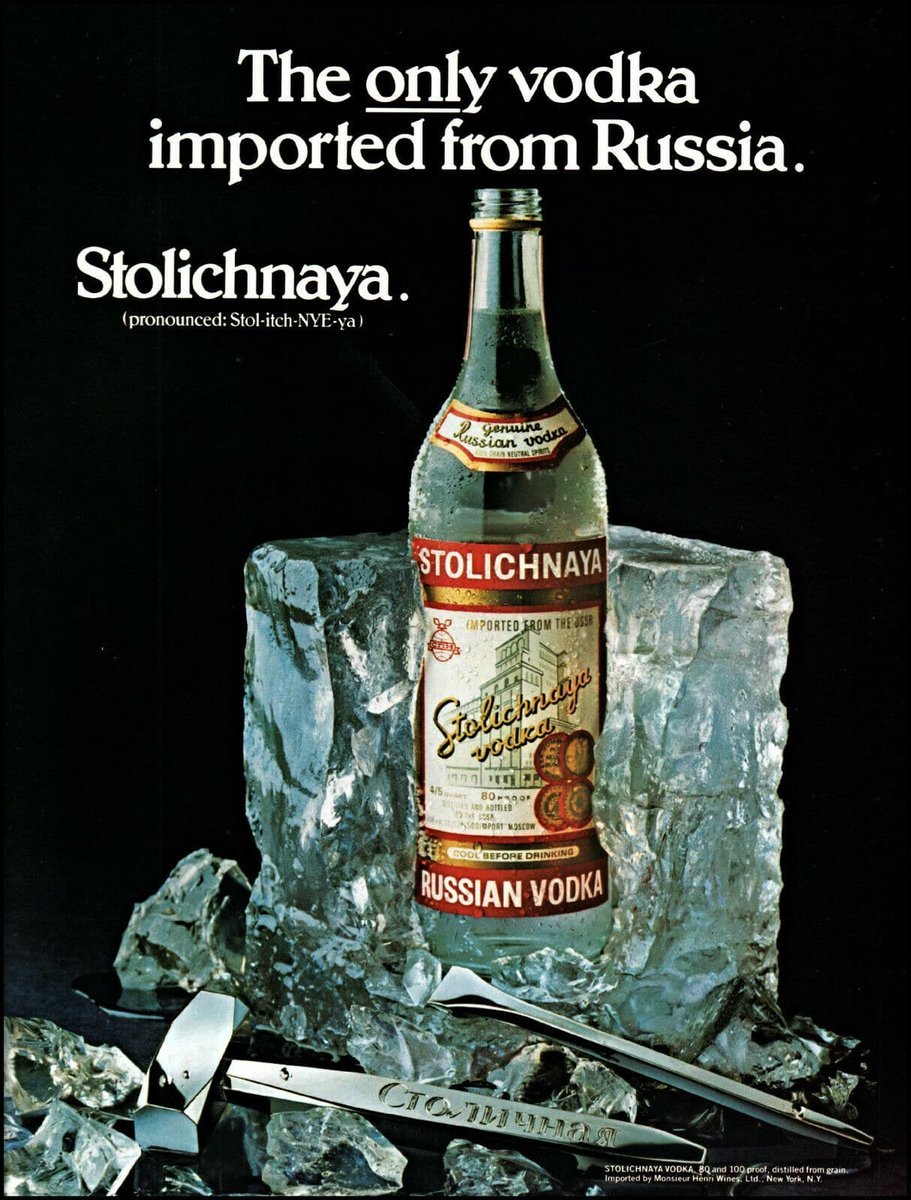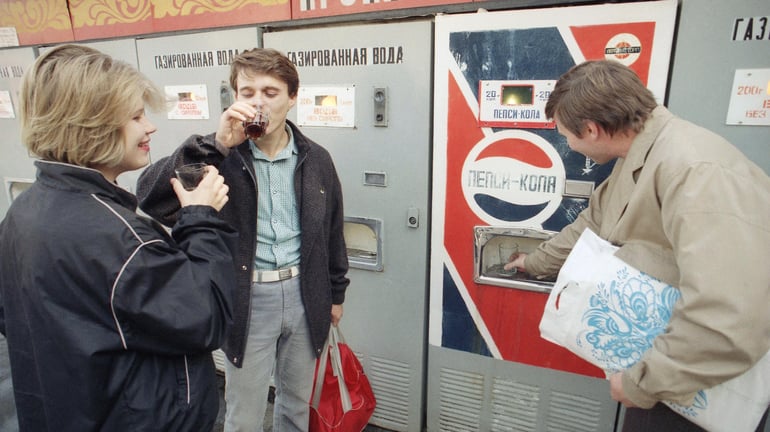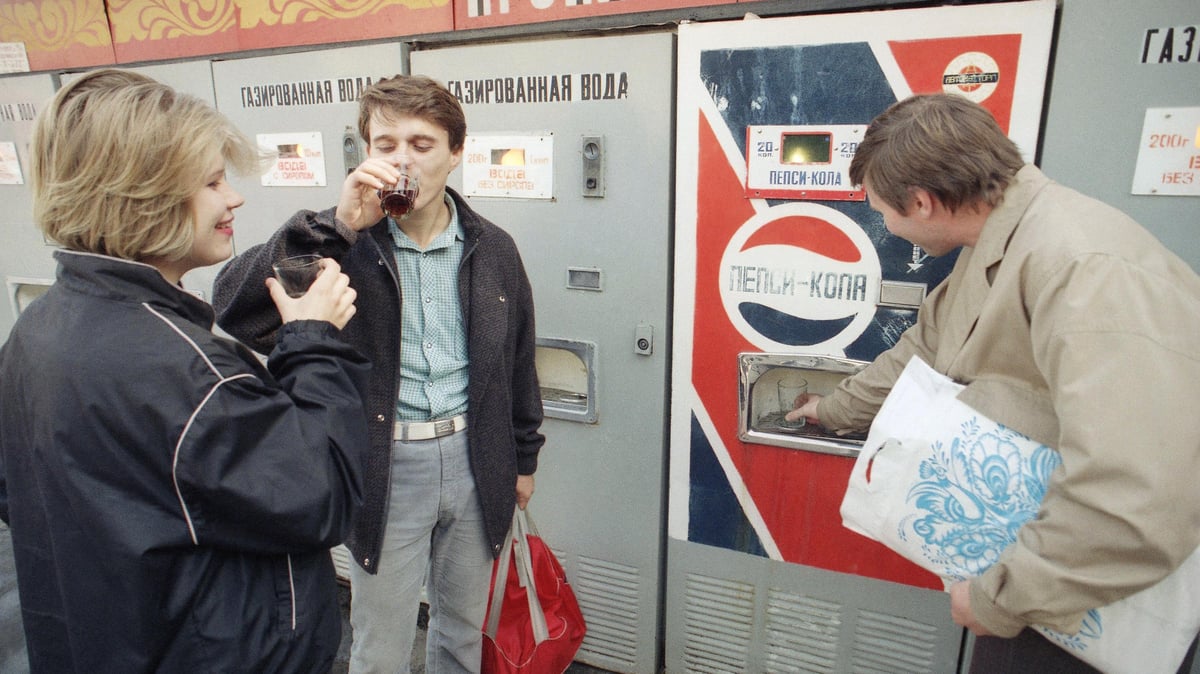 Pepsi the "Choice of A New Generation"
By 1988, the Soviets were consuming over one billion servings of Pepsi a year. PepsiCo converted a "new generation" of fans when it became the first-ever Western product advertised on the television. In May 1988, multiple clips featuring the King of Pop – Michael Jackson – penetrated over 150 million Soviet homes. MJ was also the first non-Soviet pop star to appear on the state-run network.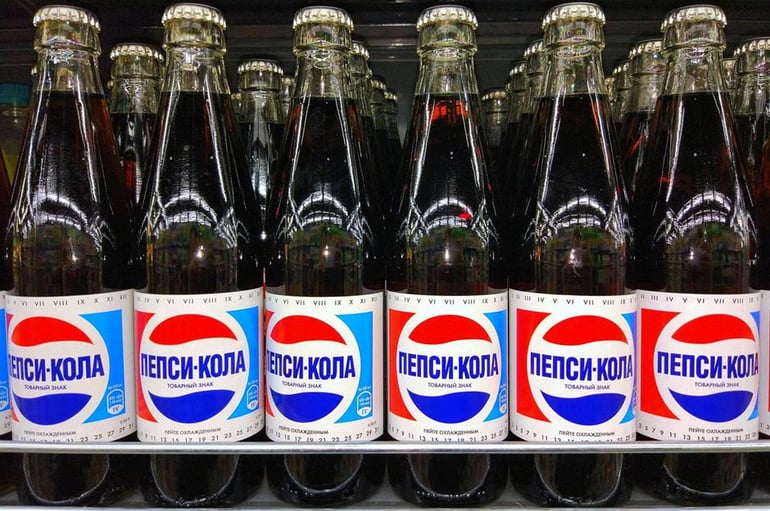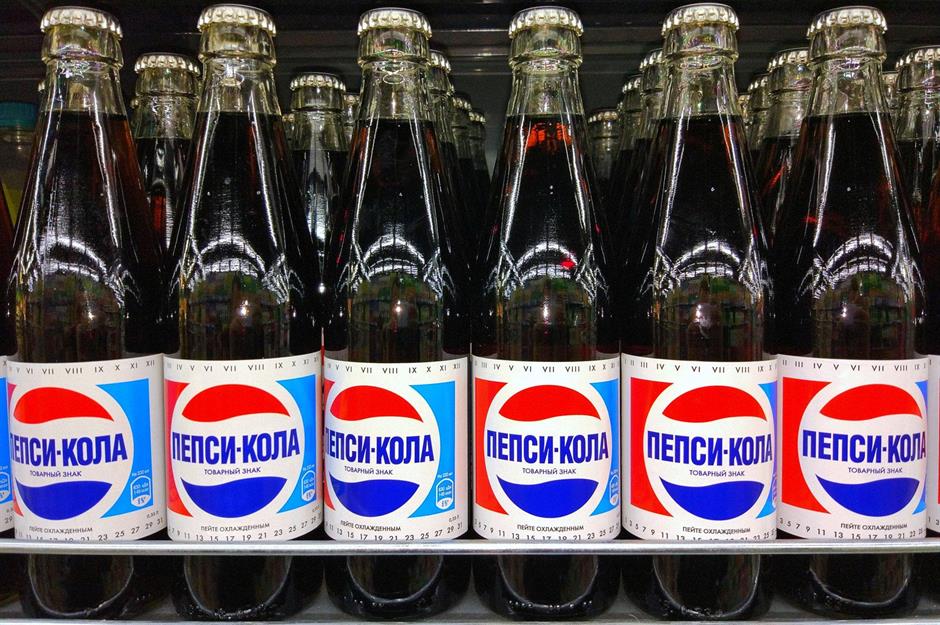 Meanwhile, it became increasingly harder for PepsiCo to offload Stolichnaya stateside, mostly due to the US-led boycott of Soviet products following the Soviet-Afghan war.
When the 1972 agreement became close to expiring in 1989, PepsiCo started demanding cash to off-set this loss. The USSR had no choice but to go big or go home if they wanted to quench their citizens' thirsts, and their counter offer certainly delivered.
We see your Pepsi and raise you a navy
The USSR didn't have many consumer goods to trade, as expected from decades of Communist rule. But what it did have was surplus warfare from its bloated Cold War military budget.
To keep the golden capitalist syrup flowing, the Communists handed part of their military fleet and state-run shipping manufacturing over to their rivals. The new $3 billion deal saw PepsiCo take ownership of:
17 x Soviet Navy diesel attack submarines
3 x warships
1 x cruiser
1 x frigate
1 x destroyer
Several oil tankers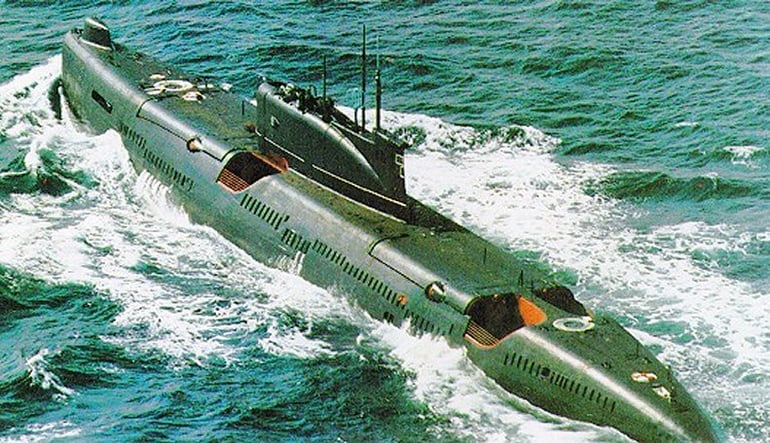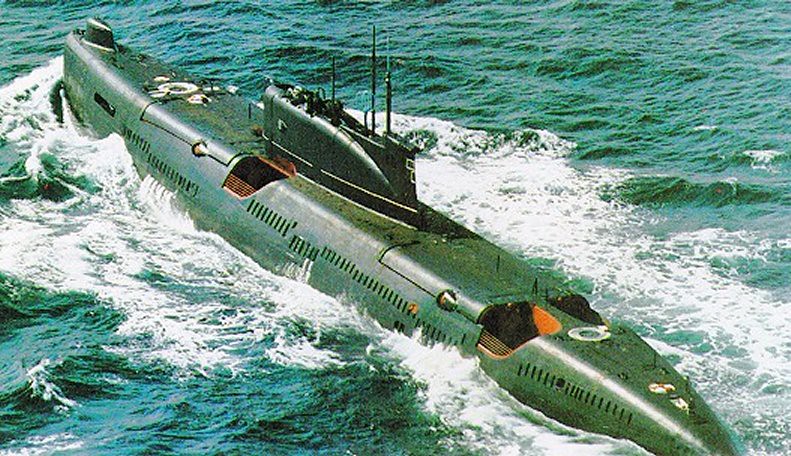 PepsiCo also retained exclusive rights to Stolichnaya, as well as Cristall, and Priviet Vodka.
Under the new agreement, PepsiCo would double their bottling plants and use sale credits to bring Pizza Hut to Moscow. Upon signing, PepsiCo indirectly became the sixth most powerful naval force in the world.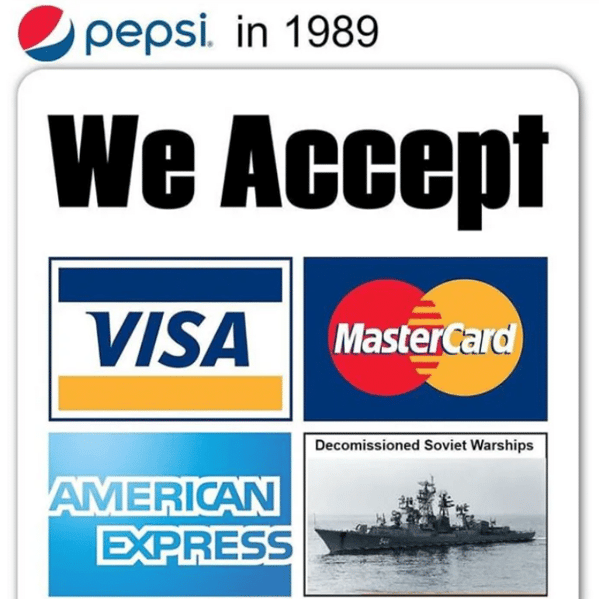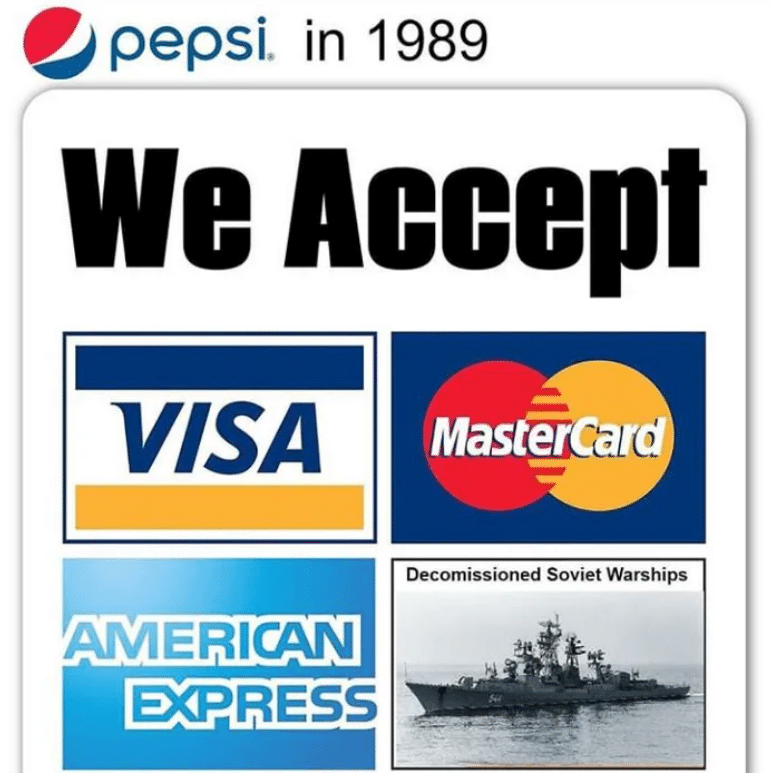 The collapse of the "Deal of The Century"
Sadly, Pepsi sold or leased their fleet of warships through Swedish and Norwegian partners. A missed opportunity to wreak havoc on both their rivals; the Communists and Coca-Cola. They prefered to dominate the 'Cola Wars' from the skies.
In December 1991, the entire deal fell over along with the dissolution of the Soviet Union. PepsiCo then had to contend with over fifteen now-independent former USSR countries that all wanted a slice of the PepsiCo – Pizza Hut deal.
The shipyard that built the tankers for PepsiCo was suddenly in Ukraine, the chemical plant that produced two-litre bottles was now in Belarus, and the plant that produced mozzarella for Pizza Hut restaurant was in Lithuania.
These new sovereign states demanded payment in USD, not naval fleets. And of course, while PepsiCo was distracted with trade negotiations, Coca-Cola began dominating the market.
Kendall's legacy
Impressively, Kendall's pragmatism also got Pepsi into state-sanctioned Iran and China. Fortune Magazine stated that before Kendall, PepsiCo "trailed so far behind arch-rival Coca-Cola that the folks in Atlanta didn't even acknowledge the rivalry."
Donald Kendall passed away at age 99 last month on September 19th, 2020.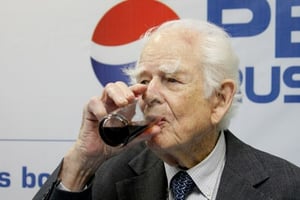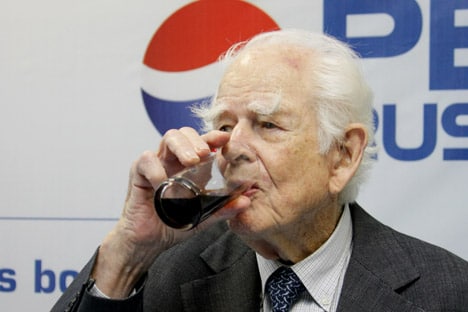 Russia remains PepsiCo's largest market outside the USA and the 'Cola Wars' are as heated as ever.
Remember that time Pepsi promised to give away a Harrier fighter jet and got called out for it?