With arguably the most celebrated and spectacular race of the Formula 1 calendar just over a month away, we've been debating in the office as to how much dosh you'd really need to enjoy Grand Prix weekend in the Principality.
That limit, in a nutshell, doesn't exist. The word 'rich' gets an entirely new definition in Monaco, and more specifically in Port Hercules, where the dick measuring contest of all dick measuring contests takes place each year. Just when you think you've got a big boat, old mate rocks up with an even bigger one.
So you've got yourself a superyacht, well done. Now how much will it cost you to berth said superyacht in the port for Grand Prix weekend?
---
---
The money might not actually be your main hurdle, however, as the Société d'Exploitation des Ports de Monaco – the committee in charge of allocating spots in the port – are the ones who regulate the berths which are in significantly higher demand than what's available.
Priority is given to entities or people who have the most relevance to the event; racing teams, drivers and Formula 1 sponsors. That being said, each driver, team or sponsor may only be associated with one berth request.
Now for the figures. As expected, only the biggest fish get the best spots, which are separated into three different 'zones.' Yachts are also charged varying rates based on their size. For a top tier slot with the biggest boat in the port, you'd be up for circa €128,000 EUR including VAT. Slots are for use between 20th May (midday) to 27th May (midday) – you check out the breakdown below.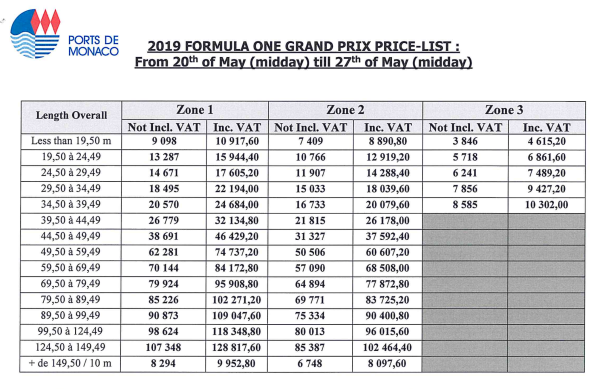 If you'd like to see the actual submission form, you can read it here, but unfortunately, you'll have to wait until next year to nab a spot as the cut-off date for the 2019 Grand Prix weekend was February 28.
RELATED: 5 superyachts you can rent on Sydney Harbour
RELATED: The best Oceanco superyachts of all-time