Given the end of financial year is such an important time for small business, Boss Hunting has partnered with Officeworks, to help share our journey so far and shed some light on how we prepare for all things tax. Small business owners regularly face challenges, and by sharing our story, hopefully I'll help you feel like you're not alone on a day-to-day basis in running your small business – I know I've felt that way at times.
Ever since we got a dial up modem at home (as a kid), I've been borderline obsessed with the internet and everything that comes with it. I remember downloading Napster and Kazaa as a 10-year old and installing a CD burner so I could burn CD's for girls and my old man. I'd always enjoyed ogling the finer things in life and was fortunate enough in my younger years to travel the world with my family, and soon got a taste for things that were aesthetically pleasing, so when I realised I could access all of this information from my computer, I was hooked. During high school, I was always the one who would show my mates cool new things online. Almost every day I'd be sending someone a link to something I thought they'd appreciate, whether it was from The Chive, Tumblr, Cool Hunting or some other random corner of the internet. I was still doing the same thing in uni and one day thought, "why not just put this stuff on a Facebook page?"
I think the reason we grew so quickly can be attributed to two things. Timing and consistency. We were lucky enough to start our Facebook Page back in April 2012 back when Facebook had different algorithms in place for organic reach and engagements. I remember posting once a day for about a month and I got to 100 likes, then a month later after consistent posting, 1000 likes, and the month after that it was sitting at something like 20,000 likes. I still tell people when they ask how to build a Facebook or Instagram community that consistency is absolutely key. 99% of people give up after a month because they don't see instant results. It's a bit like compound interest (says the man writing this after just watching a Warren Buffet doco). When we first started, we took a while to start monetising, and I had to be wary of taking money out of the business when it was still a side-hustle, so I just invested in the business and let my day job pay the bills. Unless you really need to, I can't recommend ploughing as much money back into the business as you can.
Finding good people has always been our biggest challenge. I value tenacity and the ability to self start more than anything else. We're still a very small team with just four on the payroll and 10 regular contributors and we get a lot of enquiries to contribute which usually end up with them writing one and petering out into nothing. Come to think of it, this probably has more to do with my set and forget management style…perhaps I just like working with people like me. I split my time between London and Melbourne at the moment, so it's a challenge to keep the team motivated when I'm not in Australia, but with our laptops and smartphones we always manage to stay in touch. We're constantly in communication using tools like Trello, Slack, WhatsApp, and Google Docs which can be accessed from any device at any time.
We've just opened a Sydney office which we had great fun kitting out and it's really exciting to have a new place to create more content. The thing I love about Officeworks is it's literally a one-stop-shop when you're opening an office. From laptops and desks to Tim Tams and coffee,they've got it all. My laptop carked it last week and I needed to finish off a piece of content urgently for the morning. Where else do you go for a new laptop at 8.30pm on a Tuesday? While spending money is never the most fun thing to do as a small business owner, the timing with the new office (and broken laptop) was actually perfect as it means we're able to take advantage of the $20,000 instant asset write-off scheme that businesses with a turnover of less than $10m can access. If you think you'll need to make any asset purchases in the next six months, now is a great time to do it, and particularly at Officeworks where everything could be tax deductable.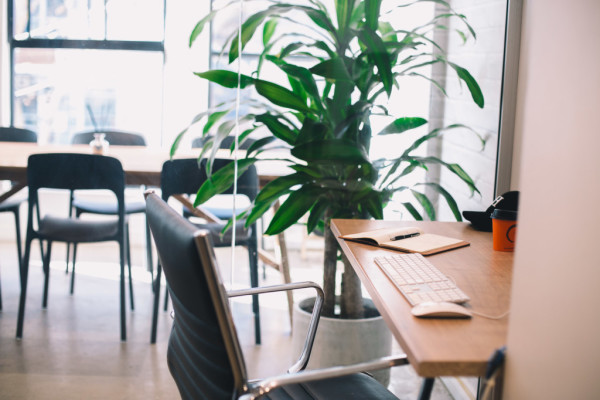 When it comes to finance and accounting I'm guilty of sometimes burying my head in the sand. I was running a very basic and haphazard accounting process for about two years until, I finally bit the bullet and found a good accountant to get me out of the mess I was in. I also looked at cloud-based bookkeeping services so I could manage costs on the go, and made sure everything was above board with the ATO. Having a good accountant who helps you to maximise your tax opportunity rather than just running the numbers is something I think every small business owner needs. We've had a really good six months of understanding our cash flow, planning for FY17/18, taking advantage of tax breaks like the instant asset write-off scheme, and knowing how to spend money (and on what) at the right time has been critical to our recent growth.
As a business we use a lot of technology. Our MacBook Airs with their 12-hour battery life are great when we're travelling, WD Elements portable hard drives have been a lifesaver on more than one occasion, and we have about 20 portable battery chargers to keep our smartphones and cameras juiced up when out at events (it's a fierce rivalry in the office between Samsung Galaxy's and iPhones). We also recently got a DJI drone and a few new cameras to improve our video footage. With the help of Officeworks we loaded up on about a terabyte worth of Micro SD cards too.
I'm fortunate enough to travel a lot and it's still really weird meeting somebody in a bar in Budapest or a country cricket ground in England who has heard of Boss Hunting. It's also fun trying to explain to older people that I'm not an executive recruiter. Just like a lot of small business owners I've spoken to, I never planned to be doing what I'm doing now. I'm still learning so much, facing new challenges around growing fast and smart every day through social and technological changes, whilst always seeking tips and advice through all stages of my business journey. It's exciting.
Officeworks helps small businesses like Boss Hunting make bigger things happen every day. If you're looking to explore your own tax opportunity this end of financial year, officeworks.com.au provides tax tips, articles and advice, as well as the best products to purchase before 30 June which could be tax deductible.