Back in 2017, Afterpay Day kicked off a massive chain of substantial online sales and discounts to showcase Australia's leading buy now, pay later service. It's since grown to be one of the biggest shopping events in the local calendar, softening that painful slow-crawl to Black Friday and providing a healthy alternative that takes place before all the big gift-giving occasions like Mother's Day and Father's Day. This year, Afterpay Day 2022 kicks off today – Thursday 17th March at 7 am – and stretches until midnight on Sunday 20th March with hundreds of deals available across a great range of retailers and brands including David Jones, Dyson, Adore Beauty, The ICONIC, and eBay. There's also a decent sale from Culture Kings, if that's your style.
It's a massive undertaking to get across all the best Afterpay Day deals in Australia, so to help we've rounded up a few of our favourites across Afterpay Day tech sales, Afterpay Day fashion sales, Afterpay Day beauty & grooming sales and more. There's a huge range of deals going on right now and it literally pays to be across the best ones.
What Is Afterpay Day?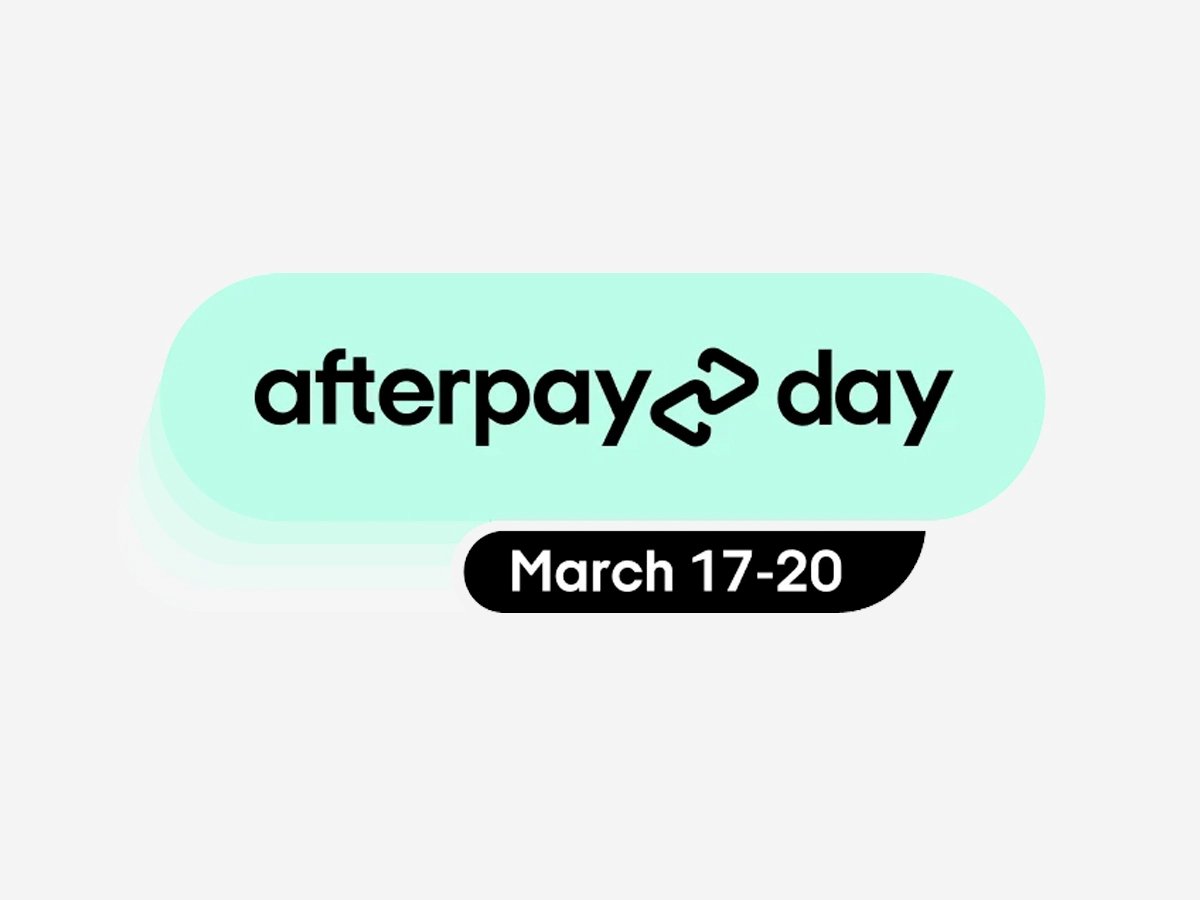 Afterpay Day began in 2017 as a way for the Buy Now, Pay Later service to showcase how it all works. The twice-annual online shopping event has since become one of the most anticipated each year, with some of the country's favourite major retailers throwing up generous discounts, whether they are on full priced styles or conceived as an extra bit shaved off from existing sales.
---
---
Using an Afterpay Day sale to lock down that item of clothing or tech device you've been eyeing for months is always a smart way to play. As such, it pays to keep your ear to the ground of your favourite retailers to see if they've got an Afterpay Day deal going that appeals to you.
Plus, you get to use the Afterpay option on such heavily discounted items, meaning you can better manage your payment in four fortnightly installments without incurring interest.
---
When Is Afterpay Day 2022?
As above, Afterpay Day 2022 begins on Thursday 17th May at 7 am and wraps up at midnight on Sunday 20th May. As detailed below, Afterpay has also introduced The DROPSHOP by Afterpay this year to better curated limited-edition drops from brands like Culture Kings, Waves AU, Harrolds, and adidas.
---
How Does Afterpay Work?
You should already know this by now. Afterpay has become an essential part of the modern online shopping experience and is essentially virtual lay-by. The difference is that you don't have to wait until you've paid in full before you end up with your purchase. It's become an attractive option for those who… well, want to buy now and pay later. Not needing the total amount upfront is quite simply a game-changer.
It works simply. You pay one instalment on the actual day of your purchase and then you pay the same amount fortnightly over six weeks. So that's four instalments in total. There's no paying interest or fees, but you do need to pay on time. If you are however late on a payment, you will incur a $10 late fee. The best part: the fee is capped and does not compound. And not incurring interest on your four fortnightly instalments makes online shopping very convenient.
---
Best Afterpay Day Deals 2022
Afterpay Day Tech Sales 2022
---
Afterpay Day Fashion Sales 2022
---
Afterpay Day Homeware Sales 2022
---
Afterpay Day Grooming & Beauty Sales 2022
---
Afterpay Day Travel Sales 2022
---
THE DROPSHOP by Afterpay
For Afterpay Day 2022, Afterpay has introduced an online concept called THE DROPSHOP, which will be a one-stop-shop to discover limited edition drops, collaborations and other releases over the next few days. Currently, adidas Yeezy slides are being highlighted, but keep checking back for more drops as they are released.
The curated list of Afterpay deals was accessible from Wednesday 16th March to Afterpay Pulse Rewards members (Afterpay's loyalty program) so you may want to keep that in mind for next year if you want early access to huge discounts from major brands.
---
---
---
Afterpay Day In Australia – Frequently Asked Questions
What are the best Afterpay Day sales in Australia right now?
The best Afterpay Day sales in Australia for 2022 include massive savings from The ICONIC, laptops from Dell, Shoes from Hype DC, styles from RM Williams, and linen from Sheridan.
When is Afterpay Day in Australia?
Afterpay Day 2022 in Australia runs from Thursday 17th March through to Sunday 20th March.
How do you score the best deals for Afterpay Day 2022?
Of course, speed is the number one rule when it comes to any of those big online shopping events like Afterpay Day, Black Friday, Cyber Monday and Boxing Day. Although Afterpay has made it a bit easier this year by curating sales from across all retailers and putting them on up the official Afterpay Day sales website. The best approach is to keep a close eye on that.
This live list will be updated as we keep finding cool or useful deals and discounts during the 2022 Afterpay Day sales.