Welcome to Fragrance Friday, where each week we'll be keeping you abreast of the newest and most iconic releases in the dynamic world of men's fragrances. Born out of the desire to showcase one of the most overlooked, yet versatile, elements of any discerning man's style this weekly column will help you finesse your own signature scent.
Last week I took a look at the newly launched Amouage Attars collection, which has finally made its way to Australia and unlocks some of the most powerful and beautifully balanced scents in the world right now. For this week's Fragrance Friday, I want to do something a bit different.
While previous editions have always been about a new collection or a specific perfume, there is much more to the world of fragrance than just something you can wear on your skin. We're talking about products like room sprays and scented candles – things that help shape the olfactory architecture around a space, whether that be your home or office.
---
---
After all, if we're talking about the important details that help build ambience, then paying closer attention to scent will go a very long way in helping to achieve the exact presence you want. They are as important to your signature scent as all those expensive bottles of Eau de Parfum you have sitting on your shelf.
Although something like a scented candle may be easily dismissed as "too feminine" by lesser men, when you come across the right one it can elevate your space dramatically. As such, many discerning men have gravitated towards reputable candlemakers like Trudon for years. And it's this brand that I'm highlighting this week, given Trudon has recently unveiled another collaboration with fellow Parisian Maison Balmain: a luxury candle that marries a beautiful aesthetic with an even more attractive fragrance.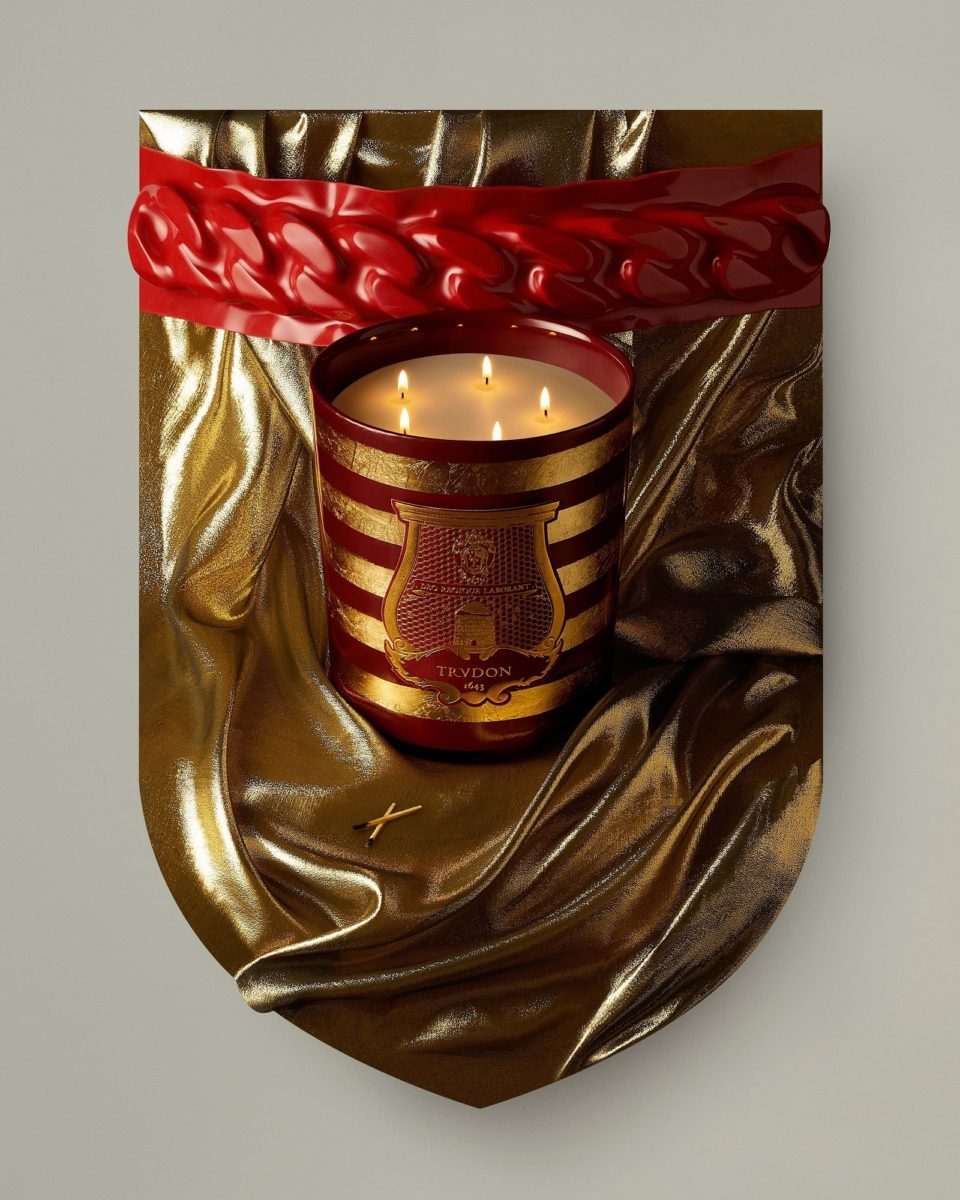 Trudon's famed Ernesto candle has long been the go-to for Balmain's Creative Director Olivier Rousteing, so a collaboration between the two Parisian houses was inevitable sooner or later. The first was in 2020, releasing a beautifully designed candle that was noted by many fragrance writers as being one of the best ever made.
Reportedly, the accomplished French fashion designer, who has been Balmain's Creative Director for 11 years now, favours the Ernesto candle and makes use of it liberally throughout all his spaces, from the home to Balmain's various studios. It's not to understand why if you've smelt the candle before, which has a profile rich with leathery scents built from Atlas cedarwood blended with gunpowder and a very restrained smokey tobacco note.
The Trudon x Balmain candle is consistent with that very creamy and virile profile but adds a bit of a lighter touch with Cire Trudon perfumer Emilie Bouge balancing the masculine with the feminine by using black Halfeti rose. It's not a substantial addition on paper, but the mythical rose, which grows outside of a tiny village in the southeastern province of Şanlıurfa, Turkey, ends up making an incredible difference.
If you've smelled Penhaligon's excellent Halfeti Leather before then think of the smoky rose note from that fragrance fitting seamlessly in between those more airy smoke notes of tobacco and gunpowder.
Although if you haven't, then that might make it sound like this dials up the smoke; it doesn't. The rose balances it out very well with a more floral approach, taking the Trudon Ernesto candle and making it much more appealing for a wider audience.
---
---
Bouge hasn't just included black rose. On the top playing around with the cedarwood, you also get some spicy Javanese nutmeg for something that skews a bit gourmand before the leathery notes take over the middle, complemented by a base of patchouli, rock rose and musk. Less expensive scented candles, which can be rather soapy no matter the profile, are typically one-dimensional and hardly fold into various distinctive layers like this does.
Balmain's strong visual identity is another reason this candle works so well. Inspired by Balmain's marinière – that is, the brand's emblematic striped sweater, the candle is encased in a unique glass container handmade in Vinci, Italy. Whereas the original release in 2020 went for a slick black aesthetic, this is louder with gold foil stripes and a red lacquer interior finish. A red velvet and gold printed front emblem completes the look.
Top notes Atlas cedarwood, Javanese nutmeg
Middle notes Leather, spices, black rose, moss, tobacco
Base notes Patchouli, rock rose, musk
The Balmain x Trudon special edition candle is available in Australia in two sizes – the 270g size, retailing for $249, as well as the grand bougie 3kg, retailing for $1,295.