There's never enough beer in the world, evidenced by the constant stream of new releases barrelling in from all corners of the globe. Across the tens of thousands of breweries in existence, an endless output means that there's a lot for beer enthusiasts to get around. And that means even more noise to cut out. That's where the best beer subscription services in Australia come in handy.
Whether they're fuelled by a qualified cicerone (basically, a beer sommelier) or just run by brewers themselves, there are several highly curated and resourceful platforms that make it easy to discover the best brews. Best of all, they have been designed to stop you from having to do the laborious shifting work required to narrow in on the world's best, most exciting, and downright creative beers.

Below you'll find a list of the best beer subscription services in Australia, all of which ship Australia-wide and have no lock-in contract.
Beer Cartel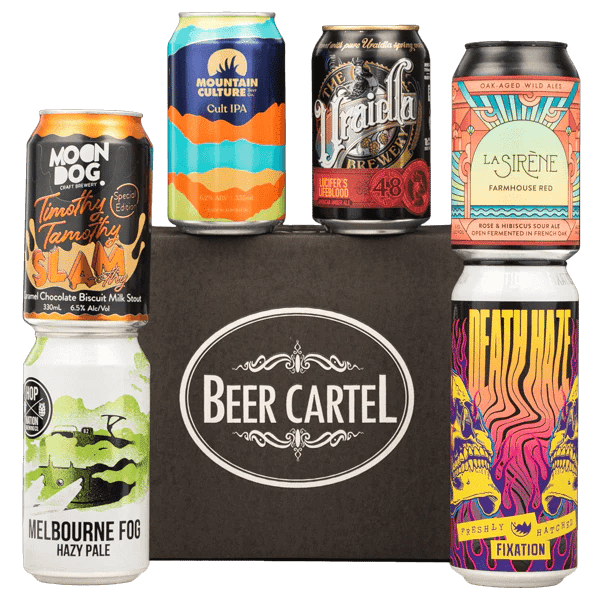 Long-running Sydney-based service Beer Cartel aims straight for the craft enthusiast with their monthly packs, curated to highlight leading and independent local and international breweries. It's possibly the best way to keep up with the endless amount of brews being sloshed around the scene, whether you're after a one-off pack or the regular 'Beer Club' delivery service.
We suggest going for the $39.99 a-month Bootlegger pack, which promises three new releases plus three from Beer Cartel's core 1000-deep range. There are also options to bump that number up considerably, all the way to the stacked $89.99 a-month "Black Market" box which nets you 12 new and super limited beers.
Cost: From $39.99 per subscription.
Beer Hug
Beer Hug is on a mission to make it easier to get great craft beer into craft lovers' hands (and mouths) and their Australian Brewery Tour™ box brings the tour to your front door.
Each Beer Hug box is a celebration of a brewery (or on special occasions a collection of breweries) that makes it super simple for you to discover new brews, and build the profiles of exciting new brands. Beer Hugs boxes come directly to you, in partnership with the breweries themselves, meaning they are fresh off the canning line. Doesn't get much better than that!
Cost: $69.95 (Try code 'SUB20' for $20 off your first delivery)
RELATED: The 50 Best Excuses To Have A Beer
Bucket Boys
Bar, bottle shop, and now subscription service – in the realm of craft beer, Bucket Boys are nothing if not tenacious. The Marrickville-based team has put together a number of subscription options for those wanting regular injections of craft beer sourced from across the country and abroad, showcasing the best breweries from as little as $85 either every month or every quarter.
Their $160-per-quarter "Beer Explorer Box" for the "über beer geek", sporting 16 beers of varying size and stature, each selected by a Certified Cicerone (beer sommelier) has recently been reduced to 12 beers at a lower cost of $85.
If you want to dip your toe in, the Boys offer a more affordable, mixed, 'Inner West' 6-pack.
Cost: From $36 per box
Carwyn Cellars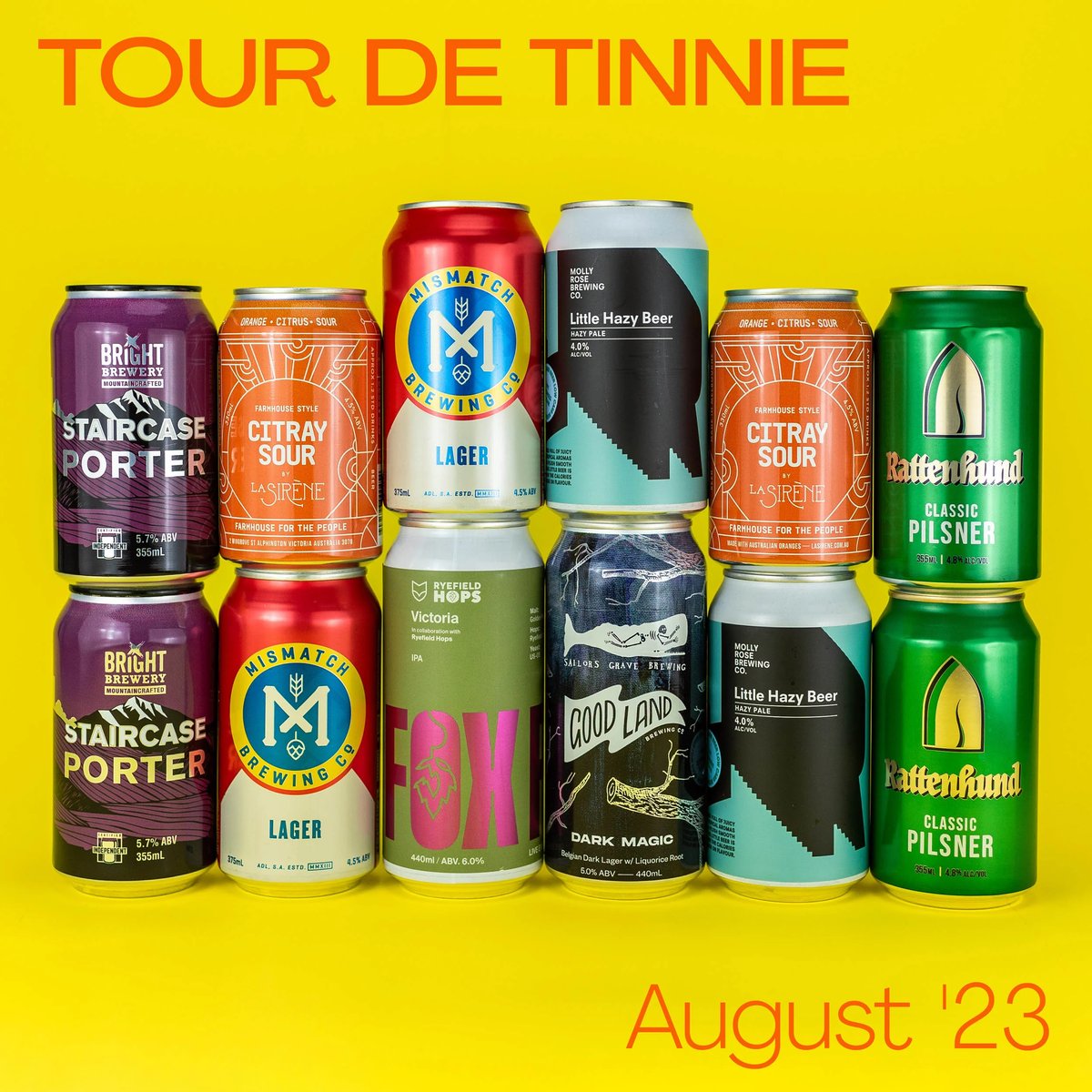 Another one of Australia's most beloved independent drink retailers, Carwyn Cellars offers a number of subscription services, though perhaps none as adventurous as "The One" a quarterly selection of twelve "fabled unicorns", of which just 47 boxes are created, priced at $225.
If you miss out on The One, their bimonthly "Ale Odyssey" is a solid fallback. At $150 every two months, the experts at this Melbourne-based shop hand select a dozen "Fancy AF" beers for delivery straight to their members, showcasing "a mix of super fresh IPAs, big stouts, Belgians, heavily fruited sours and even barrel-aged beasts". There's also the $59/month "Tour de Tinnie" pack which packs boxes full of "greatest hits" for a more regular craft hit.
If you're not up for a yearly commitment, their Christmas Canvent Calendar is a great way to sample some festive summer brews.
Cost: From $59 per box
RELATED: The Carwyn Canvent Calendar Is A Craft Beer Advent Calendar
Craft Cartel
Steady building up their stockpile of craft beers from around the world, Craft Cartel is well-placed to keep your fridge stocked with new and unique brews. The brand's dedicated Beer Club offers two choices – either a box of 8 beers ($59) or one packed with 16 ($99), delivered either monthly or quarterly. Do note that the latter option still nets you 8 different brews, but just 2 bottles of each.
Brews are delivered on the 15th of every month and typically prefer new Australian beers with access to members-only discounts across the rest of the site if you like what you taste.
Cost: From $59 per box
Hops to Home
Hops to Home isn't concerned with what's happening overseas, with their Beer Club dedicated to sourcing exclusively from Australian craft breweries. They also claim to be the "freshest" beer subscription around, with all tinnies shipped within 30 days of the first canning date. I'm sure Beer Hug will have something to say about that, however.
The service has expanded from two to three choices, most recently adding a $35 sampler pack to their 10-pack and 20-pack offerings, for $69 and $99 respectively. However do note that regardless of choice, it's always 5 different brews, the only difference being that the less expensive pack has 2 of each beer, while the 20-pack has 4 of each. The packs are complemented each month by tasting notes, and also a monthly podcast that the team run, highlighting all the happenings in the Australian craft beer industry.
Cost: From $35 per box
RELATED: The Best Mid-Strength Beers In Australia
Page Bottler
Page Bottler is a family-owned and operated independent liquor store located in Canberra, specialising in the freshest Australian and imported craft beer.
The team offers craft beer fans a customisable 16-can cube, where buyers can select their preferred styles and preferred frequency: monthly or every second month. The Page Bottler Cube costs $119 for residents of NSW, VIC, QLD & SA or $109 in the ACT with no mention of NT or WA. Alternatively, local Canberra residents can pick up their subscriptions in-store for $99.
Cost: From $99
Slowbeer
Whether you want your beer monthly, bi-monthly or quarterly, Melbourne's pioneering Slowbeer is still one of the most dependable platforms in Australia for its unwavering dedication to local micro-breweries and innovative internationals.
The team has made their Beer Club as flexible as possible, giving you the chance to get as specific as you want, or hang back and leave the hard choices to them. After all, they've got a stash of more than 2,500 different beers, which keeps growing. The scope is insane, so whatever your tastes, they'll find it for you a dozen beers at a time. There's little doubt Slowbeer is amongst the best beer subscription services in Australia.
Cost: From $95
RELATED: The 110 Funniest Ways To Call A Beer A Beer
---
How To Save Money On The Best Beer Subscription Services
Joining the Crafty Pint's beer club 'Crafty Cabal' is a cheeky way to save yourself some dollars on a handful of the beer subscription services mentioned above. Membership grants you 5% off online orders at Bucket Boys and $20 off beer subscriptions from Craft Cartel and Page Bottler, alongside a range of deals across online and in-venue. It costs $99 per annum to be a member, however, anyone who has found themselves reading this article shouldn't have any trouble getting some serious value out of it. Head to Crafty Cabal to sign up.