For the second year in a row, Bushmills Irish Whiskey has partnered with Australian whisk(e)y subscription service The Whisky Club to launch their latest limited edition offering. This year, the release is a slightly younger addition to the Causeway Collection, in the Bushmills 2011 Banyuls Cask, offering a sumptuous 53.6% natural cask strength.
The Causeway Collection, of which this latest release is a part, is a special selection of rare and unusually finished single malt Irish whiskeys that Bushmills offers every year. The entire collection will feature a dozen new releases this year, set to be released across a number of enthusiastic markets.
The Bushmills 2011 Banyuls Cask was selected to be available exclusively through The Whisky Club, which is the world's largest whisky subscription service and has more than 28,000 Australians who subscribe to the monthly service. Like all single malts from Bushmills, the 2011 Banyuls Cask began its life fermenting for a full 56 hours, before being initially aged in ex-Bourbon American oak or ex-Oloroso Sherry casks.
---
---
RELATED: Bushmills To Release Never-Before-Tasted Causeway Collection Whiskey
Once the aging is complete, the Bushmills 2011 Banyuls Cask is finished for three and a half years in, you guessed it, ex-Banyuls casks (a French style of Port). The combination of the ex-Bourbon American oak, ex-Oloroso Sherry and Banyuls casks make for a rich auburn colour and an enticing nose of riper mandarin, fresh raspberries and a whisper of anise.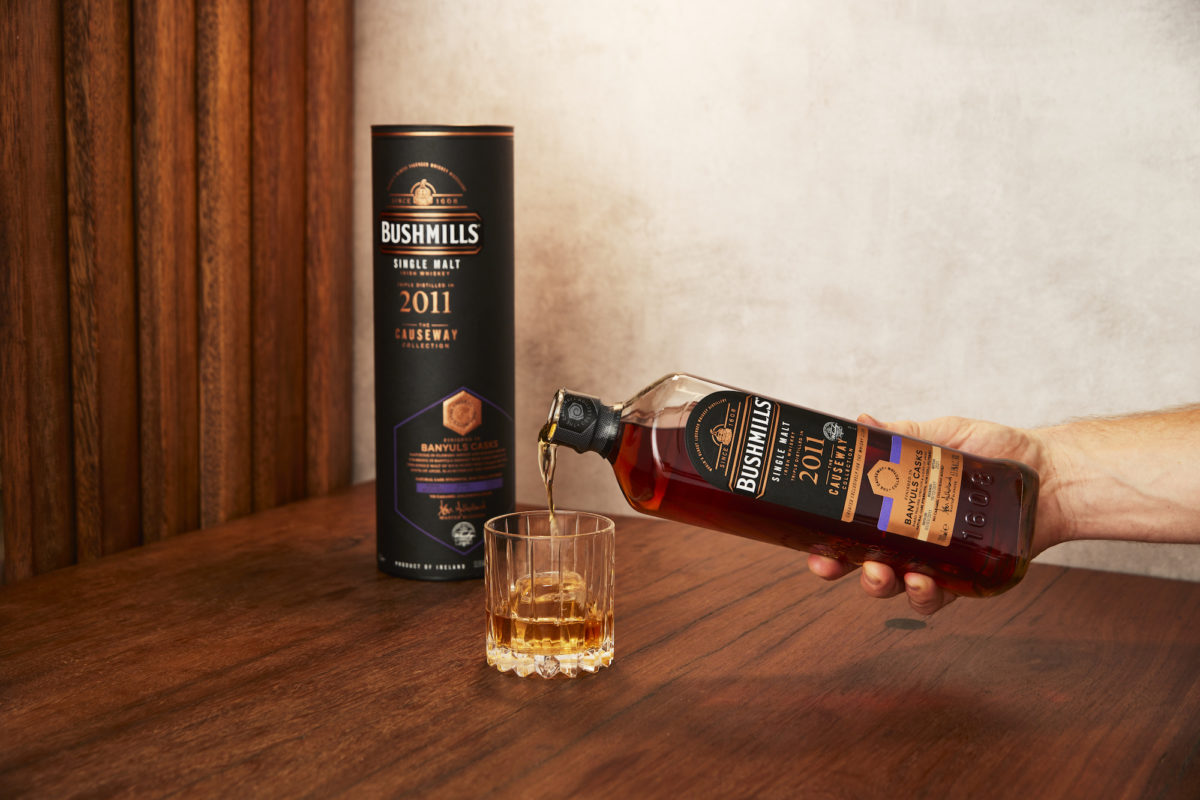 On the palate is a boisterous blend of fresh citrus and blackcurrants, baked peaches and spiced old oak. The finish offers more stonefruit flavours, this time stewed plums, followed by further warmed spice. As you'd anticipate from the famed Irish distillery, the suggested food match is Irish beef stew alongside creamy mashed potato.
"Banyuls is a French dessert wine with big fruity flavours which really matches the Bushmills spirit," explained Master Blender Helen Mulholland. "The (Bushmills) Banyuls has a lovely profile, and each time you go back to it you find something different again. It's approachable, it's rounded, it has big flavours, but in a completely rounded way that anybody can enjoy. The finish is comforting with lovely warmth and roundness. It gives you that lovely feeling of a really nice whisky that you just want to share with friends."
While the Bushmills 2011 Banyuls Cask is only available to The Whisky Club subscribers, you are still able to sign up and get involved for this launch. While it's free to sign up, the Bushmills 2011 Banyuls Cask comes with an RRP of $130.