2022 hasn't provided the season start that McLaren Racing had hoped for, and at this stage, it's hard to imagine the year becoming any sort of fairytale for the Woking-based team. But when the going gets tough, the tough get drinking. That's why Australia's own Daniel Ricciardo has now revealed his second collaboration with St Hugo Wines, alongside a very special shoey decanter.
Once again toiling under the guidance of Chief Winemaker Peter Munro, the Honey Badger has applied a "greater understanding of blending" with his "signature intuition and playfulness" for a contemporary interpretation of the St Hugo style. The result? Two brand new limited release vintages in the 2018 Coonawarra Cabernet Sauvignon and the 2020 South Australia Shiraz.
RELATED: McLaren's Australia-Only Daniel Ricciardo Edition 720S Revealed
---
---
"A Coonawarra Cabernet at its finest, the DR3 x St Hugo Coonawarra Cabernet Sauvignon 2018 highlights the distinctive regional characteristics of fruit grown on terra rossa soil over limestone," explains the official tasting notes.
"Structural with regional blackcurrant fruit, this is a fruit-forward style – generous, open, and with long fine tannins to ensure it will age gracefully over 10 to 15 years."  
"The DR3 x St Hugo South Australia Shiraz 2020, [on the other hand], is the product of individually created parcels sourced from a range of South Australian regions, matured in oak for 14 months, then blended."
"Dark berry fruits that ooze generosity belie the classical fine structure that underpins this elegant and expressive modern example of South Australian Shiraz. "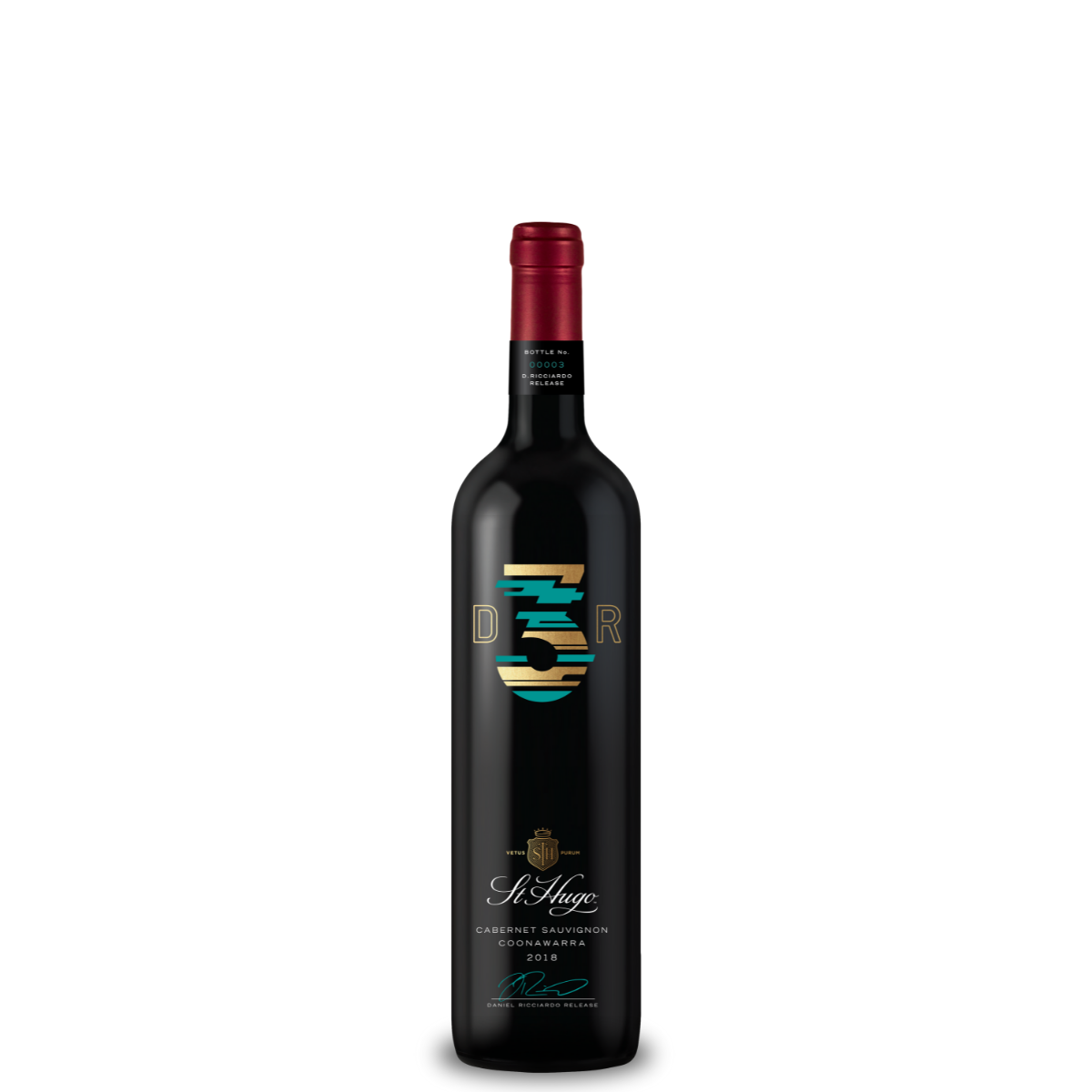 "Daniel's creativity and consideration in understanding the nuances of winemaking is impressive and inspiring," explains St Hugo Wines' Peter Munro.
"He has an excellent intuition when it comes to flavour and the result is fruit-forward wines that reflect his personality – lively and joyful, open and approachable, but also serious at the core."
The real star of the show, however, is the classically tongue-in-cheek decanter designed by Sydney-based studio Vert Design. Over the course of 100 meticulous design hours, the team experimented with everything from detailed surface textures, volumetrics, pouring angles, to ergonomics. Only then could the functional replica of Danny Ric's racing boot be "painstakingly hand-blown and moulded" at Canberra Glassworks, to produce unique individual collectors' pieces.
---
---
A limited quantity of the Daniel Ricciardo Decanter will be sold separately, individually numbered, and presented in a trophy case-inspired luxury display box – including an actual letter from Daniel Ricciardo alongside a certificate of authenticity. Only 1,100 will be up for grabs.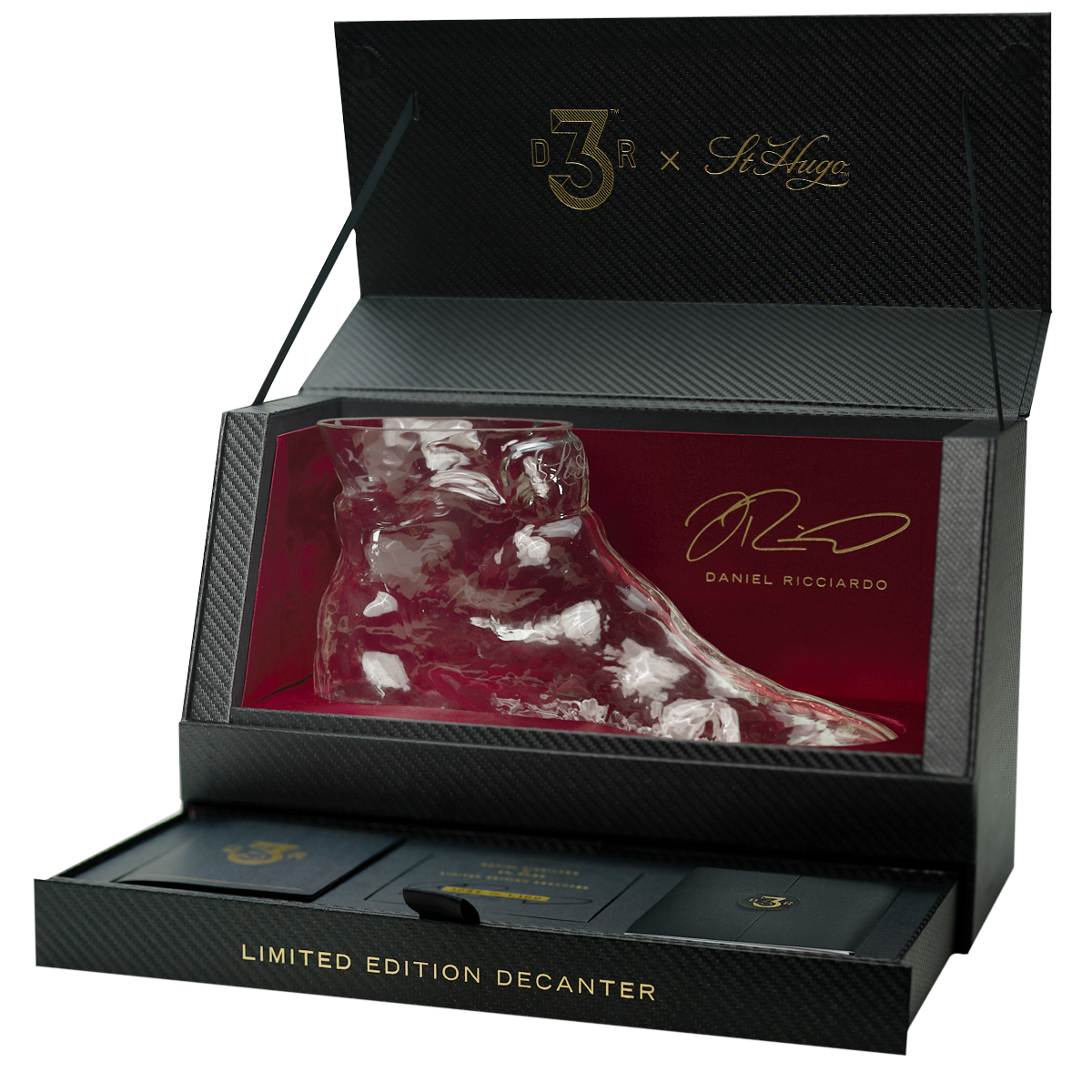 RELATED: Why Did Leonardo DiCaprio Invest In This 110-Year-Old Champagne House?
"I'm so proud and overwhelmed by the reaction we had for the launch of DR3 x St Hugo," says Daniel Ricciardo, referencing the initial launch which took place in March 2021.
"When St Hugo approached me with the idea of creating a piece to showcase our wines at their best, I was excited to see the creative inspiration – and so the Ricciardo Decanter was born."
"There is so much passion and craftsmanship that goes into winemaking and learning about the process has been incredible. This year's release has a lot more of my personal input and involvement in the blending process for the wine."
"I've thought about how I want people to experience this wine, balancing my love of full flavour and what I call the 'explosion' on your tastebuds, in a way that is delicious and makes you smile as you pour a glass."
Both the latest DR3 x St Hugo wine releases and the Daniel Ricciardo decanter are now available to purchase via the link below. Pricing is as follows:
DR3 x St Hugo Coonawarra Cabernet Sauvignon 2018 – $70 (750ml)
DR3 x St Hugo South Australia Shiraz 2020 – $70 (750ml) / $140 (1.5L) / $260 (3L) / $500 (6L) 
Daniel Ricciardo Decanter – $700
Watch our full unboxing in the video above on Boss Hunting TV.
---
---