If you're after a reliably refreshing cocktail but don't want to put in anything more than minimal effort, a gin and tonic should be the first thing you're thinking of. While the primordial cocktail, an Old Fashioned, is often tethered to specific situations, a gin and tonic owns the outdoor domain. The very mention almost immediately conjures up imagery of the sun beaming down while mates put down the beers and start playing around with different gins and tonic water (and/or soda water). As far as gin cocktails go, a G&T is invariably considered the most dependable cocktail recipe of all time – one which hammers the effort-reward ratio.
And that makes complete sense. A classic gin and tonic recipe calls for just three basic ingredients – crushed ice, gin… and tonic.
Equal parts gin and tonic for the perfect balance is usually the way to go, although the exact ratio of gin to tonic really depends on personal taste. As with any classic cocktail, it's about dialling in layers to your individual preferences, rather than strictly following those classic gin cocktail recipes.
---
---
Then it's a matter of finding a garnish that works best for the overall flavour profile. Fresh lime works well as it brightens the drink's overall profile and ensures the flavour doesn't fall flat, even if you're using poorly made soda water.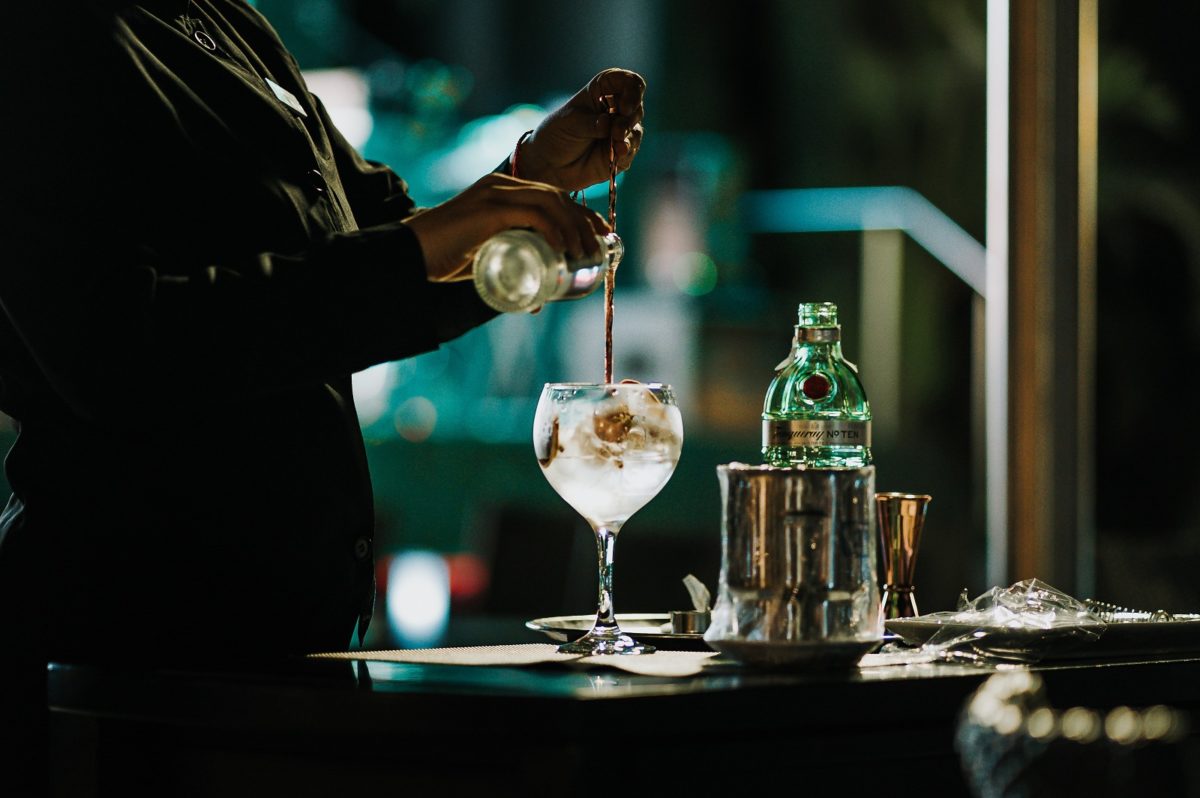 RELATED: Archie Rose Hits A Six With The Sydney Cricket Gin
Other ideal garnishes for a gin and tonic include star anise, cinnamon sticks, lavender, rosemary and vanilla pods. Some people opt for lemon juice instead of fresh lime juice, or even some orange juice for a different kind of angle. The gin and tonic recipe is so timeless because it's adaptable and effortless. There's a lot of value in knowing exactly what you're going to get.
But as with all cocktail recipes, monotony can set in. A gin and tonic only really offers one perspective of your favourite style of gin. Navy Strength gin, London Dry gin, a more contemporary gin like Four Pillars' highly-prized Bloody Shiraz Gin or Never Never Distilling Co.'s Ginache Gin – there are endless options out there really so as long as you know some of the most adaptable gin cocktails, you're never left rudderless next time you're mates ask you to steer them towards something new.
Plus, sticking to a G&T every time is just an insult to how ridiculously versatile this gin is. Along with the quintessential juniper, you've got a bill of many different botanicals to pull the versatile spirit in all sorts of directions, meaning big flavour and therefore a great number of options, whether you're using orange liqueur and orange juice for a fruity cocktail like an Orange Blossom, or cherry brandy for a Singapore Sling (although note that we haven't included either as we recommend cocktails that lend themselves to more experimentation).
That's why it pays to have more than this basic cocktail in your repertoire the next time you're asked to whip up a batch of G&Ts for the boys. To help, here are a few alternative recipes to the classic refreshing cocktail, all of which are just as easy to put together and don't require any fancy equipment or extra steps.
Note that the most obvious G&T alternative, the great Negroni, has been left off this list because it's too obvious a choice. Even though it very well may be the king of cocktails.
---
---
---
5 Gin & Tonic Alternatives To Master
Gin Bellini
The hardest thing about making this cocktail is first making sure you've got some peach puree on hand. But that's not hard, just grab some peaches and their juice to a high-powered blender and blitz until smooth. Then as long as you've got some simple syrup (sugar in water) and prosecco you're good to go.
For this recipe, use Never Never Distilling Co's Triple Juniper Gin, perfectly playing into the balance of peach and sparkling wine for an exceptionally refreshing and unique cocktail. Your mates might be hesitant but one sip of this will win them over.
Ingredients
15 ml Triple Juniper Gin
15 ml white peach puree
10 ml sugar syrup
100 ml prosecco
Peach slice
Method
Add gin, puree and sugar syrup into a cocktail shaker with ice.
Shake well.
Strain into a chilled Champagne flute and top with prosecco.
Garnish with peach wedge.
---
Gin & Ginger
You're going to need something to offset the spiciness of good quality ginger beer if you want this ridiculously simple gin and tonic alternative. Sure, you could mix up a gin fizz or gin sour just as easily, but none of them will have that intense hit of ginger to play around with all the fresh botanicals in a good quality gin. As for the gin, you'll need something citrus-forward so choose Never Never Distilling Co.'s Southern Strength Gin or Four Pillars' Fresh Yuzu Gin. Go with the former if you want something a bit less divisive, and the former if you're feeling more experimental.
The reason why Southern Strength Gin is so perfect is that the cinnamon and pepperberry notes play very well with the spicy backbone of ginger beer, while the mint and lime used help brighten the nose. Mix one of these up and you'll likely never want a gin and tonic again.
If you don't like the carbonation, try ginger ale, but the result won't be near as strong (or delicious).
Ingredients
30 ml Southern Strength Gin (or alternative)
100 ml Fever Tree Ginger Beer
1 lime wedge
1 ginger slice
1 fresh mint sprig
Method
Add Southern Strength Gin to a tall glass.
Add 100 ml of Fever Tree Ginger Beer.
Add ice and stir.
Squeeze a wedge of lime and add to the glass.
Add ginger slice and mint sprig.
---
Tom Collins
Many people forget how painfully easy it is to whip up a good Tom Collins by the batch, making it one of the best G&T alternatives and one of the best gin cocktails out there. And it's just as classic, proving you don't really need to pay attention to the latest recipes when you've got plenty of timeless concoctions that have been around forever.
It's not a unique cocktail, but as far as great gin cocktails go, the Tom Collins is an easy win on any occasion. Just take your favorite gin and layer it with lemon juice, sugar syrup and chilled soda water. That's your base at least, and then you have different varieties, some which make use of dry vermouth or sweet vermouth for a bit more flavour.
Ingredients
50 ml gin (choose a London Dry or Old Tom gin for best results)
25 ml lemon juice
25 ml sugar syrup
125 ml chilled soda water
Method
Add all ingredients over ice in a Collins glass.
Stir gently.
Garnish with a slice of lemon.
---
French 75
Gin, Champagne, lemon juice and sugar syrup. The elegant French 75 is a great dinner party cocktail and one that proves you don't need anything more than the bare essentials to kick up your cocktail game for something a bit more suited to an occasion. While the gin and tonic, Tom Collins and Gin & Ginger are all excellent cocktails to mix up in any situation, keep the French 75 for when you need to impress at something more formal than a bunch of mates.
---
---
Ingredients
50 ml gin
Champagne
1 tablespoon lemon juice
1 teaspoon sugar syrup
Ice
Lemon zest
Method
Pour lemon juice, sugar syrup and gin into a cocktail shaker with ice.
Shake well, strain into a Champagne flute.
Add only a little bit of Champagne, and wait for the bubbles to settle.
Top up with more Champagne.
Swirl gently with cocktail shaker.
Garnish with a strip of lemon zest.
---
Vesper Martini
Gin, Vodka and Lillet Blanc (of Dry Vermouth). These layers have been immortalised in popular culture thanks to James Bond, making the Vesper Martini an obvious choice when you're after something a bit more sophisticated than a G&T, but no less easy to build.
A good, basic gin or something a bit heavier like Never Never Distilling Co.'s Triple Juniper gin is going to work for a classic dry martini. The experimentation usually lies with Vodka. Check out our list of the best Vodkas you can buy if you want something a bit punchier than your standards, but given a martini is best served plain and exacting, you'll typically be safer with something smooth and strong like Grey Goose. The new Australian raw vodka, Tilde, would also work incredibly well in the gin martini.
Just make sure to shake it up to open the flavours and get them really playing with each other. You know the phrase.
Ingredients
60 ml gin
20 ml vodka
10 ml Lillet blanc
Ice
Lemon zest
Method
Pour all ingredients into a cocktail shaker, add cubed ice then shake for 15 seconds.
Double strain into a martini coupe glass. That is, strain it via the cocktail shaker but also hold a fine mesh strainer (or tea strainer) over the glass.
Pinch the skin of the lemon to release the oils into the glass. Garnish with the strip of lemon zest.
---
Not keen on gin cocktails? Check out these Tequila cocktails.