When it comes to pure, unadulterated hedonism, you've got more than a couple of ways to enjoy yourself these days. Be it sunning yourself on the deck of a superyacht in the Maldives, sipping on a flute of 1995 Krug Clos d' Ambonnay Blanc de Noirs Brut or tucking into a Japanese Kobe beef steak, there are more ways to enjoy yourself than ever before. Despite all of that, the deeply Epicurean pleasure of cracking a cold beer on a hot summers day is honestly yet to be eclipsed, making a compelling case for this James Squire bottle opener.
What's so special about this James Squire bottle opener? Apart from being designed specifically for decapitating as many Macaulay Cold Ones as you can wrap your laughing gear around, it's also been designed by the world-renowned designer, Neil Ferrier. Oh, and it's worth 30 large.
Made with handcrafted sterling silver, burl walnut, Grade-5 titanium and incredibly rare Damascus steel, this bottle opener is unlike any bottle opener you've wrapped your sweaty palms around before. In fact, this one-off object of functional art was more than three years in the making and blends both traditional and contemporary handicrafts, from hand-cast silver to 3D printed components.
---
---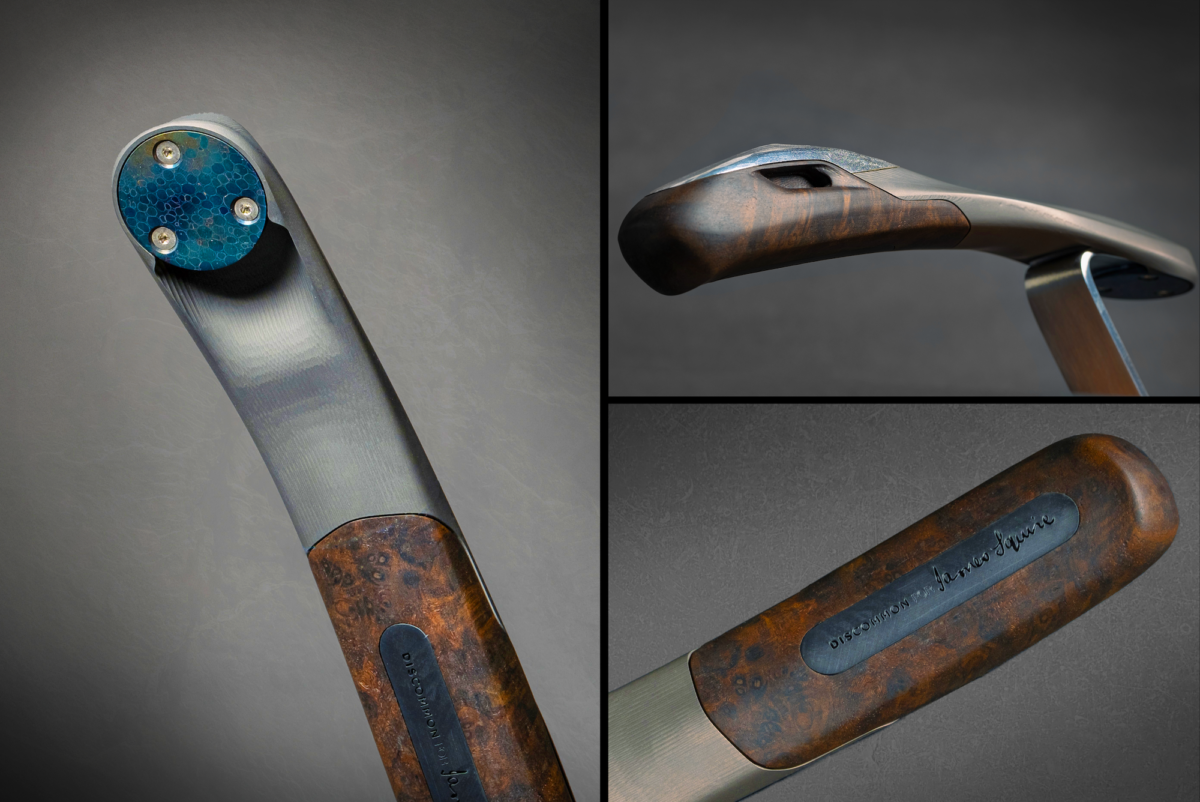 RELATED: The World Beer Awards 2021 Winners
The bottle opener was produced to celebrate the launch of James Squire Pioneers' Collection, which celebrates a more traditional approach to brewing in a small batch of barrel-aged beers that reimagine richly hopped English IPA. Only 5,000 bottles of the first release will be available for purchase, which are the James Squire's Pioneers' Collection Release No.01.
"Neil has crafted a fantastic companion piece to our first release in James Squire's new Pioneers' Collection," said Anubha Sahasrabuddhe, the Chief Marketing Officer at Lion.
"This one-of-a-kind piece – inspired by Pioneers' Collection Release No.1 – showcases our shared love of craftsmanship, innovation, and for bringing unconventional ingredients together to create something unique and truly extraordinary. We look forward to seeing this one-of-a-kind piece take pride-of-place in the home of someone who appreciates cutting edge design and boundary-pushing beer."
The bottle opener is set to be auctioned off to raise much-needed funds for Rural Aid, which provides critical support to farmers in need. To register to bid on the unique bottle opener, hit the button below. The James Squire Pioneers' Collection is available for sale today at Dan Murphy's, with an RRP of $49.99 for the 750ml bottle.